Judginess Built the Middle Class
A new book explores the 19th-century origins of middle-class respectability—and the misfits kept out of the club.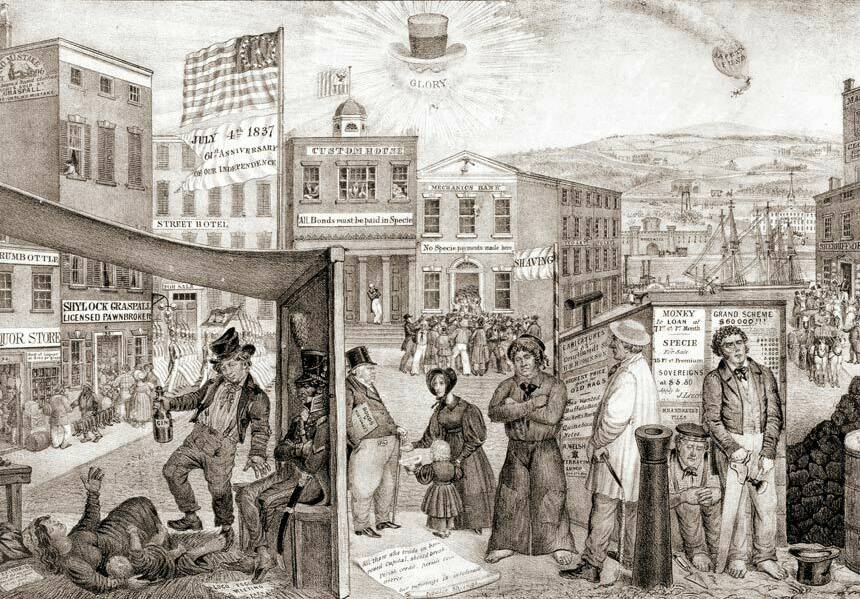 "I have bought a map which is mis­tak­en in all its details; I have bought a clock which did not go; I have bought a moth poi­son which the moths pre­fer to any oth­er bev­er­age; I have bought no end of use­less inven­tions, and now I have had enough of this foolishness."
Middle-class respectability arose alongside industrial capitalism in the United States.
So com­plained the writer Samuel Clemens (known as Mark Twain) in an 1876 issue of The Atlantic Month­ly. Nine­teenth-cen­tu­ry mag­a­zines and the emerg­ing pen­ny press were full of such warn­ings of slick huck­sters prey­ing on respectable cit­i­zens. Clemens' own cre­ations, the charm­ing trick­sters Tom Sawyer and Huck Finn, were minor-league play­ers in com­par­i­son. In a typ­i­cal vignette, huck­sters were accused of putting rot­ten fruit at the bot­tom of a basket.
Regard­less of whether ordi­nary Amer­i­cans were real­ly besieged by dis­hon­est ped­dlers, they made a con­ve­nient foil for hon­est busi­ness­men. The apoc­ryphal huck­ster was the alarm­ing antithe­sis to the kind of respectabil­i­ty that bound togeth­er the 19th-cen­tu­ry mid­dle class and put a civ­i­lized gloss on Amer­i­can capitalism.
Huck­sters are cen­tral to Amer­i­can Mis­fits and the Mak­ing of Mid­dle-Class Respectabil­i­ty, Prince­ton soci­ol­o­gist Robert Wuthnow's explo­ration of the shift­ing ways Amer­i­cans have per­formed mid­dle-class iden­ti­ty since its emer­gence in the mid-19th cen­tu­ry. He finds that respectabil­i­ty has per­tained less to keep­ing up with the Jone­ses than to keep­ing out the misfits.
Mid­dle-class respectabil­i­ty arose along­side indus­tri­al cap­i­tal­ism in the Unit­ed States. The qual­i­ties assigned to this muta­ble stan­dard — hard work, per­se­ver­ance, thrift, sta­ble home-life and ratio­nal­i­ty — are the same as those attrib­uted to good work­ers and rep­utable busi­ness­men. Like mid­dle-class­ness itself, respectabil­i­ty was rela­tion­al, ​"a process of com­pare and con­trast," argues Wuth­now. Mar­gin­al peo­ple who did not con­form to mid­dle-class behav­iors or achieve mid­dle-class eco­nom­ic sta­bil­i­ty served as ​"the con­trast­ing cas­es." Huck­sters — place­less, fast-talk­ing and blithe­ly uncon­cerned with the emerg­ing rules of the free mar­ket — were mea­sured against the plain­spo­ken farmer, who, by con­trast, sold goods at licensed stalls in week­ly markets.
What's fas­ci­nat­ing here is not the­o­ries about ​"oth­er­ing," to which Wuth­now devotes much insuf­fer­able aca­d­e­m­ic prose. So, skip the intro­duc­tion and con­clu­sion and jump into the beau­ti­ful­ly researched case studies.
In a chap­ter on lunatics, for exam­ple, Wuth­now uses Civ­il War pen­sion records to unrav­el the life sto­ry of William Hall, a Union Army vet­er­an who was com­mit­ted to an asy­lum in Tope­ka, Kansas. Men­tal ill­ness was not well under­stood at the time, and sto­ries cir­cu­lat­ed of com­mu­ni­ty mem­bers los­ing their minds with­out warn­ing. There was one report of a busi­ness­man who awoke one morn­ing and slit the throats of his two chil­dren. Becom­ing a lunatic meant removal from one's com­mu­ni­ty. By 1874, 32 states had built asy­lums to house the insane.
Hall's ill­ness began dur­ing the war, and sev­er­al years lat­er he suf­fered a ner­vous break­down. His physi­cian deliv­ered to the coun­ty court an affi­davit declar­ing him inca­pable of man­ag­ing his affairs, and a pan­el of 12 jurors con­curred. With­in a mat­ter of days, Hall was sent to the asy­lum. His wife lat­er received a $12 widow's pen­sion, but was unable to main­tain the couple's farm. The fam­i­ly dis­persed, dis­cred­it­ed by Hall's illness.
Wuthnow's crew of mis­fits also includes, sur­pris­ing­ly, the very reli­gious and the very rich. Irra­tional­i­ty, whether expressed as insan­i­ty or reli­gious fanati­cism, stood in con­trast to the beliefs and behav­iors need­ed to sus­tain employ­ment, pur­sue prof­it and work toward the Amer­i­can dream. Thus, reli­gious fanat­ics who active­ly reject­ed the mate­ri­al­ism of 19th-cen­tu­ry mar­ket-ori­ent­ed com­mu­ni­ties were por­trayed as moral, but also exces­sive­ly emo­tion­al and unrea­son­able. Mean­while, the mon­eyed elite were labeled immoral, cor­rupt and undemoc­rac­tic. The pop­u­lar mag­a­zine, The Com­mon­er, cel­e­brat­ed instead the ​"homey and whole­some, demo­c­ra­t­ic and pure" com­mon people.
All of Wuthnow's mis­fits, in one way or anoth­er, threat­ened to under­mine Amer­i­can cap­i­tal­ism by sug­gest­ing that some peo­ple could ignore its rules. By striv­ing to remain respectable, above all else, the mid­dle class has duti­ful­ly enforced those rules.
Mar­garet Garb
is the author of
Freedom's Bal­lot: African Amer­i­can Polit­i­cal Strug­gles in Chica­go from Abo­li­tion to the Great Migra­tion.
. She is work­ing on a his­to­ry of pover­ty and work in the U.S. from the Civ­il War to the Rea­gan era.