How Today's White Middle Class Was Made Possible By Welfare
Whites, angered at blacks and immigrants receiving "government handouts," forget they were lifted out of poverty through racially exclusive welfare programs in the 30s.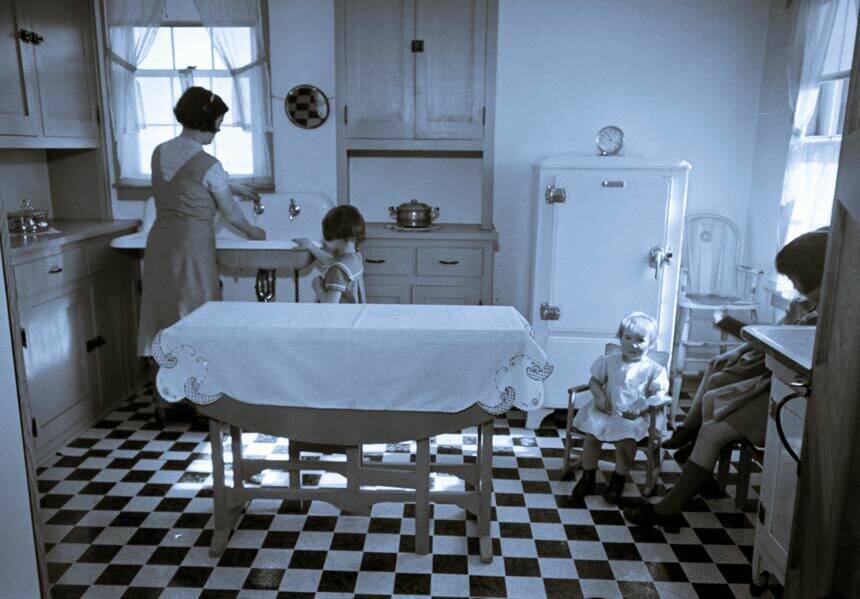 Between 2001 and 2010, West­more­land Coun­ty, Pa., lost at least 8,000 man­u­fac­tur­ing jobs. That's one expla­na­tion for why this once-blue region gave more votes to Don­ald Trump than did any oth­er Penn­syl­va­nia coun­ty, help­ing swing the state in his favor and pro­pelling him to a sur­prise victory.
Today, the federal government's role in building and subsidizing the homestead communities—and the larger government programs to subsidize construction of white suburbs across the nation—is all but erased from history.
"We want our jobs back," John Golomb, a retired steel­work­er in West­more­land Coun­ty and life­long Demo­c­rat who vot­ed for Trump, told the Wall Street Jour­nal, adding that pre­vi­ous pres­i­dents from both par­ties ​"for­got us."
A form of his­tor­i­cal amne­sia also afflicts West­more­land Coun­ty. Large­ly absent from dis­cus­sions of its decline are the ambi­tious social wel­fare pro­grams that once helped its res­i­dents climb out of pover­ty. Two gen­er­a­tions ago, this area of rur­al Penn­syl­va­nia was the site of a sweep­ing — and suc­cess­ful — fed­er­al hous­ing pro­gram. The New Deal sub­sis­tence home­stead pro­gram, launched in 1933 with $25 mil­lion, built mod­ern homes for low-wage indus­tri­al work­ers and gave them plots of land for sub­sis­tence farm­ing. In this cor­ner of coal coun­try dev­as­tat­ed by dan­ger­ous labor prac­tices and low wages, fed­er­al offi­cials con­struct­ed a new com­mu­ni­ty that gave poor white fam­i­lies a step­ping-stone to home own­er­ship and the mid­dle class. The sto­ry of this hous­ing pro­gram is told by his­to­ri­ans Tim­o­thy Kel­ly, Mar­garet Pow­er and Michael Cary in Hope in Hard Times: Norvelt and the Strug­gle for Com­mu­ni­ty Dur­ing the Great Depres­sion.
Norvelt, one of 34 com­mu­ni­ties in 18 states com­plet­ed under the Roo­sevelt administration's sub­sis­tence home­stead pro­gram, remains today as a vil­lage of more than 1,000 res­i­dents in West­more­land Coun­ty. The medi­an house­hold income in Norvelt is more than $56,000, just above the state medi­an. Few­er than three per­cent of res­i­dents live in pover­ty, a low­er rate than any of the sur­round­ing com­mu­ni­ties. It's a mon­u­ment to the poten­tial for ​"an ambi­tious and inno­v­a­tive fed­er­al gov­ern­ment" to ​"work pos­i­tive­ly in people's lives," the authors write. But it is also a reminder of the fed­er­al government's inabil­i­ty — or refusal— to address the unyield­ing racial seg­re­ga­tion in America's hous­ing mar­kets. The authors can doc­u­ment just one African-Amer­i­can fam­i­ly liv­ing in Norvelt in the late 1930s, and the com­mu­ni­ty is still large­ly white today.
Most of the community's first res­i­dents were the chil­dren or grand­chil­dren of immi­grants from south­ern or east­ern Europe and had lived in ​"coal patch" com­mu­ni­ties owned by Hen­ry Clay Frick. The move to Norvelt could not have been more stark. The men had worked 10-to 12-hour days in Frick's coal mines and coke ovens while resid­ing in ​"patch" com­mu­ni­ties, in hous­es of four to six rooms owned by the min­ing com­pa­ny. Into the 1930s, fam­i­lies shared out­hous­es, car­ried water from a com­mu­nal pump and heat­ed their homes with coal stoves. Coal dust and con­ta­gious dis­eases spread from house to house, mak­ing the lives of wives and moth­ers a con­stant war against dirt, mal­nu­tri­tion and the dis­eases that put child mor­tal­i­ty rates among the high­est in the nation.
Norvelt's hous­es, by con­trast, had indoor bath­rooms, kitchen sinks with run­ning water, fur­naces and elec­tri­cal appli­ances, pro­vid­ing the min­ers and their fam­i­lies with mid­dle-class liv­ing stan­dards. They worked col­lec­tive­ly in the hatch­ery and veg­etable gar­dens, pro­duc­ing food for their house­holds and sub­si­diz­ing their low wages at the mines. By all accounts, Norvelt was a healthy, pros­per­ous com­mu­ni­ty. The town was named for Eleanor Roo­sevelt, a strong sup­port­er of the fed­er­al pro­gram, who vis­it­ed West­more­land Home­steads on May 21, 1937. Roo­sevelt had tak­en the train from Wash­ing­ton to Greens­burg, Pa., then insist­ed on dri­ving her­self the eight miles to the set­tle­ment, where she was greet­ed by a wel­com­ing com­mit­tee and giv­en a three-hour tour. Fol­low­ing her vis­it, the res­i­dents of West­more­land, grate­ful for the first lady's sup­port, renamed their com­mu­ni­ty Norvelt.
The home­stead exper­i­ment end­ed after WWII, when res­i­dents took own­er­ship of their hous­es, incor­po­rat­ed their towns, and turned the coop­er­a­tive farms into indi­vid­u­al­ly owned yards. A gen­er­a­tion or two after the fed­er­al gov­ern­ment built Norvelt and oth­er home­stead com­mu­ni­ties, many chil­dren and grand­chil­dren of the orig­i­nal ben­e­fi­cia­ries became Nixon's silent major­i­ty or Trump's Rust Belt whites, angered by what they per­ceived as gov­ern­ment hand­outs to African Amer­i­cans and immi­grants. It's an ugly irony that the book's authors do not explain.
When most Amer­i­cans think about pub­lic hous­ing today, they pic­ture the wide­ly despised high-rise projects blamed for destroy­ing black urban neigh­bor­hoods. This was fed­er­al­ly fund­ed hous­ing for the urban work­ing class, intro­duced under the 1937 Hous­ing Act. Ear­ly pub­lic hous­ing offered com­fort­able, mod­ern apart­ments for both white and black fam­i­lies, but racial seg­re­ga­tion was enforced. By the 1960s, high-rise pub­lic hous­ing was under­fund­ed, poor­ly main­tained, and con­sid­ered lit­tle more than a ware­house for the black urban poor.
Today, the fed­er­al government's role in build­ing and sub­si­diz­ing the home­stead com­mu­ni­ties — and the larg­er gov­ern­ment pro­grams to sub­si­dize con­struc­tion of white sub­urbs across the nation — is all but erased from his­to­ry. This allows con­tem­po­rary white Amer­i­cans to assume they came by home own­er­ship, and the fam­i­ly wealth it pro­duces, through indi­vid­ual hard work. It also sus­tains their refusal to rec­og­nize the ways white priv­i­lege — or what W.E.B. Du Bois called ​"the wages of white­ness" — pro­pelled white work­ers into mid­dle-class eco­nom­ic stability.
Dein­dus­tri­al­iza­tion in the 1970s and 1980s — cou­pled with 40 years of stag­nant wages and the 2008 hous­ing cri­sis — have erod­ed the val­ue of white­ness, though cer­tain­ly not elim­i­nat­ed it. Eighty years after Norvelt, the right-wing elite plays on the anx­i­ety of work­ing-class whites who have lost some of the eco­nom­ic priv­i­leges that their grand­par­ents took for granted.
The sto­ry of Norvelt rein­forces the ways race and class are intri­cate­ly bound togeth­er in Amer­i­can pol­i­cy. Gov­ern­ment sup­port for hous­ing the labor­ing poor was among the New Deal's most inno­v­a­tive pro­grams, one so effec­tive that government's role in build­ing a nation of home­own­ers is now large­ly forgotten.
The suc­cess of New Deal home­stead towns, in par­tic­u­lar, reminds us that sweep­ing social wel­fare pro­grams can ben­e­fit and win the sup­port of the rur­al work­ing class. But like so many New Deal pro­grams, the home­stead pro­gram was shot through with con­tra­dic­tions. It mixed ide­al­ism with oppor­tunism, col­lec­tive val­ues with indi­vid­u­al­ism, work­ing-class uplift with racial exclu­sion. Ulti­mate­ly, this helped to forge America's mas­sive racial wealth gap. It's a piece of his­to­ry worth recovering.
Mar­garet Garb
is the author of
Freedom's Bal­lot: African Amer­i­can Polit­i­cal Strug­gles in Chica­go from Abo­li­tion to the Great Migra­tion.
. She is work­ing on a his­to­ry of pover­ty and work in the U.S. from the Civ­il War to the Rea­gan era.