The Problem With Cancer Memoirs
Popular accounts ignore the underlying race and class dynamics that determine vulnerability to the disease.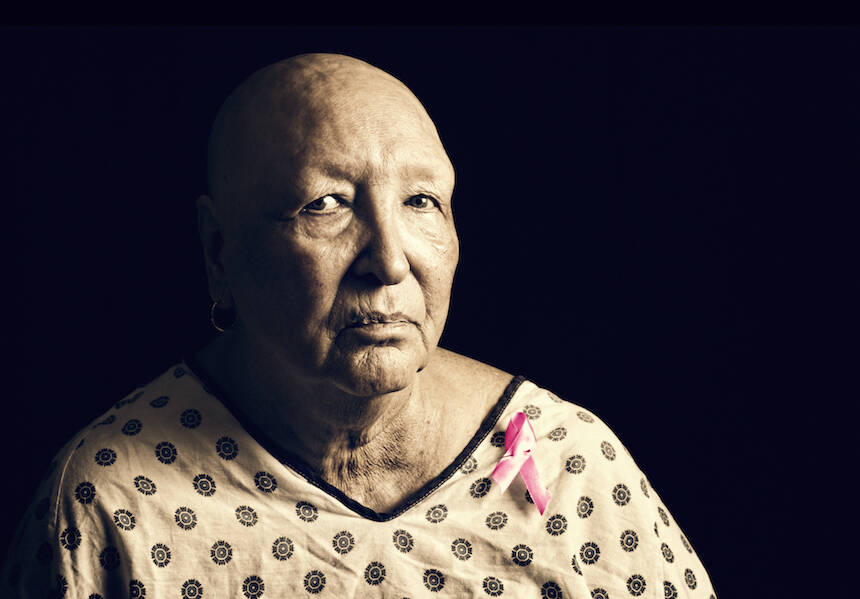 I have spent many hours in a can­cer ward. It's a spot­less, flu­o­res­cent-lit expanse divid­ed into ​"pods," a space-age ter­mi­nol­o­gy that is reas­sur­ing­ly high-tech. Inside each pod are rows of peo­ple sit­ting in Barcaloungers next to met­al IV frames dan­gling bags of flu­ids, like squishy Calder mobiles sus­pend­ed above the patients' shoulders.
My frustration with Kalanithi's memoir may lie with the genre itself. Memoir, by its nature, highlights the uniqueness of the writer's experiences.
I usu­al­ly read a nov­el as the chemother­a­py drugs are infused. Most peo­ple are absorbed by their phones. Some sleep, some stare straight ahead, some chat with the chemo-bud­dies that social work­ers say can cheer you through sev­er­al hours of treat­ment. I have been in pods where one Barcalounger res­i­dent begins a con­ver­sa­tion with anoth­er — usu­al­ly the open­ing line is ​"how long was your dri­ve," and then ​"what do you got," mean­ing which can­cer— and then draws in the rest of the pod. There was the day two women, dis­cussing their pan­cre­at­ic can­cer, lift­ed their shirts to show us their ster­num-to-pelvis scars.
In the past few months, peo­ple in the can­cer ward have been car­ry­ing Paul Kalanithi's high­ly acclaimed and beau­ti­ful­ly writ­ten mem­oir, When Breath Becomes Air, which was pub­lished posthu­mous­ly in Jan­u­ary and still sits atop best-sell­er lists. It has become a tal­is­man for can­cer suf­fer­ers and sur­vivors. Kalanithi was a 36-year-old neu­ro­sur­geon train­ing at Stan­ford when he was diag­nosed with stage 4 lung can­cer. He was the father of a tod­dler when he died in March 2015. Kalanithi had earned a master's in Eng­lish lit­er­a­ture (with a the­sis on Walt Whit­man); it was lit­er­a­ture that sus­tained him dur­ing his most wretched days. With patients, and lat­er him­self, Kalanithi shies away from prog­no­sis — a two-month or five-year sur­vival rate — not­ing that sta­tis­tics say a lot about groups, but no one knows where an indi­vid­ual sits in a fog of numbers.
Indeed, my fel­low suf­fer­ers like to say that can­cer does not dis­crim­i­nate — its suf­fer­ers come in all shapes and sizes, races, class­es and incli­na­tions. Can­cer, at its sim­plest, is a group of dis­eases char­ac­ter­ized by the uncon­trolled growth of abnor­mal cells. The prob­lem is that the dis­ease lives in soci­ety. Some groups are more like­ly to be exposed to car­cino­gens, some are more like­ly to be killed by can­cer. Accord­ing to the Amer­i­can Can­cer Soci­ety, your chances of get­ting can­cer are greater if you live in Ken­tucky, Penn­syl­va­nia, New York, New Jer­sey, Con­necti­cut or New Hamp­shire. But you are more like­ly to die of can­cer if you live in West Vir­ginia, Ken­tucky, Ten­nessee, Alaba­ma, Mis­sis­sip­pi, Louisiana, Arkansas or Okla­homa — all in the top-ten poor­est states by medi­an house­hold income. African Amer­i­cans have the high­est death rate and short­est sur­vival rate from can­cer. In 2012, black Amer­i­can men were 24 per­cent more like­ly than white men to die of can­cer; the death rate for black women was 14 per­cent high­er than for white women. Racial dis­par­i­ties for some can­cers, par­tic­u­lar­ly breast can­cer, are increas­ing. Accord­ing to the Amer­i­can Can­cer Soci­ety, ​"Social and eco­nom­ic dis­par­i­ties more than bio­log­i­cal dif­fer­ences" might explain the dif­fer­ing death rates. Can­cer — like jobs, edu­ca­tion, hous­ing and the crim­i­nal jus­tice sys­tem — does discriminate.
Even before his can­cer diag­no­sis, Kalanithi was a young man in search of mean­ing. He chose a career in med­i­cine to make a con­crete con­tri­bu­tion to human­i­ty. He chose brain surgery because the brain is where sci­ence and the spir­i­tu­al col­lide, where the inef­fa­ble stuff that makes each human an indi­vid­ual is formed. Life's virtue, he writes, ​"had some­thing to do with the depth of the rela­tion­ships we form." He lived his phi­los­o­phy while prac­tic­ing med­i­cine. ​"Here we are togeth­er," he tells his patients. ​"I promise to guide you, as best I can, to the oth­er side."
Kalanithi's courage in fac­ing death is remark­able. For some­one afflict­ed with can­cer, or any­one strug­gling with life, Kalanithi's search and solu­tion — the find­ing of life's mean­ing in every­day rela­tion­ships — is a sooth­ing balm.
Yet, the memoir's broad appeal lies in its abil­i­ty to skirt a big chunk of cancer's sto­ry. Kalanithi's laser-like focus on each indi­vid­ual life leaves unex­am­ined the sources of the Amer­i­can Can­cer Soci­ety sta­tis­tics. It is com­fort­ing to think of can­cer as a bun­dle of mis­be­hav­ing cells and of health­care as an almost-friend­ship. But peo­ple, and health­care sys­tems, are social prod­ucts; we do not spring into being, can­cer-afflict­ed or not, in the puri­fied air of a hos­pi­tal room. Can­cer has been linked to pes­ti­cides in food, taint­ed urban water sys­tems and chem­i­cals in work­places, all under­gird­ed by the struc­tur­al forces of pover­ty and racism. Where and when you were born, your race, your nation­al­i­ty and your house­hold income influ­ence your pre­dis­po­si­tion to cancer.
My frus­tra­tion with Kalanithi's mem­oir may lie with the genre itself. Mem­oir, by its nature, high­lights the unique­ness of the writer's expe­ri­ences. (Bar­bara Ehrenreich's bril­liant breast can­cer mem­oir, which evis­cer­at­ed the med­ical estab­lish­ment and self-help cul­ture, is an excep­tion.) Indi­vid­u­al­ism is a par­tic­u­lar attrac­tion of the can­cer mem­oir. We can­cer-afflict­ed like to believe our suf­fer­ing is unique, that we sit some­where just beyond the bell curve for prog­no­sis, and at the same time, that we have entered an egal­i­tar­i­an pod, shoot­ing for the stars.
But that is the kind of self-decep­tion that allows us to ignore the envi­ron­men­tal caus­es of can­cer, the bar­ri­ers posed by pover­ty and a cost­ly health­care sys­tem, and the sim­ple fact that pol­i­tics and soci­ety deter­mine that some peo­ple are more like­ly to die of the ill­ness than others.
Mar­garet Garb
is the author of
Freedom's Bal­lot: African Amer­i­can Polit­i­cal Strug­gles in Chica­go from Abo­li­tion to the Great Migra­tion.
. She is work­ing on a his­to­ry of pover­ty and work in the U.S. from the Civ­il War to the Rea­gan era.