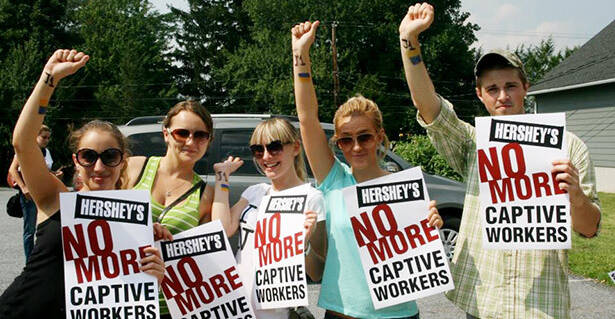 WASHINGTON D.C. — Last week, Secretary of State Hillary Clinton ordered an ​"extensive and thorough review" of the cultural exchange work visa program that foreign student workers, watchdog groups and the federal government say has been exploited by businesses to employ foreign workers at rates below the minimum wage.
The federal program came to sudden prominence this past August, after hundreds of guest workers — students from foreign countries on a four-month J‑1 exchange visa — walked out of a warehouse run by a Hershey's contractor after presenting a petition to management. I wrote about how Hershey exploited the cultural exchange program to pay student guest workers dramatically less than they have to pay American workers.
A federal indictment unsealed last week, the Associated Press reported, ​"accuses the mafia of using the cultural exchange program to bring Eastern European women to work in New York strip clubs."
Saket Soni, executive director of the National Guestworker Alliance (NGA), said this week that a State Department review of the program — the start and end dates of which have not been announced — is not enough.
​"We need more than a review — we need action. If the State Department is serious about fixing the problems in the J‑1 program, it needs to shut down the sponsoring organizations that have deceived, exploited, and threatened J‑1 student workers, starting with Hershey's labor recruiter CETUSA," Soni said. ​"We call on Secretary Clinton to immediately suspend and revoke CETUSA's right to issue additional J‑1 cultural exchange visas. It should do the same with every J‑1 sponsoring organization that has abused this program as a source of cheap, exploitable labor."
After paying fees and travel costs ranging from $3,000-$6,000, Hershey guest workers were promised they would make $7.85 – 8.35 an hour, while provided with housing. In fact, they were placed into company-owned housing and were charged $395 a month for rent— nearly twice the rate of rent for Americans living in similar housing in rural central Pennsylvania, according to the National Guestworker Alliance spokesman Stephen Boykewic. After deducting rent and other fees from their paychecks, guest workers took home anywhere from $40-$140 a week.
353,602 people entered the United States on a J‑1 visa in 2010, including 132,000 foreign college students who were part of the cultural exchange program, also known as the Summer Work Travel program. Although the program has long been fraught with problems, the State Department has only 13 compliance officers assigned to oversee the program.
Despite reports of abuses, the State Department has been lax to regulate the program, according to the NGA and Economic Policy Institute researcher Daniel Costa. Neither Hershey nor the recruiting company it hired to find the foreign workers who protested working and living conditions this summer have been reprimanded or punished by the U.S. government.
NGA Media Director Stephen Boykewich added that action beyond just a review by the State Department was needed urgently because recruiters are currently bringing so many workers into the United States. ​"J‑1s are being brought in year-round, facing exactly the same kind of deception, exploitation, and threats that the Hershey's student workers faced," Boykewich said. ​"If [the State Department] wants to show it's serious about ending these abuses, debarring CETUSA from the J‑1 program would be a very clear first step."
A State Department spokesperson declined to comment on the record when contacted by In These Times.
Before you go
Reader donations, many as small as just $5, are what fund the work of writers like this—and keep our content free and accessible to everyone. But when donations slow down, it puts our future reporting at risk. To get back on track, we're aiming to add 400 contributions from readers by the end of the month.

It only takes a minute to donate. Will you chip in before the deadline?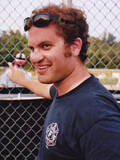 Deadline: Thursday
Reader donations, many as small as just $5, have kept In These Times publishing for 45 years. But when donations slow down, it puts our future reporting at risk. To get back on track, we're aiming to add 400 contributions from readers by the end of the month. Will you be one of them?