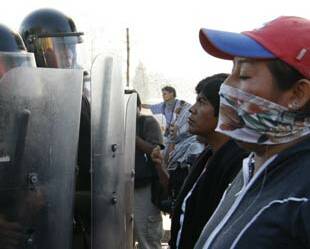 At 8 a.m. on Novem­ber 2, police came to remove the last bar­ri­cade. After clear­ing away the rub­ble and city bus­es used to block the major Cin­co Señores inter­sec­tion, sev­er­al hun­dred riot police and spe­cial forces from the Fed­er­al Pre­ven­tive Police (PFP) took posi­tions along Uni­ver­si­ty Avenue on either side of the Autonomous State Uni­ver­si­ty of Oax­a­ca. Two groups of police forces armed with sub­ma­chine guns, tear gas grenades, riot shields and batons pre­pared to advance, with mil­i­tary heli­copters cir­cling over­head and anti-riot tanks gun­ning their motors behind. Only the charred skele­ton of an old bus, stretched across Uni­ver­si­ty Avenue halfway between the two police lines, remained.
The com­man­der of the fed­er­al police, who would not give his name, said that they had no inten­tion of invad­ing the uni­ver­si­ty cam­pus, home to the occu­pied radio sta­tion that pro­test­ers from the Oax­a­ca Peo­ples' Pop­u­lar Assem­bly (APPO) had used for months to coor­di­nate their civ­il dis­obe­di­ence upris­ing against Gov­er­nor Ulis­es Ruíz Ortíz. ​"They are in their house," the com­man­der said, ​"and we did not come here to kick them out."
The stu­dents saw otherwise.
Soon, res­i­dents from sur­round­ing neigh­bor­hoods trick­led into the streets to stand before the lines of riot police, talk­ing, plead­ing and scream­ing at them not to advance, not to attack the uni­ver­si­ty. The crowd swelled and by 10 a.m., stu­dents began to leap over the cam­pus walls and join in, car­ry­ing junked cars, old tires and fall­en tele­phone poles to build a new bar­ri­cade only 10 feet from the fed­er­al police, and then set it on fire. The stu­dents shout­ed at the police, wav­ing their sticks, rocks, sling­shots and Molo­tov cock­tails in the air.
Then one of the heli­copters over­head fired tear gas grenades inside the cam­pus, and the stu­dents unleashed a tor­ren­tial vol­ley of rocks and bot­tles. To the west, a morn­ing soc­cer game froze in mid-play before both teams and the ref­er­ees ran to gath­er rocks and join the defense.
It would take four hours, with thou­sands of stu­dents and near­by res­i­dents wag­ing the fight, before the PFP final­ly retreat­ed at 3 p.m. and the bar­ri­cade of Cin­co Señores was rebuilt.
The con­fronta­tion was the first open bat­tle with police since teach­ers and local res­i­dents defeat­ed state riot police in their pre-dawn raid on the strik­ing teach­ers' encamp­ment on June 14. Cre­at­ed to sup­port the teach­ers' union after June's failed police raid, the APPO had respond­ed to armed para­mil­i­tary attacks only by orga­niz­ing bar­ri­cades – thou­sands of bar­ri­cades – across Oax­a­ca City every night. When the PFP entered Oax­a­ca on Octo­ber 29, the APPO called on pro­test­ers to turn and march with the police into the city rather than con­front them. But state police in unmarked cars began a ter­ror cam­paign, shoot­ing, abduct­ing, and bru­tal­ly tor­tur­ing uni­ver­si­ty stu­dents and bar­ri­cade vol­un­teers in broad daylight.
The result­ing rage cat­alyzed with the eupho­ria of vic­to­ry on Novem­ber 2, cre­at­ing an urge for more bat­tle. Dur­ing a mas­sive march on Novem­ber 5, APPO orga­niz­ers formed human chains in front of the police to keep pro­test­ers from throw­ing rocks or Molo­tov cock­tails. But on Novem­ber 20, after yet anoth­er, small­er march to com­mem­o­rate the Mex­i­can Rev­o­lu­tion, four masked men threw rocks at the police lines out­side of the town square. The police respond­ed with tear gas and began to advance on the pro­test­ers, who retreat­ed sev­er­al blocks. After three hours of fight­ing, the APPO – blam­ing agi­ta­tors for throw­ing the first rocks – gave the order to retreat and pre­pare a Novem­ber 25 action.
The plan was to lead anoth­er mas­sive march into the city cen­ter and peace­ful­ly sur­round the PFP – at a dis­tance of a full city block – keep­ing them trapped in the town square for 48 hours. But the plan did not hold. When PFP agents stole a protester's cool­er of soda, young and enraged APPO mem­bers respond­ed by throw­ing rocks and fir­ing bot­tle rock­ets through plas­tic tubes.
The bat­tle last­ed for three hours and end­ed with the PFP using full force – tear gas, riot tanks, machine gun fire – to dri­ve the pro­test­ers out of the cen­ter and sur­round them, beat­ing and detain­ing over 140 peo­ple. That night, fed­er­al and state police pulled wound­ed pro­test­ers out of hos­pi­tals at gun point, raid­ed hous­es and patrolled the city in con­voys of pick­up trucks car­ry­ing spe­cial forces offi­cers. The cam­paign stretched over a week, forc­ing move­ment lead­ers and par­tic­i­pants alike into hiding.
But on Decem­ber 10, more than 10,000 mem­bers of the APPO reemerged to march in Oax­a­ca City, demand­ing Ruíz's ouster and an end to the repres­sion of the movement.
"Peo­ple are mov­ing beyond the fear," says Fer­nan­do Sober­anes, an indige­nous teacher and mem­ber of the APPO who has par­tic­i­pat­ed in the move­ment from day one. ​"We are return­ing to the streets."