A Brief Case for Cancelling All Student Loan Debt
It isn't just the right thing to do—it's smart economics.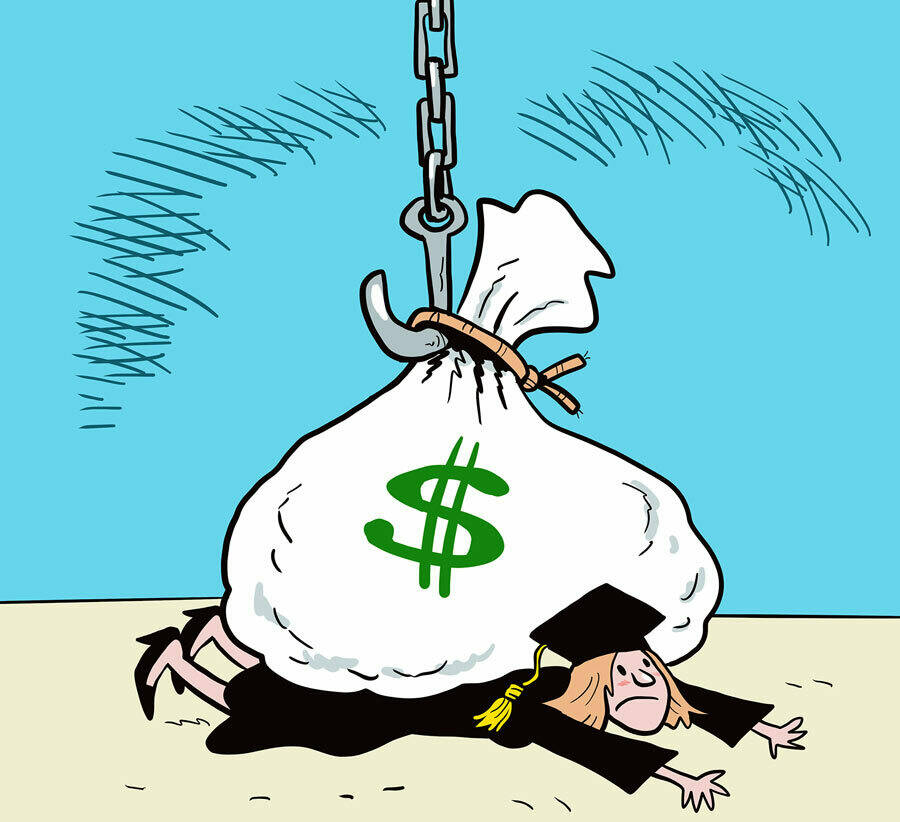 stu•dent debt am•nes•ty
The government owns some 90 percent of existing student loan debt.
noun
1. The era­sure of every pen­ny owed on U.S. stu­dent loans
"I feel like these loans are so ille­git­i­mate. I was conned into going to this school. They sold me a dream and I got a night­mare." —Maken­zie Vasquez, a for­mer stu­dent of Corinthi­an Col­leges who par­tic­i­pat­ed in a his­toric ​"debt strike" in 2015
Is this a legit­i­mate pro­pos­al, or just a broke millennial's fantasy?
The call for full stu­dent debt can­cel­la­tion has been gain­ing steam since Occu­py Wall Street, which put indebt­ed stu­dents front and cen­ter. This year, a report from the Levy Eco­nom­ics Insti­tute of Bard Col­lege made the case that it's not just the right thing to do, but smart eco­nom­ics. The $1.4 tril­lion col­lec­tive­ly owed by 44 mil­lion peo­ple isn't just a drag for debtors. It's a drag on the entire econ­o­my, dri­ving down home own­er­ship and con­sumer spend­ing. Wipe it out, and the report's authors esti­mate we'd increase GDP by at least $86 bil­lion and add as many as 1.5 mil­lion jobs annually.
Can the gov­ern­ment actu­al­ly do this?
Here's the thing: The gov­ern­ment owns some 90 per­cent of exist­ing stu­dent loan debt, and pays pri­vate com­pa­nies (includ­ing one with ties to Edu­ca­tion Sec­re­tary Bet­sy DeVos) hun­dreds of mil­lion of dol­lars to col­lect from delin­quent bor­row­ers. Instead, it could just for­give the debt. Pri­vate­ly held debt is trick­i­er, but the gov­ern­ment could either assume pay­ments or buy and can­cel them out­right. The government's bal­ance sheets would take a hit, of course, but the Levy report esti­mates the net eco­nom­ic impact would still be positive.
Why give a hand­out to Har­vard grads, instead of putting the mon­ey toward pro­grams that help poor people?
For starters, they're not mutu­al­ly exclu­sive. But there's also evi­dence that stu­dent debt amnesty would help reverse a widen­ing racial wealth gap among mil­len­ni­als. While the top 20 per­cent of earn­ers have the largest debt bur­dens, low-income minor­i­ty bor­row­ers have the high­est delin­quen­cy rates and are more like­ly to have been steered into expen­sive for-prof­it colleges.
Take Corinthi­an Col­leges, a for-prof­it sys­tem that shut down in 2015 amid alle­ga­tions that it preyed on poor and minor­i­ty stu­dents with false adver­tis­ing. The Oba­ma Depart­ment of Edu­ca­tion estab­lished a process that was sup­posed to grant loan for­give­ness to some 25,000 for­mer Corinthi­an stu­dents, though DeVos is walk­ing that back. Arguably, all col­lege stu­dents have been sub­ject to a kind of false adver­tis­ing, the idea that tak­ing on mas­sive debt is a safe invest­ment in one's future. For mil­lions of stu­dents, that sim­ply hasn't panned out.
Isn't this just a tem­po­rary fix?
Yep. So let's can­cel everyone's debt and then make col­lege free for all.
This is part of ​"The Big Idea," a month­ly series offer­ing brief intro­duc­tions to pro­gres­sive the­o­ries, poli­cies, tools and strate­gies that can help us envi­sion a world beyond cap­i­tal­ism. For past In These Times cov­er­age of stu­dent debt, see, ​"These Stu­dents Are Lead­ing a Move­ment for Free Col­lege in the Unit­ed States," ​"You Are Not a Loan" and ​"Why Can't Col­lege Be Free?"