Labor's Tar Sands Pipeline Dilemma
Short-term job creation or a sustainable economy? Some major unions are choosing the latter

America's official unemployment rate remains distressingly high: 9.1 percent, which translates into nearly 14 million workers without jobs. Last week jobless claims surged to 417,000, according to the U.S. Labor Department.
So when someone dangles an opportunity to work on a 1,700-mile pipeline that will stretch across the country, from Canada to the Gulf of Mexico, unions that represent construction and transportation workers start to salivate.
After all, there are more than 2 million construction workers out of work and factories that produce building materials are operating at half capacity, according to Labor Network for Sustainability.
But in a surprising twist, this week some powerful labor unions have joined forces with hundreds of environmentalists in front of the White House to protest the proposed Keystone XL tar sands pipeline.
If constructed, the Keystone XL Pipeline would carry 700,000 barrels of Canadian crude each day from Alberta's oil sands to the U.S. Gulf Coast through Montana, South Dakota, Nebraska, Kansas, Oklahoma and Texas. President Barack Obama has the power to block the project, which doesn't need congressional approval to move forward.
"President Obama can stop this climate killing disaster with the stroke of a pen," said writer and environmentalist Bill McKibben, who founded the organization 350​.org and is spearheading the protests. ​"We will be outside the White House hoping we can inspire the president to live up to the promises that so inspired us in his 2008 campaign. And without Congress in the way, this is the clearest test he'll ever have."
A major civil disobedience action that began last Saturday August 20 continues in front of the White House, as wave after wave of people from across the country arrive, ready to be taken to jail while chanting together. They are doctors, students, farmers, lawyers, environmental activists, workers.
McGibben was among the first of hundreds to be arrested. He sent a message from his cell: ​"The only thing we need is more company. We don't need your sympathy, we need your company." He was held for three days.
So far more than 300 people have been arrested since the two-week long civil disobedience began last Saturday.
California Democrat Henry Waxman says the pipeline will carry ​"the dirtiest source of transportation fuel currently available."
Joe Uehlein, board president of Labor Network for Sustainability and former director of the AFL-CIO's Center for Strategic Campaigns and Secretary-Treasurer of the labor federation's Industrial Union department, is part of the growing protest to stop the pipeline.
For families trying to put food on the table, the issue is complex. They seek decent work to provide for their families. ​"But what are we to do if those jobs are also building an unsustainable future for ourselves and our children?" Uehlein asked this week.
Uehlein, who was born into a union family and whose dad was founder of the Steelworkers Union in Ohio, continued:
Opposing the pipeline might strain ties with unions that I've worked with and been part of for my whole adult life. And yet the pipeline might be a tipping point that could hurtle us into a desperate acceleration of climate change. Amid these conflicting pulls, what should I do? Having lived at the confluence of trade unionism and environmentalism, I struggled with the right course of action. What has my life's work meant?
He was faced with a difficult decision. But he is not the only unionist to oppose the pipeline — two labor unions have come out against it.
In a joint statement released on August 19, James C. Little, president of the Transport Workers Union (TWU), and Larry J. Hanley, president of the Amalgamated Transit Union (ATU), called on the State Department not to approve construction of the pipeline. ​"We call on the State Department NOT to approve the construction of the Keystone XL pipeline or to take any actions that lead to the further extraction of Tar Sands oil from Alberta, Canada," the presidents wrote.

They added, ​"The Tar Sands has destroyed vast areas of boreal forest and inflicted havoc on local communities. The expansion of the Tar Sands will inflict immeasurable harm on both people and the environment and impede our country's and the world's efforts to transition to a green and more sustainable economy."
The two added that ​"We need jobs," but that those jobs could be had in a ​"New Deal"-type public investment in modernizing the U.S. infrastructure – shoring up or replacing water and sewage pipelines; repairing bridges and tunnels, and transportation infrastructure.
"Many jobs could also be created in energy conservation, upgrading the grid, maintaining and expanding public transportation — jobs that can help us reduce air pollution, greenhouse gas emissions, and improve energy efficiency."
The ATU is the largest labor organization representing transit workers in the United States and Canada. Founded in 1892, today it's comprised of more than 190,000 members. TWU represents about 200,000 members work in railroads, airlines, gaming, public mass transit and other industries.
"We need jobs, but not the ones based on increasing our reliance on Tar Sands oil," the two union leaders wrote.
Although proponents say its construction will lower gas prices, that's not exactly the case, according to a report by the National Resources Defense Council. In addition, the excess carbon that would be emitted into the atmosphere would have grave consequences, according climate scientist James Hansen.
A New York Times editorial came out against the project saying it would result in about 740,000 acres of boreal forest being logged. It questions Canadian claims that it has found ways to reduce greenhouse emissions, citing a new report from Canada's environmental ministry.
For the millions of Americans out of work, the temptation to take a bite out of the apple is enticing. But what will their children and their children's children have left?
For many in the labor movement, it's not just about jobs. Not this time — the stakes are too high.
For a limited time: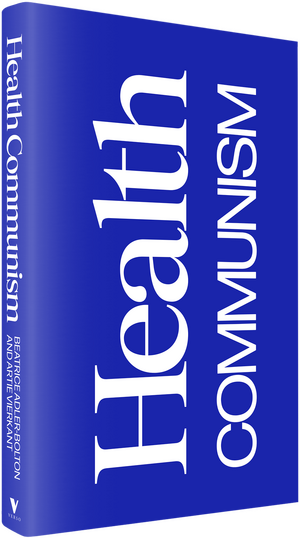 Donate $25 or more to support In These Times and we'll send you a copy of Health Communism.
A searing analysis of health and illness under capitalism from hosts of the hit podcast "Death Panel," Health Communism looks at the grave threat capitalism poses to global public health, and at the rare movements around the world that have successfully challenged the extractive economy of health.
"This is a book you should read before you die, because the ideas synthesized by Adler-Bolton and Vierkant could save our collective lives." –Jon Shaffer
Rose Arrieta
was born and raised in Los Angeles. She has worked in print, broadcast and radio, both mainstream and community oriented — including being a former editor of the Bay Area's independent community bilingual biweekly El Tecolote. She currently lives in San Francisco, where she is a freelance journalist writing for a variety of outlets on social justice issues.