Teachers College Students Urge President to Cut Ties With Pearson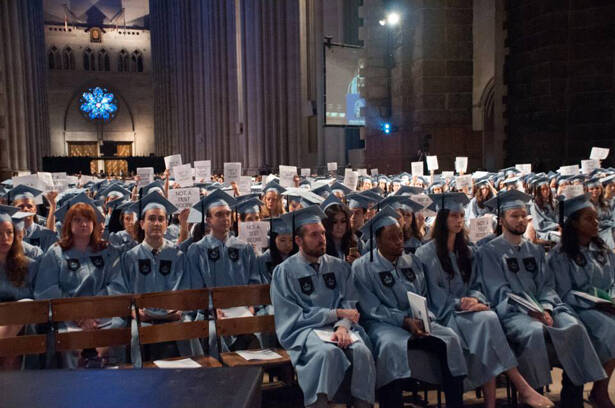 Colum­bia University's Teach­ers Col­lege, long esteemed as a pre­mier insti­tu­tion for pro­gres­sive ped­a­gogy, is hav­ing an iden­ti­ty cri­sis. While majes­tic quotes from edu­ca­tion philoso­pher John Dewey remain etched across the walls of the school's Morn­ing­side Heights head­quar­ters, his words ring increas­ing­ly hol­low as Teach­ers Col­lege Pres­i­dent Susan Fuhrman con­tin­ues to serve on the board of — and hold 12,927 shares in — Pear­son, the world's largest edu­ca­tion­al resource cor­po­ra­tion, which dis­trib­utes every­thing from stan­dard­ized tests and text­books to teacher cer­ti­fi­ca­tion and cur­ricu­lum pro­grams. Argu­ing that this role ham­pers their abil­i­ty to speak out against the dis­as­trous pol­i­cy of high-stakes test­ing, stu­dents at Teach­ers Col­lege began a cam­paign last month demand­ing that Fuhrman divest from Pearson.
Over the past few years, Pear­son has risen from a small British pub­lish­ing firm to an ​"edu­ca­tion resource" giant, rak­ing in the prof­its that come with the increas­ing pri­va­ti­za­tion of the Amer­i­can edu­ca­tion sys­tem. Pearson's involve­ment in shap­ing edu­ca­tion in New York state is a prime exam­ple. In 2010, when the state, long known as a bea­con for its strong cur­ricu­lum stan­dards, was for­mu­lat­ing its new stan­dard­ized ​"Com­mon Core" pro­gram, law­mak­ers hand­ed Pear­son a gen­er­ous five-year, $32 mil­lion con­tract to admin­is­ter tests, in addi­tion to anoth­er $1 mil­lion for help­ing the state Edu­ca­tion Depart­ment with test­ing ser­vices. Hav­ing seized con­trol of stan­dard­ized test­ing in states like New York, Pear­son has also made its own cost­ly text­books essen­tial for teach­ers under pres­sure to turn out high-test scores, there­by turn­ing addi­tion­al prof­its while trans­form­ing class­rooms into Pear­son test-prep centers.
To many Teach­ers Col­lege stu­dents, Fuhrman's asso­ci­a­tion with Pear­son places her at odds with the school's rep­u­ta­tion as one of the strong­holds of ​"crit­i­cal ped­a­gogy," an edu­ca­tion­al phi­los­o­phy that empow­ers stu­dents to real­ize their free­dom and com­bat diverse forms of pow­er. Pearson's mod­el, man­dat­ing that stu­dents spend weeks of class fill­ing out hun­dreds of Scant­ron bub­bles, doesn't exact­ly jibe with Teach­ers College's vision for edu­ca­tion­al empowerment.
Many stu­dents also feel stung by Fuhrman's Pear­son con­nec­tion in light of the state's recent deci­sion to adopt Pearson's Teacher Per­for­mance Assess­ment, which will require teacher trainees to send two 10-minute videos of them­selves teach­ing to Pear­son offices and fill out a Pear­son-approved take-home test in order to be con­sid­ered for cer­ti­fi­ca­tion — and pay Pear­son a $300 fee. As Daiyu Suzu­ki, a fifth year doc­tor­al stu­dent, put it, ​"Qual­i­ty teach­ing, which must be shaped around the unique cir­cum­stances of its stu­dents, can­not be eval­u­at­ed on the basis of Pearson's one-size-fits-all test­ing rubric."
In response, the stu­dents of Teach­ers Col­lege have closed their books and tak­en mat­ters into their own hands. On May 9, more than 50 stu­dents packed the hall­way out­side the fac­ul­ty vote on Fuhrman's pro­posed annu­al bud­get, hold­ing up signs decry­ing Fuhrman's ties to Pear­son and the creep­ing cor­po­ra­ti­za­tion of edu­ca­tion. Encour­aged by their pres­ence, the fac­ul­ty vot­ed down the administration's aus­tere pro­pos­al, elic­it­ing a 10-minute round of applause as pro­fes­sors tri­umphant­ly filed out, high-fiv­ing stu­dents and thank­ing them for their support.
After this strong ini­tial show­ing, stu­dents began meet­ing reg­u­lar­ly to orga­nize. Unit­ed with fac­ul­ty mem­bers, stu­dents have a wide list of con­cerns, rang­ing from the dis­con­nect between exec­u­tive admin­is­tra­tors' bonus­es — report­ed­ly total­ing $315,000 — and the weak­en­ing finan­cial sup­port for doc­tor­al and master's stu­dents, to Pres­i­dent Fuhrman's cor­po­rate con­nec­tions. At the school's May 21 com­mence­ment, hun­dreds of stu­dents in caps and gowns held up signs read­ing, ​"I am not a num­ber" and ​"not a test score," direct­ly in the view of Mer­ryl Tisch, New York's Chan­cel­lor of the Board of Regents, who was being award­ed the Medal for Dis­tin­guished Ser­vice. As the head of New York State's edu­ca­tion sys­tem, Tisch was instru­men­tal in Pear­son receiv­ing its $32 mil­lion contract.
Per­haps the most griev­ous con­se­quence of Fuhrman's tenure at Teach­ers Col­lege is an emerg­ing cyn­i­cism with­in the stu­dent body, threat­en­ing the school's very capa­bil­i­ty to train and turn out inspi­ra­tional teach­ers. As Diane Rav­itch, for­mer U.S. Assis­tant Sec­re­tary of Edu­ca­tion, wrote in an email:
Test­ing is big busi­ness these days. Edu­ca­tors must be free to crit­i­cize the tests and their pub­lish­ers. Fac­ul­ty mem­bers at [Teach­ers Col­lege] might feel con­strained by the fact that the pres­i­dent of the insti­tu­tion is on the board of Pear­son, my own sense is that she has a con­flict of inter­est, because as a board mem­ber she is not [in] a posi­tion of inde­pen­dence to speak out against the mis­use and overuse of test­ing and how it hurts chil­dren and warps education.
Many stu­dents say they have grow­ing doubts that teach­ing could ever live up to the ideals they eager­ly stud­ied in the class­room. Diana Rodriquez-Gomez, a doc­tor­al stu­dent, says that Fuhrman's very posi­tion led her to ques­tion her deci­sion to become a teacher:
It's fun­ny because we read so much about [Paulo] Freire and Dewey, then when we come to school, it's like ​'Are you kid­ding me?'…For me it's an eth­i­cal mat­ter; she's sit­ting at two tables that accom­plish com­plete­ly dif­fer­ent things. A uni­ver­si­ty pro­duces crit­i­cal knowl­edge. Pear­son pro­motes the pri­va­ti­za­tion of edu­ca­tion. When you're a teacher, and you see what stan­dard exams do, you don't know if you want to keep doing that!
Fuhrman was unavail­able for an inter­view, but on May 15 she released a state­ment argu­ing her ties to Pear­son could only help facil­i­tate bet­ter discourse:
I real­ize that my affil­i­a­tion with the board of Pear­son is dis­turb­ing to var­i­ous mem­bers of the TC community…However, I believe strong­ly that the best way to rep­re­sent those views is to be ful­ly engaged in — and, I would hope, influ­ence — the dis­cus­sion of the role of the pri­vate sec­tor in pub­lic education.
But as stu­dents made clear in their response, it is the dis­cus­sion itself — the cor­po­rate nar­ra­tive that has for so long vil­i­fied teach­ers, her­ald­ed high stakes test­ing, and pro­mot­ed the pri­va­ti­za­tion of the pub­lic school sys­tem — that must be chal­lenged. As Suzu­ki argues: ​"We, as a stu­dent group, find it iron­ic that she repeat­ed­ly uses the dom­i­nant dis­course as excus­es to jus­ti­fy the unjust prac­tices of TC, where­as we are say­ing it's that same dom­i­nant dis­course that we need to dis­rupt and change."
John Dewey once wrote, ​"As long as pol­i­tics is the shad­ow cast on soci­ety by big busi­ness, the atten­u­a­tion of the shad­ow will not change the sub­stance." Per­haps Pres­i­dent Fuhrman needs a lit­tle refresh­er course.