Workers Force Indie Bookstore To Live Up to Its Values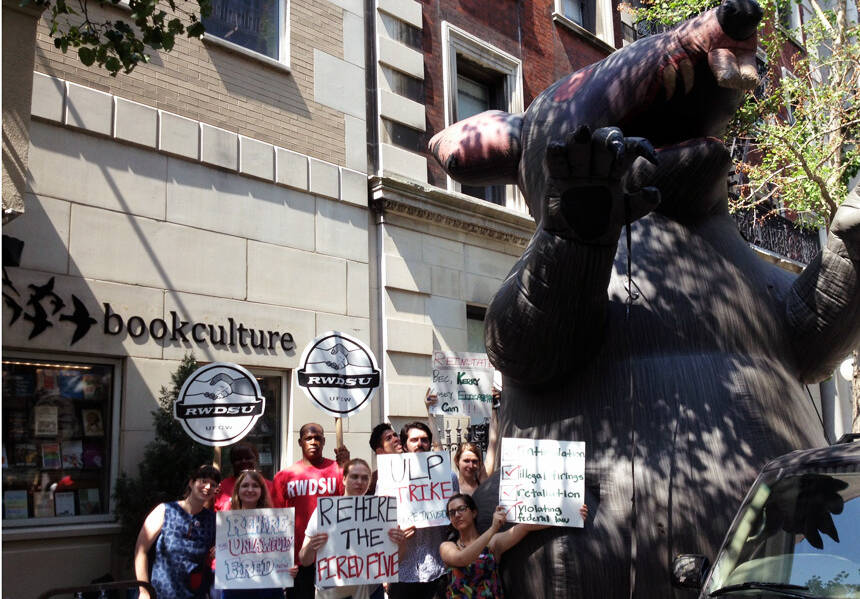 A few blocks away from Colum­bia Uni­ver­si­ty, inde­pen­dent book­store chain Book Culture's two Morn­ing­side Heights loca­tions are often packed with young patrons por­ing over Feuer­bach crit­i­cal read­ers or Camus post­cards. So many of the company's pro­gres­sive cus­tomers were dis­mayed when, on June 27, they received a mass email from Book Cul­ture own­er Chris Doe­blin inform­ing them that sev­er­al store man­agers had been fired for vot­ing to union­ize, along with one oth­er work­er accused of a sep­a­rate infraction.
​"It became clear that sev­er­al of the store's super­vi­sors were not will­ing to con­tin­ue to per­form the role of super­vi­sors with­in the new envi­ron­ment of hav­ing the union­ized work­force," Doe­blin wrote. ​"We respect them for their can­dor, but they could not con­tin­ue as employ­ees when they were unwill­ing to per­form their job's most essen­tial functions."
In response to the five fir­ings, the Retail, Whole­sale, and Depart­ment Store Union, the work­ers' prospec­tive union, filed an Unfair Labor Prac­tice com­plaint with the Nation­al Labor Rela­tions Board. RWD­SU mem­bers also pick­et­ed out­side both stores every day for a week, blow­ing up inflat­able rats and encour­ag­ing onlook­ers to boy­cott the estab­lish­ments. On July 2, near­ly every work­er walked out on a one-day strike.
The next day, Book Cul­ture hired back all four fired super­vi­so­ry work­ers and nego­ti­at­ed a com­pen­sa­tion pack­age for the fifth, offi­cial­ly retract­ing its claim that she had been eaves­drop­ping on man­age­ment conversations.
Though employ­ees were thrilled by the turn of events, the inci­dent rais­es trou­bling ques­tions for Book Cul­ture cus­tomers and staff alike — name­ly, whether the store's left-wing envi­ron­ment obscures a much more con­ser­v­a­tive­ly run workplace.
In Decem­ber 2013, five work­ers from Book Cul­ture approached RWD­SU orga­niz­ers, telling them that they want­ed to union­ize. After months of clan­des­tine meet­ings and house vis­its, the union filed for an NLRB elec­tion on May 13. On June 24, both Book Cul­ture loca­tions over­whelm­ing­ly decid­ed to join RWD­SU, with only two employ­ees vot­ing against it.
Lat­er that evening, Doe­blin sent an email to Ker­ry Hen­der­son, one of the store man­agers, inform­ing her that she had been fired.
​"Your vot­ing for the union after we have giv­en the clear indi­ca­tion to you that our inter­ests were in not hav­ing a union are at odds with this com­pa­ny," Doe­blin wrote. ​"You are fired affec­tive [sic] immediately."
In his June 27 mass email, Doe­blin claimed that because four of the five work­ers were clas­si­fied as man­agers, they could not vote in the union elec­tion. The man­agers have since pub­licly argued that they did not have the pow­er to hire, fire, or use inde­pen­dent judg­ment at the work­place; there­fore, their clas­si­fi­ca­tion did not have legal mer­it. Yet, rather than con­test­ing their votes with the NLRB, Doe­blin chose to fire them.
This is not the first time Doeblin's actions have seemed to be at odds with his store's rad­i­cal ethos. In 2009, while Book Cul­ture employ­ees were still part of Work­ers Unit­ed Union Local 169, work­ers accused him of union-bust­ing: refus­ing to fol­low con­trac­tu­al agree­ments around hol­i­day pay and even fir­ing work­ers just before they became eli­gi­ble to join the union.
Doe­blin says that he sees no con­flict of inter­est between his store's iden­ti­ty and his atti­tude toward orga­niz­ing. ​"A union is not an ide­al. Jus­tice and fair­ness are ideals. … Retail book­selling is a tough busi­ness, and only tough oper­a­tors will sur­vive. Fair, just and tough can all coex­ist," he writes in an email to In These Times.
He con­tin­ues, ​"A union is a cost. It is not good for our busi­ness. I don't think any­one oper­at­ing an orga­ni­za­tion hopes to have a third par­ty come in and affect the deci­sion-mak­ing progress. … To answer this in a dif­fer­ent way, try this: Find a man­ag­er, pres­i­dent or CEO of any com­pa­ny, large or small, who wants to have a union come into their company."
Shamus Khan, a soci­ol­o­gy pro­fes­sor at Colum­bia, argues that such dis­con­nects between the­o­ry and action are all too com­mon in osten­si­bly left­ist cir­cles. About the fir­ings, he says, ​"I wasn't that sur­prised, in part because I think these small busi­ness­es think of them­selves as ​'fam­i­lies,'" he says. ​"And there is emo­tion­al bag­gage that comes with that. I also think that small pro­gres­sive busi­ness­es demand that their employ­ees buy into and make sac­ri­fices to ​'the cause.'"
And Doeblin's tac­tics proved effec­tive. After two years try­ing to ham­mer out a new agree­ment at the bar­gain­ing table, Work­ers Unit­ed dis­claimed inter­est in its Book Cul­ture local in 2012, leav­ing the staff with no con­tract and no union.
Accord­ing to Hen­der­son, Doe­blin took advan­tage of the confusion.
​"Once the union left I got con­cerned," says Hen­der­son, who has worked at Book Cul­ture for two and a half years. ​"Chris was in con­trol of a lot of things that the union used to take care of, such as job classification."
In the months that fol­lowed, Hen­der­son says, Doe­blin pro­mot­ed near­ly half of Book Culture's total work­force to man­age­r­i­al posi­tions with­out giv­ing them any super­vi­so­ry priv­i­leges or sub­stan­tial pay increases.
​"He made it seem like he was being gen­er­ous for putting [man­agers] on salary, but it was pret­ty much the same amount," Hen­der­son says. As a man­ag­er, she says her pay amount­ed to around $1.50 more an hour when she worked 40 hours a week. Often, how­ev­er, she put in longer shifts than that, espe­cial­ly dur­ing busier seasons.
RWD­SU orga­niz­er Peter Mon­tal­bano declined to com­ment as to whether Doe­blin wield­ed these ques­tion­able clas­si­fi­ca­tions to weak­en the pos­si­bil­i­ty for a suc­cess­ful union election.
​"Our posi­tion is that they were work­ers the whole time and were hap­py he's call­ing them work­ers now," Mon­tal­bano says. How­ev­er, he does note that the high ratio of man­agers to non-super­vi­so­ry staff ​"speaks for itself." He also reports that RWD­SU plans to nego­ti­ate with the com­pa­ny over whether the oth­er man­agers should be includ­ed in the bar­gain­ing unit.

For now, accord­ing to Doe­blin, the four re-hired employ­ees have now been clas­si­fied as ​"non-man­agers." About the rein­state­ment, he writes, ​"My staff asked me to take that action and the com­mu­ni­ty asked me to take that action."
Indeed, work­ers and orga­niz­ers say Book Culture's depen­dence on its loy­al clien­tele gave their efforts seri­ous weight.
​"Part of the rea­son man­age­ment gave in so eas­i­ly, I think, is because we had so much sup­port from the com­mu­ni­ty," says Max­ine Ander­son, one of the strik­ing employ­ees. ​"Colum­bia pro­fes­sors and stu­dents, as well as our lefty neigh­bor­hood reg­u­lars, were total­ly sup­port­ive of us — they wrote emails, shared our side of the sto­ry on social media, came by to say ​'Hi' when we were on strike, and, most impor­tant­ly, refused to shop at the store until our co-work­ers were rehired."
​"Before passers­by even noticed our pick­et, peo­ple would point and say, ​'That's the book­store where they fired those work­ers for union­iz­ing,'" Mon­tal­bano adds. ​"I've nev­er seen that kind of sup­port in New York City, ever. Overwhelming."
Now that the man­agers have been re-hired, Book Culture's employ­ees hope that sup­port will con­tin­ue as they enter con­tract nego­ti­a­tions. After all, their bread-and-but­ter issues — low start­ing pay, the lack of a clear pay scale or pro­mo­tion­al lad­der, and incon­sis­tent rais­es — have not yet been resolved.
Nonethe­less, work­ers sense a chang­ing pow­er bal­ance in the shop. ​"Man­age­ment actu­al­ly was real­ly tak­en aback and was­n't sure how to treat us," says Ander­son. ​"There was a real atmos­phere of sol­i­dar­i­ty, know­ing that we all had each oth­ers' backs and would keep sup­port­ing each oth­er in the future."
And employ­ees are con­fi­dent in their com­mit­ment to the cause. If it's nec­es­sary, Ander­son says, ​"I'm always down to strike again."