West Virginia Teachers Are Staging a Statewide Strike. Here's Why.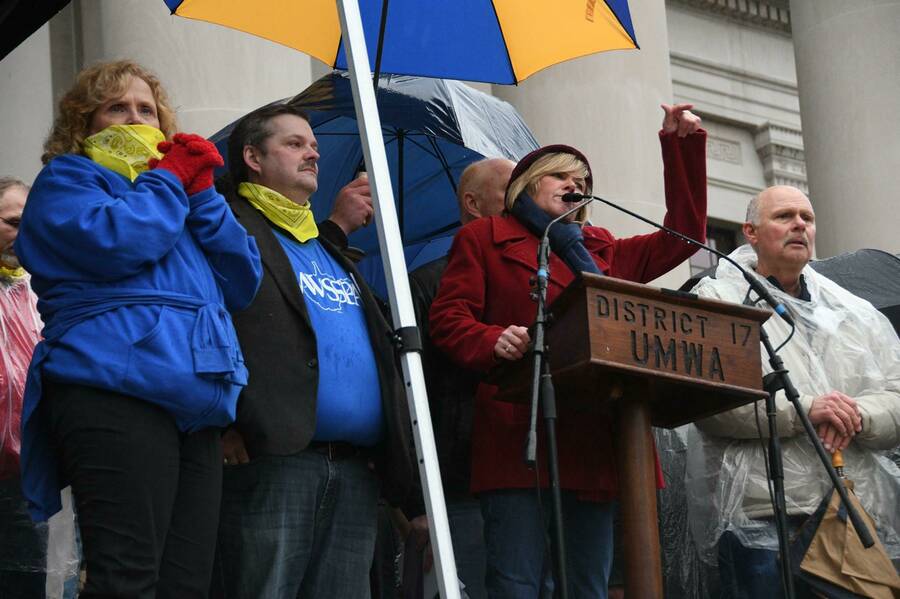 Update: On Feb. 22, teach­ers across West Vir­ginia walked out on strike, clos­ing down every pub­lic school in the state.
Teach­ers and ser­vice per­son­nel across West Vir­ginia are plan­ning to strike on Feb. 22 and 23 in an effort to boost pay and low­er their increas­ing health­care costs. It will be the first statewide walk­out in near­ly 30 years.
The strike was announced by the Amer­i­can Fed­er­a­tion of Teach­ers-West Vir­ginia and the West Vir­ginia Edu­ca­tion Asso­ci­a­tion (WVEA) dur­ing a week­end ral­ly at the state capi­tol in Charleston that attract­ed teach­ers and oth­er pub­lic sec­tor employ­ees and sup­port­ers. Hun­dreds also showed up at the capi­tol on Feb. 2, where they sang ​"Na, na, na, na, na, na, na, na, hey, hey, good­bye!" while Tim Arm­stead, Repub­li­can Speak­er of the W.V. House of Del­e­gates, gave a speech on the House floor. At this past weekend's ral­ly, WVEA Pres­i­dent Dale Lee declared that all 55 of the state's coun­ties were pre­pared to stand unit­ed. ​"The entire state of West Vir­ginia will be shut down," declared Lee, whose union is an affil­i­ate of the Nation­al Edu­ca­tion Association.
Accord­ing to a 2017 study that ranked each state's aver­age teacher salary, West Vir­ginia is the sixth worst in the coun­try. On aver­age, the state's teach­ers make $45,477, com­pared to first-place-rank­ing Alas­ka, where teach­ers make $77,843. W.V. teach­ers want the state to fund the state's Pub­lic Employ­ee Insur­ance Agency (PEIA) and increase their salaries. The state's House of Del­e­gates has vot­ed to give pub­lic school teach­ers 2‑percent rais­es next year and a 1‑percent raise over the next three years, while the state's Sen­ate has approved a 1‑percent raise, every year, over the next five years. Union rep­re­sen­ta­tives believe these rais­es are inad­e­quate, espe­cial­ly when con­sid­ered along­side the ris­ing costs of healthcare.
Kym Ran­dolph, direc­tor of com­mu­ni­ca­tions for the WVEA, tells In These Times that dis­sat­is­fac­tion has been brew­ing for years. ​"It's a num­ber of things," says Ran­dolph. ​"PEIA, lack of salary, years of neglect, anti-work­er poli­cies … health­care that's inad­e­quate." Accord­ing to Ran­dolph, law­mak­ers have become ​"entrenched" on the issue of teacher salaries and are dif­fi­cult to persuade.
One of those law­mak­ers is Repub­li­can Gov. Jim Jus­tice. He has pro­posed freez­ing PEIA for a year, effec­tive­ly pre­vent­ing health pre­mi­ums from ris­ing, and he doesn't believe that the 1‑percent raise, every year, over the course of five years should be increased in any way. ​"I think the pru­dent thing and the smart mon­ey is to fix PEIA like we've done, and the smart mon­ey is to stay at 1−1−1−1−1," said Jus­tice at a recent press con­fer­ence. How­ev­er, his crit­ics point out that a PEIA freeze is mere­ly a short-term solu­tion for a prob­lem that isn't going away, and such a tem­po­rary action could give birth to even high­er health­care costs in 2019. The teach­ers are look­ing for a long-term plan that pro­vides secu­ri­ty while final­ly mak­ing salaries competitive.
In that same press con­fer­ence, Jus­tice said that a teach­ers' strike would be a ​"cry­ing shame." He also dis­missed a Sen­ate Demo­c­rat pro­pos­al that would fund PEIA by rais­ing the state's sev­er­ance tax on nat­ur­al gas as ​"polit­i­cal grandstanding."
West Vir­ginia is often por­trayed as a stead­fast­ly Repub­li­can state where pro­gres­sive devel­op­ments are near­ly impos­si­ble. Near­ly 70 per­cent of the state vot­ed for Trump, who promised to revive the floun­der­ing coal indus­try, and the state's Demo­c­ra­t­ic Sen­a­tor Joe Manchin votes in line with Trump almost 60 per­cent of the time.
How­ev­er, a deep­er analy­sis of the state's cur­rent pol­i­tics reveals a slight­ly more nuanced pic­ture. Bernie Sanders won all 55 coun­ties in the 2016 Demo­c­ra­t­ic Pri­ma­ry, and recent data sug­gests that sup­port for Trump is actu­al­ly drop­ping. Between Jan­u­ary and Sep­tem­ber of 2017, Trump's lev­el of net sup­port in West Vir­ginia went down by 13 points. Last month, Paula Jean Swearen­gin, a pro­gres­sive Demo­c­rat who is run­ning against Manchin in the pri­ma­ry, told In These Times, ​"We have fought so many labor strug­gles and won. This nation and state deserve true democ­ra­cy. … We all strug­gle and are going to fight like hell. I believe a new West Vir­ginia is being born."
Swearengin's asser­tion will be put to the test in the com­ing months as the state's teach­ers con­tin­ue to fight, through the walk­out and beyond. ​"I think what the Leg­is­la­ture is doing is just despi­ca­ble," a high school sci­ence teacher named Lisa Stil­lion told West Vir­ginia Pub­lic Radio at last week's ral­ly. ​"We need to vote them out. Get your heads out of your rear ends; be think­ing about who you rep­re­sent. You work for us. We don't work for you."
"
Michael Arria
is the U.S. cor­re­spon­dent for Mon­doweiss. Fol­low him on Twit­ter: @michaelarria.