Texas Activists Thought They'd Kicked ICE Out of Their County. Then a Secret Deal Happened.
An Austin suburb has become a test of whether ICE and private prison companies can thwart the movement to close local detention centers.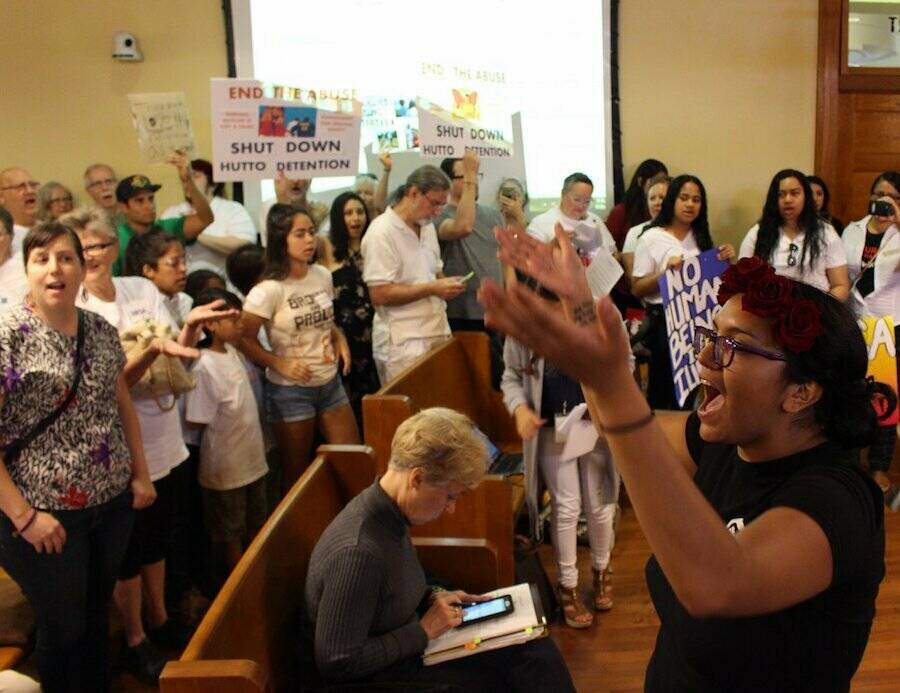 Last June, activists in sub­ur­ban Williamson Coun­ty, Texas, had rea­son to cel­e­brate. Coun­ty com­mis­sion­ers had vot­ed to ter­mi­nate a con­tract with ICE for the pri­vate­ly-run T. Don Hut­to Deten­tion Cen­ter, a Core­Civic-run women's facil­i­ty for asy­lum seek­ers that has long been accused of ram­pant abuse. While there was no guar­an­tee that the facil­i­ty would close, it felt like coun­ty offi­cials were final­ly lis­ten­ing to local res­i­dents and for­mer detainees, and sig­nal­ing an end to deten­tion-for-prof­it prac­tices in their community.
After Grassroots Leadership began making weekly visits to county meetings, reading letters from detained women in the facility, commissioners decided that they didn't want family separation on their conscience.
But Hut­to remains open, thanks to a qui­et agree­ment between ICE and Core­Civic. The coun­ty, and the city of Tay­lor where the deten­tion cen­ter resides, have been indif­fer­ent while detainees con­tin­ue to be locked up. And activists are appalled.
"We've been fight­ing for a long time, and we thought we were final­ly going to shut the place down after a decade," says Bethany Car­son, immi­gra­tion pol­i­cy researcher and orga­niz­er with the Austin-based orga­ni­za­tion Grass­roots Lead­er­ship, which has led efforts to close Hut­to. A planned ral­ly on Thurs­day at the Tay­lor City Coun­cil presents the next stage in this seem­ing­ly end­less battle.
The frus­trat­ing­ly hard-to-kill deten­tion cen­ter rep­re­sents a set­back in the grow­ing momen­tum of move­ments tar­get­ing pri­vate cor­po­ra­tions that enable cru­el­ty to immi­grants. Ear­li­er this year, Wells Far­go announced it would lim­it its lend­ing to pri­vate pris­ons, which rely on the finan­cial indus­try for cash flow. In Feb­ru­ary, the Amer­i­can Fed­er­a­tion of Teach­ers union rec­om­mend­ed to its pen­sion funds to steer clear of pri­vate equi­ty firms and asset man­agers who prof­it from mass incar­cer­a­tion. Pend­ing leg­is­la­tion in Cal­i­for­nia would force the state's two large pub­lic pen­sion funds, the Pub­lic Employ­ees' Retire­ment Sys­tem (CalPERS) and State Teach­ers' Retire­ment Sys­tem (Cal­STRS), to divest from pri­vate prisons.
Williamson Coun­ty is a fast-grow­ing sub­urb of Austin with chang­ing demo­graph­ics; near­ly one-quar­ter of res­i­dents are now Lat­inx. That shift drove activist fer­vor around clos­ing the Hut­to facil­i­ty, a women-only deten­tion cen­ter with around 500 beds.
In Feb­ru­ary 2018, Lau­ra Mon­ter­rosa, a detainee at Hut­to alleged sex­u­al assault at the hands of a prison guard and was put into soli­tary con­fine­ment after speak­ing out. After she was released lat­er last year, she became a pow­er­ful spokesper­son for the need to close the facil­i­ty. The fact that Hut­to was hold­ing women sep­a­rat­ed from their fam­i­lies and chil­dren after seek­ing asy­lum at the bor­der, in addi­tion to claims of sex­u­al abuse and med­ical neglect, inten­si­fied the demands.
"Our orga­niz­ing team start­ed putting pres­sure on coun­ty com­mis­sion­ers, say­ing this is your con­tract," says Bob Libal of Grass­roots Lead­er­ship, which has advo­cat­ed against mass incar­cer­a­tion and prison prof­i­teer­ing for decades. ​"What is hap­pen­ing at Hut­to is in your hands." After Grass­roots Lead­er­ship began mak­ing week­ly vis­its to coun­ty meet­ings, read­ing let­ters from detained women in the facil­i­ty, com­mis­sion­ers decid­ed that they didn't want fam­i­ly sep­a­ra­tion on their con­science. They declared that the inter­gov­ern­men­tal ser­vice agree­ment (ISGA) with ICE to let Core­Civic run the facil­i­ty was not a core func­tion of the coun­ty, and they said the con­tract would expire at the end of January.
Yet when the dead­line rolled around, the facil­i­ty did not close. ICE spokes­woman Nina Prune­da, told KXAN news in Austin that the agency ​"filed a short-term con­tract exten­sion with Core­Civic for the T. Don Hut­to Res­i­den­tial Facil­i­ty locat­ed in Tay­lor, Texas, to remain open beyond Jan. 31, 2019." Prune­da gave no end date for that extension.
Accord­ing to Grass­roots Leadership's Bethany Car­son, coun­ty com­mis­sion­ers didn't know about the con­tract exten­sion until they heard it from reporters. With a direct con­tract exten­sion between ICE and Core­Civic, the coun­ty would have no over­sight respon­si­bil­i­ties to send in inspec­tors. ​"The coun­ty is total­ly out of it," said Carson.
How ICE was able to shift from an ISGA with Williamson Coun­ty to a pri­vate deal with Core­Civic is unclear. There is no record of any request for pro­pos­als or com­pet­i­tive bid­ding process, as is cus­tom­ary for fed­er­al contracts.
The city of Tay­lor appears ret­i­cent to inter­vene with its own over­sight of the facil­i­ty oper­at­ing with­in its bor­ders. ​"The city of Tay­lor is sep­a­rate and apart from any­thing that Core­Civic and ICE have going on right now," May­or Brandt Rydell told KXAN. He added that he toured the facil­i­ty in Jan­u­ary and didn't see any sub­par conditions.
Grass­roots Lead­er­ship has also uncov­ered through a pub­lic records request a secu­ri­ty agree­ment for the Hut­to facil­i­ty between ICE and the Tay­lor Police Depart­ment, estab­lished as soon as the coun­ty cut ties in June 2018. The agree­ment com­mits the police depart­ment to pro­vid­ing emer­gency back­up to on-site dis­tur­bances and assis­tance for appre­hend­ing any escapees. The pub­lic records request also unearthed a let­ter from Tay­lor chief of police Hen­ry Fluck, thank­ing Core­Civic for their part­ner­ship at Hut­to, and polite­ly declin­ing a gift card offered by a Core­Civic administrator.
This is not a sit­u­a­tion where Tay­lor is a small town that's whol­ly depen­dent on a deten­tion cen­ter for its job base, Car­son notes. ​"A lot of peo­ple from Austin are start­ing to move out, and there's a thriv­ing art scene," she said. ​"The deten­tion cen­ter threat­ens the poten­tial for tourism and music, from our per­spec­tive. The city coun­cil is not view­ing the deten­tion cen­ter in that light."
Grass­roots Lead­er­ship remains in con­tact with detainees at Hut­to, and believes abus­es con­tin­ue to take place there, though Tay­lor offi­cials have denied this. ​"We hear things con­stant­ly," Car­son said. ​"All the sys­tems in there set up to com­plete­ly dis­re­gard [detainee] needs and make it dif­fi­cult to get account­abil­i­ty when some­thing bad happens."
Grass­roots Lead­er­ship has planned a ​"pub­lic demon­stra­tion of out­rage" pri­or to Thursday's Tay­lor City Coun­cil, demand­ing answers on why the facil­i­ty remains open. The city of Tay­lor has not yet respond­ed to a request for comment.
The ral­ly is part of a nation­wide flur­ry of direct action since the rev­e­la­tions about fam­i­ly sep­a­ra­tion at the bor­der became wide­spread. Activists aim to peel off pri­vate-sec­tor and local gov­ern­ment part­ners from ICE, by rais­ing aware­ness of the human rights con­cerns with fam­i­ly sep­a­ra­tion and immi­grant detention.
For Valentine's Day, the ​"Cor­po­rate Back­ers of Hate" cam­paign sent a mari­achi band to JPMor­gan Chase CEO Jamie Dimon's house, play­ing love songs to urge him to ​"break up" with pri­vate pris­ons. JPMor­gan is a lead­ing financier for pri­vate prison com­pa­nies Core­Civic and Geo Group.
Decon­struct­ing facil­i­ties and arrange­ments for immi­grant deten­tion built up over years is a slow and often mad­den­ing process. The Trump admin­is­tra­tion con­tin­ues to ware­house immi­grants, dri­ving demand for more beds. Activists' strat­e­gy for dis­rupt­ing that pol­i­cy deci­sion by going after the facil­i­ties is sound, but only if their pres­sure leads to action. Whether Grass­roots Lead­er­ship can make it work in Tay­lor is a har­bin­ger of whether immi­gra­tion pol­i­cy can tru­ly be upend­ed at the local level.