When the Bankers Took Manhattan: Austerity's New York Roots
The new book Fear City documents the slide of New York City from vibrant social democracy to neoliberal abyss.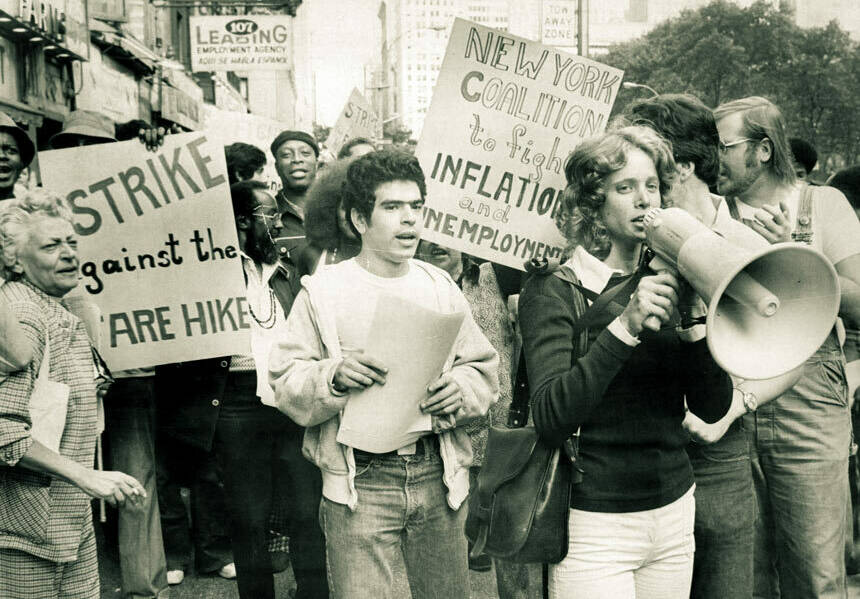 You might expect a book titled Fear City to be a bit more ter­ri­fy­ing than Kim Phillips-Fein's just-released his­to­ry of New York's famous mid-1970s cash crunch, omi­nous­ly sub­ti­tled New York's Fis­cal Cri­sis and the Rise of Aus­ter­i­ty Pol­i­tics. It's not for lack of vil­lains: Many of the book's cen­tral char­ac­ters — Don Rums­feld, Alan Greenspan, Dick Cheney, Bill Simon — would go on to do much more sin­is­ter things. But in 1975, when the banks that had financed the bud­get deficit went on strike and brought the city to the brink of bank­rupt­cy, the neolib­er­al ​"shock doc­trine" mafia was just cut­ting its fangs.
Antagonism among the ruling classes toward the city's "lifestyle" created a false "sense that New York City's problems were entirely its own fault."
Under the ​"jun­ta" (as the Vil­lage Voice called it) appoint­ed to bal­ance the bud­get, New York saw lay­offs, cut­backs and hos­pi­tal shut­downs. The cost of a sub­way token soared from 35 to 50 cents ($2.23 in today's terms). Class­rooms teemed with as many as 60 kids, twice the lim­it stip­u­lat­ed in the teach­ers' con­tracts. Women who had been unem­ployed for more than four months were no longer eli­gi­ble to send their kids to the sprawl­ing net­work of free city day care cen­ters. (I'd like to say my heart bled read­ing that part, but I was pay­ing a babysit­ter $15 an hour for the lux­u­ry, so it felt more like an ulcer.)
The scari­est thing about the book is the mem­o­ry of a time not long ago when what New York need­ed most was more rich peo­ple liv­ing (and pay­ing tax­es) in it. Ful­ly 49 per­cent of its pop­u­la­tion in the 1970s made less than the medi­an nation­al income — the city was, in oth­er words, a socioe­co­nom­ic mir­ror image of Amer­i­ca. But there were world-class parks and muse­ums and libraries, and abun­dant afford­able hous­ing, and tuition-free col­lege, and a vast net­work of pub­lic hos­pi­tals and clin­ics offer­ing every­thing from afford­able root canals to braces to eye­glass­es to dial­y­sis. Where fed­er­al Med­ic­aid and wel­fare fund­ing fell short, the city picked up the tab — and by the late 1960s, increas­ing­ly bor­rowed mon­ey to cov­er the difference.
As exot­ic and excep­tion­al as all this may sound, the macro­eco­nom­ic clus­ter bomb that hit urban Amer­i­ca in the ear­ly 1970s was, Phillips-Fein argues, almost more unlike­ly: a near-instan­ta­neous tripling of oil prices amidst a back­drop of rapid dein­dus­tri­al­iza­tion and deur­ban­iza­tion and the return of hun­dreds of thou­sands of under-skilled and often opi­ate-addict­ed veterans.
Dealt a less ruinous eco­nom­ic hand, New York might have — well, here's where it's impos­si­ble to know. Phillips-Fein argues, some­what half­heart­ed­ly, that antag­o­nism among the rul­ing class­es toward what the ubiq­ui­tous banker/​ pow­er bro­ker Felix Rohatyn called the city's ​"lifestyle" cre­at­ed a false ​"sense that New York City's prob­lems were entire­ly its own fault." This obscured the real caus­es of the cri­sis: the ​"dis­man­tling of the urban man­u­fac­tur­ing econ­o­my" and the ​"fed­er­al sub­si­dies for home­own­er­ship and fed­er­al invest­ment in high­ways" that had caused a giant suck­ing sound out of cities nation­wide. Had Ford and his aus­ter­i­ty-smit­ten advi­sors not been ​"so relent­less­ly hos­tile" to May­or Abra­ham Beame's pleas for a loan, Phillips-Fein writes, ​"New York might have had an eas­i­er time find­ing a way to rene­go­ti­ate its debts" in a ratio­nal and sys­tem­at­ic process that might even have redrawn city and sub­ur­ban bound­ary lines to make more resources avail­able for city governments."
At the same time, Phillips-Fein acknowl­edges that as ear­ly as the 1920s the New York real-estate-devel­op­ment lob­by, in its quest to dri­ve indus­try away and recast the city as a gleam­ing habi­tat for the afflu­ent, had has­tened the pre­cise sit­u­a­tion — the exo­dus of mid­dle-class fac­to­ry work­ers to the sub­urbs and beyond — that she blames for defund­ing the city's tax base. And as Nao­mi Klein's account in The Shock Doc­trine of Hur­ri­cane Kat­ri­na makes clear, gen­uine nat­ur­al dis­as­ters are the bread and but­ter of the aus­te­ri­ans: Isn't it more like­ly that stagfla­tion was sim­ply the ​"nat­ur­al dis­as­ter" the rul­ing class had been wait­ing for?
Cer­tain­ly May­or Beame, elect­ed in 1973 on a fis­cal respon­si­bil­i­ty plat­form, sus­pect­ed as much. His pre­de­ces­sor had float­ed bonds to finance a deficit in every year of his sec­ond term; Beame, comp­trol­ler for those four years, had warned a ​"day of reck­on­ing" would arrive. But every month or so the banks had nev­er­the­less shown up with­out inci­dent to roll over the city's debt — until Feb­ru­ary 1975, when a ​"young banker" at Bankers Trust who had ​"nev­er done a muni deal before" backed out of under­writ­ing a $260 mil­lion debt offering.
The next week, no bankers showed up to bid on city bonds. What had changed? Beame had spent his first year in office scram­bling to cut costs and raise tax rev­enue, and the banks had thanked him with a ​"cash boy­cott." Their objec­tive was nei­ther spe­cif­ic nor quan­tifi­able, he told City Coun­cil: It was to force the city to ​"move from pro­grammed recov­ery to shock ther­a­py." Or, as Rohatyn put it, only ​"overkill" — gra­tu­itous, sym­bol­ic cuts in ser­vices — was like­ly to sat­is­fy the face­less investors spurn­ing New York's debt because its ​"way of life is dis­liked nationwide."
Per­haps wise­ly, Phillips-Fein does not expend too much effort eval­u­at­ing the extent to which the cash crunch (or its after­math) was coor­di­nat­ed by the bankers and their allies. Con­spir­a­cy or no, New York was broke. But it's remark­able to read her account of the blood­bath — in which the city's elites slash the pub­lic pay­rolls indis­crim­i­nate­ly with­out con­tin­gency plans— along­side the let­ters Mil­ton Fried­man wrote to the new Chilean dic­ta­tor Augus­to Pinochet that self­same spring. Fried­man out­lined the tenets of what he termed the ​"shock treat­ment" required to undo the dam­age wrought by decades of demo­c­ra­t­ic social­ism: an imme­di­ate 25 per­cent cut via ​"across the board" lay­offs because ​"any attempt to be selec­tive is like­ly to be defeat­ed." New York shed 23.7 per­cent of its work­ers between 1975 and 1978, but Rohatyn con­sid­ered it a great vic­to­ry that cops and teach­ers and garbage col­lec­tors lost their jobs in equal pro­por­tions: ​"Peo­ple … were will­ing to make real sac­ri­fices as long as they believed that those sac­ri­fices were rel­a­tive­ly fair­ly dis­trib­uted." They were noth­ing of the sort, of course: with­in months of secur­ing its fed­er­al bailout, the city coughed up a tax break now val­ued at $360 mil­lion to a then-29-year-old devel­op­er named Don­ald Trump.
And yet, as Phillips-Fein remarks in her epi­logue, ​"One can imag­ine much worse out­comes." It hard­ly requires an imag­i­na­tion, in 2017: pub­lic sec­tor unions could have been essen­tial­ly out­lawed, as in Wis­con­sin; employ­ees could have had their salaries sum­mar­i­ly slashed to $7.25 an hour (Scran­ton, Pa.); cit­i­zens could have had their water bills jacked up to near­ly $900 a year — for the lux­u­ry of drink­ing poi­soned water (Flint, Mich.); death squads might have abscond­ed with any­one who protest­ed the cuts (Friedman/Pinochet's Chile). Mere­ly con­tem­plat­ing a mod­ern Amer­i­can city with acces­si­ble health­care, afford­able hous­ing, decent schools and a func­tion­ing tran­sit sys­tem — now that requires imag­i­na­tion. If not for Fear City, I might have writ­ten it off as a pipe dream.