Every American Should Be Guaranteed a Job. The Green New Deal Could Make That Happen.
A jobs guarantee isn't a new concept—52% of Americans already support it.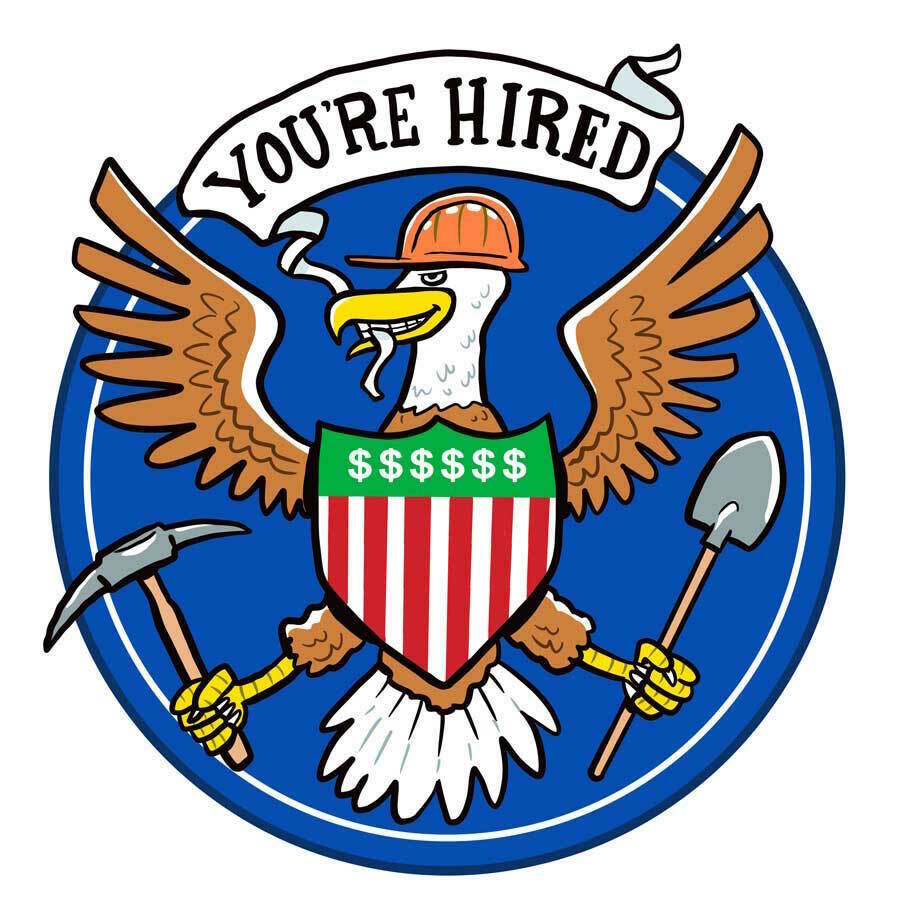 fed•er•al jobs guar•an•tee
noun
1. A gov­ern­ment pol­i­cy to pro­vide a job for any­one who wants one
We've been talk­ing about this for a while, right?
Yes! Pres­i­dent Franklin D. Roo­sevelt pro­posed a ​"sec­ond Bill of Rights" in his 1944 State of the Union, a list of eco­nom­ic and social rights includ­ing ​"the right to a use­ful and remu­ner­a­tive job."
"Full employ­ment" has been the offi­cial goal of the U.S. gov­ern­ment since 1978, with the Humphrey-Hawkins Full Employ­ment Act fol­low­ing advo­ca­cy from labor groups as well as Coret­ta Scott King. Ear­ly ver­sions of the bill includ­ed an actu­al jobs guar­an­tee, which was cut out of the final leg­is­la­tion. A jobs guar­an­tee was also part of Jesse Jackson's 1988 pres­i­den­tial platform.
Are any of this year's pres­i­den­tial can­di­dates sup­port­ing a jobs guarantee?
Sev­er­al! Cory Book­er (N.J.) intro­duced a Sen­ate bill—co-spon­sored by Eliz­a­beth War­ren (Mass.), Kamala Har­ris (Calif.) and Kirsten Gilli­brand (N.Y.) — to cre­ate a three-year pilot pro­gram in up to 15 ​"high-unem­ploy­ment com­mu­ni­ties" to pro­vide jobs with at least a $15 wage.
Bernie Sanders (Vt.) arguably goes fur­ther, invok­ing FDR's call for a sec­ond Bill of Rights and a full jobs guarantee.
If the point is to keep peo­ple out of pover­ty, why not just give peo­ple mon­ey or pro­vide bet­ter social services?
Why not all of the above? A uni­ver­sal basic income is pre­ferred by some, but there's no need to choose just one pol­i­cy to answer eco­nom­ic inequal­i­ty. Jobs advo­cates argue there is plen­ty of ful­fill­ing work to be done and that a jobs guar­an­tee would strength­en the bar­gain­ing posi­tion of work­ers in the pri­vate sec­tor. The Sanders cam­paign web­site, for exam­ple, sug­gests child­care, elder care and green infra­struc­ture as areas to emphasize.
Speak­ing of which, isn't a jobs guar­an­tee part of the Green New Deal?
That's right — a Green New Deal could fund mil­lions of jobs to dra­mat­i­cal­ly scale up clean ener­gy pro­duc­tion, build and run pub­lic trans­porta­tion, and pre­pare com­mu­ni­ties to adapt to the real­i­ties of a warm­ing plan­et. While a jobs guar­an­tee is already pop­u­lar—52% of Amer­i­cans sup­port it, accord­ing to a poll by Civis Ana­lyt­ics — polling com­mis­sioned by the Sun­rise Move­ment indi­cates that a jobs guar­an­tee focused on green jobs and cli­mate pro­tec­tion is even more pop­u­lar.
Sav­ing the plan­et and end­ing pover­ty at the same time? Cer­tain­ly sounds worth a try!