The Clinton Firewall
The New York Senator's last-ditch efforts to win the Democratic nomination could rely on the "Race Chasm" and the trampling of democracy.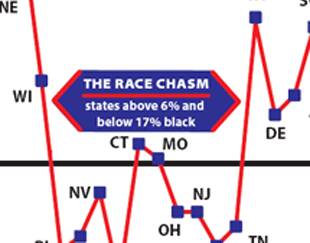 Google the phrase ​"Clin­ton fire­wall" and you will come up with an ever-length­en­ing list of sce­nar­ios that Hillary Clinton's pres­i­den­tial cam­paign has said will stop Barack Obama's can­di­da­cy. The New Hamp­shire pri­ma­ry, said her cam­paign, would be the fire­wall to end Oba­ma­ma­nia. Then Super Tues­day was sup­posed to be the fire­wall. Then Texas. Now Penn­syl­va­nia and Indiana.
For four months, the polit­i­cal world has been hyp­no­tized by this string-along game, not both­er­ing to ask what this Clin­ton tac­tic real­ly is. The ​"just wait until the next states" mantra has divert­ed our atten­tion from the firewall's ground­ing in race and democ­ra­cy. But now, with only a few months until the Demo­c­ra­t­ic Nation­al Con­ven­tion in Den­ver, the firewall's true com­po­si­tion is com­ing into focus. Whether Oba­ma can over­come this bar­ri­er will like­ly decide who becomes the Democ­rats' pres­i­den­tial nominee.
The Race Chasm
Since at least the South Car­oli­na pri­ma­ry, the Clin­ton campaign's mes­sage has been stripped of its poll-test­ed nuance and become a rather crass drum­beat aimed at remind­ing vot­ers that Oba­ma is black. Whether it is for­mer Pres­i­dent Clin­ton liken­ing Obama's cam­paign to Jesse Jackson's; Clin­ton aides telling the Asso­ci­at­ed Press that Oba­ma is ​"the black can­di­date," or Geral­dine Fer­raro tap­ping into anti-affir­ma­tive action anger by claim­ing Obama's suc­cess is a prod­uct of his skin col­or, bare­ly a week goes by with­out a white Clin­ton sur­ro­gate inject­ing race into the nom­i­nat­ing contest.
That is one of the twin pil­lars of the Clin­ton fire­wall – a well-honed strat­e­gy aimed at max­i­miz­ing ​"the Race Chasm." The Race Chasm may sound like a con­ven­tion­al dis­cus­sion of the black-white divide, but it is one of the least-dis­cussed geo­graph­ic, demo­graph­ic and polit­i­cal dynam­ics dri­ving the con­test between Clin­ton and Oba­ma. I call it the Race Chasm because of what it looks like on a graph. Here's how it works.
To date, 42 states and the Dis­trict of Colum­bia have vot­ed in pri­maries or cau­cus­es. Fac­tor out the two sen­a­tors' home states (Illi­nois, New York and Arkansas), the two states where Edwards was a major fac­tor (New Hamp­shire and Iowa) and the one state where only Clin­ton was on the bal­lot (Michi­gan) and you are left with 37 elec­tions where the head-to-head Clin­ton-Oba­ma matchup has been most clear. Sub­tract the Lati­no fac­tor (a huge­ly impor­tant but whol­ly sep­a­rate influ­ence on the elec­tion) by remov­ing the four states whose His­pan­ic pop­u­la­tion is over 25 per­cent (Cal­i­for­nia, New Mex­i­co, Texas and Ari­zona), and you are left with 33 elec­tions that best rep­re­sent how the black-white split has impact­ed the campaign.
As the Race Chasm graph shows, when you chart Obama's mar­gin of vic­to­ry or defeat against the per­cent­age of African-Amer­i­cans liv­ing in that state, a strik­ing U trend emerges. That pre­cip­i­tous dip in Obama's per­for­mance in states with a big-but-not-huge African-Amer­i­can pop­u­la­tion is the Race Chasm – and that chasm is no coincidence.
On the left of the graph, among the states with the small­est black pop­u­la­tion, Oba­ma has destroyed Clin­ton. With the can­di­dates dif­fer­ing lit­tle on issues, this trend is like­ly due, in part, to the fact that black-white racial pol­i­tics are all but non-exis­tent in near­ly total­ly white states. Thus, Clin­ton has few­er built-in advan­tages. Though some of these states like Ida­ho or Wyoming have rep­u­ta­tions for intol­er­ance thanks to the occa­sion­al mili­tia head­lines, black-white inter­ac­tion in these places is not a part of people's dai­ly lives, nor their polit­i­cal deci­sions. Put anoth­er way, the dialect of racism – the hints of the Fer­raro com­ment and codes of Bill Clinton's Jesse Jack­son ref­er­ence, for instance – is not polit­i­cal­ly effec­tive because such lan­guage has not his­tor­i­cal­ly been a sig­nif­i­cant part of the local polit­i­cal dis­cus­sion. That's espe­cial­ly true in the lib­er­al-skewed Demo­c­ra­t­ic primary.
On the right of the graph among the states with the largest black pop­u­la­tions, Oba­ma has also crushed Clin­ton. Unlike the super-white states, these states – many in the Deep South – have a long and sor­did his­to­ry of day-to-day, black-white racial pol­i­tics, with Richard Nixon famous­ly pio­neer­ing Republican's ​"south­ern strat­e­gy" to max­i­mize the racist seg­re­ga­tion­ist vote in gen­er­al elec­tions. ​"But in the Demo­c­ra­t­ic pri­ma­ry the black vote is so huge [in these states], it can over­whelm the white vote," says Thomas Schaller, a polit­i­cal sci­ence pro­fes­sor at the Uni­ver­si­ty of Mary­land – Bal­ti­more. That black vote has gone pri­mar­i­ly to Oba­ma, help­ing him win these states by big margins.
It is in the chasm where Clin­ton has con­sis­tent­ly defeat­ed Oba­ma. These are geo­graph­i­cal­ly diverse states from Ohio to Okla­homa to Mass­a­chu­setts where racial pol­i­tics is very much a part of the polit­i­cal cul­ture, but where the black vote is too small to off­set a white vote racial­ly moti­vat­ed by the Clin­ton campaign's cod­ed mes­sages and tac­tics. The chasm exists in the clus­ter of states whose pop­u­la­tion is above 6 per­cent and below 17 per­cent black, and Clin­ton has won most of them by beat­ing Oba­ma hand­i­ly among white work­ing-class voters.
In sum, Oba­ma has only been able to eke out vic­to­ries in three states with Race Chasm demo­graph­ics, where African-Amer­i­can pop­u­la­tions make up more than 6 per­cent but less than 17 per­cent of the total pop­u­la­tion. And those three states pro­vid­ed him extra advan­tages: He won Illi­nois, his home state; Mis­souri, an Illi­nois bor­der state; and Con­necti­cut, a state whose Demo­c­ra­t­ic elec­torate just two years before sup­port­ed Ned Lamont's insur­gent can­di­da­cy against Joe Lieber­man, and there­fore had unique­ly devel­oped infra­struc­ture and polit­i­cal cul­tures inclined to sup­port an out­sider can­di­da­cy. Mean­while, three-quar­ters of all the states Clin­ton has won are those with Race Chasm demographics.
Penn­syl­va­nia Gov. Ed Ren­dell (D), a Clin­ton sup­port­er, pub­licly acknowl­edged this dynam­ic in Feb­ru­ary. He sug­gest­ed to the Pitts­burgh Post-Gazette edi­to­r­i­al board that Obama's eth­nic­i­ty could pre­vent him from win­ning the state, which, at 10.6 per­cent black, falls square­ly in the Race Chasm.
"You've got con­ser­v­a­tive whites here, and I think there are some whites who are prob­a­bly not ready to vote for an African-Amer­i­can can­di­date," Ren­dell said.
That was echoed by Oba­ma sup­port­er David K. Lev­dan­sky, a state rep­re­sen­ta­tive from west­ern Penn­syl­va­nia. ​"For all our want­i­ng to believe that race is less of an issue than ever before, the real­i­ty of racism still exists," he told the New York Times. ​"It's not that [Penn­syl­va­ni­ans] don't think he's qual­i­fied, but some peo­ple fear that it might be empow­er­ing the black com­mu­ni­ty by elect­ing Obama."
Pri­maries are now loom­ing in a crit­i­cal group of Race Chasm states – Penn­syl­va­nia, Indi­ana (8.8 per­cent black), Ken­tucky (7.5 per­cent black) and West Vir­ginia (only 3 per­cent black, but a place influ­enced by the Ohio, Mary­land, Vir­ginia and Penn­syl­va­nia media mar­kets, which undoubt­ed­ly makes race pol­i­tics more cus­tom­ary than in oth­er most­ly white states).
Clin­ton, know­ing the Race Chasm can for­ti­fy her fire­wall, has sub­se­quent­ly inten­si­fied her efforts to put race front and cen­ter in the cam­paign, most recent­ly attack­ing Jere­mi­ah Wright, Obama's for­mer pas­tor who has deliv­ered fiery speech­es indict­ing white racism. She is so deter­mined to raise race issues in advance of these Race Chasm con­tests that she gave an in-per­son inter­view to the Pitts­burgh Tri­bune-Review specif­i­cal­ly to crit­i­cize Wright. For ref­er­ence, the Tri­bune-Review is a con­ser­v­a­tive news­pa­per in west­ern Penn­syl­va­nia owned by the same Richard Mel­lon Scaife who fund­ed the anti-Clin­ton witch­hunts of the ​'90s.
Clear­ly, each pri­ma­ry and cau­cus con­test has its own unique pol­i­tics, and race is not the only fac­tor mov­ing votes. Despite the over­sim­pli­fied pun­dit­ry that comes with pres­i­den­tial cam­paigns, demo­graph­ic groups – white, black or any oth­er – do not vote as mono­liths. That said, a phe­nom­e­non as stark as the Race Chasm over 33 elec­tions is obvi­ous­ly affect­ing the cam­paign – par­tic­u­lar­ly con­sid­er­ing the region­al and red-blue diver­si­ty of each state clus­ter on the graph.
"When the black pop­u­la­tion is real­ly small, racial polar­iza­tion is small enough that Oba­ma can win, and when the black pop­u­la­tion is large, any polar­iza­tion is drowned out by the over­whelm­ing size of the Demo­c­ra­t­ic black vote," says Schaller, who recent­ly authored the book Whistling Past Dix­ie ana­lyz­ing demo­graph­ic vot­ing trends. ​"But in the mid­dle range, polar­iza­tion is size­able enough that black vot­ers can­not over­come it, and these are the states where she wins."
The Superdelegates
Clin­ton has two rea­sons to try to high­light race and max­i­mize the Race Chasm, both relat­ed to the sec­ond pil­lar of her fire­wall: the superdel­e­gates. These are the sen­a­tors, con­gress peo­ple, gov­er­nors and par­ty offi­cials who con­trol rough­ly 40 per­cent of the Demo­c­ra­t­ic Nation­al Con­ven­tion votes need­ed to secure the nomination.
First and most obvi­ous, she wants to win as many of the remain­ing states as pos­si­ble to keep her tal­ly of ​"pledged" del­e­gates (i.e., del­e­gates won in pri­maries and cau­cus­es) as large as pos­si­ble. The Politi​co​.com cor­rect­ly report­ed in March that ​"Clin­ton has vir­tu­al­ly no chance of win­ning" the race for pledged del­e­gates. But win­ning some remain­ing states and keep­ing the count close will make it eas­i­er for her to argue the race was almost a tie, and thus the­o­ret­i­cal­ly eas­i­er to con­vince superdel­e­gates to throw their sup­port to her, even if she los­es the pop­u­lar vote and the pledged del­e­gate count.
Clin­ton, in fact, is already mak­ing the argu­ment that she is only nar­row­ly behind. ​"We're sep­a­rat­ed by, you know, a lit­tle more than a hun­dred del­e­gates," she told Time, not both­er­ing to note that a hun­dred del­e­gates is more than the entire del­e­gate count from major states like Mis­souri or Wisconsin.
Addi­tion­al­ly, in try­ing to max­i­mize the Race Chasm by focus­ing on race-tinged issues, Clin­ton is tac­it­ly mak­ing an ​"elec­tabil­i­ty" argu­ment to superdel­e­gates. (This is not a stu­pid strat­e­gy in court­ing offi­cials who are all, in one way or anoth­er, elec­tion-focused polit­i­cal oper­a­tives.) Part of that ​"elec­tabil­i­ty" argu­ment hinges on por­tray­ing Oba­ma as ​"une­lec­table" – and what bet­ter way to do that than stoke as many race-focused con­tro­ver­sies as pos­si­ble? It is a stan­dard pri­ma­ry tac­tic: Launch a line of attack – in this case, the ​"Wright con­tro­ver­sy" – and then claim the attack will be used by Repub­li­cans to defeat an oppo­nent – in this case Oba­ma – should he become the gen­er­al elec­tion can­di­date. Of course, it doesn't hurt Clinton's cause that, close to half of the superdel­e­gates are white, accord­ing to The Politico.
Ruth­less, but prob­a­bly useless
As ugly as it is, the Clin­ton fire­wall strat­e­gy is stun­ning in its ruth­less­ness. It has been half a cen­tu­ry since the major tri­umphs of the civ­il rights and par­ty reform move­ments, yet a major Demo­c­ra­t­ic can­di­date is attempt­ing to secure a pres­i­den­tial nom­i­na­tion by exploit­ing racial divides and nego­ti­at­ing back­room superdel­e­gate deals.
But suc­cess is not likely.
Even if Clin­ton wins big in the remain­ing Race Chasm states, Oba­ma has advan­tages in Mon­tana, Ore­gon, North Car­oli­na and South Dako­ta – small­er states, to be sure, but like­ly enough pledged del­e­gates to keep a sig­nif­i­cant lead. Clin­ton, there­fore, would have a dif­fi­cult time con­vinc­ing superdel­e­gates to go against the will of the peo­ple in their states.
That leaves the ​"elec­tabil­i­ty" argu­ment with the superdel­e­gates – and the prob­lem for Clin­ton there is that polls show Oba­ma is at least as ​"elec­table" as Clin­ton, if not more so.
A state-by-state Sur­veyUSA poll in March found both Oba­ma and Clin­ton defeat­ing Repub­li­can nom­i­nee John McCain in a hypo­thet­i­cal gen­er­al elec­tion matchup – and Oba­ma actu­al­ly get­ting four more Elec­toral Col­lege votes than Clin­ton. In Col­orado, a key swing state, a March Ras­mussen Reports poll found Oba­ma tying McCain, but McCain clob­ber­ing Clin­ton by 14 per­cent­age points. A Feb­ru­ary Ras­mussen poll report­ed a sim­i­lar phe­nom­e­non in Penn­syl­va­nia, with McCain beat­ing Clin­ton by two points, but Oba­ma beat­ing McCain by 10.
And then there is the Pew poll tak­en imme­di­ate­ly after the major wave of media sur­round­ing the Wright con­tro­ver­sy. The sur­vey showed both Oba­ma and Clin­ton defeat­ing McCain, but more sig­nif­i­cant­ly, Oba­ma actu­al­ly per­form­ing slight­ly bet­ter among white vot­ers than Clin­ton – a blow to those Clin­ton back­ers hop­ing that superdel­e­gates may begin to fear a white vot­er back­lash against the Illi­nois senator.
If her turn to more hard­ball tac­tics is any indi­ca­tion, Clin­ton may be try­ing to pre­empt the fire­wall strategy's fail­ure. In two bold moves at the end of March, her cam­paign launched a two-pronged ini­tia­tive to intim­i­date Demo­c­ra­t­ic lead­ers and to stron­garm pledged del­e­gates who are already com­mit­ted to Oba­ma through pri­maries and caucuses.
First, the Clin­ton cam­paign orga­nized 20 major Demo­c­ra­t­ic Par­ty financiers to release a let­ter to House Speak­er Nan­cy Pelosi upbraid­ing her for appear­ing on ABC News and say­ing, ​"If the votes of the superdel­e­gates over­turn what hap­pened in the elec­tions, it would be harm­ful to the Demo­c­ra­t­ic Par­ty." Accord­ing to the non­par­ti­san Cen­ter for Respon­sive Pol­i­tics, the con­trib­u­tors who signed the let­ter have giv­en a com­bined $23.6 mil­lion to Democ­rats since 1999. These mega-donors, clear­ly wield­ing their finan­cial heft as an implied threat, claimed that Pelosi had tak­en an ​"unten­able posi­tion" by mere­ly sug­gest­ing superdel­e­gates should avoid over­turn­ing the results of demo­c­ra­t­ic pri­maries and caucuses.
At the same time, Clin­ton told Time that tech­ni­cal­ly, even pledged del­e­gates who are sup­posed to rep­re­sent the will of vot­ers are per­mit­ted to change their vote at the Demo­c­ra­t­ic Nation­al Con­ven­tion. ​"Every del­e­gate with very few excep­tions is free to make up his or her mind how­ev­er they choose," she said, intro­duc­ing the pos­si­bil­i­ty of a new, more brass-knuck­led kind of del­e­gate cam­paign. ​"We talk a lot about so-called pledged del­e­gates, but every del­e­gate is expect­ed to exer­cise inde­pen­dent judgment."
A late March NBC News poll reports that if a can­di­date ​"los­es among del­e­gates select­ed by vot­ers but still wins the nom­i­na­tion," a plu­ral­i­ty (41 per­cent) of Demo­c­ra­t­ic vot­ers believe that can­di­date would be ​"not legit­i­mate." Many of those sur­veyed prob­a­bly remem­ber both the recent episodes of stolen elec­tions, and the past eras of bro­kered con­ven­tions and cor­rupt, often racist polit­i­cal machines stuff­ing bal­lot boxes.
The lat­ter, in fact, was pre­cise­ly how the epi­thet ​"Demo­c­rat Par­ty" – as opposed to ​"Demo­c­ra­t­ic Par­ty" – was coined. As the lan­guage-obsessed William Safire doc­u­ment­ed 24 years ago in a New York Times col­umn, the term ​"Demo­c­rat Par­ty" was cre­at­ed by Repub­li­can lead­ers in the mid-20th cen­tu­ry to imply that their oppo­nents – many big­ot­ed seg­re­ga­tion­ists and machine pols – were, in fact, undemocratic.
After the Flori­da and Ohio deba­cles in the 2000 and 2004 elec­tion, Repub­li­can lamen­ta­tions about democ­ra­cy are, of course, absurd. Addi­tion­al­ly, many machines have long ago decayed … except for the one inside the Demo­c­ra­t­ic Par­ty itself – the Clin­ton machine. If that machine's fire­wall strat­e­gy con­tin­ues to exploit the Race Chasm and threat­en to tram­ple the will of vot­ers, Clin­ton will be ask­ing the Demo­c­ra­t­ic Par­ty, one that has come to cham­pi­on racial tol­er­ance and democ­ra­cy, to tru­ly become the Demo­c­rat Par­ty – one that ignores those ideals in favor of a sin­gle Democrat.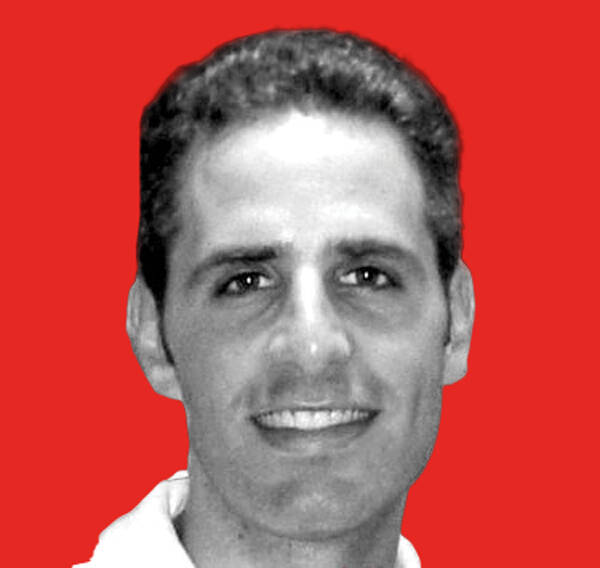 David Siro­ta
is an award­win­ning inves­tiga­tive jour­nal­ist and an
In These Times
senior edi­tor. He served as speech writer for Bernie Sanders'
2020
cam­paign. Fol­low him on Twit­ter @davidsirota.