The Scott Walker Scandal Shows the Political Sewer Created by Citizens United
The pernicious effects are taking deep root and fostering cultures of corruption at all levels of government.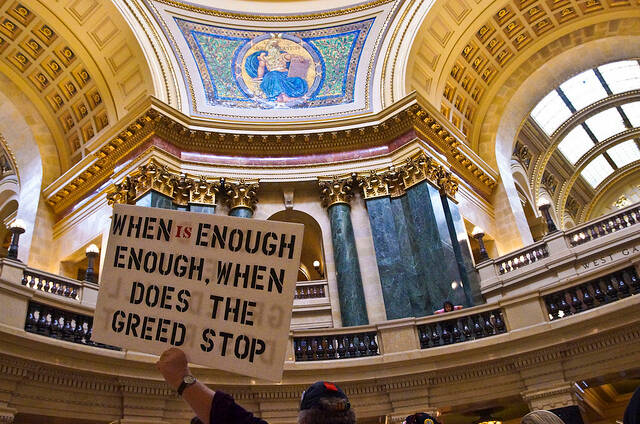 In May, Nation­al Review report­ed that Charles and David Koch, the bil­lion­aires famous for fund­ing right-wing politi­cians and caus­es, were rethink­ing their spend­ing. Dis­ap­point­ed with the pay­offs, irked by Don­ald Trump and con­cerned about the pub­lic-rela­tions hits they'd tak­en, the broth­ers decid­ed to reduce their spend­ing on fed­er­al elections.
"The Wisconsin scandal might signal a coming deluge of corruption in state and local politics—or a moment when the tide began turning against it.
One upshot has been more Koch mon­ey going to state polit­i­cal cam­paigns, which get lit­tle nation­al media scruti­ny but have out­sized impact. ​"For a rel­a­tive pit­tance — less than $100,000 — cor­po­ra­tions and oth­ers can use dark mon­ey to shape the out­come of a low-lev­el race in which they have a direct stake," as the authors of a recent essay in The New York Times wrote. ​"Dark mon­ey" refers to con­tri­bu­tions to non­prof­it ​"social wel­fare" advo­ca­cy groups rather than polit­i­cal cam­paigns. State laws vary, but in Wis­con­sin, such con­tri­bu­tions can remain anonymous.
The authors of the essay, Chisun Lee and Lawrence Nor­den of the Bren­nan Cen­ter for Jus­tice, note that the lev­el of dark mon­ey in pol­i­tics has spiked over the past decade. A Bren­nan Cen­ter project that tracked polit­i­cal spend­ing in six states found that, ​"on aver­age, 38 times more dark mon­ey was spent in these states in 2014 than in 2006."
We rarely see how dark mon­ey shapes our pol­i­tics, since it works behind the scenes and out of sight. But an extra­or­di­nary spec­ta­cle that has played out in Wis­con­sin over the past few years offers a dis­turb­ing glimpse.
Scott Walk­er, the state's gov­er­nor, has pur­sued an aggres­sive­ly right-wing agen­da that has been fund­ed, in large part, by dark mon­ey. We know this by way of an inves­ti­ga­tion into Walker's fundrais­ing — a ​"John Doe" probe, mean­ing that it was con­duct­ed out­side of the pub­lic spot­light, with the court records remain­ing sealed, which Wis­con­sin law pro­vides for in some circumstances.
In 2015, the Wis­con­sin Supreme Court halt­ed the inves­ti­ga­tion. Pros­e­cu­tors had been piec­ing togeth­er a case against Walk­er, argu­ing that his ties to con­ser­v­a­tive polit­i­cal groups broke cam­paign-finance laws. The court, with a right-wing major­i­ty, vot­ed 4 – 2 to shut it down because, it said, Walker's coor­di­na­tion with the groups was ​"issues advo­ca­cy" rather than polit­i­cal cam­paign­ing. The for­mer is per­mit­ted under the U.S. Supreme Court's Cit­i­zens Unit­ed v. FEC rul­ing. The lat­ter isn't.
In mid-Sep­tem­ber, The Guardian pub­lished leaked files from the halt­ed inves­ti­ga­tion, which revealed that ​"issues advo­ca­cy" in Wis­con­sin is just anoth­er name for polit­i­cal cam­paign­ing. As The Guardian not­ed, ​"the files open a win­dow on a world that is very rarely glimpsed by the pub­lic, in which mil­lions of dol­lars are secret­ly donat­ed by major cor­po­ra­tions and super-wealthy indi­vid­u­als to third-par­ty groups in an attempt to sway elections."
This week, the U.S. Supreme Court declined to hear an appeal of the Wis­con­sin Supreme Court's 2015 rul­ing that shut down the Walk­er inves­ti­ga­tion. That closed the court­room phase of the scan­dal. Now it moves to the court of pub­lic opin­ion, where Walk­er will like­ly fare less well. As the Bren­nan Cen­ter authors note in their New York Times piece: Polling last year ​"showed three-quar­ters of self-iden­ti­fied Repub­li­cans and an equal per­cent­age of Democ­rats sup­port­ed more dis­clo­sure by out­side spenders."
Giv­en the recent, big-donor shift toward state-lev­el pol­i­tics — and Wisconsin's cen­tral­i­ty to broad­er polit­i­cal con­tests over unions, high­er edu­ca­tion and much more — it's worth div­ing into the Walk­er scan­dal, which has been big news in Wis­con­sin but has got­ten too lit­tle nation­al attention.
Laments about Cit­i­zens Unit­ed often focus on its influ­ence on pres­i­den­tial and Con­gres­sion­al races. But Wis­con­sin is a cau­tion­ary tale: The per­ni­cious effects are tak­ing deep root and fos­ter­ing cul­tures of cor­rup­tion at all lev­els of government.
The play­ers and payoffs
After push­ing through a law that weak­ened pub­lic-sec­tor unions in 2011, Walk­er need­ed allies on the state's Supreme Court. Its jus­tices are cho­sen through elections.
The Wis­con­sin Club for Growth (WCFG) is a tax-exempt ​"social wel­fare" orga­ni­za­tion, and it was the pri­ma­ry tool that Walk­er used to make sure he had allies in the state leg­is­la­ture and on the Supreme Court.
Walk­er raised mon­ey from wealthy donors, but rather than writ­ing checks to Walker's cam­paign, which were sub­ject to spend­ing lim­its, the donors often gave to the WCFG, which then cre­at­ed ads that sup­port­ed the cam­paigns of Walker's polit­i­cal allies. It also chan­neled mon­ey to oth­er non­prof­its that did the same.
In 2011, the Wis­con­sin Supreme Court elec­tion became a proxy bat­tle over Walk­er, with David Pross­er, a right-wing judge, fac­ing JoAnne Klop­pen­burg, a can­di­date friend­ly to unions.
Wis­con­sin Club for Growth spent more than $400,000 sup­port­ing Pross­er, who even­tu­al­ly won the race by a few thou­sand votes. In an email to GOP oper­a­tive Karl Rove, Walk­er explained that the group's help had been crit­i­cal to push­ing through his agen­da in Wis­con­sin. Specif­i­cal­ly, it was ​"key to retain­ing Jus­tice Prosser."
WCFG spent about $9 mil­lion the fol­low­ing year, dur­ing Walker's recall race, on polit­i­cal activ­i­ty. A Walk­er aide coor­di­nat­ed the work of the Walk­er team with the WCFG and oth­er right-wing groups in the Pross­er and Walk­er recall races, and in sev­er­al oth­er races for the state leg­is­la­ture in 2012.
As the Cen­ter for Media and Democ­ra­cy (CMD) not­ed, ​"Gov­er­nor Walk­er and his cam­paign staff coor­di­nat­ed on more than $30 mil­lion in express advo­ca­cy expen­di­tures — from solic­it­ing huge cor­po­rate and per­son­al checks down to where and when polit­i­cal ads would be placed."
The stakes
For all its twists and turns, the mon­ey trail in this scan­dal is easy to fol­low. Walk­er raised funds from wealthy donors, who gave anony­mous­ly to an ​"advo­ca­cy group" that is a well-known Walk­er ally, which spent the mon­ey on ads to help elect politi­cians and jus­tices who helped Walk­er push through con­ser­v­a­tive poli­cies, which in turn ben­e­fit­ed those donors.
One con­crete exam­ple: The doc­u­ments leaked to The Guardian showed that the own­er of a lead man­u­fac­tur­ing com­pa­ny gave a total of $750,000 to WCFG between April 2011 and Jan­u­ary 2012. Around the same time, the GOP-con­trolled state leg­is­la­ture passed laws that shield­ed lead man­u­fac­tur­ers, retroac­tive­ly, from lia­bil­i­ty for their product.
There's noth­ing sub­tle about the quid pro quo, in oth­er words. It's a straight­for­ward case of buy­ing pow­er, ​"jus­tice" and politicians.
And it's all legal, accord­ing to the Wis­con­sin Supreme Court.
In 2010, when U.S. Supreme Court Jus­tice Antho­ny Kennedy wrote the majority's opin­ion in the Cit­i­zens Unit­ed case, he argued that the trans­paren­cy made pos­si­ble by dig­i­tal cul­ture can­cels out the threat posed by cash flood­ing into the polit­i­cal sys­tem. If the peo­ple know which cor­po­ra­tions and peo­ple give mon­ey, after all, they will judge the argu­ments accordingly.
Kennedy's ratio­nale, utopi­an at best, dis­solves in the heat of actu­al polit­i­cal bat­tle. The Wis­con­sin case points toward a real­i­ty in which there is no bar­ri­er between advo­ca­cy groups and polit­i­cal cam­paigns — that is, between anony­mous donors and elect­ed leaders.
The stakes are high. The essen­tial ques­tion is: How much pow­er and influ­ence will dark mon­ey buy? The Wis­con­sin scan­dal might sig­nal a com­ing del­uge of cor­rup­tion in state and local pol­i­tics — or a moment when the tide began turn­ing against it. Either out­come seems pos­si­ble. Only one is com­pat­i­ble with democracy.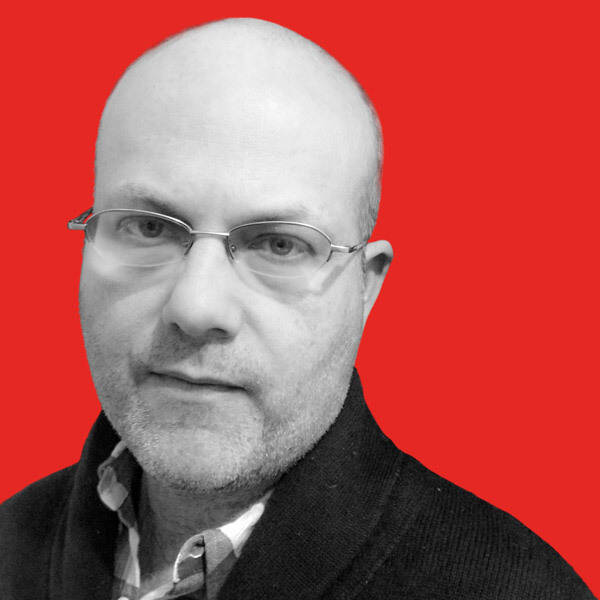 Theo Ander­son
is an In These Times con­tribut­ing writer. He has a Ph.D. in mod­ern U.S. his­to­ry from Yale and writes on the intel­lec­tu­al and reli­gious his­to­ry of con­ser­vatism and pro­gres­sivism in the Unit­ed States. Fol­low him on Twit­ter @Theoanderson
7
.