The GOP Goes All-In on the Tea Party
A tight Tea Party race in Indiana--and the Akin uproar--could determine control of the Senate.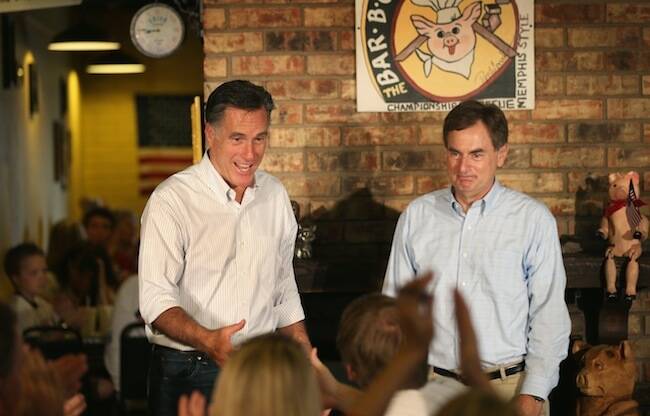 The significance of what's happening in Indiana this summer hasn't quite been fully absorbed or reported by the media.
Indiana Tea Party candidate Mourdock makes the argument that the Obama bailout of the automobile manufacturers was equivalent to slaveholders' exploitation of their slaves. Seriously.
That's due in part to old habits. With just 11 electoral college votes, Indiana doesn't get much attention from the grand poobahs in the national press. It's been nearly 25 years since George H.W. Bush picked Indianan Dan Quayle as his running mate, which was the last time the state was more than an afterthought in national politics.
It doesn't help that the state is a lock for Mitt Romney this year, and that the battle for its Senate seat is between two candidates unknown at the national level — Democrat Joe Donnelly and Republican Richard Mourdock. Donnelly represents a Congressional House district in the northern part of the state. Mourdock is the Indiana State Treasurer.
But there are two ways that Indiana's Senate race may well play an important role in the nation's political future.
The first is that it could determine which party controls the Senate. Real Clear Politics ranks it as one of nine ​"toss-up" Senate races. Winning at least four of those would give Democrats a 51-seat majority.
Nate Silver, the crack political analyst for the New York Times, recently wrote that ​"if I were given just one guess at the composition of the new Senate, I would go with this: 50 Republicans, 49 Democrats and one independent, the former governor of Maine, Angus King." King, who is winning by a wide margin, is expected to caucus with Democrats. So the result of that scenario would be an evenly divided Senate, with the vice president being the swing vote. But Silver pegs the Indiana Senate race as ​"leans Republican." A Donnelly win would give Democrats a 51-seat majority. The most recent polling indicates that the race is a dead heat – Mourdock is ahead by two points in one poll, Donnelly by two points in another one.
Beyond control of the Senate, though, there's an even more important reason that the race matters: Mourdock is going all-in on Tea Party extremism.
That extremism is actually the reason he's still in the race. Mourdock challenged and beat the long-serving senator from Indiana, Richard Lugar, in the Republican primary last spring, and he did so with strong backing from Tea Party organizations, who have long despised Lugar as a useless moderate.
Lugar's actual voting record doesn't support the notion that he's a moderate. Progressive Punch gives him an overall progressive score of 14 percent based on his lifetime voting record. The two centrist Republican senators from Maine, by contrast, get a score of 37 percent.
Lugar didn't really lose to Mourdock because he lacks conservative convictions. It's his style that makes him so distasteful to the Tea Party. He doesn't share their finely honed sense of victimization, and he isn't angry about the betrayal of the ​"real America" by liberal elites. He also isn't opposed, on principle, to reaching across the aisle to pass legislation.
This mesmerizing video illustrates the difference. It shows Mourdock speaking to a Tea Party convention called FreedomWorks last month, and it's so nutty that it's hard to look away.
Mourdock makes the argument that the Obama administration's bailout of the automobile manufacturers in 2009 was equivalent to slaveholders' exploitation of their slaves. Seriously. The equivalence being that the bailout hurt state workers' pension funds and benefited big banks. Mourdock filed a lawsuit in the hope of making that argument before the Supreme Court, which declined to hear the case.
But of course, the fate of the pension funds wasn't really Mourdock's point in the speech. The point was to expose Barack Obama as a socialist tyrant. Obama's plan ​"is to divide America, and it is working," Mourdock says near the end of the speech. ​"We heard Mr. Obama say, ​'They didn't build that.' When he uses that language he's trying to build the foundation so that more people can have their assets taken away by government under this massive collective system that he sees as the inherent future of America."
In addition to opposing the auto bailout, Mourdock flatly denies climate change; hopes to repeal the Affordable Care Act; believes that privatizing Medicare is a good idea; strongly supports the rights of gun owners; and believes that liberal judicial activism is a threat to the nation.
Those are just run-of-the-mill positions in today's GOP, of course. What sets Mourdock apart is his tone. There's an anger and a wild-eyed zeal in him that you just can't imagine in Lugar. After his victory in the primary, for example, Mourdock sent out a fundraising letter that rubbed salt in the wounds of Lugar's supporters. ​"Against all odds and with the establishment working day and night to defeat me," Mourdock wrote, ​"we retired a 36-year entrenched incumbent senator, who routinely betrayed conservative voters to push through some of the most radical aspects of President Obama's agenda." That letter prompted a columnist for an Indiana newspaper to write that in three decades of covering Indiana's political scene, ​"I have never seen anything quite like Richard Mourdock's U.S. Senate campaign."
If Mourdock is willing to burn his bridges to Lugar's supporters in that fasion, you can imagine his attitude toward Democrats. He has promised that, if elected, he will bring more partisanship to Congress. ​"It is bipartisanship that has taken this country to the very brink of bankruptcy," he told the Conservative Political Action Conference in February.
Indiana is an ideal testing ground for whether the country, and the establishment GOP, are ready to wholly embrace Mourdock's paranoia and dogmatism. Though it has a reputation as a solidly red state and it clearly leans toward the GOP, it does elect Democrats. Indiana narrowly went for Obama in 2008, and it opted for Democratic governors for 16 years before the Republican incumbent, Mitch Daniels, was elected in 2005. So Donnelly, who is a centrist in the mold of former Senator Evan Bayh, is the kind of Democrat who can win in Indiana.
Mourdock and other right-wing zealots are fond of saying that this fall's election is a crossroads: a fundamental choice about who we will be as a nation. The truth is, they're right. As Nate Silver astutely observed on his blog, Mitt Romney's decision to choose Tea Party favorite Paul Ryan as his running mate is an ​"all-in" strategy. ​"His bet is that the era of triangulation is over: that Republicans can win elections without having to compromise." And if that happens — if the GOP can campaign on Ryan's ideas and win — ​"they will be able to advance a more credible claim that they have a mandate from the public, and that our politics really have shifted to the right."
A Mourdock victory in Indiana, combined with a Romney-Ryan win, would embolden the Tea Party like nothing yet has. The GOP will double down on extreme partisanship and on policies that serve the wealthy and gut the nation's middle class.
So Republicans are taking a high-risk, high-reward gamble in this election. They've made it harder to win by choosing hardcore Tea Party candidates. But, as Silver observes, ​"There is a heck of a payoff if it works." That was the context for Todd Akin's refusal to bow out of the Senate race in Missouri this week, despite blowback from his ​"legitimate rape" comments. Akin, another Tea Party favorite, understands very well that this is an all-in election. There was no chance that he would be forced out of it by what he no doubt scorns as the p.c. police. And if he actually manages to win, overcoming the establishment's attempt to silence him will be all the more empowering for the Tea Party.
On the other hand, if the go-for-broke gamble fails in Indiana and Missouri and at the presidential level, the Tea Party fever in the GOP might finally break, and Republicans' long-anticipated season of soul-searching and reformation might actually begin.
Here's hoping.
Support progressive media
As a nonprofit, reader-supported publication, In These Times depends on donations from people like you to continue publishing. Our final, end-of-year fundraising drive accounts for nearly half of our total budget. That's why this fundraising drive is so important.
If you are someone who depends on In These Times to learn what is going on in the movements for social, racial, environmental and economic justice, the outcome of this fundraising drive is important to you as well.
How many readers like you are able to contribute between now and December 31 will determine the number of stories we can report, the resources we can put into each story and how many people our journalism reaches. If we come up short, it will mean making difficult cuts at time when we can least afford to do so.
If it is within your means, please make a tax-deductible donation today, to ensure that In These Times can continue publishing in the year ahead.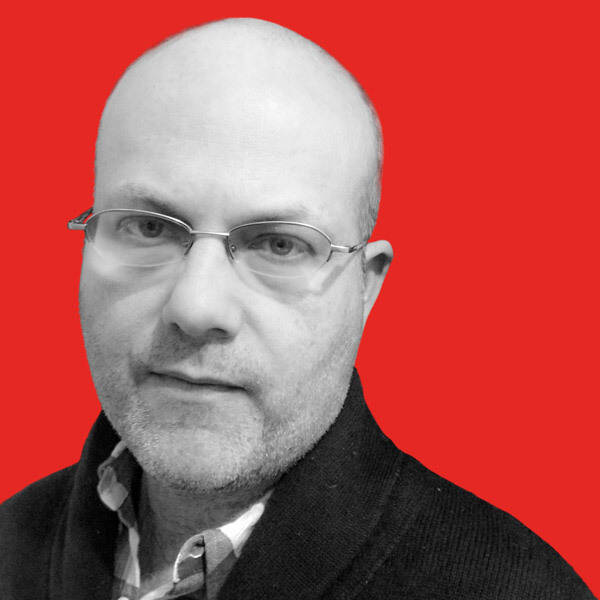 Theo Anderson
is an In These Times contributing writer. He has a Ph.D. in modern U.S. history from Yale and writes on the intellectual and religious history of conservatism and progressivism in the United States. Follow him on Twitter @Theoanderson
7
.
This is important
As a nonprofit, reader-supported publication, In These Times depends on our end-of-year fundraising drive for nearly half of our total budget. That's how important this fundraising drive is. If you support progressive media, please consider making a tax-deductible donation today to ensure that In These Times can continue publishing in the year ahead.