These Statistics Show Why Gazans Are Risking Their Lives To Protest Israel
The humanitarian crisis and the current death toll.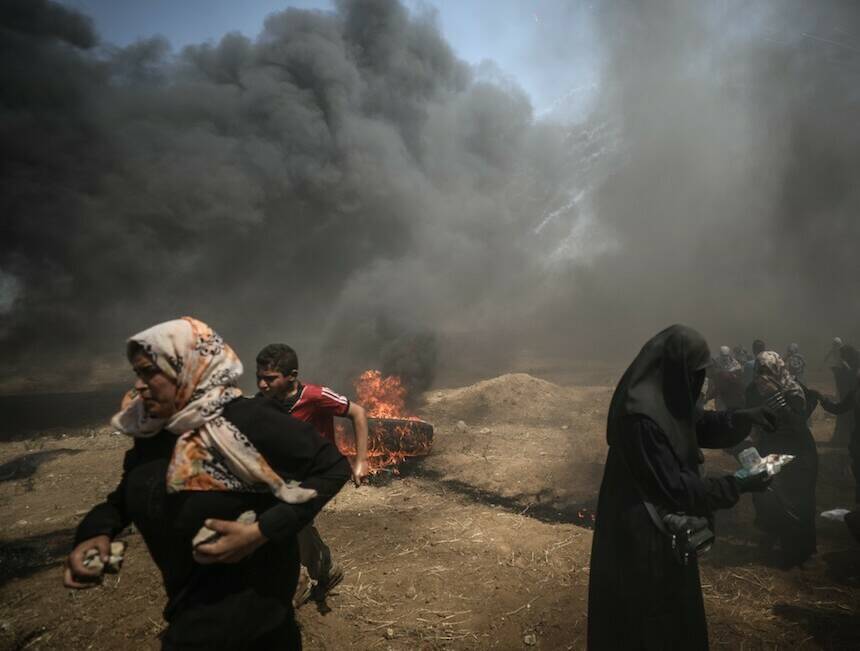 Since March 30, mass protests have engulfed the areas along the Israel-Gaza security barrier. Ten thousand or more Palestinian protesters have gathered each Friday to call for an end to the 11-year blockade by Israel and Egypt. The protests, dubbed the Great March of Return, are scheduled to last until May 15, to mark the 70th anniversary of Israel's Independence Day. Palestinians refer to the day as al-Nakba (The Catastrophe), signifying the displacement of 750,000 people from their homeland in 1948.
Gaza has long been stained by death and violence, and the protests have been no exception. Israeli Security Forces (ISF) have unleashed tear gas, sniper fire and rubber bullets on Palestinian protesters. May 14 was the most violent day to date, with Israeli forces killing more than 50 Gazans and wounding thousands. The Israeli government has justified its violence by tying the protests to Hamas, but experts like Palestinian-American human-rights lawyer Noura Erakat say the protests are a grassroots effort — and argue that political affiliations do not justify Israel's armed attacks against a civilian population.
Thanks to the blockade, a humanitarian crisis has ravaged Gaza. Two million Palestinians are trapped with little access to food, clean water or services. Seventy percent of the population relies on outside humanitarian aid, which dwindled when the Trump Administration cut $65 million in funding to the United Nations Relief and Works Agency, and then withheld $45 million in promised food aid to both Gaza and the West Bank.
Below is a statistical snapshot of Gaza's humanitarian crisis and the violent crackdown on protesters.
Gaza by the Numbers
2007 Year Israel imposed a land, air and sea blockade on Gaza
76

% Reduction in Gazan imports after the blockade
151

Import items, including cement and pipes, prohibited because of ​

"

dual use" for military purposes
84

% Portion of supplies for water, health and sanitation infrastructure denied by Israel, according to Oxfam
97

% Portion of drinking water in Gaza that is unsafe
35

,

000

Palestinians who rallied in Gaza March

30

, the first day of mass action against the blockade
101

Protesters killed in Gaza by Israeli security forces since March

30

, as of May

14
8

,

400

Gazans wounded in the protests since March

30

, as of May

14
52

protesters killed and

2

,

400

wounded in a single day, May

14

, when Gazans protested the relocation of the U.S. Embassy to Jerusalem from Tel Aviv
2

Journalists killed in the protests;

29

injured, according to reports by the Committee to Protect Journalists. All were Palestinian.
0

Israeli security forces killed in the protests
Sasha Kramer
has a degree in environmental studies and has been published by Oakland Institute. She is a winter
2018
In These Times editorial intern.