These Statistics Show Why Gazans Are Risking Their Lives To Protest Israel
The humanitarian crisis and the current death toll.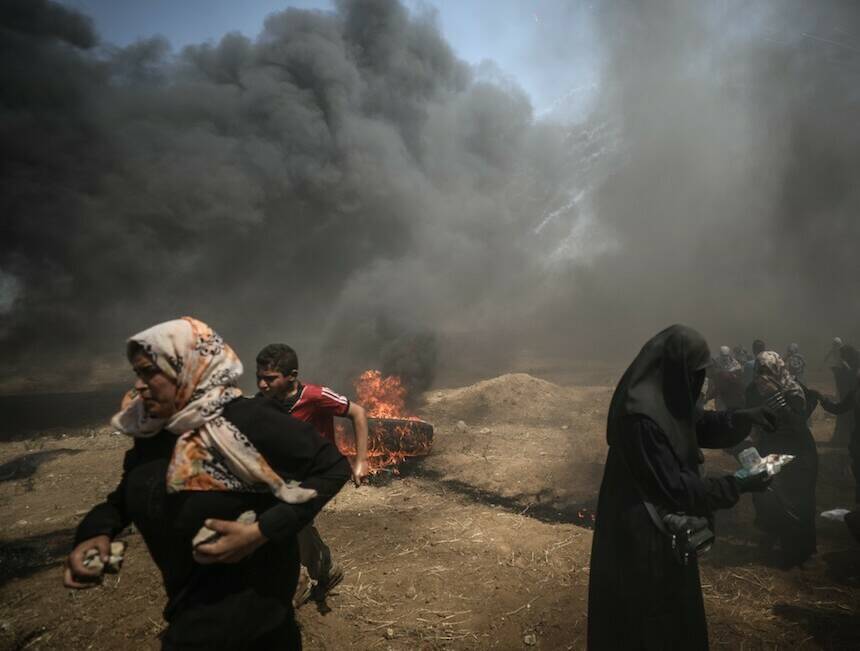 Since March 30, mass protests have engulfed the areas along the Israel-Gaza secu­ri­ty bar­ri­er. Ten thou­sand or more Pales­tin­ian pro­test­ers have gath­ered each Fri­day to call for an end to the 11-year block­ade by Israel and Egypt. The protests, dubbed the Great March of Return, are sched­uled to last until May 15, to mark the 70th anniver­sary of Israel's Inde­pen­dence Day. Pales­tini­ans refer to the day as al-Nak­ba (The Cat­a­stro­phe), sig­ni­fy­ing the dis­place­ment of 750,000 peo­ple from their home­land in 1948.
Gaza has long been stained by death and vio­lence, and the protests have been no excep­tion. Israeli Secu­ri­ty Forces (ISF) have unleashed tear gas, sniper fire and rub­ber bul­lets on Pales­tin­ian pro­test­ers. May 14 was the most vio­lent day to date, with Israeli forces killing more than 50 Gazans and wound­ing thou­sands. The Israeli gov­ern­ment has jus­ti­fied its vio­lence by tying the protests to Hamas, but experts like Pales­tin­ian-Amer­i­can human-rights lawyer Noura Erakat say the protests are a grass­roots effort — and argue that polit­i­cal affil­i­a­tions do not jus­ti­fy Israel's armed attacks against a civil­ian population.
Thanks to the block­ade, a human­i­tar­i­an cri­sis has rav­aged Gaza. Two mil­lion Pales­tini­ans are trapped with lit­tle access to food, clean water or ser­vices. Sev­en­ty per­cent of the pop­u­la­tion relies on out­side human­i­tar­i­an aid, which dwin­dled when the Trump Admin­is­tra­tion cut $65 mil­lion in fund­ing to the Unit­ed Nations Relief and Works Agency, and then with­held $45 mil­lion in promised food aid to both Gaza and the West Bank.
Below is a sta­tis­ti­cal snap­shot of Gaza's human­i­tar­i­an cri­sis and the vio­lent crack­down on protesters.
Gaza by the Numbers
2007 Year Israel imposed a land, air and sea block­ade on Gaza
76

% Reduc­tion in Gazan imports after the blockade
151

Import items, includ­ing cement and pipes, pro­hib­it­ed because of ​

"

dual use" for mil­i­tary purposes
84

% Por­tion of sup­plies for water, health and san­i­ta­tion infra­struc­ture denied by Israel, accord­ing to Oxfam
97

% Por­tion of drink­ing water in Gaza that is unsafe
35

,

000

Pales­tini­ans who ral­lied in Gaza March

30

, the first day of mass action against the blockade
101

Pro­test­ers killed in Gaza by Israeli secu­ri­ty forces since March

30

, as of May

14
8

,

400

Gazans wound­ed in the protests since March

30

, as of May

14
52

pro­test­ers killed and

2

,

400

wound­ed in a sin­gle day, May

14

, when Gazans protest­ed the relo­ca­tion of the U.S. Embassy to Jerusalem from Tel Aviv
2

Jour­nal­ists killed in the protests;

29

injured, accord­ing to reports by the Com­mit­tee to Pro­tect Jour­nal­ists. All were Palestinian.
0

Israeli secu­ri­ty forces killed in the protests
Sasha Kramer
has a degree in envi­ron­men­tal stud­ies and has been pub­lished by Oak­land Insti­tute. She is a win­ter
2018
In These Times edi­to­r­i­al intern.