This Week in Labor: Sick Workers Implicated in 8 Jimmy John's Food Poisoning Outbreaks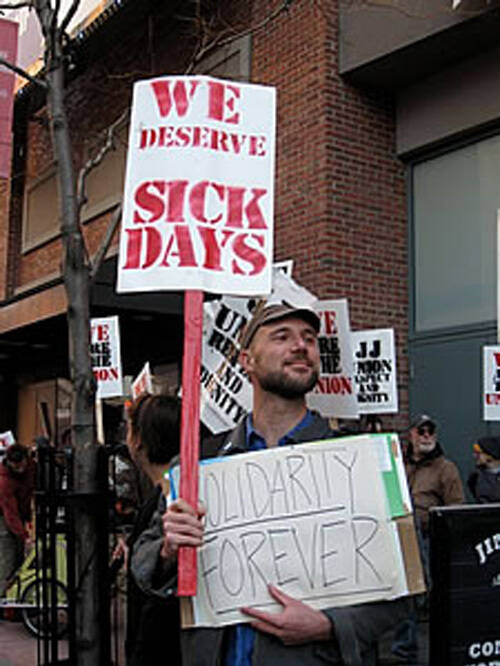 At the end of each week, Work­ing In These Times rounds up labor news we've missed dur­ing the past week, with a focus on new and ongo­ing cam­paigns and protests. For all our oth­er head­lines from this week, go here.
—Two months ago, six work­ers at the Jim­my John's sub­ma­rine sand­wich chain in the Twin Cities area were fired after demand­ing the right to call in sick. They say work­ers are penal­ized if they call in sick with­out find­ing their own replacements.
On Fri­day, the Indus­tri­al Work­ers of the World, which is try­ing to union­ize Jim­my John's stores in Min­neapo­lis, dis­trib­uted a series of reports from the Min­neso­ta Depart­ment of Health link­ing eight sep­a­rate out­breaks of norovirus to Jim­my John's restau­rants over the past 5 years. In each case, epi­demi­ol­o­gists linked out­breaks of flu­like ill­ness among Jim­my John's cus­tomers to sick employ­ees touch­ing food.
Strict­ly speak­ing, these reports don't prove that employ­ees spread the virus because they were forced to work after they start­ed to feel sick. The virus has an incu­ba­tion peri­od dur­ing which an infect­ed per­son can be con­ta­gious, but asymp­to­matic. In some cas­es, work­ers were sent home after they start­ed vom­it­ing at work.
How­ev­er, the Depart­ment of Health casts doubt upon Min­neapo­lis fran­chise own­er Mike Mul­li­gan​'s claim that nobody has ever got­ten sick from any of the 6 mil­lion subs his busi­ness has served over the last decade.
—In the wake of two high­ly pub­li­cized sex attacks on house­keep­ers, the union­ized house­keep­ing staff of the Pierre and Sof­i­tel hotels in Man­hat­tan will be issued ​"pan­ic but­tons." Man­age­ment agreed to the safe­ty upgrade after meet­ings with union offi­cials. The New York Hotel & Motel Trades Coun­cil is lob­by­ing for statewide leg­is­la­tion that would guar­an­tee sim­i­lar equip­ment for all hotel housekeepers.
—Cana­di­an postal work­ers began rotat­ing 24-hour strikes on Thurs­day night after nego­ti­a­tions between the Cana­di­an Union of Postal Work­ers and the fed­er­al gov­ern­ment broke down. This is the first job action by the union in over 13 years.
Lind­say Bey­er­stein
is an award-win­ning inves­tiga­tive jour­nal­ist and In These Times staff writer who writes the blog Duly Not­ed. Her sto­ries have appeared in Newsweek, Salon, Slate, The Nation, Ms. Mag­a­zine, and oth­er pub­li­ca­tions. Her pho­tographs have been pub­lished in the Wall Street Jour­nal and the New York Times' City Room. She also blogs at The Hill­man Blog (http://​www​.hill​man​foun​da​tion​.org/​h​i​l​l​m​a​nblog), a pub­li­ca­tion of the Sid­ney Hill­man Foun­da­tion, a non-prof­it that hon­ors jour­nal­ism in the pub­lic interest.