This Week in Labor: Sick Workers Implicated in 8 Jimmy John's Food Poisoning Outbreaks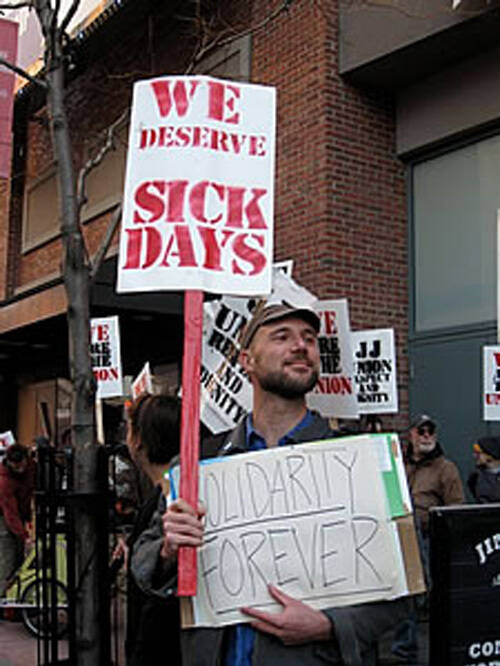 At the end of each week, Working In These Times rounds up labor news we've missed during the past week, with a focus on new and ongoing campaigns and protests. For all our other headlines from this week, go here.
—Two months ago, six workers at the Jimmy John's submarine sandwich chain in the Twin Cities area were fired after demanding the right to call in sick. They say workers are penalized if they call in sick without finding their own replacements.
On Friday, the Industrial Workers of the World, which is trying to unionize Jimmy John's stores in Minneapolis, distributed a series of reports from the Minnesota Department of Health linking eight separate outbreaks of norovirus to Jimmy John's restaurants over the past 5 years. In each case, epidemiologists linked outbreaks of flulike illness among Jimmy John's customers to sick employees touching food.
Strictly speaking, these reports don't prove that employees spread the virus because they were forced to work after they started to feel sick. The virus has an incubation period during which an infected person can be contagious, but asymptomatic. In some cases, workers were sent home after they started vomiting at work.
However, the Department of Health casts doubt upon Minneapolis franchise owner Mike Mulligan​'s claim that nobody has ever gotten sick from any of the 6 million subs his business has served over the last decade.
—In the wake of two highly publicized sex attacks on housekeepers, the unionized housekeeping staff of the Pierre and Sofitel hotels in Manhattan will be issued ​"panic buttons." Management agreed to the safety upgrade after meetings with union officials. The New York Hotel & Motel Trades Council is lobbying for statewide legislation that would guarantee similar equipment for all hotel housekeepers.
—Canadian postal workers began rotating 24-hour strikes on Thursday night after negotiations between the Canadian Union of Postal Workers and the federal government broke down. This is the first job action by the union in over 13 years.
Lindsay Beyerstein
is an award-winning investigative journalist and In These Times staff writer who writes the blog Duly Noted. Her stories have appeared in Newsweek, Salon, Slate, The Nation, Ms. Magazine, and other publications. Her photographs have been published in the Wall Street Journal and the New York Times' City Room. She also blogs at The Hillman Blog (http://​www​.hill​man​foun​da​tion​.org/​h​i​l​l​m​a​nblog), a publication of the Sidney Hillman Foundation, a non-profit that honors journalism in the public interest.