Will Power: 16-Day Strike Helps Public Workers Win Wage Increase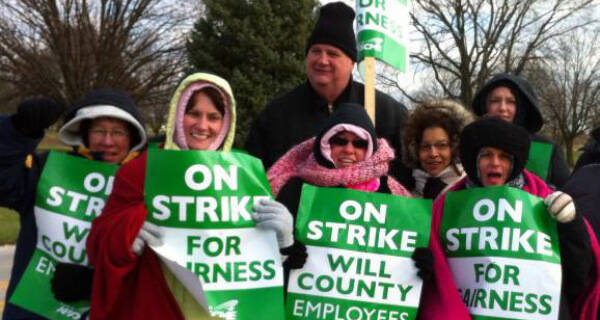 On 2:30 a.m. on Wednes­day, union lead­ers and gov­ern­ment offi­cials in Will Coun­ty, Ill., final­ly ham­mered out a con­tract agree­ment for coun­ty pub­lic work­ers after 15 months of nego­ti­a­tions and a three-week strike. Union mem­bers rat­i­fied the con­tract on Thurs­day with 95 per­cent sup­port, ush­er­ing in four years of wage increas­es, in addi­tion to an income-based slid­ing scale for work­er con­tri­bu­tions to health­care premiums.
Amer­i­can Fed­er­a­tion of State, Coun­ty and Munic­i­pal Employ­ees (AFSCME) Local 1028 rep­re­sents the work­ers, whose ranks include, among oth­ers, health and high­way depart­ment employ­ees and admin­is­tra­tors at the coun­ty clerk's office and cour­t­house. Dave Del­rose, pres­i­dent of Local 1028, por­trayed the strike and ensu­ing con­tract as a pro­duc­tive step toward ​"ensur­ing that coun­ty employ­ees have the fair pay and afford­able health­care they deserve in return for their hard work."
In a state­ment released on Thurs­day night, Del­rose con­tin­ued, ​"By stand­ing togeth­er, we reached a fair set­tle­ment that achieves these goals."
Will Coun­ty exec­u­tive Lawrence Walsh was less opti­mistic in his own pub­lic state­ment. Regard­ing health­care, for exam­ple, he claimed, ​"Ulti­mate­ly, no one was com­plete­ly hap­py with these agreed-to amounts — which often means this was a true compromise."
Will Coun­ty is less than an hour's dri­ve south­west of Demo­c­rat-dom­i­nat­ed Chica­go, but polit­i­cal­ly, it is even­ly mixed, with 13 Democ­rats and 13 Repub­li­cans mak­ing up the county's board. Nick Palmer, chief of staff for Walsh, describes his Demo­c­rat boss as ​"fis­cal­ly con­ser­v­a­tive" but with a ​"pro-labor vot­ing record" from his days in the Illi­nois Senate.
The coun­ty is also grow­ing — and fast. Its 2010 U.S. Cen­sus-record­ed pop­u­la­tion was 677,560 peo­ple, a 34.9 per­cent jump from 2000, and the area increas­ing­ly serves as an inter­modal trans­porta­tion hub, with large sup­pli­er ware­hous­es for major cor­po­ra­tions. But despite this pop­u­la­tion increase, Will Coun­ty is — like much of Illi­nois and the coun­try as a whole — mired in a pro­longed eco­nom­ic slump, with an unem­ploy­ment rate of 9.1 per­cent as of August.
The county's job oppor­tu­ni­ties first began to severe­ly decline in 2008, coin­cid­ing with the nation­al finan­cial melt­down — and, as it hap­pened, the last time Will Coun­ty and AFSCME hashed out a con­tract. At the time, says AFSCME spokesper­son Anders Lin­dall, AFSCME was sen­si­tive ​"to the stock mar­ket crash and onset of the reces­sion" and so did not demand an annu­al cost-of-liv­ing adjust­ment, or COLA, to keep pace with inflation.
When the time came to hash out a new con­tract in 2012, how­ev­er, the adjust­ment became a point of con­tention: union lead­ers claimed work­ers' salaries did not reflect infla­tion while gov­ern­ment offi­cials argued the impor­tance of pri­or­i­tiz­ing all of the coun­ty's fund­ing needs, not just employ­ee wages. After much back-and-forth, the new con­tract, which ends in Novem­ber 2016 and retroac­tive­ly ​"starts" in Decem­ber 2012, now includes a 4.5 per­cent COLA increase spread out over the dura­tion of those four years. It also changes the employ­ee wage scale, effec­tive­ly giv­ing all work­ers a 5 per­cent raise in June 2015 and two addi­tion­al 2.5 per­cent rais­es dur­ing the con­trac­t's four-year span.
Anoth­er snag in con­tract nego­ti­a­tion had been the debate sur­round­ing health­care costs, with union lead­ers resist­ing high­er work­er con­tri­bu­tion toward health­care premiums.
​"Tra­di­tion­al­ly, Will Coun­ty has paid com­par­a­tive­ly low wages, but let employ­ees pay a lit­tle less for health­care," Lin­dall said in an inter­view Tues­day night, before the con­tract was agreed upon. ​"But Will Coun­ty man­age­ment wants to sharply increase health­care payments."
Though the con­tract does include high­er health­care costs, they will rise grad­u­al­ly on a year­ly basis rather than imme­di­ate­ly spik­ing. They will also be ​"income-band­ed", mean­ing that work­ers who make low­er wages will be expect­ed to fun­nel a low­er per­cent­age of their earn­ings toward ben­e­fits. By 2016, the medi­an work­er con­tri­bu­tion will be 10 per­cent of an indi­vid­ual employ­ee's health­care premium.
The con­tract agree­ment marked the end of a 16-day, 1,000-worker-wide pub­lic employ­ees' strike, which began on Novem­ber 18 and was the first work stop­page Will Coun­ty civ­il ser­vants have ini­ti­at­ed since the 1970s. Dur­ing the strike, work­ers bom­bard­ed their com­mu­ni­ty with ral­lies and demon­stra­tions to drum up pub­lic sup­port. On Novem­ber 22, for exam­ple, AFC­SME mem­bers dis­rupt­ed a coun­ty board meet­ing as ​"work­ers chant­ed slo­gans, banged pots and implored board mem­bers to return to the bar­gain­ing table" accord­ing to a Her­ald-News account. Board mem­bers did return to the bar­gain­ing table on Novem­ber 25, but dis­cus­sions proved fruit­less until Tuesday's late-night session.
Lin­dall says the strike impact­ed pro­duc­tiv­i­ty all over Will Coun­ty, under­scor­ing the vital role pub­lic employ­ees play through­out the region. He claims, for exam­ple, that Sun­ny Hill, a 238-bed nurs­ing home in Joli­et, Ill., hired tem­po­rary work­ers to replace strik­ing care­givers, ulti­mate­ly result­ing in what he calls ​"inad­e­quate" patient sup­port at the facil­i­ty. He also con­tends that some court cas­es and releas­es of coun­ty inmates were delayed in the past three weeks.
Mean­while, although coun­ty offi­cials do acknowl­edge some decline in ser­vices, they main­tain that the gov­ern­ment con­tin­ued to func­tion rel­a­tive­ly well, even man­ag­ing to process can­di­date peti­tions for elect­ed office this week. Regard­less, all Will Coun­ty employ­ees returned to work on Thursday.
Asked how Will Coun­ty res­i­dents respond­ed to the work­ers' efforts over­all, Palmer said, ​"Hon­est­ly, it's been a mixed bag."
​"Lots of peo­ple are say­ing, ​'Why can't we do more for the union?' " he con­tin­ued. ​"But peo­ple under­stand there is only so much money."
ASFCME is a web­site spon­sor of In These Times.
Matthew Blake
is a free­lance jour­nal­ist based in Chica­go. He has writ­ten for the
Chica­go Jour­nal, Wash­ing­ton Month­ly, Wash­ing­ton Inde­pen­dent
and
The Nation
, among oth­er publications.