Trafficked Teachers: Neoliberalism's Latest Labor Source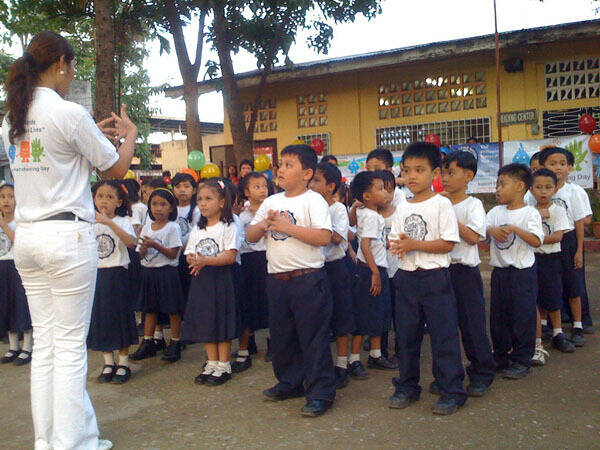 Between 2007 and 2009, 350 Fil­ipino teach­ers arrived in Louisiana, excit­ed for the oppor­tu­ni­ty to teach math and sci­ence in pub­lic schools through­out the state. They'd been recruit­ed through a com­pa­ny called Uni­ver­sal Place­ment Inter­na­tion­al Inc., which pro­fess­es on its web­site to ​"suc­cess­ful­ly place teach­ers in dif­fer­ent schools thru out [sic] the Unit­ed States." As a law­suit lat­er revealed, how­ev­er, their jour­ney through the Amer­i­can pub­lic school sys­tem was fraught with abuse.
Accord­ing to court doc­u­ments, Lour­des Navar­ro, chief recruiter and head of Uni­ver­sal Place­ment, made appli­cants pay a whop­ping $12,550 in inter­view and ​"pro­cess­ing fees" before they'd even left the Philip­pines. But the exploita­tion didn't stop there. After the teach­ers land­ed in LAX, they were required to sign con­tracts pay­ing back 10 per­cent of their first and sec­ond years'' salaries; those who refused were threat­ened with instant deportation.
​"We were herd­ed into a path, a slow­ly con­strict­ing path," said Ingrid Cruz, one of the teach­ers, dur­ing the tri­al, ​"where the moment you feel the sus­pi­cion that some­thing is not right, you're already way past the point of no return." Even­tu­al­ly, a Los Ange­les jury award­ed the teach­ers $4.5 million.
Sim­i­lar hor­ror sto­ries have abound­ed across the coun­try for years. Start­ing in 2001, the pri­vate con­trac­tor Omni Con­sor­tium promised 273 Fil­ipino teach­ers jobs with­in the Hous­ton, Texas school dis­trict — in real­i­ty, there were only 100 spots open. Once they arrived, the teach­ers were crammed into groups of 10 to 15 in unfin­ished hous­ing prop­er­ties. Omni Con­sor­tium kept all their doc­u­ments, did not allow them their own trans­porta­tion, and threat­ened them with depor­ta­tion if they com­plained about their unem­ploy­ment sta­tus or looked for anoth­er job.
And it's not always recruit­ing agen­cies that are at fault. Accord­ing to an Amer­i­can Fed­er­a­tion Teach­ers report, in 2009, Flori­da Atlantic Uni­ver­si­ty import­ed 16 Indi­an math and sci­ence teach­ers for the St. Lucie Coun­ty School Dis­trict. Label­ing the immi­grant teach­ers as ​"interns," the dis­trict only spent $18,000 for each of their year­ly salaries — well below a reg­u­lar teacher's rate. But because the dis­trict paid the wages to Flori­da Atlantic Uni­ver­si­ty, rather than the teach­ers them­selves, the uni­ver­si­ty pock­et­ed most of the mon­ey, giv­ing the teach­ers a mere $5,000 each.
Researchers esti­mate that any­where from 14,000 to 20,000 teach­ers, import­ed on tem­po­rary guest work­er visas, teach in Amer­i­can pub­lic schools nation­wide. Such hir­ing prac­tices are often framed as cul­tur­al exchange pro­grams, but as Tim­o­thy Noah of the New Repub­lic points out — in this case about Maryland's Prince George Coun­ty — ​"When 10 per­cent of a school district's teach­ers are for­eign migrants, that isn't cul­tur­al exchange. It's sweat­shop labor — and a depress­ing indi­ca­tor of how low a pri­or­i­ty pub­lic edu­ca­tion has become."
A man­u­fac­tured problem
School dis­tricts fre­quent­ly jus­ti­fy hir­ing low­er-paid immi­grants by point­ing to teacher short­ages in chron­i­cal­ly under­fund­ed rur­al and urban school dis­tricts. And it's true: In poor­er areas, class­rooms are often over­crowd­ed and under­staffed. But this dearth of instruc­tors did not come out of nowhere. Rather, it is an inevitable result of the aus­ter­i­ty mea­sures pushed through on a fed­er­al, state, and local lev­el after the pan­ic of the 2007 finan­cial crisis.
As the Cen­ter on Bud­get and Pol­i­cy Pri­or­i­ties notes, between 2008 and 2011, school dis­tricts nation­wide slashed 278,000 jobs. This bleed­ing has not stopped: Accord­ing to the Cen­ter on Edu­ca­tion Pol­i­cy, almost 84 per­cent of school dis­tricts in the 2011 – 2012 school year expect­ed bud­get short­falls, and 60 per­cent planned to cut staff to make up deficits.
Thus, we see a famil­iar pat­tern of neolib­er­al ​"restruc­tur­ing" in Amer­i­can school sys­tems: Cut pub­lic insti­tu­tions to the bone, leave them to fail with­out ade­quate resources, then claim the man­tle of ​"reform" while rebuild­ing the insti­tu­tions with an eye towards privatization.
In many cities, new­ly laid-off instruc­tors are left to lan­guish while their for­mer employ­ers employ under­paid replace­ments to fill the gaps. For exam­ple, the Bal­ti­more City Pub­lic Schools dis­trict has import­ed more than 600 Fil­ipino teach­ers; mean­while, 100 cer­ti­fied local teach­ers make up the ​"sur­plus" work­force, serv­ing as sub­sti­tutes and co-teach­ers when they can.
The man­u­fac­tured labor scarci­ty nar­ra­tive, used to jus­ti­fy the impor­ta­tion of guest work­er teach­ers, pro­vides dis­tricts with the oppor­tu­ni­ty to employ less cost­ly, at-will employ­ees, whose pre­car­i­ous legal sta­tus is often exploit­ed. Such moves to pump up the work­force with work­ers — not here long enough to invest them­selves in orga­niz­ing or bar­gain­ing strug­gles — also serve to weak­en shop-site sol­i­dar­i­ty and unions' abil­i­ty to mobi­lize on a larg­er scale.
The recruit­ing con­tac­tors' adver­tise­ments to dis­tricts are par­tic­u­lar­ly instruc­tive in this regard, not­ing their recruits' inabil­i­ty to qual­i­fy for ben­e­fits and pen­sion con­tri­bu­tions. In an exten­sive study, edu­ca­tion pro­fes­sors Sue Books and Rian de Vil­liers found that recruit­ing firms tend to appeal to dis­tricts on the basis of cost-sav­ing, rather than class­room qual­i­ty. As one Geor­gia con­trac­tor, Glob­al Teach­ers Research and Resources, adver­tis­es, ​"school sys­tems pay an admin­is­tra­tive fee [to GTRR] that is gen­er­al­ly less than the cost of [teacher] ben­e­fits. Col­lab­o­rat­ing with GTRR means qual­i­ty teach­ers with sav­ings to the school sys­tems." Even more egre­gious­ly, a Hous­ton based recruit­ing firm called Pro­fes­sion­al and Intel­lec­tu­al Resources exclaims that their ​"bar­gain-priced" Fil­ipino teach­ers can ​"make the most out of the most min­i­mal resources.
Mem­o­riz­ing isn't learning
This cri­te­ri­on for hir­ing makes sense in the con­text of what philoso­pher Paulo Freire calls ​"the bank­ing con­cept of edu­ca­tion." In his 1968 clas­sic, The Ped­a­gogy of the Oppressed, Freire cri­tiques the ped­a­gog­i­cal tra­di­tion of rote mem­o­riza­tion, in which the teacher-as-nar­ra­tor ​"leads the stu­dents to mem­o­rize … the nar­rat­ed con­tent." Freire argues, ​"It turns [stu­dents] into ​'con­tain­ers,' into ​'recep­ta­cles' to be ​'filled' by the teacher. The more com­plete­ly she fills the recep­ta­cles, the bet­ter a teacher she is."
How­ev­er, Freire's ​"nar­ra­tive" is no longer even in the hands of teach­ers, who might at least have some under­stand­ing of con­tent rel­e­vant to stu­dents. Instead with the rise of test-based approach to edu­ca­tion, forced through with No Child Left Behind, Race to the Top, Com­mon Core, and numer­ous ramped-up state tests, name­less cor­po­rate and fed­er­al employ­ees now tie teach­ers and stu­dents' suc­cess to the pro­duc­tion of high­er test scores. Thus, today's cut­ting-edge edu­ca­tion reform move­ment has brought this ​"bank­ing con­cept of edu­ca­tion" back into vogue, demand­ing ​"objec­tive mea­sures" and ​"account­abil­i­ty" through con­stant stan­dard­ized testing.
The idea that new teach­ers should be import­ed from halfway around the world for year­long stints, know­ing no back­ground about the com­mu­ni­ties they are enter­ing and the con­tent rel­e­vant to them, is only jus­ti­fied if the teacher is reduced to an instru­ment of stan­dard­ized infor­ma­tion trans­mis­sion. And if teach­ers are just such instru­ments, why not search the glob­al mar­ket for the cheap­est, most mal­leable ones possible?

As Books and de Vil­liers point out, many recruiters' adver­tise­ments reflect this log­ic: ​"Only two [recruiters'] web­sites apprise teach­ers of the socio-eco­nom­ic, racial, eth­nic, and reli­gious diver­si­ty in many U.S. schools. Only five include use­ful edu­ca­tion­al links, and only three pro­vide infor­ma­tion about school-based men­tor­ing." So for cor­po­rate recruiters and their dis­trict clients, find­ing the right match for a school is not about teacher qual­i­ty or expe­ri­ence, but rather cost and expendability.
The phe­nom­e­non of teacher traf­fick­ing, then, doesn't rest entire­ly on recruiters' mer­ce­nary ten­den­cies or dis­tricts' dri­ve to cheap­en their labor. It also rests on the larg­er neolib­er­al con­cep­tion of work­ers. In this case, teach­ers become move­able parts, switched out in accor­dance with the iron laws of sup­ply and demand in order to more effi­cient­ly out­put suc­cess­ful test scores, whose val­ue comes to rep­re­sent stu­dents themselves.
Colo­nial­ism in the classroom
The Amer­i­can impor­ta­tion of Fil­ipino teach­ers, as well as edu­ca­tors from oth­er coun­tries, has con­se­quences beyond the Unit­ed States, too. Accord­ing to Books and de Vil­liers, sev­er­al recruit­ing agen­cies only seek out teach­ers in the Philip­pines because its high pover­ty rates and sup­ply of qual­i­ty teach­ers make it, as one jour­nal­ist from the Bal­ti­more Sun put it, ​"fer­tile ground for recruits." Mean­while, the nation has an esti­mat­ed short­age of 16,000 edu­ca­tors and the high­est stu­dent-teacher ratio in Asia at 45:1.
As one Fil­ipino union leader told the Amer­i­can Fed­er­a­tion of Teach­ers, ​"To accom­mo­date the stu­dents, most pub­lic schools sched­ule two, three and some­times even four shifts with­in the entire day, with 70 to 80 stu­dents packed in a room. Usu­al­ly, the first class starts as ear­ly as 6:00 a.m. to accom­mo­date the oth­er ses­sions." And as Amer­i­can cor­po­rate forces have exploit­ed the Philip­pines for its best teach­ers, pushed across the world by the beck and call of the mar­ket, agents of the non­prof­it world have tak­en it upon them­selves to send Amer­i­can sub­sti­tutes in their place.
Launched last year, Teach for the Philip­pines presents itself as ​"the solu­tion" to this lack of qual­i­ty teach­ers in the coun­try — a claim sim­i­lar to those of its U.S. par­ent orga­ni­za­tion, Teach for Amer­i­ca, a behe­moth non­prof­it that each year recruits thou­sands of ide­al­is­tic col­lege grad­u­ates to become (and often replace) teach­ers in low-income com­mu­ni­ties after a five-week train­ing camp.
The Teach for Philip­pines pro­mo video begins with black and white shots of mul­ti­tudes of young Fil­ipino school­child­ren packed into crowd­ed class­rooms, bored and on the verge of tears. A cov­er ver­sion of a Killers song pro­claims, ​"When there's nowhere else to run … If you can hold on, hold on" as the video shifts to the stu­dents' inevitable fates: scenes of tat­tooed gang kids smok­ing, an iso­lat­ed girl and even a des­per­ate man behind bars. In the midst of this grotesque­ly Ori­en­tal­iz­ing imagery, text declares, ​"Our Coun­try Needs Guid­ance," ​"Our Coun­try Needs Inspi­ra­tion," and final­ly ​"Our Coun­try Needs Teachers."
Teach for the Philip­pines recruits young Fil­ipinos both domes­ti­cal­ly and inter­na­tion­al­ly, with spe­cial out­reach to Fil­ipino Amer­i­cans. Though still in its start-up phase, with only 53 teach­ers in 10 schools, the pro­gram presents a dis­turb­ing vision for the future of teach­ing in the con­text of a glob­al work­force. While the Fil­ipino teach­ers import­ed to Amer­i­ca are not nec­es­sar­i­ly ide­al fits, giv­en their inabil­i­ty to remain as long-term con­trib­u­tors to a school com­mu­ni­ty, at least they are for the most part trained, expe­ri­enced instruc­tors. With­in the Teach for the Philip­pines par­a­digm, how­ev­er, Fil­ipino stu­dents, robbed of their best instruc­tors, are forced to study under recruits, who may lack a strong under­stand­ing of the com­mu­ni­ties they are join­ing and have often have nev­er even had any actu­al class­room expe­ri­ence.
But Teach For the Philip­pines is just one grow­ing arm of Teach for America's glob­al empire, now span­ning the world sites in 33 coun­tries and enjoy­ing mil­lions in sup­port from neolib­er­al pow­er play­ers like Visa and even the World Bank. So while aus­ter­i­ty-mode West­ern nations may seek to cut costs by employ­ing no-ben­e­fits guest work­ers, coun­tries such as the Philip­pines will be forced by the unbend­ing log­ic of the mar­ket to plead for inter­na­tion­al char­i­ty — sum­mer camp vol­un­teers look­ing to ​"give" two years of their lives to real­ly make a difference.
In the Ped­a­gogy of the Oppressed, Freire argues, ​"It is to the real­i­ty that medi­ates men, and to the per­cep­tion of that real­i­ty held by edu­ca­tors and peo­ple, that we must go to find the pro­gram con­tent of edu­ca­tion." But for such a real­i­ty to be approached, teach­ers and com­mu­ni­ties must have the oppor­tu­ni­ty to grow togeth­er, to lis­ten to each oth­er, and to under­stand the real­i­ty that they seek to trans­form. By push­ing teach­ers into a glob­al­ized pool of low-wage temp work­ers, teacher traf­fick­ing pre­cludes this possibility.