The Right's Response to the Paris Attacks Is Shameful and Opportunistic
Trump et al. should take a lesson from a 4-year-old boy in Paris.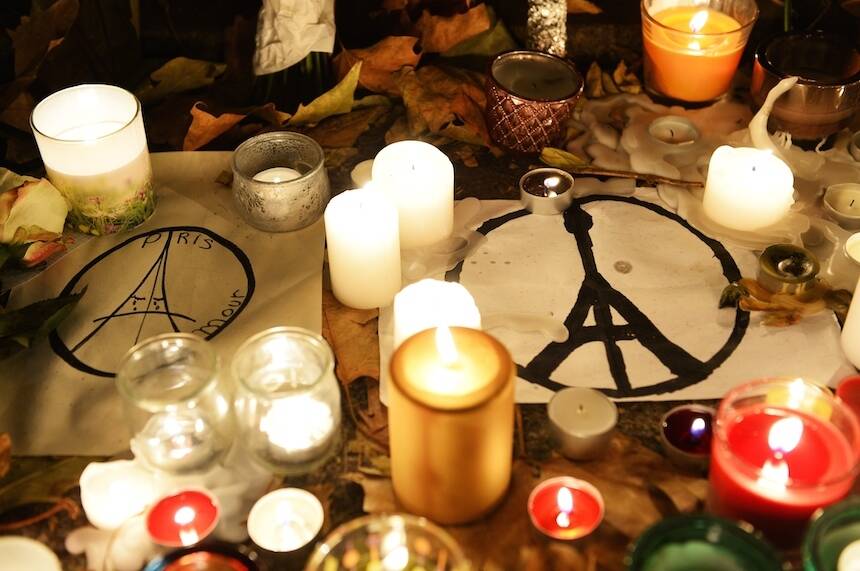 In a video that went viral after the Paris attacks, a French reporter inter­viewed a lit­tle boy, around age 4, and his dad out­side the con­cert venue Bat­a­clan, where peo­ple were leav­ing flow­ers and can­dles to hon­or the esti­mat­ed 89 peo­ple killed there by ter­ror­ists. The boy says they have to be care­ful and change hous­es because the bad guys are real­ly mean and have guns. But the dad insists that France is their home, and while the bad guys may have guns, ​"we have the flow­ers" to fight against the guns. So ​"the flow­ers and the can­dles are here to pro­tect us?" asks the child. Yes, assures his father.
Of course we need to prevent attacks here. But the vetting process for Syrian refugees is already onerous and extensive, taking anywhere from 18 to 24 months.
This poignant tes­ti­mo­ny to resis­tance, to the pow­er of love and sol­i­dar­i­ty, and to faith in human­i­ty despite every­thing stands in stark con­trast to the mean-spir­it­ed and some­times hys­ter­i­cal respons­es, near­ly all of them self-serv­ing, by our politi­cians. Many of those respons­es were inspired by the usu­al media rush to judg­ment, when mul­ti­ple out­lets quick­ly report­ed that a Syr­i­an pass­port was found on or near the body of one of the sui­cide bombers, link­ing the Paris attacks to the migrant cri­sis. Here in Michi­gan, where we have the sec­ond-largest Arab-Amer­i­can pop­u­la­tion in the coun­try, Repub­li­can Gov. Rick Sny­der lost no time in assert­ing that the state would halt efforts to reset­tle Syr­i­an refugees, lead­ing a stam­pede of at least 29 oth­er gov­er­nors who also came out in oppo­si­tion to resettlement.
Nev­er mind that, sev­er­al days lat­er, Agence France-Presse report­ed that the Syr­i­an pass­port found next to one of the sui­cide bombers was either fake, stolen or, as the Ger­man inte­ri­or min­is­ter sug­gest­ed, pos­si­bly plant­ed there.
Don­ald Trump, not sur­pris­ing­ly, said he would both ban Syr­i­ans from com­ing to the Unit­ed States and deport those already here. Where would they go? Back to Syr­ia, where he, The Don­ald, would build a ​"big, beau­ti­ful safe zone" in one of the most dan­ger­ous coun­tries in the world — per­haps mod­eled after his bank­rupt Trump Taj Mahal in Atlantic City. We also have ​"absolute­ly no choice" but to close down some mosques because ​"some bad things are hap­pen­ing." And he wants a ​"total and com­plete shut­down" of our bor­ders to Mus­lims. Ben Car­son, alleg­ing that the ter­ror­ists got into France pos­ing as migrants, demand­ed an end to any fed­er­al fund­ing to assist with Syr­i­an refugee reset­tle­ment. He also famous­ly likened the refugees to rabid dogs. Ted Cruz said he would intro­duce leg­is­la­tion to for­bid Syr­i­an Mus­lims from enter­ing the coun­try but would allow Chris­tians in. Chris Christie wouldn't allow any in, not even ​"orphans under age five."
Not to be out­done, Mike Huck­abee rec­om­mend­ed clos­ing our bor­ders and build­ing an encamp­ment for Syr­i­an refugees, ​"but clos­er to where they live" because they don't know our lan­guage or cul­ture. On top of that, Syr­i­ans wouldn't like it here because they have ​"lived in the desert their entire lives" and thus couldn't adapt to our non-desert cli­mate. Nev­er mind that tens of thou­sands of refugees from warmer places like Soma­lia and Iraq have set­tled in Min­neso­ta and man­aged to live to tell the tale. Repub­li­can pres­i­den­tial can­di­date John Kasich, one of the seem­ing­ly less crazy of the bunch, said his response would be to set up an agency with a ​"man­date" to pro­mote what he calls ​"Judeo-Chris­t­ian val­ues" over­seas to counter Islamist pro­pa­gan­da. And of course, we had the House (includ­ing 47 Democ­rats) pass new restric­tions on Syr­i­an immi­gra­tion, requir­ing that the direc­tor of the FBI, the direc­tor of nation­al intel­li­gence and the sec­re­tary of Home­land Secu­ri­ty per­son­al­ly vouch for each and every Syr­i­an immi­grant enter­ing the country.
Now, in the wake of the hor­rif­ic attacks in Beirut and Paris and the down­ing of a Russ­ian plane, for which ISIS has claimed respon­si­bil­i­ty, it is hard­ly sur­pris­ing that peo­ple are scared and xeno­pho­bia appears to be on the rise. ISIS is indeed bar­bar­ic. Of course we need to pre­vent attacks here. But the vet­ting process for Syr­i­an refugees is already oner­ous and exten­sive, tak­ing any­where from 18 to 24 months. To stereo­type and tar­get the mil­lions of des­per­ate peo­ple from a war-torn coun­try based on a now seem­ing­ly spe­cious con­nec­tion between one of the ter­ror­ists and a bogus pass­port is shame­ful, knee-jerk scape­goat­ing. We don't need such sim­plis­tic grand­stand­ing. What we need is to fig­ure out the much more com­plex and seem­ing­ly intractable prob­lem of con­fronting the lethal force that ISIS has become.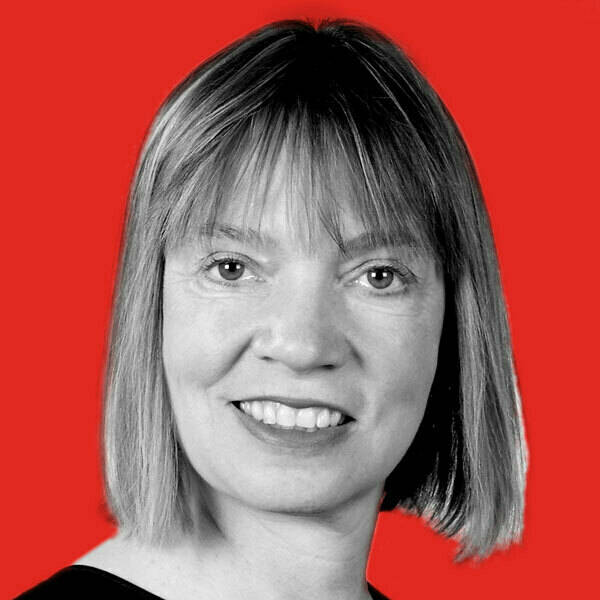 Susan J. Dou­glas
is a pro­fes­sor of com­mu­ni­ca­tions at the Uni­ver­si­ty of Michi­gan and a senior edi­tor at
In These Times
. Her forth­com­ing book is
In Our Prime: How Old­er Women Are Rein­vent­ing the Road Ahead.
.