The Right-Wing Machine Behind the Curtain
The radical conservative Heritage Foundation has spent 40 years trying to gut the federal budget. Now Trump is proving to be the perfect tool.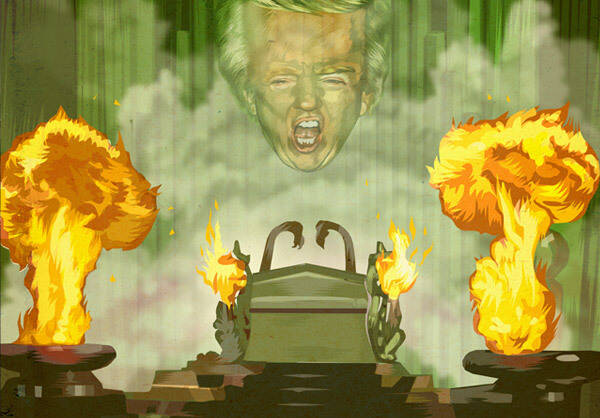 The mood was jubi­lant two days after the Novem­ber 2016 elec­tion at a Wash­ing­ton, D.C., pan­el co-host­ed by two pow­er­house con­ser­v­a­tive think­tanks — the Amer­i­can Enter­prise Insti­tute and the Her­itage Foundation.
According to Politico, Trump plans to cut the Environmental Protection Agency by about one-fourth, or roughly 2 billion dollars.
In his open­ing remarks, Her­itage pres­i­dent Jim DeMint rejoiced that Don­ald Trump's elec­tion had ​"pre­served our con­sti­tu­tion­al repub­lic." Pan­elist John Yoo, a Berke­ley law pro­fes­sor best known as the archi­tect of George W. Bush's jus­ti­fi­ca­tion for tor­ture, drew laughs with feigned sur­prise at the audi­ence size. ​"I thought every­one at Her­itage was work­ing over at tran­si­tion head quar­ters," Yoo quipped. ​"I asked the taxi cab dri­ver to take me to Trump tran­si­tion head­quar­ters, and he dropped me off here."
Indeed, Politi­co report­ed in Novem­ber that Her­itage, based in D.C., had become ​"a cru­cial con­duit between Trump's orbit and the once-skep­ti­cal con­ser­v­a­tive lead­ers who ulti­mate­ly helped get him elect­ed." By Heritage's own account, ​"sev­er­al dozen" of its staff mem­bers worked on the tran­si­tion team, and Trump used its rec­om­men­da­tions for his list of poten­tial Supreme Court picks.
Vice Pres­i­dent Mike Pence, the head of that tran­si­tion team, has deep ties to the foun­da­tion. In 2006, Her­itage co-founder Paul Weyrich, a men­tor of Pence's, said of him, ​"Nobody is per­fect, but he comes pret­ty close." In ear­ly Decem­ber, Pence gave the keynote speech at a Her­itage event (held at Trump's D.C. hotel) to hon­or its biggest donors. He promised that the Trump admin­is­tra­tion ​"is now and will con­tin­ue to draw on" the institution's work.
Her­itage defines its mis­sion as cre­at­ing ​"an Amer­i­ca where free­dom, oppor­tu­ni­ty, pros­per­i­ty and civ­il soci­ety flour­ish." It has an annu­al bud­get of about $100 mil­lion and a staff of about 90 ​"experts" who hold such pseu­do-aca­d­e­m­ic titles as ​"research fel­low' and ​"pol­i­cy ana­lyst." One exam­ple is lib­er­tar­i­an econ­o­mist Stephen Moore, a Trump advi­sor and a Her­itage ​"dis­tin­guished vis­it­ing fellow."
Heritage's ties to the admin­is­tra­tion have received rel­a­tive­ly lit­tle press. With its aca­d­e­m­ic gloss, it may seem benign set against the extrem­ism and zani­ness that dom­i­nate the head­lines: a press sec­re­tary only mar­gin­al­ly less bizarre than the Sat­ur­day Night Live spoof of him; a key advi­sor who embraces the role of Darth Vad­er; cab­i­net picks who have promised to abol­ish the insti­tu­tions they lead; exec­u­tive orders that stig­ma­tize Mus­lims and vio­late the Con­sti­tu­tion; attacks on the press as ​"the ene­my of the Amer­i­can peo­ple"; and on and on.
Yet a grim real­i­ty under­lies the White House cir­cus. Trump's elec­tion is the cul­mi­na­tion of a rad­i­cal right-wing move­ment that began with the found­ing of Her­itage in 1973. ​"We are dif­fer­ent from pre­vi­ous gen­er­a­tions of con­ser­v­a­tives," Weyrich said in the ear­ly 1980s. ​"We are rad­i­cals, work­ing to over­turn the present pow­er struc­ture of this country."
Trump is that movement's best hope yet for achiev­ing its great dream of gut­ting gov­ern­ment. Her­itage isn't an appendage of the Trump administration's rad­i­cal­ism. It's the heart of it. Trump is just a tool.
Back to the future
We've been here before. When Ronald Rea­gan took office in 1981, Her­itage pub­lished a 3,000-page opus, Man­date for Lead­er­ship, that gave the new admin­is­tra­tion some 2,000 spe­cif­ic pol­i­cy rec­om­men­da­tions. The over­ar­ch­ing goals were cut­ting tax­es and dra­mat­i­cal­ly reduc­ing the size of the fed­er­al gov­ern­ment. Rea­gan not only took the advice seri­ous­ly, he dis­trib­uted copies to his cabinet.
For all that, Rea­gan had only mod­est suc­cess. His tax cuts were an eas­i­er sell than deep cuts to fed­er­al pro­grams, which met stiff resis­tance in the Demo­c­ra­t­ic-con­trolled House. By the end of the Rea­gan era, the fed­er­al gov­ern­ment had actu­al­ly grown, and domes­tic dis­cre­tionary spend­ing had increased at rough­ly the rate of infla­tion. While Rea­gan had promised to abol­ish the Depart­ment of Edu­ca­tion, for exam­ple, over­all spend­ing on the depart­ment rose about 30 percent.
Much of this his­to­ry has been for­got­ten or for­giv­en by the Right in the haze of idol­a­try that envelopes Rea­gan. But in 1988, lib­er­tar­i­an schol­ar Shel­don Rich­man summed up the far-right's dis­en­chant­ment in an essay titled ​"The Sad Lega­cy of Ronald Rea­gan." He not­ed, ​"The num­ber of free-mar­ket achieve­ments by the admin­is­tra­tion are so few that they can be count­ed on one hand — with fin­gers left over."
And yet, with the help of Rea­gan, Heritage's vision won out in anoth­er way: It came to define the GOP's ide­ol­o­gy and mes­sag­ing. It trans­lat­ed con­ser­v­a­tive Chris­tians' fears and prej­u­dices into a pos­i­tive mes­sage: Amer­i­can free­dom was in dan­ger and need­ed to be pro­tect­ed. Every man­ner of dog­ma, reli­gious as well as lib­er­tar­i­an, could be smug­gled into the pub­lic sphere under that ban­ner. Repub­li­can politi­cians have slashed social sup­ports for the most vul­ner­a­ble, hol­lowed out the mid­dle class and enriched the rich, all in the name of Amer­i­can liberty.
Anoth­er word for noth­ing left to lose
In 1973, Weyrich, a 30-year-old Repub­li­can strate­gist wun­derkind, cofound­ed both the Her­itage Foun­da­tion and the Amer­i­can Leg­isla­tive Exchange Coun­cil, an orga­ni­za­tion that writes right-wing bills for state leg­is­la­tures. The beer baron Joseph Coors pro­vid­ed seed mon­ey for the projects.
Weyrich's dogged insti­tu­tion-build­ing was dri­ven by a burn­ing vision: Orga­nize evan­gel­i­cal Chris­tians into a pow­er­ful vot­ing bloc, rein­vent the Repub­li­can Par­ty and rad­i­cal­ly recon­struct the nation. In the late 1970s, he used anger over encroach­ments on ​"reli­gious lib­er­ty" — name­ly, the lib­er­ty to deny African Amer­i­cans entrance to reli­gious pri­vate schools — to mobi­lize the Chris­t­ian Right. His efforts pro­pelled Rea­gan to vic­to­ry in 1980 via anoth­er orga­ni­za­tion Weyrich cofound­ed, the Moral Major­i­ty.
Weyrich, who belonged to a Catholic sect, spoke a lan­guage of per­son­al respon­si­bil­i­ty that res­onat­ed with evan­gel­i­cals. He believed that indi­vid­u­al­ism was the heart of the Judeo-Chris­t­ian tra­di­tion and its great neme­sis was the growth of gov­ern­ment. ​"In all of the teach­ings of the New Tes­ta­ment, you nev­er heard Jesus Christ say that it's the respon­si­bil­i­ty of soci­ety or it's the respon­si­bil­i­ty of gov­ern­ment to take care of this," Weyrich told the PBS show Front­line in 1996. ​"He always said, ​'It is your respon­si­bil­i­ty.' When he talked to the rich man, he told the rich man it was his respon­si­bil­i­ty to divest him­self of some of his rich­es to help the poor and so on. It was nev­er a case of ask­ing gov­ern­ment to intervene."
Yet Weyrich knew that build­ing a con­ser­v­a­tive move­ment pow­er­ful enough to reshape the coun­try would require reach­ing beyond a base of con­ser­v­a­tive evan­gel­i­cals. The key, he wrote in the mid-1970s, was to present con­ser­vatism ​"in moral terms … pack­aged in non-reli­gious language."
Rea­gan, who had a sun­ny demeanor and was friend­ly with evan­gel­i­cals, was the per­fect vehi­cle. He may not have slashed the fed­er­al gov­ern­ment, but the avun­cu­lar Rea­gan was a mas­ter sto­ry­teller who brought evan­gel­i­cal Chris­tians togeth­er with free mar­ket cap­i­tal­ists by defin­ing America's great­ness as its love of free­dom. The god­less Sovi­et Union and the god­less, bloat­ed U.S. fed­er­al gov­ern­ment posed a dou­ble-bar­reled threat to that free­dom. The great chal­lenge for the con­ser­v­a­tive move­ment was to return pow­er to the free­dom-lov­ing states.
That ral­ly­ing cry has meant dif­fer­ent things to dif­fer­ent mem­bers of the right-wing coali­tion. For reli­gious con­ser­v­a­tives, free­dom means get­ting the gov­ern­ment out of their lives. Her­itage has for years been knee-deep in the reli­gious lib­er­ty cru­sade of the Chris­t­ian Right. Its online pub­li­ca­tion, The Dai­ly Sig­nal, which claims to have more than 2 mil­lion read­ers, spot­lights what it con­sid­ers out­ra­geous gov­ern­ment intru­sions on Chris­tians' rights, espe­cial­ly their right to dis­crim­i­nate against LGBT peo­ple. These sto­ries often involve the tra­vails of fun­da­men­tal­ist bak­ers, florists and wed­ding planners.
For lib­er­tar­i­ans and cor­po­rate con­ser­v­a­tives, free­dom means low tax­es and lit­tle or no reg­u­la­tion. When the influ­en­tial lib­er­tar­i­an econ­o­mist Mil­ton Fried­man died in 2006, Her­itage post­ed a trib­ute to him on its web­site, claim­ing that ​"his pow­er­ful insights" had ​"saved mil­lions or bil­lions of peo­ple from decades of oppres­sive statism."
Seiz­ing the helm
For Her­itage, the ear­ly years of the Oba­ma admin­is­tra­tion were piv­otal. By its own account, it ​"led the intel­lec­tu­al fight against Oba­macare … even when the Wash­ing­ton estab­lish­ment urged oth­er­wise." Through this cru­sade, it became tight­ly linked with the Tea Par­ty. It also became much more direct­ly engaged in elec­tions, found­ing an elec­toral pol­i­tics unit, Her­itage Action, in 2010. Her­itage Action spent $550,000 in 2013 tar­get­ing Repub­li­can House mem­bers who wouldn't agree to oppose any gov­ern­ment fund­ing bill that includ­ed mon­ey for Oba­macare. In 2013, Sen. Jim DeMint (R‑S.C.) resigned to become Heritage's pres­i­dent, tour­ing the coun­try taunt­ing ​"mod­er­ate" Repub­li­cans who balked at a gov­ern­ment shutdown.
In Octo­ber 2013, the Tea Par­ty and Her­itage suc­ceed­ed in shut­ting down the fed­er­al gov­ern­ment for 16 days. But the shut­down achieved lit­tle aside from tank­ing the GOP's approval rat­ings and stir­ring bit­ter feel­ings toward Her­itage among the party's less rad­i­cal mem­bers. In the fall of 2013, Mick­ey Edwards, a for­mer rep­re­sen­ta­tive from Okla­homa and found­ing trustee of Her­itage, told The Atlantic that its activist turn was ​"destroy­ing the rep­u­ta­tion and cred­i­bil­i­ty" of the foundation.
But with Trump's elec­tion in Novem­ber, Her­itage — an insti­tu­tion that defines free­dom as the elim­i­na­tion of gov­ern­ment — has become a key pow­er bro­ker in Wash­ing­ton and found an admin­is­tra­tion will­ing to fur­ther its agen­da. At the Con­ser­v­a­tive Polit­i­cal Action Con­fer­ence in late Feb­ru­ary, Trump advi­sor Steve Ban­non said that the administration's pri­or­i­ty was the ​"decon­struc­tion of the admin­is­tra­tive state."
It's the old Tea Par­ty push for a gov­ern­ment shut­down, by oth­er means.
Heritage's impact will be felt in the Trump administration's bud­get pro­pos­al, expect­ed in mid-March. Last year, Her­itage pub­lished a blue­print for bring­ing the fed­er­al bud­get into bal­ance that calls for reduc­ing spend­ing by $10.5 tril­lion and cut­ting tax­es by $1.3 tril­lion over a decade. It aims a wreck­ing ball at vir­tu­al­ly every law, pro­gram and insti­tu­tion that defends the envi­ron­ment or pro­motes green ener­gy. It calls for open­ing up ​"all fed­er­al waters and all non-wilder­ness, non fed­er­al-mon­u­ment lands to explo­ration and pro­duc­tion" to fos­sil fuel, min­ing and oth­er com­mer­cial inter­ests. Accord­ing to Green­peace, Her­itage received at least $780,000 from Exxon­Mo­bil between 1998 and 2012, and more than $5.7 mil­lion from foun­da­tions asso­ci­at­ed with fos­sil-fuel indus­tri­al­ists the Koch broth­ers between 1997 and 2014.
The Trump admin­is­tra­tion is wide­ly expect­ed to adopt much of that blue­print as its own. Paul Win­free, the for­mer direc­tor of Heritage's Insti­tute for Eco­nom­ic Pol­i­cy Stud­ies, was named the White House direc­tor of bud­get pol­i­cy. Her­itage not­ed in late Feb­ru­ary that Win­free is ​"expect­ed to play the star­ring role in draft­ing Trump's first bud­get. … The pro­pos­al will like­ly include deep spend­ing cuts at domes­tic agen­cies." Accord­ing to Politi­co, Trump plans to cut the Envi­ron­men­tal Pro­tec­tion Agency by about one-fourth, or rough­ly $2 billion.
The Her­itage influ­ence can be seen in non-bud­getary ways, too. Speak­ing at the annu­al Nation­al Prayer Break­fast in ear­ly Feb­ru­ary, Trump said he would ​"total­ly destroy" the John­son Amend­ment, an IRS rule that pre­vents non­prof­it orga­ni­za­tions, includ­ing church­es, from endors­ing polit­i­cal can­di­dates. The call to repeal it has been a con­sis­tent theme of Her­itage. A Sep­tem­ber 2016 essay in The Dai­ly Sig­nal argued that pas­tors ​"should be account­able to God alone, not the IRS, for what they say behind the pulpit."
Free­dom isn't free
We can only guess at the hav­oc of the com­ing goug­ing of the fed­er­al bud­get, but sev­er­al red states pro­vide a clue to what ​"free­dom" looks like in practice.
The Tea Par­ty helped pro­pel a Repub­li­can land­slide in the 2010 midterm elec­tions. It picked up 19 new state­house cham­bers, giv­ing it 55 over­all and full con­trol in 25 states. That takeover cleared the way for ALEC — Heritage's state-lev­el sis­ter orga­ni­za­tion — to push through right-wing legislation.
States like Kansas and Wis­con­sin get most of the spot­light: Kansas because its gov­er­nor, Sam Brown­back, very proud­ly and aggres­sive­ly made his state an exper­i­ment in ​"eco­nom­ic free­dom," and Wis­con­sin because the ALEC mod­el cuts direct­ly against its long tra­di­tion of pro­gres­sivism. But Indi­ana, in its own qui­et way, has been at the cut­ting edge of this right­ward push under its last two gov­er­nors — Mitch Daniels, who served from 2005 to 2013, and his suc­ces­sor, Mike Pence.
In 2011, through ALEC's influ­ence, Indi­ana became the first state to pro­hib­it its cities and towns from rais­ing their min­i­mum wages. About 20 states have fol­lowed its lead. And in 2012, Indi­ana was at the lead­ing edge of a new wave of union-bust­ing ​"right-to-work" leg­is­la­tion. The laws allow work­ers to ben­e­fit from union rep­re­sen­ta­tion with­out pay­ing union dues.
Pence was like­ly think­ing of these reforms, and of the cut in the state income tax he spear­head­ed, when he pro­claimed in 2014 that Indi­ana was ​"blaz­ing a trail for low tax­es, bal­anced bud­gets and eco­nom­ic free­dom in the Mid­west." In truth, Indi­ana was blaz­ing a trail to the bot­tom. The state's pover­ty rate rose by more than one third from 2007 to 2013, and the medi­an house­hold income declined near­ly 11 per­cent. Indi­ana per­formed worse than any neigh­bor­ing state on both counts.
One of Pence's proud­est achieve­ments as Indi­ana gov­er­nor was a bud­get sur­plus: Indi­ana closed the last fis­cal year $2.24 bil­lion in the black. That sur­plus came from Indiana's fail­ure to invest in pub­lic resources and insti­tu­tions, which is to say, in the future. In the 2014 – 15 fis­cal year, for exam­ple, its pub­lic health bud­get was just $12.40 per capi­ta, or 46th in the nation — down from $17.43 per capi­ta, and a rank of 37th, two years ear­li­er. In 2015, it ranked in the top 15 in rates of tobac­co use, obe­si­ty, dia­betes and phys­i­cal inac­tiv­i­ty among adults. In a Jan­u­ary 2017 Gallup and Health­ways report on U.S. well­be­ing across the states, Indi­ana placed 47th, based on a range of indi­ca­tors that includ­ed finan­cial, com­mu­ni­ty and phys­i­cal well-being.
Indiana's fall from bad to worse illus­trates the cycle of dys­func­tion that takes hold in states that apply the Her­itage- and ALEC-dri­ven mod­el of eco­nom­ic free­dom. Pub­lic invest­ment declines, even as gov­ern­ment pass­es laws to curb unions and sup­press wage growth. The low wages hol­low out the tax base, which means there is less mon­ey for pub­lic invest­ment, which wors­ens things like pub­lic health and edu­ca­tion. Their sad con­di­tion is then used to jus­ti­fy apply­ing ​"free-mar­ket" reforms to the pub­lic sector.
Under Pence, Indi­ana was, nat­u­ral­ly, at the fore­front of the push for pub­lic-school pri­va­ti­za­tion. It has the most robust vouch­er pro­gram in the nation — using tax­pay­er dol­lars to send stu­dents to pri­vate schools.
While Indiana's right-to-work law passed before he took office, Pence did his part to advance ALEC's wage-sup­press­ing agen­da. Pence con­sis­tent­ly opposed any increase to the state's $7.25 min­i­mum wage. The Indi­ana Insti­tute for Work­ing Fam­i­lies cal­cu­lat­ed in 2015 that a hike to $10.10 would ben­e­fit about one-fourth of the state's work­force. And in 2015, he pushed to repeal a law in effect since 1935 that man­dat­ed ​"pre­vail­ing wages" on con­struc­tion projects, usu­al­ly in line with union wages. In sign­ing the repeal, Pence said that wages should be set by the marketplace.
The fed­er­al equiv­a­lent of that wage-pro­tec­tion law is the Davis-Bacon Act, which passed in 1931 and has long been in the crosshairs of con­ser­v­a­tives, includ­ing Heritage.
The court of pub­lic opinion
The hol­low­ing out of states like Indi­ana has been a major vic­to­ry for the Right. As Her­itage and its allies move to bring the same rad­i­cal project to the fed­er­al lev­el, the court of pub­lic opin­ion will be pro­gres­sives' most pow­er­ful tool.
"Free­dom" may res­onate with Amer­i­cans as a slo­gan, but they hate the Right's ver­sion of free­dom in prac­tice. When Trump tapped Pence as his run­ning mate, he was among the most unpop­u­lar gov­er­nors in the nation, with an in-state approval rat­ing in the 40s. And when Trump threat­ened to repeal Oba­macare, protests erupt­ed. ​"They thought [repeal] was a slam dunk," says Liz Ryan Mur­ray, pol­i­cy direc­tor for People's Action, a pro­gres­sive non­prof­it. ​"They didn't under­stand: Peo­ple will fight for this. And I think the same thing will hap­pen as the mag­ni­tude of these cuts becomes apparent."
A vast amount needs to be done— by the grass­roots, by the inde­pen­dent media, by the Demo­c­ra­t­ic Par­ty and by every oth­er resource we can muster— in the realm of sim­ple sto­ry­telling and edu­ca­tion. The fed­er­al bud­get is a con­ve­nient tar­get for dem­a­gogues because most Amer­i­cans have lit­tle to no idea how it's actu­al­ly spent. PBS and NPR, for exam­ple, are about 0.01 per­cent of the bud­get. In sur­veys, peo­ple esti­mate they're about 5 percent.
Pro­gres­sives might take a page from Cit­i­zen Action of Wis­con­sin (CAW), which released a pro­gres­sive ​"alter­na­tive bud­get" in advance of Gov. Walker's own pro­posed bud­get. The goal, says CAW exec­u­tive direc­tor Robert Kraig, is to make the case for ​"big invest­ments that would strength­en every com­mu­ni­ty across Wis­con­sin and improve oppor­tu­ni­ty for everyone."
"We're exper­i­ment­ing with try­ing to change the debate," Kraig says. ​"The research is real­ly clear that the way pro­gres­sives often talk about prob­lems with gov­ern­ment actu­al­ly under­mines people's regard for gov­ern­ment and makes them feel hope­less and dis­en­gaged. So there needs to be a healthy dose of aspi­ra­tion: What could we achieve?"
How­ev­er the bud­get fight plays out, the most crit­i­cal insight from the past half cen­tu­ry of U.S. pol­i­tics may be that con­ser­v­a­tives have both a sto­ry and a long-term vision that lets them take loss­es in stride, for­ti­fied with plen­ty of fund­ing. The move­ment orig­i­nat­ed in the after­math of what seemed like conservatism's col­lapse through the 1950s and 1960s. Among Weyrich's great­est gifts, said Ed Feul­ner, the for­mer pres­i­dent of Her­itage, was an ​"unerr­ing eye for spot­ting the path to vic­to­ry in the midst of seem­ing disaster."
Heritage's use of an ide­o­log­i­cal cipher like Trump to car­ry out an agen­da that seemed hope­less­ly stuck just four years ago is the lat­est exam­ple of the movement's resilience. If Trump is impeached and removed from office, they will be hap­py to have Pence.
If there is much to rage against in the Right's agen­da, there is also a per­verse ele­ment of hope for pro­gres­sives in the sto­ry of its 50-year ascent. The seeds of long-term suc­cess, it turns out, can take root and grow in the midst of seem­ing disaster.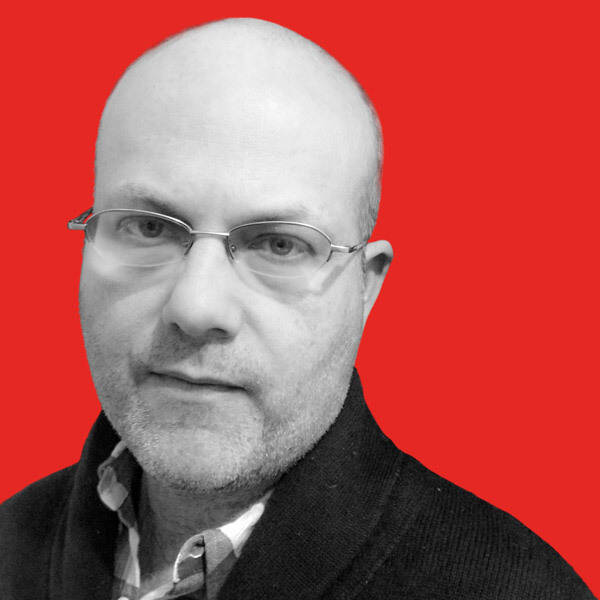 Theo Ander­son
is an In These Times con­tribut­ing writer. He has a Ph.D. in mod­ern U.S. his­to­ry from Yale and writes on the intel­lec­tu­al and reli­gious his­to­ry of con­ser­vatism and pro­gres­sivism in the Unit­ed States. Fol­low him on Twit­ter @Theoanderson
7
.