How a 19th-Century Absurdist Playwright Accidentally Predicted Trump
Ubu Roi is newly relevant, thanks to our president.
Pulitzer Prize-winning playwright Paula Vogel issued dramatists around the world a challenge for Presidents' Day: Write a five-page sketch placing the Trump administration in the land of Ubu Roi, an 1896 French absurdist play about an idiotic, power-hungry king.
The titular figure of Ubu, popularized by anti-fascist artists in the 20th century, is experiencing a sudden afterlife in the age of Trump with its timely—and timeless—themes of greed, narcissism and violence.
The titular figure of Ubu, popularized by anti-fascist artists in the 20th century, is experiencing a sudden afterlife in the age of Trump. Vogel says Ubu Roi drew her because of its timely — and timeless — themes of greed, narcissism and violence. She also notes the striking similarities between King Ubu and President Donald Trump, including their oversized personas and odd use of language. Ubu's first line is a mispronunciation of merde (French for ​"shit"), and Vogel encouraged playwrights to include the word ​"covfefe."
Since 1984, Vogel has organized playwriting ​"bakeoffs" around the country, giving writers of all skill levels a set of ​"ingredients" to write a short play in 48 hours. But this year's bake-off was Vogel's first national endeavor, and arguably her most political.
For Vogel, resurrecting Ubu is a way to inject politics back into American theater. ​"In the 20th century, theater recognized the extremity of world wars and genocide and hideous strife and political instability," says Vogel. ​"American theater [now] is producing living-room comedy and dramas. We insist on realism as being the representation of the way the universe runs. Ubu does not."
Ubu Roi is about as far from realism as it gets. When Alfred Jarry's play was first staged in 1896, its sheer bizarreness induced a riot. Surrealism was still new to Paris theater-goers and the audience was offended by the foul language and the depictions of an orgy and graphic murders. Scuffles broke out between fans and detractors, and the first run ended after opening night.
A scatological parody of MacBeth, Ubu Roi depicts Père (Pa) Ubu and his wife, Mère (Ma) Ubu charting a bloody course to power in Poland. Ubu dispatches his political rivals with a feces-covered toilet brush, kills the king (who returns as a ghost) and seizes the throne. The greedy Ubu then murders many of his citizens to lay claim to their land. When he tries to implement financial reform, he realizes he has killed all of the government workers and must go door to door to collect taxes. Eventually the Ubus are run out of the country by a people's revolt and escape on a ship, heading toward Paris, where Ubu aspires to become Minister of Finance.
Jarry died of tuberculosis at age 34 in 1907 without ever again staging the play, but not before popularizing his tyrant king through woodcuts in L'Ymagier, the art magazine he co-edited. The bulbous royal with a cone-shaped head and a swirl on his stomach became a shorthand for European fascism and inspired work by Dadaists and Surrealists from Max Ernst to Marcel Duchamp. Pablo Picasso's 1937 comic strip ​"The Dream and Lie of Franco" depicts General Francisco Franco as Ubu, raping and pillaging Spain. Picasso was so taken with Jarry that he copied the playwright's conceit of carrying around a Browning revolver (in Picasso's case, loaded with blanks, which he would fire at people who asked irritating questions about his work).
Most significantly, Jarry's Ubu Roi set the stage for the Theater of the Absurd, which, as critic Martin Esslin put it, uses theater to ​"shock its audience out of complacency," and is associated with playwrights like Bertolt Brecht, Samuel Beckett, Eugene Ionesco and Dario Fo. Modern performances of Ubu and other Jarry-influenced works have targeted all manner of authoritarian and corrupt regimes, from post-communist Poland to apartheid to the militaristic governance of George W. Bush.
With the election of Trump, professional and amateur troops around the country have reinterpreted Ubu Roi with the president in the central role, and his family and advisors as the supporting cast. In December, Austrian-American artist Rainer Ganahl staged a reading of Ubu Trump in a Harlem funeral home. The interpretation ended with a dying Trump, in a morgue, begging Vladimir Putin to penetrate him ​"one last time."
Hundreds of playwrights responded to Vogel's call, and venues across the United States showcased their Ubu Roi-inspired shorts February 19. At Chicago's Victory Gardens, most of the nine playwrights presented humorous sketches, like Bennett Fisher's imaginary email exchange with one-time White House Communications Director Anthony Scaramucci. In RE: The Mooch, Fisher has an increasingly heated conversation with Scaramucci, who is intoxicated at a club and struggles to use his phone's dictation function. Although the audience erupted in laughter, the piece takes a personal turn at the end, with Fisher reflecting on his relationship with his uncle, a Trump-supporting businessman not unlike Scaramucci.
"In everything I write, I want the audience to feel compassion for people they're poised to hate," says Fisher. ​"I feel there's very little artistic value in coming out of a play believing what you believed going in."
Others struck a more somber tone, such as Jasmine Henri Jordan's funeral for Pa Ubu and Nora Leahy's monologue from Melania Trump as Ma Ubu. Leahy was inspired by Jarry's original stage direction: ​"Set in Poland, which is to say nowhere," a line not unlike Trump's comment on immigrants from ​"shithole countries." In Leahy's work, Ma Ubu yearns for Slovenia, the First Lady's home country, and questions her marriage.
Many pieces also touched on the Parkland, Fla., school shooting, casting politicians who value their gun industry donations over human lives as Ubu-like slaughterers of their own people.
Despite the dark themes, Vogel hoped the whimsy and escapism would draw audiences from across the ideological spectrum.
"The truth of the matter is, the most effective tool for despots and tyrants is ridicule," says Vogel. ​"The most successful tool is comedy. Comedy stings more, I think, than tragedy. I think this is the time for us to get out our clown shoes and our puppets and our marionettes and mock, mock the king."
For a limited time: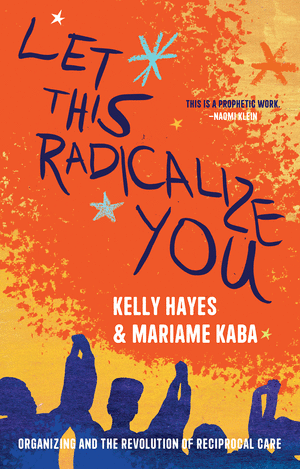 Donate $20 or more to support In These Times and we'll send you a copy of Mariame Kaba's new book, Let This Radicalize You.
Longtime organizers and movement educators Mariame Kaba and Kelly Hayes examine the political lessons of the Covid-19 pandemic, and the convergence of mass protest and mass formations of mutual aid. Featuring insights from a spectrum of experienced organizers, including Sharon Lungo, Carlos Saavedra, Ejeris Dixon, Barbara Ransby, and Ruth Wilson Gilmore and more.
"Kelly Hayes and Mariame Kaba have created a visionary and urgently needed guide to cultivating hope and action in treacherous times." —L.A. Kauffman
Hannah Steinkopf-Frank
is a Chicago-based freelance writer and photographer. Her work has appeared in the Chicago Tribune, Atlas Obscura, Bitch Media, the Columbia Journalism Review, JSTOR Daily and Paper Magazine, among others.