Trump Will Lose the Election. But He May Still Win the War.
Trump is laying groundwork for the long game. It isn't clear Clinton has one.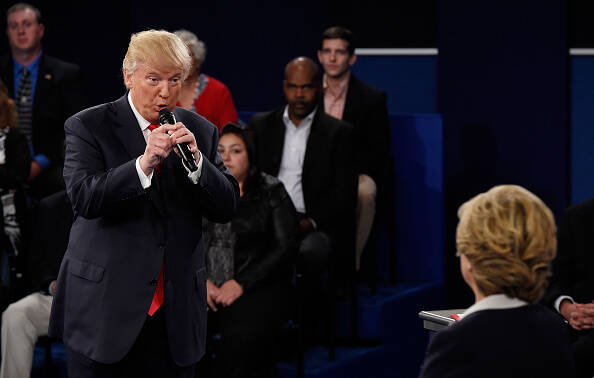 At the sec­ond pres­i­den­tial debate Sun­day night, Don­ald Trump stalked the stage and waved the rhetor­i­cal equiv­a­lent of the ​"Stars and Bars" in everyone's face. It was less a debate per­for­mance than a piece of the­ater. ​"You'd be in jail," he snarled at one point, after Hillary Clin­ton said that it's a good thing peo­ple like Trump aren't in charge of mak­ing law. The nice thing about Abra­ham Lin­coln, he said lat­er, was that he didn't lie, unlike her. And in a flip-the-script move that was a lit­tle too forced, he glared at her and chid­ed: ​"You should be ashamed of yourself."
"Clinton seems to believe it's sufficient to talk about how this or that policy will help the working and middle classes. But to win the war, people need to know what they're fighting against and why it's urgent for them to be engaged."
Short of divine inter­ven­tion or some such equiv­a­lent, Trump won't be pres­i­dent of the Unit­ed States. Not after that mis­er­able debate, and not after the rev­e­la­tions of the last week. But this race isn't real­ly about who wins any­more. Trump is lay­ing ground­work for the long game. It isn't clear Clin­ton has one.
Trump's plan is summed up in the sym­bol­ism of the Con­fed­er­ate flag, that endur­ing mid­dle fin­ger to ​"the sys­tem," sym­bol­ism that's root­ed in some com­bi­na­tion of racial hos­til­i­ty, Chris­t­ian tra­di­tions, eco­nom­ic suf­fer­ing and a gen­er­al sense of betray­al. And there is in it, too, the ado­les­cent long­ing to rebel and a gnaw­ing sense of life's deep unfair­ness. It's a sym­bol almost cus­tom made for Trump, cap­tur­ing his racial antag­o­nisms, the fath­om­less depths of his self-pity and his ten­den­cy to lash out with­out focus, lev­el­ing cri­tiques but offer­ing very lit­tle in the way of work­able solutions.
At the sec­ond debate and through the course of the past year, Trump has posi­tioned him­self as the flag bear­er for peo­ple who inhab­it what they believe is a coun­try with­in a coun­try: peo­ple who think that Clin­ton should be in prison and that Pres­i­dent Barack Oba­ma was born in Kenya, who are per­suad­ed that a flood of undoc­u­ment­ed immi­grants is over­whelm­ing and cor­rupt­ing Amer­i­can insti­tu­tions, and that every­thing is, in gen­er­al, just a ​"dis­as­ter," as Trump said many times dur­ing the debate.
This oth­er coun­try isn't big enough to elect Trump. But it's plen­ty big enough to sus­tain the final act of his career. That's why the sec­ond debate seemed less like an audi­tion for office and more like a tran­si­tion to his new role — the media star as provo­ca­teur and inde­pen­dent pros­e­cu­tor of the rigged, total­ly cor­rupt system.
And Clin­ton? She'll almost cer­tain­ly win this bat­tle, but will she win the war?
Clinton's cam­paign slo­gan, ​"Stronger Togeth­er," is meant as a direct con­trast to Trump's divi­sive­ness and race-bait­ing. And it's a wel­come ton­ic, as far as it goes. The prob­lem is that it doesn't go very far.
Trump has a big-pic­ture cri­tique that is so broad it touch­es on truth at cer­tain points. For exam­ple, it touch­es on truth when he talks about Clinton's dis­turb­ing hawk­ish­ness and her ser­vil­i­ty to the cor­po­ra­tions and wealthy donors who have fueled her cam­paign. At the debate, Trump seemed his most per­sua­sive when he asked Clin­ton why she didn't use some of the for­tune she's accu­mu­lat­ed to self-fund her cam­paign — and thus avoid the cor­rup­tion inher­ent in tak­ing mon­ey from donors. Trump's great lia­bil­i­ty is that his poli­cies would only empow­er cor­po­ra­tions and make the prob­lems worse.
One of Clinton's great lia­bil­i­ties is that she offers poli­cies — some, if not enough — that are designed to address a big-pic­ture prob­lem that she seems inca­pable of fram­ing with any con­vic­tion or, more often, even putting into words. It's the very prob­lem her oppo­nent in the pri­ma­ry spent most of his time talk­ing about: the absurd, immoral lev­el of inequal­i­ty in the Unit­ed States.
Clin­ton seems to believe it's suf­fi­cient to talk about how this or that pol­i­cy will help the work­ing and mid­dle class­es. But to win the war, peo­ple need to know what they're fight­ing against and why it's urgent for them to be engaged.
Bernie Sanders did that relent­less­ly, cri­tiquing the rigged econ­o­my and call­ing for a polit­i­cal rev­o­lu­tion. The Clin­ton strat­e­gy has always been to aim for incre­men­tal reform, and her vision won out. But even incre­men­tal reform won't hap­pen with­out a broad­er, bold­er cri­tique from Clin­ton about why it's necessary.
That's her task going into the final debate — and for the next few weeks and months. Trump will keep wav­ing the rhetor­i­cal ​"Stars and Bars," ral­ly­ing his troops behind their shared cause. He's gear­ing up for a long war. Clin­ton would do well to do the same. What's at stake isn't her elec­tion, but what she's able to do with the pow­er of the office.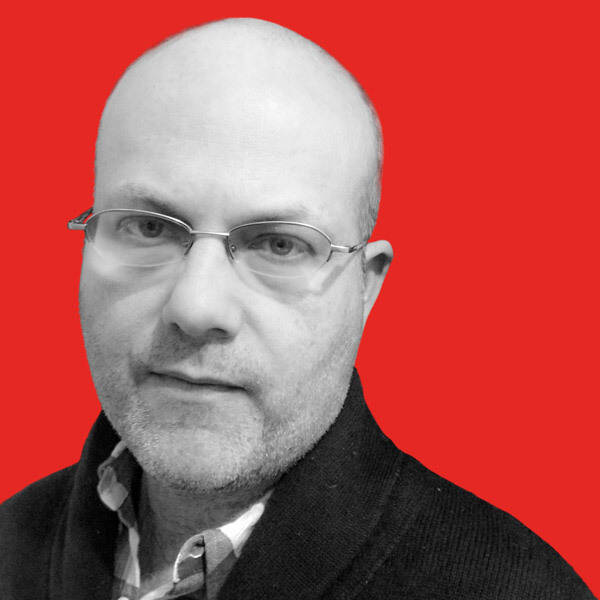 Theo Ander­son
is an In These Times con­tribut­ing writer. He has a Ph.D. in mod­ern U.S. his­to­ry from Yale and writes on the intel­lec­tu­al and reli­gious his­to­ry of con­ser­vatism and pro­gres­sivism in the Unit­ed States. Fol­low him on Twit­ter @Theoanderson
7
.