UE Local 1111's Demise: Sadness Mixed With Pride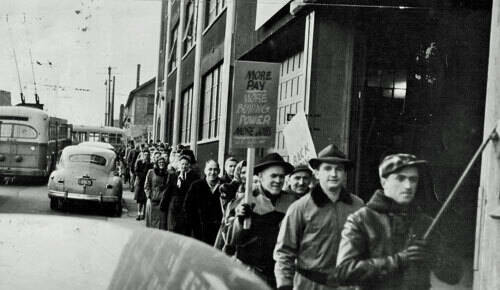 Looming high over Milwaukee's near South Side is a tower with the world's
largest four-sided clocks, sitting atop the castle-like headquarters of Rockwell Automation.

When the gigantic clocks struck midnight and July 31 slid into August 1, it ended the last contract and the 73 -year history of one of Wisconsin's most storied unions, United Electrical Radio and Machine Workers Local 1111.
When the Rockwell operation was still controlled by the Allen-Bradley Corporation, turning out switches, relays, timers, starters, and other automation equipment, Local 1111 claimed about 7,000 members.
Throughout its history, the local had been a consistently progressive force in labor, launching coalitions with labor, civil rights and other community groups, sponsoring aggressive union organizing drives, and opposing the expansion of corporate america under the shield of U.S. military power.
RELOCATING JOBS OUT OF MILWAUKEE
While Allen-Bradley had begun shifting jobs to the South, Mexico, and rural
Wisconsin in the 1970s, the pace of relocations picked up sharply after Rockwell acqured the firm in 1985. Membership plummeted from 5,500 in 1980 to 550 by 2006. (Rockwell's purchase of Allen-Bradley also provided the funding for the ultra-right wing policies and genteel white supremacy of the Bradley Foundation).
"Rockwell made a decision a dozen years ago that they were going to shut down production in Milwaukee," Carl Rosen said in December 2008

While Rockwell increasingly shifted production to Mexico, China, the Dominican Republic, and other low-wage sites in the face of union protests, Local 1111 still managed to ensure that almost all the job losses occurred through retirement. That meant workers left with full pensions and healthcare benefits rather than being tossed out into an increasingly brutal job market.

​"We were able to do this on the basis of our ability to take the fight to the
Milwaukee community, and the corporation understood that," said Rosen, reflecting on Local 1111's history of building broad support for its battles first with Allen-Bradley and then with Rockwell. He continued:
As a result, a couple generations of workers were able to get a secure retirement. About 100 of the 140 workers who were remaining at the end will get their full pension this year or next, and we've made sure that they all have a bridge of pay and healthcare until they get to their retirement date.

We held on to the jobs a lot longer than most of the industry. We had community support, and we had shop-floor power from our rank-and-file members.
At the same time, Rosen keenly feels what the loss of 6,500 jobs will do to the Milwaukee community that has lost 80 percent of its manufacturing jobs since 1977.
ROCKWELL'S RACE TO THE BOTTOM
"I feel sad for the next generation," said Bob Granum, the burly, mustached president of Local 1111 who has worked in the plant for more than 37 years. ​"The company has been involved in a race to the bottom, moving to wherever wages are low, Tecate and Juarez Mexico, Poland, China, the Dominican Republic.

​"People like me will be OK, because we've bought homes and saved money," sighed Granum as he sorted through boxes of old newspaper clippings and union signs. ​"But its our kids who will pay because the good jobs won't be there."

Local 1111 was ahead of other area unions in recognizing the emerging trends toward de-industrialization and globalization of production, when Milwaukee firms quietly beginning to move jobs to the low-wage U.S. South in the late 1970s. In 1971, Local 1111 became the central force in Milwaukee's ​"Coalition to Save Jobs," working closely with unions at a variety of medium-sized employers.
But as much as Local 1111 tried to build the coalition, many major manufacturing unions declined to join with the UE, which still had something of a pariah-like status because of its leftist reputation dating back to the McCarthy Era.

Despite the increasingly clear threat of what was then called ​"runaway shops," local unions generally remained scattered in pursuing efforts to retain jobs in Milwaukee.

Thus, firms like Briggs and Stratton, Johnson Controls, and Master Lock extorted all the concessions they could from local unions before finally shifting nearly all their production to the South, Mexico, and China.

ROCKWELL RHETORIC: U.S. NEEDS MANUFACTURING
Ironically, Rockwell CEO Keith Nosbusch has been vocally promoting the
revitalization of manufacturing in the U.S. ​"U.S. manufacturers absolutely must have innovative energy-efficient and productivity-enhancing technology to be competitive," Nosbusch stated in 2009 at the National Press Club in Washington, D.C. But Rockwell's actual strategy has undermined both the U.S. productive base and domestic spending power, contends Rosen.
"It's because of the strong union movement that created increased spending power and demand to build the U.S. economy," countered Rosen. ​"Now we have a vicious circle in the other direction, where corporations are not sharing the benefits of productivity gains and workers can't afford to buy the stuff that they make."

Despite the CEO's rhetoric, Rockwell's clear direction in Milwaukee has been to relocate all the production. ​"The corporation is lecturing the nation that the U.S. needs manufacturing, yet here they are, closing down the flagship operation," Rosen says.

Long after its demise, Local 1111 will be remembered for its deep commitment to the voice of its rank and file, its eagerness to support other unions and community groups, and its ability to foresee and fight – but ultimately not prevail over – the tide of corporate globalization that would wash away so much of Milwaukee's productive base.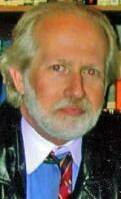 Roger Bybee

is a Milwaukee-based freelance writer and University of Illinois visiting professor in Labor Education.Roger's work has appeared in numerous national publications, including

Z

magazine,

Dollars

&

Sense, The Progressive, Progressive Populist, Huffington Post, The American Prospect, Yes!

and

Foreign Policy in Focus

.More of his work can be found at

zcom​mu​ni​ca​tions​.org/​z​s​p​a​c​e​/​r​o​g​e​r​d​bybee

.