UFCW Union Moves Into Cannabis Industry, Organizes 'Bud Tenders'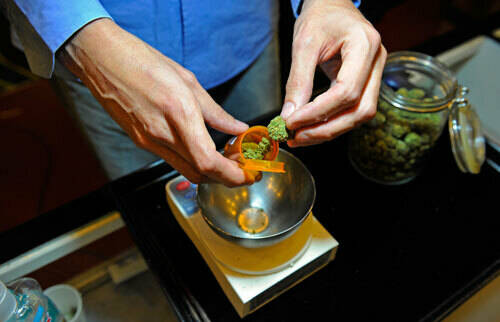 The cannabis industry is reaching new highs in California. Local 5 of the United Food and Commercial Workers (UFCW) is organizing pot workers at cannabis clubs in Oakland, Calif. The 26,000-member UFCW is said to be the first in the country to organize workers in marijuana-related business.
About 100 pot workers at three medical marijuana dispensaries in Oakland have joined the union, whose membership includes commercial grocery store workers, some agriculture workers and retail clerks.
The union is looking at possible new job classifications including ​"bud tender," an expert who helps clients find the right type of marijuana for their ailments.
Some of the union's newest members are graduates of Oaksterdam University, a marijuana trade school that trains students for careers in the cannabis industry. Others come from local cannabis clubs.
Ron Lind, president of Local 5 and a vice president of the 1.3 million-member international union told SF Gate, ​"These will be good union jobs with middle-class incomes."
Analysts say unionization efforts could help the effort to legalize marijuana and the union to organize thousands of workers if the measure meets voter approval.
The move could help legitimize the idea of legalizing and taxing marijuana.
In November, California voters will decide whether to approve the Control and Tax Cannabis initiative. The measure would legalize pot possession and use of small amounts of marijuana for those over 21 and would allow it to be taxed.
In a Public Policy Institute of California poll taken last week, about 49 percent of state voters approve the idea while 48 percent are against the initiative.
Ken Jacobs, chair of University of California at Berkeley's Labor Center, which conducts research and education on labor issues told the SF Chronicle, ​"Local 5 is a very large and highly respected union. This reflects a change about attitudes about cannabis in this state — and the recognition of the economic realities that California is facing."
Rose Arrieta
was born and raised in Los Angeles. She has worked in print, broadcast and radio, both mainstream and community oriented — including being a former editor of the Bay Area's independent community bilingual biweekly El Tecolote. She currently lives in San Francisco, where she is a freelance journalist writing for a variety of outlets on social justice issues.