Labor 101 for Undergraduate Workers Seeking To Unionize
The Northeast Undergraduate Worker Convention is the nation's first annual convention aimed at training undergrad workers in collective organizing.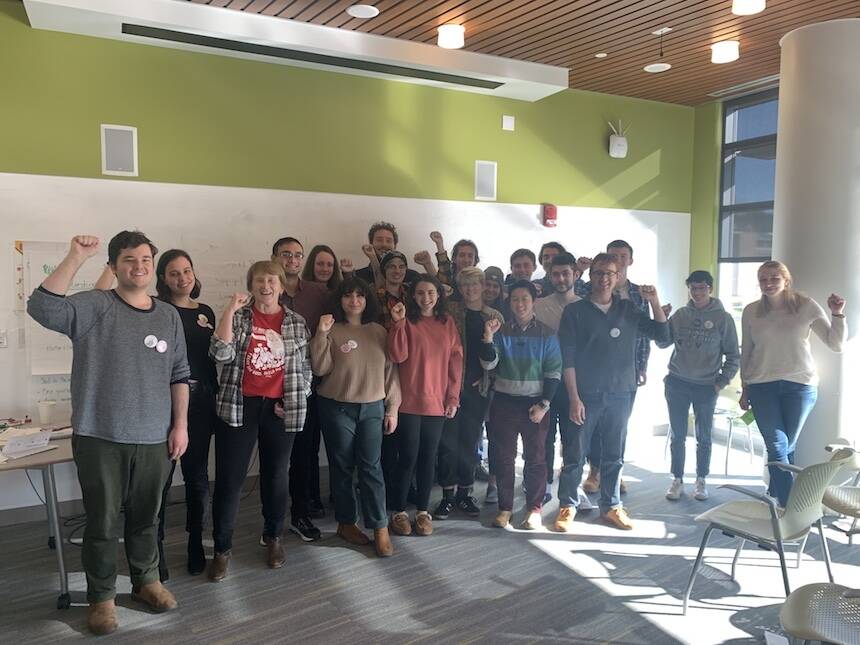 AMHERST, MASS. — Dol­ly Parton's ​"9 to 5" plays in a class­room at the Uni­ver­si­ty of Mass­a­chu­setts Amherst (UMass Amherst) as stu­dents mill about with pink ​"Under­grad­u­ate Work­ers UNITE!" but­tons pinned to their shirts.
"We wanted this [convention] to be a chance for undergraduates to meet each other [and] know they're not alone," says Emma Rose Borzekowski.
Near­ly 40 stu­dents from 10 insti­tu­tions across the North­east gath­ered Nov. 15 – 17, 2019, at UMass Amherst, a high­ly union­ized work­place, for the North­east Under­grad­u­ate Work­er Con­ven­tion (NEUWC). The con­ven­tion is the first in the nation aimed at train­ing under­grad­u­ate stu­dent work­ers in col­lec­tive orga­niz­ing. UMass Amherst is home to one of the country's only under­grad unions, known as RAP­MU, which rep­re­sents res­i­den­tial assis­tants (RA) and peer mentors.
The event gave stu­dents a space in which to unpack atti­tudes sur­round­ing under­grad­u­ate labor, and to under­stand how such atti­tudes can lead to poor work­ing con­di­tions. ​"When I'm employed on cam­pus, the way [my super­vi­sor talks] about my employ­ment is very much like, ​'This is you build­ing your skills, it's a good oppor­tu­ni­ty for you,'" says Ben Hayes, 23, a senior at Skid­more Col­lege. ​"It's using the idea that you're a stu­dent and there­fore not a work­er [who has] to be paid a fair wage and have good work­ing con­di­tions and be treat­ed right."
Led by labor orga­niz­ers and edu­ca­tors, the work­shops cov­ered unique orga­niz­ing chal­lenges faced by under­grad work­ers. For starters, many stu­dents are unaware that union­iz­ing is even pos­si­ble. The largest logis­ti­cal hur­dle is the high turnover rate for stu­dent work­ers: Stu­dents grad­u­ate, study abroad, take on extracur­ric­u­lars and leave cam­pus for breaks, often inter­rupt­ing orga­niz­ing momentum.
As the price of high­er edu­ca­tion sky­rock­ets, work­ing has become a neces­si­ty for many. ​"I feel strong­ly that every­one who has this job needs it," says Vio­let Daar, 19, an RA and sopho­more at Wes­leyan Uni­ver­si­ty. Emma Rose Borzekows­ki, 23, one of the con­ven­tion orga­niz­ers and a recent Wes­leyan grad­u­ate who worked as an RA, says that RA posi­tions are one of the high­est pay­ing jobs on campus.
A posi­tion as an RA is a par­tic­u­lar­ly fraught one because stu­dents live in the same place they work, so it becomes more dif­fi­cult to take need­ed breaks. Many atten­dees are frus­trat­ed that their work stipends don't cov­er the cost of hous­ing, despite the job requir­ing resid­ing on cam­pus. At UMass Amherst, RAP­MU has bar­gained for high­er pay and more dig­ni­fied work­ing conditions.
Eliz­a­beth Pel­ler­i­to, direc­tor of the UMass Low­ell Labor Edu­ca­tion Pro­gram, pre­sent­ed on the impor­tance of inclu­sion. She not­ed that, his­tor­i­cal­ly, cis white men have been over­rep­re­sent­ed in union lead­er­ship, and that there's still a long way to go before lead­er­ship tru­ly reflects mem­ber­ship. ​"We are a move­ment that's about pow­er, so how are we shar­ing the pow­er and rec­og­niz­ing the priv­i­lege?" she asked.
Though the con­ven­tion atten­dance itself was over­whelm­ing­ly white, many expressed a need to change. Con­fer­ence orga­niz­er James Cordero, 21, a senior at UMass Amherst and RAP­MU mem­ber, explained how RAP­MU incor­po­rat­ed racial jus­tice train­ing for RAs in its bar­gain­ing con­tract after racist inci­dents on cam­pus in 2018. ​"We are build­ing a new chap­ter of the labor move­ment to improve upon past mis­takes, incor­po­rat­ing more social jus­tice into the move­ment," Cordero says.
"The big take­away for me is to have union orga­niz­ers who are racial jus­tice orga­niz­ers, who are envi­ron­men­tal orga­niz­ers," says Joy Ming King, 22, a Wes­leyan senior.
Con­ven­tion orga­niz­ers stressed rela­tion­ship-build­ing as cen­tral to the suc­cess of stu­dent unions. ​"We want­ed this [con­ven­tion] to be a chance for under­grad­u­ates to meet each oth­er [and] know they're not alone," Borzekows­ki says, which the con­ven­tion facil­i­tat­ed. Over an after­noon break, stu­dents shared curly fries and con­tact infor­ma­tion, and brain­stormed strate­gies to bring back to their campuses.
Most con­ven­tion atten­dees were stu­dents at pri­vate insti­tu­tions, who face a piv­otal moment: The Nation­al Labor Rela­tions Board (NLRB) pro­posed, in Sep­tem­ber 2019, to over­turn its 2016 rul­ing which des­ig­nat­ed stu­dent work­ers at pri­vate insti­tu­tions as ​"employ­ees" — and allowed them to unionize.
Though the young orga­niz­ers wor­ried about the NLRB's pro­pos­al, the mood at the con­fer­ence was hope­ful. ​"We still have all of the pow­er that sell­ing our labor gives us and that build­ing rela­tion­ships with one anoth­er gives us," Borzekows­ki says. For Lucy James-Olson, 19, a sopho­more at Mount Holyoke Col­lege, ​"under­ly­ing all of the con­ver­sa­tions about orga­niz­ing and improv­ing the mate­r­i­al con­di­tions of work­ers is just a con­ver­sa­tion about love and care for each other."
Olivia Gieger
is edi­tor-in-chief of the Amherst Stu­dent news­pa­per at Amherst Col­lege, where she is a junior.