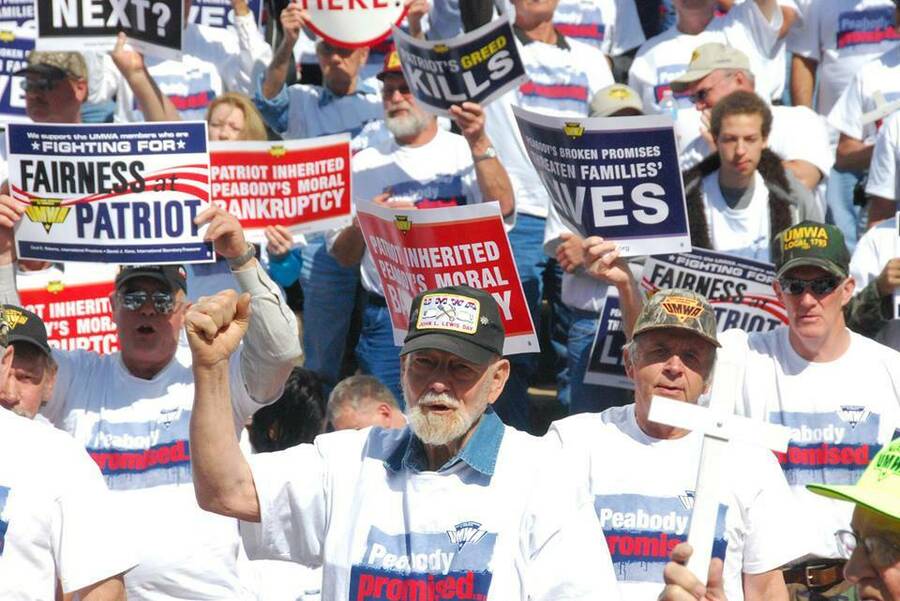 Last week, the Unit­ed Mine Work­ers of Amer­i­ca (UMWA) announced a set­tle­ment in its long fight with Peabody Ener­gy that will pre­serve health­care ben­e­fits for thou­sands of retired min­ers. Peabody has agreed to pro­vide more than $400 mil­lion to start a health­care fund for the 20,000 retired min­ers and ben­e­fi­cia­ries whose retire­ment plans had been threat­ened by the bank­rupt­cy of Patri­ot Coal, a Peabody spin-off (as I've pre­vi­ous­ly report­ed).
​"I am very pleased that we have been able to reach this agree­ment with Peabody and Patri­ot," said UMWA Inter­na­tion­al Pres­i­dent Cecil E. Roberts in an offi­cial state­ment. ​"This is a sig­nif­i­cant amount of mon­ey that will help main­tain health­care for thou­sands of retirees who earned those ben­e­fits through years of labor in Amer­i­ca's coal mines. This set­tle­ment will also help Patri­ot emerge from bank­rupt­cy and con­tin­ue to pro­vide jobs for our mem­bers and thou­sands of oth­ers in West Vir­ginia and Kentucky."
UMWA has con­tend­ed for years that Peabody Ener­gy cre­at­ed Patri­ot Coal to fail, as a vehi­cle to offload the par­ent company's retiree oblig­a­tions. When Peabody Ener­gy found­ed Patri­ot Coal in 2007, Patri­ot assumed finan­cial respon­si­bil­i­ty for 40 per­cent of Peabody's retiree health­care and pen­sions. The next year, Patri­ot acquired a compa­ny called Mag­num Coal, itself a spin-off of min­ing giant Arch Coal; Mag­num brought with it $500 mil­lion in Arch's retiree oblig­a­tions. Patri­ot end­ed up with a retiree-to-work­er ratio of more than 3 to 1. When Patri­ot went bank­rupt in the sum­mer of 2012, the com­pa­ny suc­cess­ful­ly pressed a bank­rupt­cy judge to elim­i­nate retiree oblig­a­tions, leav­ing thou­sands of for­mer work­ers with­out viable safe­ty nets.
Months of nego­ti­a­tions ensued between Peabody, Patri­ot, UMWA and an out­side invest­ment firm, Knight­head Man­age­ment LLC. A deal on retiree pen­sions was struck ear­li­er this year, but health­care remained up in the air until last Wednes­day, when the par­ties announced a mul­ti-part deal.
Knight­head Man­age­ment agreed to invest $250 mil­lion in Patri­ot Coal and man­age its emer­gence from bank­rupt­cy. Addi­tion­al­ly, Peabody Ener­gy will pro­vide Patri­ot with a $140 mil­lion line of credit.
Most sig­nif­i­cant­ly, Peabody Ener­gy will pro­vide more than $400 mil­lion in cap­i­tal to fund a Vol­un­tary Employ­ee Ben­e­fit Asso­ci­a­tion (VEBA) plan that will now be respon­si­ble for pro­vid­ing retiree health­care to Patriot's 20,000 beneficiaries.
In exchange, UMWA has agreed to relin­quish its rights to the 35 per­cent of Patri­ot Coal that it was grant­ed as part of a deal with Patri­ot ear­li­er this year. UMWA will also stop its cam­paign and class-action law­suit against Peabody Energy.
Arch Coal is also named in the law­suit, and the UMWA is also nego­ti­at­ing an end to the legal cam­paign against Arch, accord­ing to an Arch Coal press release. The min­ers union says it is push­ing Arch Coal to con­tribute more mon­ey to the VEBA.
The UMWA points out that despite the $310 mil­lion for the VEBA from Peabody — as well as anoth­er $15 mil­lion from Patri­ot, and $60 mil­lion in roy­al­ty fees won as part of an ear­li­er deal in August with Patri­ot Coal — the VEBA still is not finan­cial­ly secure enough to be fund­ed into perpetuity.
UMWA spokesman Phil Smith says that bipar­ti­san leg­is­la­tion cur­rent­ly in the House would trans­fer unused mine recla­ma­tion funds to the VEBA, which could main­tain the cur­rent lev­el of retiree ben­e­fits into per­pe­tu­ity. UMWA is lob­by­ing for such a bill, and Smith says that leg­is­la­tion could be tak­en up as soon as the log­jam caused by the gov­ern­ment shut­down is resolved.
​"This set­tle­ment, as sig­nif­i­cant as it is, still does not pro­vide the lev­el of fund­ing need­ed to main­tain health­care for these retirees for­ev­er," Roberts said. ​"That is why we are con­tin­u­ing our efforts to pass bipar­ti­san leg­is­la­tion in Con­gress that will put these retirees under the Coal Act, mean­ing their long-term health­care ben­e­fits would be secured at no addi­tion­al cost to taxpayers."
The set­tle­ment with Peabody must be approved by the Patri­ot bank­rupt­cy court; a hear­ing is sched­uled for Novem­ber 6.