Opposed by Business Lobby, Iowa's Wage-Theft Bill Is Poised To Die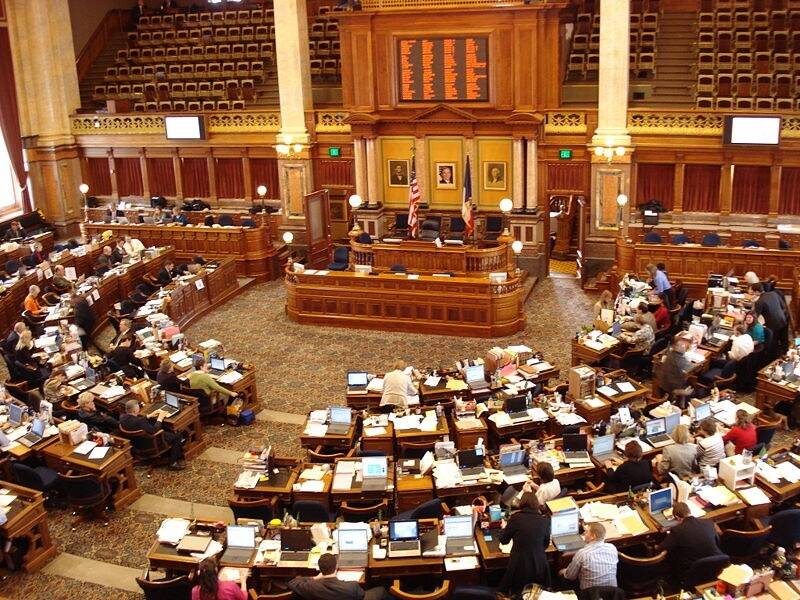 In the face of oppo­si­tion from Iowa's busi­ness lob­by, a bill that seeks to pro­tect work­ers in the state against wage theft is on the verge of fail­ing. Approved by Iowa's Demo­c­ra­t­ic-con­trolled Sen­ate last week, the bill would require employ­ers to tell their work­ers in writ­ing exact­ly how — and how much — they will be paid for their work.
The spon­sors of the pro­posed law argue that this would not only clar­i­fy work arrange­ments in order to make it hard­er for boss­es to trick employ­ees, but would also estab­lish a paper trail that would help the state's skele­ton staff of wage-theft inves­ti­ga­tors bet­ter deter­mine when a person's pay has been unlaw­ful­ly withheld.
The bill is now in the hands of Iowa's Repub­li­can-con­trolled House of Rep­re­sen­ta­tives, where it is almost sure to fail. It's cur­rent­ly in the House Labor Com­mit­tee, whose chair, Iowa House Repub­li­can Greg For­ristall, received endorse­ments and cam­paign mon­ey from the Iowa Asso­ci­a­tion of Busi­ness and Indus­try (ABI), which oppos­es the bill. For­ristall told the Asso­ci­at­ed Press that the sub­com­mit­tee will like­ly not meet again this ses­sion, mean­ing the bill has lit­tle chance of find­ing its way to a final vote.
Work­ers in the state lose $600 mil­lion in wages each year to employ­er theft, accord­ing to a 2012 analy­sis by the lib­er­al-lean­ing Iowa Pol­i­cy Project. Last Feb­ru­ary, In These Times report­ed that the state's wage-and-hour enforce­ment capa­bil­i­ties had been weak­ened to the point that the state had only a sin­gle, over­bur­dened inves­ti­ga­tor cov­er­ing the entire state and scram­bling to resolve up to 1,000 cas­es annually.
Faced with per­va­sive wage theft and under­fund­ed enforce­ment depart­ments, Iowa and oth­er states across the coun­try have sought to cre­ate pro­tec­tions for work­ers such as high­er wage-theft fines and pay doc­u­men­ta­tion equire­ments that won't stretch state bud­gets. Such pro­pos­als have met resis­tance from orga­ni­za­tions that lob­by for com­mer­cial inter­ests, such as ABI.
​"The bill paints every­one with a broad brush; it pre­sumes that peo­ple are guilty until proven inno­cent," says Mike Ral­ston, pres­i­dent of ABI. ​"We offered some amend­ments that would make it more spe­cif­ic to going after bad actors, and if those amend­ments get adopt­ed we'll strong­ly sup­port the bill."
But a list of pro­posed amend­ments to the wage theft-bill that ABI pro­vid­ed In These Times goes far­ther than spec­i­fy­ing bad actors. ​"Strike all and replace" is ABI's first sug­ges­tion. Instead of the cur­rent text, the indus­try pro­pos­es a wage-theft task force com­posed of four busi­ness rep­re­sen­ta­tives, one labor rep­re­sen­ta­tive, gov­ern­ment offi­cials and two mem­bers of the public.
The bill's spon­sor, state Sen. Bill Dot­zler, argues that requir­ing employ­ers to for­mal­ize their work arrange­ments in writ­ing is far from rad­i­cal. ​"This bill is basic com­mon sense — these are things that any com­pa­ny with a good per­son­nel depart­ment already does," Dot­zler said. ​"To say that this will cre­ate some big bur­den on indus­try is sim­ply not the truth."
Dot­zler believes that Iowa's weak wage theft laws and lax enforce­ment cre­ate an unfair com­pet­i­tive advan­tage for unscrupu­lous busi­ness­es: By ille­gal­ly under­pay­ing work­ers, they can under­cut law-abid­ing employers.
In many ways, the stand­off echoes a 2011 fight in Iowa over a pre­vi­ous wage-theft bill. Demo­c­ra­t­ic state sen­a­tors pro­posed increas­ing employ­ers' respon­si­bil­i­ty for pro­vid­ing doc­u­men­ta­tion to wage-theft inves­ti­ga­tors, effec­tive­ly shift­ing the bur­den of proof from work­ers onto employ­ers. Once a work­er filed a wage-theft claim, it would be the employer's respon­si­bil­i­ty to prove the work­er had been fair­ly paid. That bill also faced oppo­si­tion from the ABI, which argued that it would bur­den employ­ers, and also died in com­mit­tee in Iowa's Repub­li­can-con­trolled House.
When asked if ABI has any con­crete sug­ges­tions on how to improve pro­tec­tions for vic­tims of wage theft, Ral­ston respond­ed that it oppos­es wage theft and that it ​"sup­ports strong­ly enforc­ing the law against wage theft and giv­ing Iowa Work­force Devel­op­ment all the tools it needs to do so." Ral­ston tells In These Times that the ABI would con­sid­er sup­port­ing increased fund­ing for the state labor agency's enforce­ment team.
In addi­tion to requir­ing employ­ers to doc­u­ment pay, Dotzler's bill also stip­u­lates that, if found at fault in a wage-theft case, employ­ers must reim­burse work­ers' attor­neys' fees. It also requires employ­ers to noti­fy an employ­ee by writ­ing in advance of any pay­check deduc­tions. Ral­ston par­tic­u­lar­ly objects to a pro­vi­sion that pre­sumes that action tak­en against an employ­ee with­in 90 days of a wage-theft com­plaint is retal­i­a­tion, a charge the accused employ­er then must prove itself inno­cent of.
Vanes­sa C. Mar­cano, a com­mu­ni­ty orga­niz­er at the Iowa Cit­i­zens for Com­mu­ni­ty Improve­ment (ICCI) work­er cen­ter in Des Moines, says that employ­ers in Iowa that con­tin­u­al­ly under­pay employ­ees are get­ting away with it. ​"There is not a week that goes by that we don't hear of at least one or two wage theft cas­es in the Des Moines metro alone," Mar­cano says. She says that rather than rely­ing on the over­worked wage-and-hour depart­ment, her group has had to resort to tak­ing ​"direct action," such as con­fronting non­com­pli­ant employ­ers in per­son to retrieve a worker's pay.
Work­er advo­cates and wage-and-hour offi­cials told In These Times that those most at risk of being under­paid in the state include truck­ers and immi­grants per­form­ing temp work.
​"Here in Iowa, they want to get to a point that employ­ers can do any­thing they want to their employ­ees with­out reper­cus­sion," Sen. Dot­zler says. ​"Already, it's ter­ri­ble what these employ­ers are get­ting away with."
Spencer Wood­man
is a jour­nal­ist based in New York. He has writ­ten on labor for
The Nation
and
The Guardian
.You can fol­low him on Twit­ter at
@spencerwoodman
and reach him via email at Contactspencerwoodman@​gmail.​com.