Watergate Redux
Calls mount for investigation into Republican staffers' piracy of Democratic files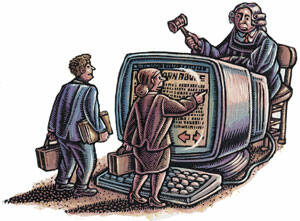 The Senate Judiciary seems poised to recommend further, possibly criminal, investigation of pilfered Democratic computer files to the Department of Justice (DOJ), after a report by the Senate sergeant-at-arms revealed that at least two Republican staffers inappropriately accessed more than 4,000 records during an 18-month period.
As In These Times went to press, committee members were still wrestling over which course to pursue. Some Republicans indicated a desire to take the unusual step of asking the Secret Service to decide whether the matter warranted a criminal investigation, while Democrats pushed for a special prosecutor to be appointed. A likely compromise would be a recommendation that the DOJ open a criminal investigation.
It seems unlikely that the matter will be dropped. At a March 4 press conference following the release of the sergeant-at-arms report, Committee Chairman Orrin Hatch (R-Utah) said he was ​"mortified that this improper, unethical and simply unacceptable breach of confidential files occurred."
The scandal broke in mid-November after excerpts of internal strategy memos appeared in the conservative editorial pages of the Wall Street Journal and the Washington Times, which both claimed to be shocked that liberal advocacy groups were communicating with Democratic senators on President Bush's judicial nominees. Democratic staffers demanded an investigation when they realized the files had come from their private directories. Hatch, recognizing the severity of the transgression, assented.
Shortly thereafter, Manuel Miranda, a 44-year-old former aide to Senators Orrin Hatch and Bill Frist (R-Tenn.), admitted that he and another staffer (later named as Jason Lundell) exploited a security lapse to view Democratic committee staffers' files. Miranda resigned in February, calling the investigation into who leaked the documents to the press ​"ridiculous and a great waste of government resources."
The confession prompted a wave of outrage from committee Democrats. Senator Edward Kennedy (D-Mass.) compared the document theft to Watergate, and even Republicans on the committee seemed surprised at not only the brazenness with which the pilfering took place but the lack of remorse evinced by Miranda afterward.
Melanie Sloan, a lawyer who worked on both the House and Senate judiciary committees and now serves as executive director of Citizens for Responsibility and Ethics in Washington says Miranda's breech would severely damage the working atmosphere of the committee. ​"When I was there … this kind of thing would have been unthinkable. People were genuinely really shocked. They weren't like ​'Well what can you expect?' because this is so beyond the pale."
On March 4, the Senate sergeant-at-arms, charged with investigating the memos, released its findings in a 67-page report that detailed how Miranda and Lundell, a clerk in the Nomination Unit of the committee, obtained the files.
Lundell became aware of the security lapse after seeing that a new system administrator working on his computer had neglected to change the default permission setting for new directories from open to protected. This meant that all personal directories of staffers, Republican and Democrat, created under his tenure were accessible to anyone.
After the discovery in 2001, Lundell ​"printed approximately 100-200 pages of documents pertaining to Judge [Charles W.] Pickering's nomination," and gave them to a senior Republican committee staffer, the report noted. Two days later, the report says, the same staffer ​"admonished him not to use the Democratic documents and … shredded the materials he had given her."
Miranda, however, directed Lundell to comb through memos and, as e-mails included in the report show, ordered specific files. Nonetheless, Miranda maintains he did nothing wrong because there was no ​"hacking" — that is stealing of passwords or password evasion — to meet the standard of ​"unauthorized access" necessary for criminal prosecution.
But Joseph Metcalfe, a professor of law at the University of Oregon and former federal prosecutor specializing in computer crimes, disagrees. ​"Federal law prohibits intentionally accessing a computer without authorization or in excess of authorization," he told In These Times. ​"It most certainly does not require hacking. If you access a government computer when you aren't supposed to and obtain information, you're potentially in violation of federal law. Simply because there's a weakness or security hole doesn't mean that exploiting that weakness isn't criminal. A burglar is guilty of burglary even if the front door is unlocked."
The criminal implication of Miranda and Lundell's actions is just one of the many questions that remain. It is still unknown who leaked the documents to the press, how many Republican staffers accessed the documents, and whether any documents are still in possession of Republican committee members. In early March, a former intern for Senator Chuck Grassley (R-Iowa) revealed that he and other Grassley staffers knew of the breach. And in a statement released upon his resignation, Miranda said, ​"I knew that other Hatch counsels and staff came to know about the glitch and that some had concluded that the access was not unlawful."
In his final interview with investigators, Miranda said he recently received a backup disk from a friend with the files in question but refused to name that person or others who might have copies. It's also not known whether the memos were shown to or discussed with staffers from the DOJ or the White House counsel's office, which both regularly coordinate judicial nomination strategy with Republicans on the committee. The DOJ delayed making one employee available to investigators in regular communication with Lundell.
Despite the condemnation from fellow Republicans, Miranda, who maintains that the real scandal is the ​"collusion" between senators and liberal advocacy groups, remains defiant. ​"The only mistake here was not making 50 copies of [the files]," he says. ​"Whoever got them out should have made 50 copies and tied them in a blue ribbon and distributed them at a press conference."
Eight months before Election Day, the White House already is facing one investigation and grand jury testimony over the administration leak that outed CIA operative Valerie Plame. It hardly can afford another wide-ranging inquiry, and with Miranda candidly detailing his activities and ratcheting up his rhetoric, he just might make the perfect fall guy.
Christopher Hayes
is the host of MSNBC's All In with Chris Hayes. He is an editor at large at the Nation and a former senior editor of In These Times.