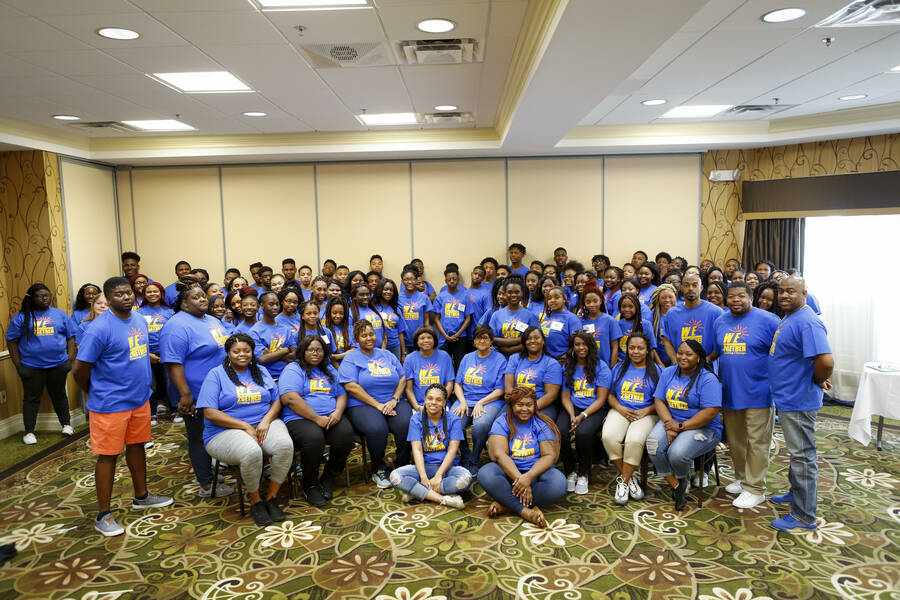 DREW, MISS. — Inside what was the city's last remain­ing high school before it closed in 2012, Glo­ria Dick­er­son, 65, leads me through the hall­ways she and her six sib­lings inte­grat­ed back in 1965, when she was 12. She describes how fright­en­ing it was to be the only black stu­dent in class, sur­round­ed by white peers who would hurl racial epi­thets and tell her she didn't deserve to be there.
Integrating the high school in Drew, Miss., was an opportunity to reclaim resources owed to black students.
The build­ing now hous­es a food pantry run by We2gether Cre­at­ing Change, a non­prof­it com­mu­ni­ty hub Dick­er­son found­ed in 2011. The orga­ni­za­tion pro­vides food and civic and finan­cial edu­ca­tion in a poor and work­ing-class black com­mu­ni­ty that suf­fers from a pover­ty rate of 43.7%.
Dick­er­son attrib­ut­es the lack of resources in Drew and oth­er black com­mu­ni­ties to a long lega­cy of neglect and racist pol­i­cy­mak­ing. ​"It all goes back to the strug­gle that African Amer­i­cans have had because of slav­ery," she says. ​"And the racism … the white supremacy."
In the state of Mis­sis­sip­pi, upward of 55% of the pop­u­la­tion was once enslaved. The Low­er Mis­sis­sip­pi Riv­er Val­ley had more mil­lion­aires per capi­ta than any­where else in the coun­try in 1860 — wealth cre­at­ed by forced labor. After the Civ­il War, Black Codes crim­i­nal­ized so-called mis­chief, and vagrancy laws forced unem­ployed freed peo­ple into essen­tial­ly unpaid labor, ensur­ing black peo­ple remained poor or in jail. By 1960, more than a third of black peo­ple in Mis­sis­sip­pi still worked land they didn't own. As In These Times has report­ed, the low per­cent­age of black land own­er­ship con­tributes to ​"lim­it­ed job oppor­tu­ni­ties, low edu­ca­tion lev­els and low pop­u­la­tion den­si­ty." Black peo­ple in Mis­sis­sip­pi con­tin­ue to win set­tle­ments for the dis­crim­i­na­to­ry way the state hands out farm subsidies.
The dis­crim­i­na­to­ry dis­tri­b­u­tion of resources in the state is ​"more sub­tle now," Dick­er­son says, from vast­ly unequal state fund­ing for edu­ca­tion to one of the country's cru­elest his­to­ries of incar­cer­a­tion. ​"ZIP codes that don't have very many peo­ple in them, ZIP codes where the peo­ple are poor — those peo­ple are not get­ting their fair share," she says.
Going to school with white chil­dren ​"wasn't about being around them," Dick­er­son says — it was an oppor­tu­ni­ty to reclaim resources owed to black stu­dents. ​"That's what Mama kept say­ing … ​'That school is just as much your school as it is their school.' It was about claim­ing … what we were enti­tled to." Dickerson's moth­er, Mae Bertha Carter, fought to end school seg­re­ga­tion, most notably as a plain­tiff in an NAACP law­suit that in 1969 over­turned Mississippi's ​"free­dom of choice" law, which dis­cour­aged black fam­i­lies from send­ing their chil­dren to white schools.
But edu­ca­tion­al resources are still lack­ing in Drew. In 2012, the state of Mis­sis­sip­pi scrapped Drew's pub­lic school sys­tem by merg­ing three school dis­tricts into one. While state takeovers may help with bud­get issues, they also strip the local­ly elect­ed school board of deci­sion-mak­ing pow­er and have not been shown to improve aca­d­e­m­ic per­for­mance. The state may then choose to close schools, as was the case with Dickerson's old high school, which state offi­cials say was closed due to poor aca­d­e­m­ic per­for­mance and a hard finan­cial sit­u­a­tion. School clo­sures fur­ther impov­er­ish com­mu­ni­ties by reduc­ing grad­u­a­tion rates and lay­ing off long­time teachers.
Orga­ni­za­tions like We2gether are work­ing hard to fill the gaps. Where the state has failed or refused to invest in the futures of young peo­ple, for instance, We2gether's "$$$ For Your Thoughts" pro­gram pro­vides schol­ar­ships to young peo­ple who set goals for them­selves, such as grad­u­at­ing from high school. The orga­ni­za­tion also pro­vides class­es for youth on lead­er­ship devel­op­ment. A host of adult pro­grams help par­tic­i­pants access resources, find eco­nom­ic foot­ing and launch com­mu­ni­ty projects. The food pantry serves around 900 peo­ple every month.
We2gether hosts reg­u­lar com­mu­ni­ty meet­ings to dis­cuss plans for the city, with atten­dance upward of 100 peo­ple. The Drew Col­lab­o­ra­tive, also found­ed by Dick­er­son, brings togeth­er rough­ly 20 rep­re­sen­ta­tives of civic orga­ni­za­tions across the city to make col­lec­tive deci­sions, often ​"based on input from the com­mu­ni­ty." The col­lab­o­ra­tive is cur­rent­ly devel­op­ing plans for more afford­able hous­ing units and a gro­cery store, both of which have the city's back­ing and are grind­ing through a long process for space and funding.
Asked about the change she'd like to see, Dick­er­son doesn't hes­i­tate to think big, from major leaps in pub­lic trans­porta­tion and afford­able hous­ing to rebuild­ing health and edu­ca­tion infra­struc­ture. ​"I'm talk­ing about real change," she says. ​"Soci­etal change. Sys­temic change."
ELI DAY was an inves­tiga­tive fel­low with In These Times' Leonard C. Good­man Insti­tute for Inves­tiga­tive Report­ing. He's also a Detroi­ter, where he writes about pol­i­tics, pol­i­cy, racial and eco­nom­ic jus­tice. His work has appeared in Vox, Cur­rent Affairs, Moth­er Jones, and the New Repub­lic, among others.