The Legacy of Slavery: What Inequality and Industrial Hog Operations Have in Common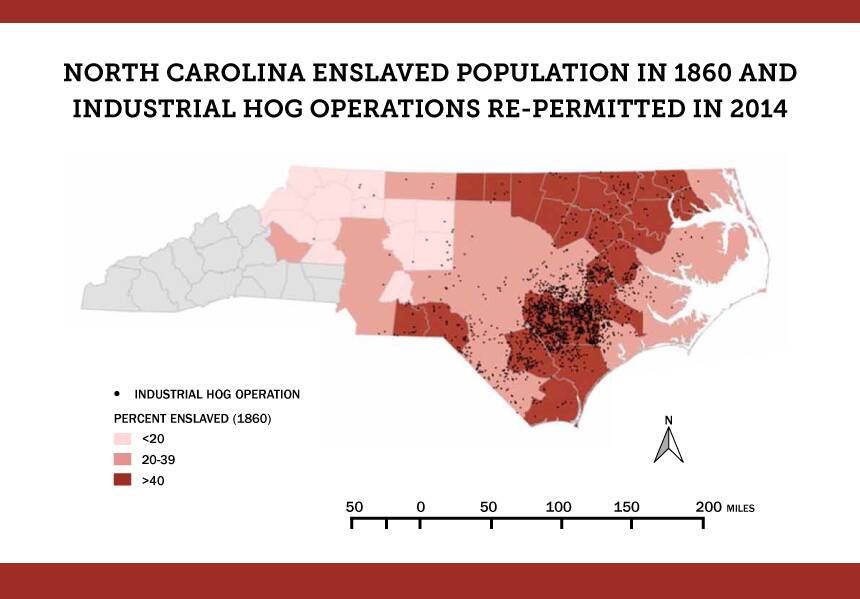 Amer­i­can agri­cul­ture is not one sto­ry, but many. Mil­lions of ani­mals liv­ing in con­fined spaces as part of large scale, mar­ket-direct­ed pro­duc­tion — indus­tri­al agribusi­ness — is one of the more hor­rif­ic ones. For peo­ple that live near indus­tri­al hog oper­a­tions, where hun­dreds or thou­sands of hogs are raised in a con­fined space, with open pits of urine and feces and reg­u­lar dis­pos­al these wastes near their homes, it becomes a sto­ry about health and qual­i­ty of life. Steve Wing, an epi­demi­ol­o­gist at the Uni­ver­si­ty of North Car­oli­na at Chapel Hill shows that it's also about envi­ron­men­tal injustice.
Research by Wing and Jill John­ston, a UNC post­doc­tor­al schol­ar, doc­u­ments that most of the 9.6 mil­lion hogs in North Car­oli­na live in con­cen­trat­ed ani­mal feed­ing oper­a­tions (CAFOs) in the east­ern part of the state where they dis­pro­por­tion­ate­ly impact African Amer­i­cans, His­pan­ics and Native Amer­i­cans. Their 2014 study found that the swine CAFOs — also known as indus­tri­al hog oper­a­tions (IHOs) — per­mit­ted by the North Car­oli­na Divi­sion of Water Qual­i­ty are locat­ed in coun­ties with high non-white pop­u­la­tions. Duplin Coun­ty, on the south­east­ern coastal plain, is home to 2.35 mil­lion hogs dis­trib­uted among 530 hog oper­a­tions. In Duplin, 43 per­cent of the pop­u­la­tion is non-white. One of the poor­est coun­ties in North Car­oli­na, Duplin has a pover­ty rate of 23.6 per­cent. Wing and John­ston do not focus direct­ly on issues of wealth and pover­ty in their study, but they observe that IHOs are ​"rel­a­tive­ly absent from low-pover­ty White com­mu­ni­ties." After all, no indus­tri­al hog oper­a­tion is locat­ed next to North Carolina's Exec­u­tive Mansion.
Over the past two decades, the num­ber of U.S. hog farms declined by more than 70 per­cent while hog pro­duc­tion rose by more than 30 per­cent, accord­ing to the U.S. Depart­ment of Agri­cul­ture. In 2007, 97 per­cent of hogs were raised in places with over 500 ani­mals. Three-quar­ters of hogs sold for mar­ket are from ​"spe­cial­ized oper­a­tions" with cor­po­rate pro­duc­tion con­tracts that buy 30 to 80 pound pigs from oth­er ​"spe­cial­ized oper­a­tions" and fin­ish them to 240 to 270 pounds, slaugh­ter weight. The peo­ple that man­age these oper­a­tions are not called farm­ers: they are ​"con­tract grow­ers." Like oth­er U.S. cor­po­rate agribusi­ness­es, indus­tri­al hog oper­a­tions are heav­i­ly sup­port­ed by state and nation­al poli­cies. Larg­er oper­a­tions are more prof­itable than small­er ones because the pigs are treat­ed as com­modi­ties, their feed is mech­a­nized, and the cost of envi­ron­men­tal and pub­lic health dam­age is not con­sid­ered in the bal­ance sheet.
The human and envi­ron­men­tal costs
Water and air pol­lu­tion from the con­fine­ment of thou­sands of swine endan­ger the health of peo­ple liv­ing near­by. Indus­tri­al hog oper­a­tions pol­lute the air with a com­plex mix­ture of par­tic­u­lates (e.g., fecal mat­ter and endo­tox­ins), vapors and gas­es (e.g., ammo­nia and hydro­gen sul­fide) — all of which have neg­a­tive health effects. Add odor from feces, not only a nui­sance but also the cause of health prob­lems, and you get sick peo­ple. Wing and col­leagues have record­ed stress, anx­i­ety, mucous mem­brane irri­ta­tion, res­pi­ra­to­ry con­di­tions, reduced lung func­tion and acute blood pres­sure elevation.
North Carolina's hog CAFO's are con­cen­trat­ed in low-lying areas, where the hog-waste cesspools are sus­cep­ti­ble to flood­ing. In addi­tion, the runoff from liq­uid hog waste dumped or sprayed on fields makes its way into state water­ways. Research from Johns Hop­kins and UNC-Chapel Hill has found evi­dence of high con­cen­tra­tions of fecal indi­ca­tor bac­te­ria and the pres­ence of swine-spe­cif­ic fecal MST mark­ers in waters near hog CAFOs — mean­ing there are pig feces in the water.
Indeed, dur­ing the per­mit­ting process in North Car­oli­na, IHOs are per­mit­ted as ​"non-dis­charge facil­i­ties," which means they are exempt from state rules requir­ing the mon­i­tor­ing of their waste in water­ways. The per­mit, in oth­er words, essen­tial­ly puts a ​"no reg­u­la­tion" stamp on a major source of water pollution.
It's a pub­lic health cri­sis in these com­mu­ni­ties. Chil­dren do not play out­side. Gar­den­ers stop gar­den­ing. The stink, like noth­ing you have ever smelled before, is over­pow­er­ing. Your body reacts to these real health prob­lems. It's response? Get me out of here. But when you live next to thou­sands of hogs and no one will buy your house, there's no place to go.
At a lec­ture at Boston Uni­ver­si­ty in Octo­ber 2014, Wing showed a dra­mat­ic slide that depict­ed a near per­fect over­lay of the loca­tion of indus­tri­al hog farms to the den­si­ty of slave pop­u­la­tions in the 1860s. The con­cen­tra­tion of mil­lions of pigs in south­east­ern North Car­oli­na is made pos­si­ble by racial injus­tices that deny peo­ple basic rights. Wing writes, ​"If work­ers and res­i­dents in rur­al com­mu­ni­ties that are most direct­ly impact­ed had basic polit­i­cal and human rights, indus­tri­al agri­cul­ture would not have devel­oped with such destruc­tive force because those affect­ed by its side effects would have been able to pro­tect themselves."
Indus­tri­al ani­mal waste cesspools
It's hard to know what to do when there's a hos­tile cor­po­rate neigh­bor with thou­sands of hogs liv­ing next door. Local, state and fed­er­al gov­ern­ments are no help. But a num­ber of orga­ni­za­tions — North Car­oli­na Envi­ron­men­tal Jus­tice Net­work, Earth­jus­tice, Con­cerned Cit­i­zens of Tillery, Rur­al Empow­er­ment Asso­ci­a­tion for Com­mu­ni­ty Help, and Water­keep­er Alliance — are fight­ing the good fight.
The Con­cerned Cit­i­zens of Tillery (CCT), an envi­ron­men­tal jus­tice orga­ni­za­tion estab­lished in 1978 and locat­ed in Tillery, a com­mu­ni­ty in east­ern NC has been orga­niz­ing the oppo­si­tion to IHOs for decades. The expe­ri­ence of the home­stead farm isn't as com­mon as it used to be, where a few pigs are part of the farm ecosys­tem and hun­dreds (or thou­sands!) would be known to wreck it. Like an inva­sive weed, it takes patience and effort to con­vince peo­ple the weed wasn't always there.
When CCT is asked why hogs and dan­ger­ous pol­lu­tants come into poor, rur­al com­mu­ni­ties, the group responds, ​"Because there are Blacks and Lati­nos and Native Amer­i­cans liv­ing in these com­mu­ni­ties." The organization's web­site puts it this way: ​"We have become a soci­ety based on con­sump­tion and mate­ri­al­ism, the inevitable envi­ron­men­tal degra­da­tion begins in the ​'back­yards' of African Amer­i­cans, oth­er peo­ple of col­or and yes, poor whites who could not ​'flight' to urban America."
I met Gary Grant, the long-time exec­u­tive direc­tor of CCT, sev­er­al years ago. By the time I met him, I'd been inside build­ings with thou­sands of hogs. I'd walked around the cesspools the indus­try likes to call ​"lagoons." It's hard not to see the hor­ror of the ani­mals' lives and the ruina­tion on the lives of the peo­ple liv­ing nearby.
Steve Wing and his col­leagues illus­trate how North Car­oli­na indus­tri­al hog oper­a­tions degrade the envi­ron­ment and health of peo­ple liv­ing near them. They have doc­u­ment­ed that the facil­i­ties built to house hun­dreds or thou­sands of hogs and the result­ing cesspools and waste dis­pos­al fields are most­ly locat­ed near the homes of peo­ple of col­or. Gary Grant knows this. It's about time a whole lot of oth­er peo­ple learned about it. Wing reminds us that mak­ing sus­tain­abil­i­ty and decen­cy an inte­gral part of the food sys­tem can improve life for every­body. Now that's a sto­ry to be part of.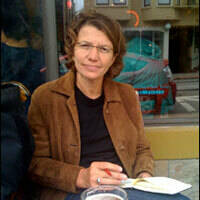 Lau­ra Orlan­do
is a mem­ber of the Rur­al Amer­i­ca In These Times Board of Edi­tors. She is a civ­il engi­neer and teach­es in the envi­ron­men­tal health depart­ment at the Boston Uni­ver­si­ty School of Pub­lic Health. Lau­ra grew up on a farm near Ben­ton Har­bor, Michi­gan. She is a grad­u­ate of the Uni­ver­si­ty of Michi­gan and the Har­vard Kennedy School of Government.