What's Next for the Chicago Teachers Union?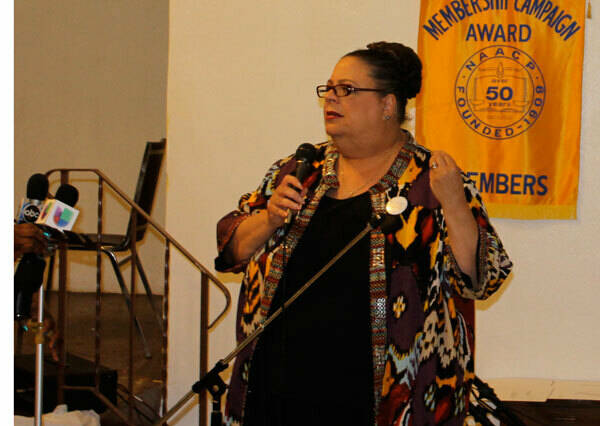 Eight months after its his­toric strike, the Chica­go Teach­ers Union (CTU) again finds itself at a cross­roads. The union is deal­ing with the fall­out from the Chica­go Board of Edu­ca­tion approv­ing 50 pub­lic-school clos­ings last week, which, among oth­er issues, direct­ly impacts the jobs of about 1,000 of their mem­bers. Part­ly in response, the CTU is focus­ing on a polit­i­cal move­ment that can chal­lenge the pow­er of May­or Rahm Emanuel. That means there's a new item on the union's agen­da: vot­er registration.
Last Thurs­day, CTU Pres­i­dent Karen Lewis, com­fort­ably re-elect­ed to a sec­ond three-year term a week before, host­ed a vot­er-reg­is­tra­tion train­ing ses­sion at a church in the Bronzeville neigh­bor­hood on the city's South Side. Lewis told her audi­ence of CTU mem­bers that despite months of oppo­si­tion — which includ­ed a three-day march, down­town ral­lies, two pend­ing class action law­suits and a third law­suit that the union expects to file today — ​"a lot of us knew" the board would vote to close the schools, ​"which is why we had already sched­uled this meeting."
The real prob­lem, Lewis said, is that the may­or hand­picks both the Chica­go Pub­lic School (CPS) lead­ers who pro­pose poli­cies and the board mem­bers who then approve those poli­cies. ​"We must change the polit­i­cal land­scape in Chica­go," Lewis said. ​"If we have may­oral con­trol and can't get rid of it tomor­row, then we need to fig­ure out a way to change the hearts and minds of the voters."
So Lewis wants to chan­nel the ener­gy and defi­ance of CTU mem­bers — who over­whelm­ing­ly vot­ed to autho­rize a strike last June — into increas­ing vot­er turnout, and push­ing for can­di­dates who sup­port poli­cies such as an elect­ed school board.
In a brief inter­view after her remarks, Lewis said that the vot­er dri­ve would be test­ed dur­ing statewide elec­tions next year and then the elec­tions for Chica­go may­or and alder­men in 2015. Asked whom she wants to run for may­or and city coun­cil, Lewis insist­ed, ​"It's all mem­ber dri­ven. I don't make those deci­sions, that's what our PAC [Polit­i­cal Action Com­mit­tee] does."
As to the more imme­di­ate ques­tion fac­ing CTU — how to engage with CPS on their school clos­ings tran­si­tion plan — Lewis said the dis­trict has ​"no plan."
CPS Chief Exec­u­tive Offi­cer Bar­bara Byrd-Ben­nett has, in fact, moved for­ward with a few tran­si­tion plans, such as con­tracts for com­pa­nies to refur­bish the build­ings of ​"receiv­ing" schools that will take stu­dents from clos­ing insti­tu­tions. But Lewis is right that nei­ther Byrd-Ben­nett nor prin­ci­pals at indi­vid­ual receiv­ing schools have a plan for how many teach­ers will fol­low their stu­dents and keep their job.
Under dis­trict pol­i­cy, teach­ers from the clos­ing schools with excel­lent or sat­is­fac­to­ry per­for­mance rat­ings get pri­or­i­ty for any new jobs at receiv­ing schools. But the CPS cen­tral office and prin­ci­pals have dis­cre­tion over how many new class­rooms open up. The CPS line on teacher reten­tion, as voiced by Board Pres­i­dent David Vitale in an inter­view last Wednes­day with local pub­lic tele­vi­sion sta­tion WTTW, is that, ​"actu­al­ly almost all of these teach­ers will fol­low their stu­dents" unless there are issues with resource effi­cien­cy or class­room structure.
Asked how many teach­ers will keep their jobs, Lewis said that, ​"We will not know until they decide what they're going to do with reg­is­ter­ing the chil­dren" from the clos­ing schools. That reg­is­tra­tion is slat­ed to begin at the start of June.
"[CPS is] try­ing to do like a mil­lion things at once and they've always done them bad­ly so it's impos­si­ble for us to even esti­mate [lay­offs] at this point," Lewis said.
Some crit­ics sug­gest CTU should nar­row its agen­da and stick to the low­er-pro­file task of pro­tect­ing their mem­bers. ​"CTU needs to focus their ener­gy on get­ting their teach­ers at the clos­ing schools into the receiv­ing schools," says Rod Est­van, an edu­ca­tion pol­i­cy ana­lyst for Access Liv­ing, a dis­abil­i­ty rights group. ​"That needs to be their sole focus."
CTU ​"prob­a­bly needs to nego­ti­ate direct­ly with prin­ci­pals at these receiv­ing schools," Est­van says.
But CTU is still seek­ing to stop the closings.
The union stands behind two class action law­suits filed by par­ents that call for fed­er­al injunc­tive relief against the school actions. Those law­suits, which con­tend that spe­cial edu­ca­tion and minor­i­ty stu­dents are unfair­ly hurt by the shut downs, will be heard by a fed­er­al judge in July. Addi­tion­al­ly, the law­suit that CTU has filed today calls for an injunc­tion on 10 of the 50 clos­ings, con­tend­ing that Byrd-Ben­nett went against dis­trict pol­i­cy in clos­ing these schools.
It is, of course, unclear how the law­suits will impact what is expect­ed to be an already chaot­ic sum­mer for many CPS par­ents, teach­ers and stu­dents. Last year a Cook Coun­ty judge threw out a union-backed suit to stop a small­er set of closings.
But while Est­van views the law­suits as some­thing of a dis­trac­tion, Bob Bruno, direc­tor of the Labor Edu­ca­tion Pro­gram at the Uni­ver­si­ty of Illi­nois-Chica­go, applauds CTU for its trans­for­ma­tion under Lewis. ​"This is a social union that engages with the com­mu­ni­ty," Bruno says, a tac­tic that has ​"bore noth­ing but pos­i­tive fruit."
Bruno cites a favor­able con­tract for CTU that fol­lowed last September's work stop­page, and a union that has become a ​"strong alter­na­tive voice for Chicago's work­ing class­es." It is plau­si­ble, Bruno adds, that CTU ​"is going to be reck­oned with in 2015" dur­ing city elections.
Matthew Blake
is a free­lance jour­nal­ist based in Chica­go. He has writ­ten for the
Chica­go Jour­nal, Wash­ing­ton Month­ly, Wash­ing­ton Inde­pen­dent
and
The Nation
, among oth­er publications.