What's Next for the Chicago Teachers Union?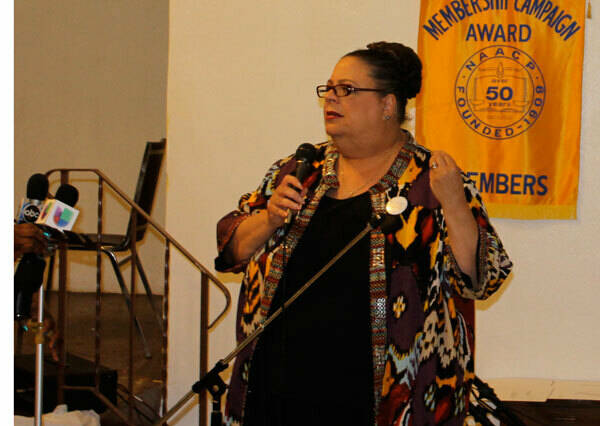 Eight months after its historic strike, the Chicago Teachers Union (CTU) again finds itself at a crossroads. The union is dealing with the fallout from the Chicago Board of Education approving 50 public-school closings last week, which, among other issues, directly impacts the jobs of about 1,000 of their members. Partly in response, the CTU is focusing on a political movement that can challenge the power of Mayor Rahm Emanuel. That means there's a new item on the union's agenda: voter registration.
Last Thursday, CTU President Karen Lewis, comfortably re-elected to a second three-year term a week before, hosted a voter-registration training session at a church in the Bronzeville neighborhood on the city's South Side. Lewis told her audience of CTU members that despite months of opposition — which included a three-day march, downtown rallies, two pending class action lawsuits and a third lawsuit that the union expects to file today — ​"a lot of us knew" the board would vote to close the schools, ​"which is why we had already scheduled this meeting."
The real problem, Lewis said, is that the mayor handpicks both the Chicago Public School (CPS) leaders who propose policies and the board members who then approve those policies. ​"We must change the political landscape in Chicago," Lewis said. ​"If we have mayoral control and can't get rid of it tomorrow, then we need to figure out a way to change the hearts and minds of the voters."
So Lewis wants to channel the energy and defiance of CTU members — who overwhelmingly voted to authorize a strike last June — into increasing voter turnout, and pushing for candidates who support policies such as an elected school board.
In a brief interview after her remarks, Lewis said that the voter drive would be tested during statewide elections next year and then the elections for Chicago mayor and aldermen in 2015. Asked whom she wants to run for mayor and city council, Lewis insisted, ​"It's all member driven. I don't make those decisions, that's what our PAC [Political Action Committee] does."
As to the more immediate question facing CTU — how to engage with CPS on their school closings transition plan — Lewis said the district has ​"no plan."
CPS Chief Executive Officer Barbara Byrd-Bennett has, in fact, moved forward with a few transition plans, such as contracts for companies to refurbish the buildings of ​"receiving" schools that will take students from closing institutions. But Lewis is right that neither Byrd-Bennett nor principals at individual receiving schools have a plan for how many teachers will follow their students and keep their job.
Under district policy, teachers from the closing schools with excellent or satisfactory performance ratings get priority for any new jobs at receiving schools. But the CPS central office and principals have discretion over how many new classrooms open up. The CPS line on teacher retention, as voiced by Board President David Vitale in an interview last Wednesday with local public television station WTTW, is that, ​"actually almost all of these teachers will follow their students" unless there are issues with resource efficiency or classroom structure.
Asked how many teachers will keep their jobs, Lewis said that, ​"We will not know until they decide what they're going to do with registering the children" from the closing schools. That registration is slated to begin at the start of June.
"[CPS is] trying to do like a million things at once and they've always done them badly so it's impossible for us to even estimate [layoffs] at this point," Lewis said.
Some critics suggest CTU should narrow its agenda and stick to the lower-profile task of protecting their members. ​"CTU needs to focus their energy on getting their teachers at the closing schools into the receiving schools," says Rod Estvan, an education policy analyst for Access Living, a disability rights group. ​"That needs to be their sole focus."
CTU ​"probably needs to negotiate directly with principals at these receiving schools," Estvan says.
But CTU is still seeking to stop the closings.
The union stands behind two class action lawsuits filed by parents that call for federal injunctive relief against the school actions. Those lawsuits, which contend that special education and minority students are unfairly hurt by the shut downs, will be heard by a federal judge in July. Additionally, the lawsuit that CTU has filed today calls for an injunction on 10 of the 50 closings, contending that Byrd-Bennett went against district policy in closing these schools.
It is, of course, unclear how the lawsuits will impact what is expected to be an already chaotic summer for many CPS parents, teachers and students. Last year a Cook County judge threw out a union-backed suit to stop a smaller set of closings.
But while Estvan views the lawsuits as something of a distraction, Bob Bruno, director of the Labor Education Program at the University of Illinois-Chicago, applauds CTU for its transformation under Lewis. ​"This is a social union that engages with the community," Bruno says, a tactic that has ​"bore nothing but positive fruit."
Bruno cites a favorable contract for CTU that followed last September's work stoppage, and a union that has become a ​"strong alternative voice for Chicago's working classes." It is plausible, Bruno adds, that CTU ​"is going to be reckoned with in 2015" during city elections.
Be one of the first
Help kick off the new era of In These Times! Without a media that brings people together and creates a written record of the struggles of workers, their voices will be fragmented and forgotten.
The mission of In These Times is to be that written record, and to guide and grow those movements.
We have a lot of work ahead of us, and that work starts today. Early support is the most valuable support, and that's why we're asking you to pitch in now. If you are excited for this new era of In These Times, please make a donation today.
Matthew Blake
is a freelance journalist based in Chicago. He has written for the
Chicago Journal, Washington Monthly, Washington Independent
and
The Nation
, among other publications.