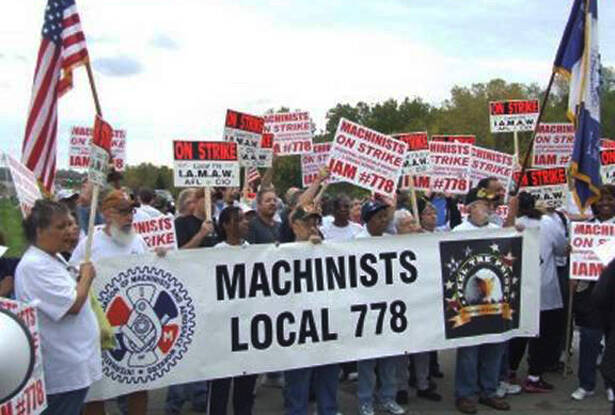 For the third time in three years, defense con­trac­tor Hon­ey­well Inter­na­tion­al Inc. is deploy­ing union-bust­ing tac­tics in a gov­ern­ment-affil­i­at­ed work­place – and a fed­er­al agency is fail­ing to stop the corporation's behav­ior. This rais­es ques­tions about whether Hon­ey­well, a top con­trib­u­tor to the Demo­c­ra­t­ic Par­ty in the 2010 midterm elec­tion cycle, is wield­ing polit­i­cal influ­ence to suc­cess­ful­ly weak­en unions.
'Nobody can screw you like your friends,' says AFL-CIO Metal Trades Department President Ronald Ault. 'We had better labor relations under [Bush appointed-DOE Secretary] Sam Bodman than [President Obama's DOE Secretary Steven] Chu."
In 2009, Hon­ey­well threat­ened to bring in fed­er­al troops to replace Hon­ey­well con­trac­tors threat­en­ing to strike at a mil­i­tary facil­i­ty in Jack­sonville, Fla. In 2010, the com­pa­ny brought in scab replace­ment work­ers to oper­ate a ura­ni­um facil­i­ty in Metrop­o­lis, Ill. (The fed­er­al gov­ern­ment lat­er ruled that Hon­ey­well cheat­ed on qual­i­fi­ca­tion tests so that it could replace strik­ing Unit­ed Steel­work­ers union members.)
Now, union work­ers on strike at a plant in Kansas City, Mo., allege that the Depart­ment of Ener­gy (DOE) is abdi­cat­ing its respon­si­bil­i­ty under fed­er­al law by allow­ing Hon­ey­well to engage in ille­gal bar­gain­ing while the com­pa­ny attempts to force a con­ces­sion­ary con­tract on an Inter­na­tion­al Asso­ci­a­tion of Machin­ists and Aero­space Work­ers (IAM) union local. On Octo­ber 10, 840 Hon­ey­well work­ers – mem­bers of IAM Local Lodge 778 and con­trac­tors at a fed­er­al facil­i­ty that pro­duces com­po­nents for nuclear weapons –went on strike, alleg­ing that Hon­ey­well had bar­gained in bad faith.
Local 778 Grand Lodge Rep­re­sen­ta­tive Steve Nick­el claims that Hon­ey­well ille­gal­ly bar­gained in bad faith by attempt­ing to force the union to either accept con­ces­sion­ary con­tracts or go out on strike. Nick­el claims that Hon­ey­well informed them via express mail let­ter of their refusal to accept the union's pro­pos­al before the bar­gain­ing peri­od had expired at the end of Octo­ber 7, and then pre­pared for a strike. He says the com­pa­ny engaged in take-it-or-leave-it bar­gain­ing when it refused to nego­ti­ate fur­ther. (Hon­ey­well declined to com­ment for this sto­ry, but an ad the com­pa­ny ran in the Kansas City Star on Novem­ber 8 read, ​"Hon­ey­well has pro­vid­ed a last, best and final offer" and ​"con­tin­ues to bar­gain in good faith."
"In my fif­teen years fil­ing board charges, I have nev­er seen such a clear-cut case of a com­pa­ny engaged in bad faith bar­gain­ing," Nick­el says.
Local 778 filed an unfair labor prac­tice com­plaint with the Nation­al Labor Rela­tions Board imme­di­ate­ly after union mem­bers reject­ed Honeywell's final con­tract offer in ear­ly Octo­ber. But late last week, the NLRB ruled against the union, ren­der­ing strik­ing union mem­bers inel­i­gi­ble for unem­ploy­ment insur­ance and giv­ing Hon­ey­well the right to per­ma­nent­ly replace work­ers. Late on Novem­ber 15, the NLRB ruled against the union in an ini­tial set of board charges; thus deny­ing the work­ers the right to col­lect unem­ploy­ment while out on strike as well as giv­ing the com­pa­ny the legal author­i­ty to per­ma­nent­ly replace the workers.
As a result of the rul­ing, many work­ers on strike became dis­cour­aged and some crossed the pick­et line. On Sun­day, Novem­ber 20, union mem­bers rat­i­fied a six-year con­tract, which both man­age­ment and the union agree is large­ly the same con­tract Hon­ey­well ini­tial­ly pro­posed. It includes a two-tier wage sys­tem (new hires are the low­er tier), the elim­i­na­tion of defined-pen­sion plans for new hires and the elim­i­na­tion of retiree health­care after 2017. Retiree health­care had been a stick­ing point for work­ers at the Mis­souri facil­i­ty, giv­en that they work with the tox­ic mate­r­i­al beryl­li­um, which is asso­ci­at­ed with high rates of lung cancer.
Since 2009, Hon­ey­well has been con­fronting unions at its facil­i­ties across the coun­try as it tries to reduce its labor costs. The For­tune 100 com­pa­ny based in New Jer­sey has demand­ed that work­ers accept a two-tier wage sys­tem that pays new hires rough­ly half of what cur­rent employ­ees are paid. Hon­ey­well calls for the adop­tion of a retire­ment sys­tem that would pay out new employ­ees rough­ly $25,000-$30,000 total over the course of their career, Nick­el says. The com­pa­ny has also refused – in Kansas City and else­where – to budge from its posi­tion that union work­ers drop cur­rent health­care cov­er­age in favor of the health­care cov­er­age nonunion work­ers receive, which is a high-deductible insur­ance plan mixed with a health­care sav­ings account.
"Some of these peo­ple can't work until their ​'60s, when they are eli­gi­ble for Medicare. They wind up going on med­ical dis­abil­i­ty, so they need some­thing for them and their fam­i­lies," Nick­el says.
Not the same old bar­gain­ing story
But there is anoth­er dimen­sion to the Kansas City con­flict that makes the strug­gle there more than just the now-famil­iar sto­ry of a cor­po­ra­tion try­ing to push con­ces­sion­ary con­tract down a union's throat. Fed­er­al con­tract pro­vi­sions stip­u­late that because Hon­ey­well oper­ates the Kansas City facil­i­ty as a con­trac­tor for the DOE's Nation­al Nuclear Secu­ri­ty Admin­is­tra­tion, the cor­po­ra­tion can be reim­bursed for the full cost of all wages and ben­e­fit increas­es that work­ers receive.
DOE ser­vice con­tract pro­vi­sions sim­i­lar to the fed­er­al Ser­vice Con­tract Act allow for the DOE to reim­burse work­ers' com­pen­sa­tion. Depart­ment reg­u­la­tions give con­tract offi­cers uni­lat­er­al pow­er to increase pay­ment to con­trac­tors if any costs, includ­ing wages, go up (these offi­cers can also refuse to cov­er such increas­es, if they exceed typ­i­cal indus­try com­pen­sa­tion pack­ages). Increas­es have been rou­tine­ly approved, accord­ing to the IAM, dur­ing the 12 years Hon­ey­well has oper­at­ed the Kansas City facil­i­ty as the prime con­trac­tor.
So if it doesn't ulti­mate­ly bear the costs of its work­ers there, why is Hon­ey­well so dead-set against the sta­tus quo when it comes to union work­ers' wages, pen­sions and health­care plan? The short (and coun­ter­in­tu­itive) answer is that the com­pa­ny stands to prof­it from the strike – both finan­cial­ly and politically.
Before the strike began in Octo­ber, Hon­ey­well mangers had union work­ers over-pro­duce nuclear weapon com­po­nents in order to build up inven­to­ries, accord­ing to the IAM. Since the strike began, the com­pa­ny has used sev­er­al hun­dred nonunion employ­ees at the plant to con­tin­ue some pro­duc­tion and ship­ment of goods. Accord­ing to Honeywell's web­site, 203 ship­ments were sent out the week of Octo­ber 31, 21 days after the strike began.
A cru­cial point that helps Honeywell's bot­tom line is that the company's con­tract with the fed­er­al gov­ern­ment is fixed on prod­ucts deliv­ered, not labor cost. This means that if Hon­ey­well keeps pro­duc­tion nor­mal at the Kansas City plant, it can claim the $7.5 mil­lion per month it would nor­mal­ly pay 840 strik­ing work­ers as prof­its. The fed­er­al con­tract is fixed till 2013, so Hon­ey­well could make a huge wind­fall prof­it by antag­o­niz­ing work­ers, and inspir­ing them to remain on strike.
The com­pa­ny is in a sweet spot: Under fed­er­al labor law, it can hire replace­ment work­ers. Indeed, the com­pa­ny has already announced plans to hire as many as 600 scab replace­ment work­ers, at half the aver­age union worker's salary, as it digs in for the strike.
Behind the scenes DOE pressure?
But this strug­gle is about more than just cor­po­rate prof­its, accord­ing to union offi­cials. By push­ing for major con­ces­sions from work­ers, Hon­ey­well may be cur­ry­ing favor with the DOE, which is look­ing to save mon­ey as politi­cians on Capi­tol Hill look to close the fed­er­al deficit.
In 2006, DOE attempt­ed to imple­ment the Direc­tive 351.1, which ​"effec­tive­ly for­bids the nego­ti­a­tion of defined ben­e­fit pen­sion," accord­ing to the AFL-CIO Met­al Trades Depart­ment. Because of strong oppo­si­tion in Con­gress and a bit­ter fight between orga­nized labor and the DOE, it was nev­er implemented.
"The direc­tive says that con­trac­tors will not be reim­bursed for the costs of defined ben­e­fit plans for new hires, or for post-retire­ment health care," and it will penal­ize con­trac­tors with defined pen­sions for cur­rent employ­ees that cost above a cer­tain amount, the Met­al Trades depart­ment says (PDF link).
Although not in effect, it has still neg­a­tive­ly affect­ed many employ­ees work­ing for DOE con­trac­tors, accord­ing to AFL-CIO. In 2010 alone, con­trac­tors in five dif­fer­ent facil­i­ties dis­con­tin­ued defined-ben­e­fit pen­sion plans out of fear that Direc­tive 351.1 might be implemented.
But Met­al Trades Depart­ment Pres­i­dent Ronald Ault says this is about more than a cor­po­ra­tion hedg­ing its bets against a poten­tial reg­u­la­to­ry change – the DOE is qui­et­ly push­ing Hon­ey­well behind the scenes to strip pen­sions and retiree health cov­er­age so the agency can trim its costs.
"Hon­ey­well would get reim­bursed for what­ev­er wage increas­es [work­ers] want," Ault says. But com­pa­ny offi­cials ​"do what­ev­er the DOE wants them to do. DOE could absolute­ly step in and get involved, they could direct the con­tract." Instead, he says, fed­er­al offi­cials ​"qui­et­ly whis­per behind the scene to imple­ment DOE 351 to cut DOE's costs. Nobody can screw you like your friends. We had bet­ter labor rela­tions under [Bush appoint­ed-DOE Sec­re­tary] Sam Bod­man than [Pres­i­dent Obama's DOE Sec­re­tary Steven] Chu."
By call­ing for work­ers' ben­e­fits to be cut, Hon­ey­well and its CEO David Cote – the only busi­ness leader serv­ing on Pres­i­dent Barack Obama's 19-per­son deficit com­mis­sion – improves their polit­i­cal image. (Giv­en that it paid no cor­po­rate income tax­es between 2008 and 2010 despite mak­ing $4.9 bil­lion in prof­its, Hon­ey­well needs to bol­ster its image to increase its chances of win­ning more fed­er­al con­tracts.) In the Novem­ber 8 Kansas City Star ad, the com­pa­ny stat­ed it ​"is com­mit­ted to being a good stew­ard of U.S. tax­pay­ers' dol­lars and fed­er­al assets."
The Hon­ey­well-DNC connection
Final­ly, by demand­ing huge con­ces­sions, Hon­ey­well is attempt­ing to weak­en its unions, as it has done through­out the coun­try at both fed­er­al con­trac­tor and pri­vate-sec­tor facil­i­ties. A two-tier wage sys­tem weak­ens sol­i­dar­i­ty by pit­ting younger work­ers against old­er work­ers. By forc­ing the union to strike, Hon­ey­well hopes to crush the union's will­ing­ness to resist con­ces­sions again.
Union work­ers say the DOE could be get­ting involved to help out work­ers and bring the strike to end. ​"DOE sits back and acts like they are non-par­tic­i­pants when, in fact, they con­trol near­ly every aspect of our work­ing con­di­tions," says Jay Puck­ett, an IAM mem­ber who works at the Kansas City facility.
DOE spokes­woman Gayle Fish­er said the Nation­al Nuclear Secu­ri­ty Admin­is­tra­tion ​"has been an inter­est­ed but neu­tral observ­er dur­ing the con­tract dis­pute. We would like to see the nego­ti­a­tions con­tin­ue so that an agree­ment can be reached and every­body can get back to work and help ful­fill our impor­tant mis­sion here in Kansas City."
The Depart­ment of Energy's deci­sion not to get involved rais­es ques­tions about whether or not Honeywell's out­sized polit­i­cal influ­ence is con­nect­ed to the Depart­ment of Energy's deci­sion to remain neu­tral in the labor struggle.
Begin­ning in 2009, at about the same time that Hon­ey­well began aggres­sive­ly con­fronting unions at facil­i­ties in Flori­da and Illi­nois direct­ly con­nect­ed to fed­er­al con­tracts, Hon­ey­well has sharply increased its polit­i­cal dona­tions; in 2010, the company's polit­i­cal action com­mit­tee was the top PAC con­trib­u­tor to the Demo­c­ra­t­ic Par­ty.
In a sign of the company's increas­ing con­nec­tion to the Demo­c­ra­t­ic Par­ty, ear­li­er this month Hon­ey­well hired Demo­c­ra­t­ic Minor­i­ty Whip Ste­ny Hoyer's for­mer Deputy Chief of Staff Stacey Bernards as its new vice pres­i­dent of gov­ern­ment rela­tions. CEO David Cote has also done polit­i­cal favors for the White House and the Demo­c­ra­t­ic Par­ty: He helped intro­duce the president's stim­u­lus pack­age at a press con­fer­ence in ear­ly 2009 and was cru­cial to keep­ing the pow­er­ful Cham­ber of Com­merce from oppos­ing the leg­is­la­tion, help­ing to give the Oba­ma admin­is­tra­tion a cru­cial first victory.
Labor rights used to be a core val­ue of the Demo­c­ra­t­ic Par­ty. But its grow­ing ties to Hon­ey­well – which has late­ly dis­tin­guished itself as clear­ly anti-union – shows that these days, the par­ty is more inter­est­ed in management.
This sto­ry was updat­ed on Mon­day Novem­ber 21 to note the out­come of Sunday's IAM con­tract rat­i­fi­ca­tion vote.