White-Collar Workers Unite
Barbara Ehrenreich received a grant from SEIU (Service Employees International Union) to start United Professionals (UP), whose mission is to "protect and preserve the American middle class..."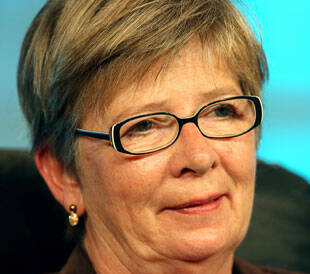 Many art students would kill for Ilene Schuckett's resume. After graduating from art school, she has been steadily employed by various New York advertising agencies for almost 40 years. Eight years ago, Schuckett took a pharmaceutical ad job, hoping to use her skills in a new capacity. Although everything seemed to be going well, Schuckett noticed a disturbing pattern. ​"Over the last two or three years, the company began letting people over 40 go with the excuse that they had ​'lost business,'" she says.
On May 17, Schuckett faced the same fate. Even though she held one of the most senior and highly paid creative positions in the firm, her boss dismissed her and 25 others for virtually no reason. Now 60, Schuckett is without a job for the first time since college. ​"I was a freelancer and the [pharmaceutical company] begged me to go on staff," she says. ​"I worked hard and got raises and promotions until I promoted myself right out the door."
Enter Barbara Ehrenreich. While writing her recent expose, Bait and Switch: the (Futile) Pursuit of the American Dream, the veteran journalist and activist learned first-hand the pitfalls of keeping work in corporate America. ​"I met with career counselors, I read self-help books, I used the Internet and job boards," Ehrenreich says. Realizing that many victims of job instability had nowhere to turn for help, Ehrenreich secured a $10,000 grant from the Service Employees International Union and collected e-mail addresses from unsatisfied workers on a subsequent book tour. In a matter of months, United Professionals (UP) was born.
UP's mission is simple: ​"to protect and preserve the American middle class, now under attack from so many directions." Specifically, the group is organizing two related yet disparate types of workers: recent college graduates and middle-aged workforce veterans. ​"It is important to align the two groups [of workers]," says Tamara Draut, a UP Advisory Board member and the author of Strapped: Why America's 20- and 30-Somethings Can't Get Ahead. ​"Pitting the generations against each other like we often do isn't an effective way to organize, given that many things would benefit both groups."
It is not surprising that UP would target these sectors of the workforce. Both face overwhelming obstacles in their quest for financial security. According to the Center for American Progress, more than 60 percent of college graduates carry excessive debt, averaging almost $19,000 per student. For the majority of grads, this debt lingers because many available jobs do not provide adequate salaries or benefits to cover both the rising cost of living and the leftover college expenses. The Center for Economic and Policy Research recently reported that ​"only 25.2 percent of American workers have jobs that pay at least $16 per hour and provide health insurance and a pension."
Meanwhile, middle-aged workers face different but equally devastating challenges. In a corporate culture focused on keeping costs low, people in their late 40s and older are often viewed as too old to be valuable. ​"At some point in the late ​'80s and early ​'90s, a whole bunch of corporate executives' attitudes changed toward white-collar workers," says Ehrenreich. ​"Blue-collar workers were always thought to be disposable, but now they started looking at white-collar workers as just expenses to eliminate." Thus, veterans of the job market are frequently laid off with little warning and must work benefitless contract gigs to stay afloat.
To start, UP will provide a variety of services for workers, including legal resources, job placement assistance and, ultimately, insurance support. Yet its primary goal will be legislative advocacy. Modeled loosely after the AARP, members have expressed interest in lobbying Congress on urgent issues like universal health insurance, unemployment insurance and college loan reform. ​"People are feeling like their concerns have not been on top of the national agenda for a long time, and they want to change that," says Draut.
Equally important, UP hopes to provide a forum where members can share stories with people in similar predicaments and build awareness of the structural causes behind their personal struggles. Schuckett thinks it is important for the jobless to see that they are not employment anomalies, especially those who internalize the shame attached to ​"failing" despite following the prescribed formula for American success. ​"The confluence of similar stories is very important," she says. ​"I've found that I'm not alone, and that's a powerful feeling."
To achieve its goals, UP must expand its membership. Over the past seven weeks, almost 300 people have volunteered to head local chapters. And with dues of a dime a day – $36.50 a year – the cost isn't an impediment.
"[UP] brings the average middle class American citizen to the debates in Washington and advocates on their behalf," says Draut. ​"It's a model whose time has come."
The Rise of a New Left
"An engrossing, behind-the-scenes account of our decade's breakout political movement." –Atossa Araxia Abrahamian
For a limited time, when you donate $30 or more to support In These Times, we'll send you a copy of the new book, The Rise of a New Left: How Young Radicals Are Shaping the Future of American Politics, by Raina Lipsitz.

Adam Doster
, a contributing editor at In These Times, is a Chicago-based freelance writer and former reporter-blogger for Progress Illinois.