Who Benefits?
The big winners of Private Investment Accounts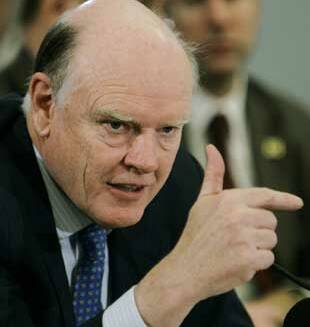 George W. Bush's plan to pri­va­tize Social Secu­ri­ty has noth­ing to do with enhanc­ing work­ers' retire­ment income. Rather, it is a scheme to redis­trib­ute mon­ey from the major­i­ty of peo­ple who work to the minor­i­ty of peo­ple who own the banks and bro­ker­age firms.
The vehi­cle for enabling the fun­da­men­tal trans­for­ma­tion of Social Secu­ri­ty — and trans­fer of wealth — is the Pri­vate Invest­ment Account (PIA). PIAs will allow cur­rent par­tic­i­pants in the Social Secu­ri­ty pro­gram to divert up to 4 per­cent of their present 12.4 per­cent pay­roll tax deduc­tion going to the Social Secu­ri­ty Trust Fund and invest it in indi­vid­u­al­ized 401(k)-type accounts man­aged by pri­vate finan­cial institutions.
Divert­ing that per­cent­age of pay­roll tax­es to PIAs will gen­er­ate what are called ​"tran­si­tion costs" of around $2 tril­lion over the com­ing decade. Social Secu­ri­ty is a ​"pay as you go" sys­tem, with those work­ing con­tribut­ing via pay­roll tax­es to pro­vide ben­e­fits for those cur­rent­ly retired or dis­abled. Since Bush has already stat­ed that ​"the one thing I'm not open-mind­ed about is rais­ing the pay­roll tax rate" (which would cov­er the pro­ject­ed short­fall), the only alter­na­tives are either to cut Social Secu­ri­ty ben­e­fits for future and/​or cur­rent retirees, or to bor­row mon­ey in pub­lic mar­kets by sell­ing Trea­sury bonds.
The Bush admin­is­tra­tion is using the con­cept of PIAs to sell the whole idea of pri­va­ti­za­tion to the pub­lic. They claim that the accounts will result in greater net income at retire­ment. But will the pub­lic real­ly ben­e­fit from divert­ing their Social Secu­ri­ty mon­ey into PIAs? As they say in finan­cial cir­cles, ​"let's do the numbers."
To begin with, the his­toric long run net return on T‑Bonds in the Social Secu­ri­ty Trust Fund, adjust­ed for infla­tion, is around 3 per­cent. In order for par­tic­i­pants to do bet­ter by divert­ing their pay­roll tax­es, they would have to earn more than 3 per­cent after infla­tion by invest­ing in stocks in their PIAs. But the rate of return on stock invest­ments may aver­age zero per­cent or less for years or even decades, as it did between 1901 – 1921, 1928 – 1948, or 1962 – 1982. In nor­mal peri­ods, stocks aver­age 3.7 per­cent annu­al returns over the long run, only 0.7 per­cent more on aver­age than returns in the cur­rent system.
A Feb­ru­ary 4 study by the Cen­ter on Bud­get and Pol­i­cy Pri­or­i­ties paints an even dark­er pic­ture. A work­er retir­ing in 2042 after hav­ing earned aver­age com­pen­sa­tion would ordi­nar­i­ly receive about $20,000 a year in Social Secu­ri­ty ben­e­fits. If noth­ing at all were done to off­set a Social Secu­ri­ty Fund short­fall due in 2042, and all future ben­e­fits were paid to that work­er out of pay­roll tax­es at the time, that work­er would still receive approx­i­mate­ly $18,000 in ben­e­fits. With the Bush plan, that same work­er would have his ben­e­fits reduced to less than $15,000 a year, accord­ing to the center's analyses.
So who are the real win­ners here? The answer is clear: Big Finance.
Con­gress has already used $1.6 tril­lion of the Social Secu­ri­ty sur­plus over the last 20 years to cov­er the gen­er­al U.S. bud­get deficit. The diver­sion of pay­roll tax­es to PIAs means that, at min­i­mum, anoth­er $2 tril­lion would be divert­ed from the Social Secu­ri­ty Trust Fund. The banks, Wall Street bro­kers, insur­ance com­pa­nies, mutu­al funds and oth­er finan­cial insti­tu­tions that will man­age and manip­u­late the PIAs will direct­ly ben­e­fit. Those finan­cial insti­tu­tions will charge admin­is­tra­tive fees of typ­i­cal­ly around 2 per­cent, not to men­tion a vari­ety of oth­er relat­ed charges, such as when a par­tic­i­pant switch­es from one PIA fund to anoth­er, leaves or re-enters the work­force or arranges for annu­ities at retirement.
But the biggest gains to finan­cial insti­tu­tions will come not from fees but from the inter­est they'll charge for financ­ing the fed­er­al government's bor­row­ing of $2 tril­lion tran­si­tion costs. Trea­sury Sec­re­tary John Snow has already indi­cat­ed that the Bush admin­is­tra­tion will offer Trea­sury Bonds to the big finan­cial insti­tu­tions at above nor­mal rates of inter­est. Even more poten­tial­ly lucra­tive are the rev­enue and prof­it streams from rein­vest­ing the sev­er­al tril­lion dol­lars worth of PIA funds they will manage.
Bush and his advis­ers know they could cor­rect the alleged $3.7 tril­lion short­fall by 2042 (or 2052) with­out intro­duc­ing PIAs, through mod­est increas­es in the pay­roll tax for wealth­i­er tax­pay­ers; an exten­sion of the estate tax, cur­rent­ly sched­uled to expire after 2009; or sim­ply revers­ing Bush's pro­ject­ed $11 tril­lion tax cuts for mil­lion­aires through 2042. But the administration's objec­tive is just the oppo­site — to dis­man­tle Social Secu­ri­ty as we know it and replace it with a total­ly pri­va­tized retire­ment sys­tem that ben­e­fits cor­po­rate interests.
A longer ver­sion of this arti­cle can be found in his book The War at Home: The Cor­po­rate Offen­sive from Rea­gan to Bush.
Jack Ras­mus
, pro­fes­sor of eco­nom­ics and polit­i­cal econ­o­my at San­ta Clara Uni­ver­si­ty and St. Marys Col­lege, is author of
Epic Reces­sion: Pre­lude to Glob­al Depres­sion
, and
The War at Home: The Cor­po­rate Offen­sive From Ronald Rea­gan to George W. Bush
. His forth­com­ing book (
2011
) is
Obama's Econ­o­my: Why Recov­ery Failed. What's Next?
Ras­mus has pub­lished numer­ous arti­cles in
Z
mag­a­zine,
Cri­tique, Amand­la, Against the Cur­rent, the Dis­patch­er
and oth­er periodicals.