Who Is John Galt? Now We Know!
On financial meltdowns and government shutdowns.
What is the ongo­ing U.S. gov­ern­ment shut­down real­ly about? In the mid­dle of April 2009, I was tak­ing a rest in a hotel room in Syra­cuse, N.Y. and jump­ing between two chan­nels: a PBS doc­u­men­tary on Pete Seeger, the great Amer­i­can coun­try singer of the Left, and a Fox News report on a coun­try singer of the anti-tax ​"Tea Par­ty," who was per­form­ing a pop­ulist, anti-Oba­ma song full of com­plaints about how Wash­ing­ton is tax­ing the hard-work­ing ordi­nary peo­ple to finance the rich Wall Street financiers.
Quite a lot of things have to be regulated if we are to enjoy our non-regulated freedom. A Tea Party member cannot go to an anti-Obama protest if he is busy choosing his water company (the ONLY good argument for water supply deregulation I can think of!)
There was the weird sim­i­lar­i­ty between the two singers. For­mu­lat­ing an anti-estab­lish­ment pop­ulist com­plaint against both the exploita­tive rich and the gov­ern­ment, they called for rad­i­cal mea­sures, includ­ing civ­il dis­obe­di­ence. It was anoth­er painful reminder that today's rad­i­cal-pop­ulist Right strange­ly reminds us of the old rad­i­cal-pop­ulist Left. Are today's Chris­t­ian sur­vival­ist-fun­da­men­tal­ist groups, with their half-ille­gal sta­tus, see­ing the main threat to their free­dom in the oppres­sive state appa­ra­tus, not sim­i­lar to the Black Pan­thers back in the 1960s?
The dif­fer­ence is the fun­da­men­tal irra­tional­i­ty of the Tea Par­ty agen­da: to pro­tect the inter­est of the hard-work­ing ordi­nary peo­ple by way of priv­i­leg­ing the ​"exploita­tive rich" and thus lit­er­al­ly coun­ter­ing their own inter­ests. One of the weird con­se­quences of the 2008 finan­cial melt­down and the mea­sures tak­en to coun­ter­act it (enor­mous sums of mon­ey to help banks) was the revival in the work of Ayn Rand, the clos­est one can come to the ide­ol­o­gist of the ​"greed is good" rad­i­cal cap­i­tal­ism. The sales of her mag­num opus Atlas Shrugged explod­ed again. Accord­ing to some reports, there are already signs that the sce­nario described in Atlas Shrugged—the cre­ative cap­i­tal­ists them­selves going on strike — is being enact­ed. The ridicule of this reac­tion is that it total­ly mis­reads the sit­u­a­tion: Most of the gigan­tic sums of bail-out mon­ey went pre­cise­ly to the Ran­di­an dereg­u­lat­ed ​"titans" who failed in their ​"cre­ative" schemes and there­by brought about the melt­down. It is not the great cre­ative genius­es who are now help­ing lazy ordi­nary the peo­ple, the ordi­nary tax­pay­ers, who are help­ing the failed ​"cre­ative genius­es." One should sim­ply recall that the ide­o­logi­co-polit­i­cal father of the long eco­nom­ic process that end­ed up in the 2008 melt­down was Alan Greenspan, a card-car­ry­ing Ran­di­an ​"objec­tivist." Now we final­ly know who John Galt is — the idiot respon­si­ble for the 2008 finan­cial melt­down and, con­se­quen­tial­ly, for the ongo­ing shutdown.
How long will this mas­ter­ful ide­o­log­i­cal manip­u­la­tion con­tin­ue to work?
An opin­ion poll in the Unit­ed States at the end of June 2012 showed that a strong major­i­ty, though they oppose Oba­macare, strong­ly sup­port most of its pro­vi­sions. Here we encounter ide­ol­o­gy at its purest: the major­i­ty wants to have its (ide­o­log­i­cal) cake and eat the (real) cake. They want the real prof­its of the health­care reform, while reject­ing its ide­o­log­i­cal form, which they per­ceive as the threat to the ​"free­dom of choice." They reject the con­cept of fruit, but they want apples, plums, strawberries…
Some of us remem­ber the old infa­mous Com­mu­nist tirades against the bour­geois ​"for­mal" free­dom. Ridicu­lous as they were, there is a moment of truth in the dis­tinc­tion between ​"for­mal" and ​"actu­al" free­dom. A man­ag­er in a com­pa­ny in cri­sis has the ​"free­dom" to fire work­ers A or B, etc., but not the free­dom to change the sit­u­a­tion that impos­es on him this choice. The moment we approach the health­care debate in this way, the ​"free­dom to choose" appears in a dif­fer­ent way. True, a large part of the pop­u­la­tion will be effec­tive­ly deliv­ered of the dubi­ous ​"free­dom" to wor­ry about who will cov­er their ill­ness, to find a way in the intri­cate net­work of finan­cial and oth­er deci­sions. Being able to take basic health­care for grant­ed — to count on it like one counts on the water sup­ply or elec­tric­i­ty, with­out wor­ry­ing about choos­ing one's water or elec­tric com­pa­ny — they will sim­ply gain more time and ener­gy to ded­i­cate their lives to oth­er things. The les­son to be learned is thus that the free­dom of choice is some­thing that actu­al­ly func­tions only if a com­plex net­work of legal, edu­ca­tion­al, eth­i­cal, eco­nom­ic and oth­er con­di­tions exists as the invis­i­ble thick back­ground of the exer­cise of our freedom.
This is why, as a counter-poi­son to the ide­ol­o­gy of choice, coun­tries like Nor­way should be held as a mod­el: Although all main agents respect a basic social agree­ment and large social projects are enact­ed in sol­i­dar­i­ty, social pro­duc­tiv­i­ty and dynam­ics are at an extra­or­di­nary lev­el, flat­ly deny­ing the com­mon wis­dom that such a soci­ety should be stagnating.
Not many peo­ple know — and even a less­er num­ber of them appre­ci­ates the irony of the fact — that Frank Sinatra's icon­ic song ​"I'll do it my way," sup­posed to ren­der the Amer­i­can indi­vid­u­al­ist atti­tude, is the Amer­i­can­ized ver­sion of the French song ​"Comme d'habitude," which means ​"as usu­al, as it is cus­tom­ary." It is all too easy to see this pair of songs as yet anoth­er exam­ple of the oppo­si­tion between ster­ile French man­ners and Amer­i­can inven­tive­ness (the French fol­low estab­lished cus­toms, while Amer­i­cans look for new solu­tions) — but what if we drop the false appear­ance of oppo­si­tion and dis­cern in the habit the hid­den sad truth of the much-praised search for new ways? In order to be able to do it my way, each of us has to rely on quite a lot of things going on comme d'habitude. Quite a lot of things have to be reg­u­lat­ed if we are to enjoy our non-reg­u­lat­ed free­dom. A Tea Par­ty mem­ber can­not go to an anti-Oba­ma protest if he is busy choos­ing his water com­pa­ny (the ONLY good argu­ment for water sup­ply dereg­u­la­tion I can think of!)
So we are con­fronting here a tough choice. One often hears that the shut­down is the result of nar­row par­ti­san bick­er­ing, that politi­cians should learn to rise above it and find broad bi-par­trisan solu­tions for the good of the nation. Not only the Tea Par­ty peo­ple, but also Pres­i­dent Oba­ma is accused of divid­ing the Amer­i­can peo­ple instead of bring­ing them all togeth­er — but what if this, pre­cise­ly, is what is good about him? In sit­u­a­tions of deep cri­sis, an authen­tic divi­sion is urgent­ly need­ed — a divi­sion between those who want to drag on with­in the old para­me­ters and those who are aware that change is nec­es­sary. Such a divi­sion, not oppor­tunis­tic com­pro­mis­es, is the only path to even­tu­al true unity.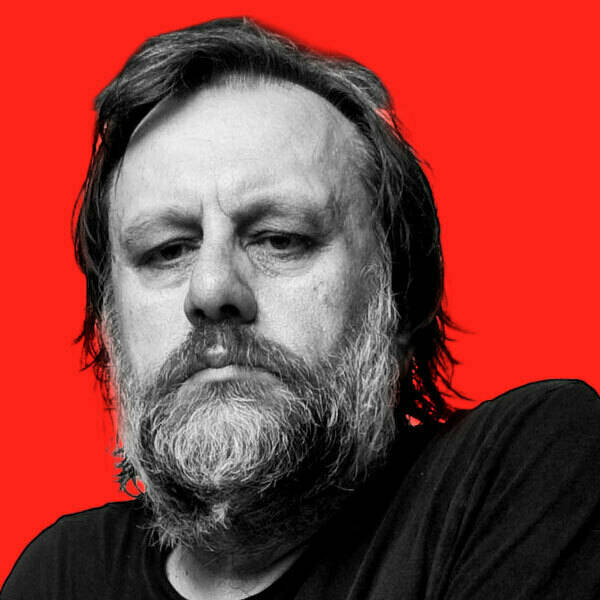 Slavoj Žižek
, a Sloven­ian philoso­pher and psy­cho­an­a­lyst, is a senior researcher at the the Insti­tute for Human­i­ties, Birk­beck Col­lege, Uni­ver­si­ty of Lon­don. He has also been a vis­it­ing pro­fes­sor at more than
10
uni­ver­si­ties around the world. Žižek is the author of many books, includ­ing Liv­ing in the End Times, First As Tragedy, Then As Farce, The Year of Dream­ing Dan­ger­ous­ly and Trou­ble in Paradise.