Why Do They Want to Do Us Harm? [Part One]
Helen Thomas asked the question. The White House stonewalled. Here are the answers.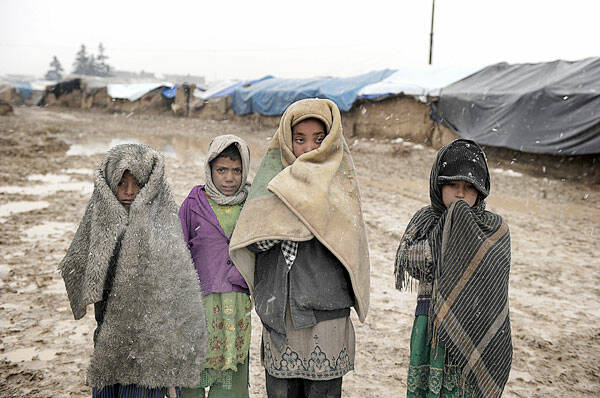 On Jan­u­ary 8, Pres­i­dent Barack Oba­ma held a press con­fer­ence at which he said: ​"It is clear that al Qae­da increas­ing­ly seeks to recruit indi­vid­u­als with­out known ter­ror­ist affil­i­a­tions … to do their bid­ding. … And that's why we must com­mu­ni­cate clear­ly to Mus­lims around the world that al Qae­da offers noth­ing except a bank­rupt vision of mis­ery and death … while the Unit­ed States stands with those who seek jus­tice and progress … That's the vision that is far more pow­er­ful than the hatred of these vio­lent extremists."
Maybe the callousness 'they' display toward life is a reflection of the callousness we displayed when we built the "Jihad" movement to repel the Soviet invaders of that land during the 1980s.
Oba­ma then turned the floor over to Home­land Secu­ri­ty Sec­re­tary Janet Napoli­tano and ter­ror­ism expert John Bren­nan, for­mer chair­man of the Nation­al Coun­tert­er­ror­ism Cen­ter, who spoke and took ques­tions from the assem­bled reporters, includ­ing Helen Thomas, the 89-year-old grand dame of the White House press corps. The fol­low­ing exchange ensued:
Helen Thomas: What is real­ly lack­ing always for us, is, you don't give the moti­va­tion of why they want to do us harm.
Janet Napoli­tano: The screen­ing at Schiphol Air­port was done by Dutch author­i­ties, and they did the screen­ing that was described to you ear­li­er this after­noon. The hand lug­gage was screened, the pass­port was checked, he went through a mag­ne­tome­ter, but it was done by Dutch authorities.
HT: And what is the moti­va­tion? We nev­er hear what you find out of ​'why'?
John Bren­nan: Al Qae­da is an orga­ni­za­tion that is ded­i­cat­ed to mur­der and slaugh­ter of inno­cents. What they have done over the past decade and a half, two decades, is to attract indi­vid­u­als like Mr. [Umar Farouk] Abdul­mu­tal­lab and use them for these types of attacks. He was moti­vat­ed by a sense of reli­gious sort of dri­ve. Unfor­tu­nate­ly, al Qae­da has per­vert­ed Islam and has cor­rupt­ed the con­cept of Islam so that they are able to attract these kinds of indi­vid­u­als. But al Qae­da has the agen­da of destruc­tion and death.
HT: Are you say­ing that it is because of religion?
JB: I am say­ing that it is because of an al Qae­da orga­ni­za­tion that uses the ban­ner of reli­gion in a very per­verse and cor­rupt way.
HT: Why?
JB: This is a long issue, but al Qae­da is just deter­mined to car­ry out attacks here against the homeland.
HT: But you haven't explained why.
Her ques­tion went unan­swered, and anoth­er reporter spoke up, return­ing to the safe sub­ject of air­port screen­ing procedures.
Since the Oba­ma White House, like the Bush White House before it, was unable, or unwill­ing, to address Thomas' ques­tion, In These Times asked a num­ber of promi­nent activists, intel­lec­tu­als and for­eign pol­i­cy experts ​"why they want to do us harm." We present their answers on the fol­low­ing pages.
In These Times also put that ques­tion to Helen Thomas. Here is what she said:
Why do you think ​"they want to do us harm?"
Because of West­ern colo­nial­iza­tion. The Unit­ed States has no right to be in their countries.
Why do you think the admin­is­tra­tion is so loath to answer this question?
Because we invad­ed Iraq under lies. It's also dif­fi­cult for them to jus­ti­fy our intru­sion in Afghanistan, which is caus­ing death all around – includ­ing for us. There's no real log­ic in going halfway around the world to kill peo­ple because we don't like their government.
What has the response been from your col­leagues in the White House press corps to your persistence?
Silence.
What do you think peo­ple can do to push our lead­ers to bet­ter answer this question?
Peo­ple should protest wars that are not explained, and where no real rea­son is giv­en for being in for­eign coun­tries. They should seek the truth and demand that the gov­ern­ment stop using fear to repute inno­cent people.
Will you ask this ques­tion again?
Of course. The ques­tion is: Will I get an answer?
—In These Times Edi­tor Joel Bleifuss
The Human Cost
By Jodie Evans
In America's cur­rent mil­i­tary offen­sive in Hel­mand Province – the very one tout­ed as the first step toward ​"vic­to­ry" in Afghanistan – NATO airstrikes have killed at least 60 civilians.
Gayle Bran­deis, an author and CODE­PINK mem­ber, wrote elo­quent­ly about the very real emo­tion­al and human cost of this war:
As I write this, my three-month-old baby has pneu­mo­nia. My moth­er took her own life a week after the baby was born, so I feel espe­cial­ly vul­ner­a­ble right now, espe­cial­ly attuned to poten­tial loss. In this raw, open state, the lat­est news from Afghanistan hits hard.
Last week­end, 12 mem­bers of one Afghan fam­i­ly – includ­ing six chil­dren – were killed dur­ing NATO's offen­sive in Mar­jah. As I grap­ple with the grief over my mom's death, as well as wor­ry over my sick baby, I can't begin to com­pre­hend the grief of those affect­ed by this mas­sive loss. NATO Com­man­der, U.S. Gen. Stan­ley McChrys­tal, has apol­o­gized to Pres­i­dent Karzai, but how can his words be any­thing but cold and emp­ty to those left behind?
Leav­ing aside the fact that the famous­ly cor­rupt Pres­i­dent Karzai and his war­lord cronies are them­selves obsta­cles to peace, McChrystal's words are a futile attempt to undo the dam­age done not only to these fam­i­lies in Hel­mand Province, but to the stat­ed mis­sion of NATO's engage­ment in the region – elim­i­nat­ing the Tal­iban and their influ­ence. An Afghan friend put it this way: ​"Mil­i­tary log­ic is flawed from incep­tion." McChrystal's strat­e­gy implies that Tal­iban recruits sim­ply mate­ri­al­ize out of the ether. Rather, in an envi­ron­ment of vio­lence, they are a self-renew­ing resource, invig­o­rat­ed by mil­i­tary aggres­sion, swelling the ranks of America's very own ​"ene­my." When a NATO airstrike rips through a fam­i­ly com­pound or con­voy, each of these dead human beings has a fam­i­ly and a com­mu­ni­ty – peo­ple who cared for them; peo­ple who are easy marks for Tal­iban masterminds.
Preda­tor drones, Assault Breach­er Vehi­cles, vio­lence or Blackwater/​Xe con­tracts will not elim­i­nate the cir­cum­stances that dri­ve peo­ple to the Tal­iban – pover­ty, lack of edu­ca­tion and human rights vio­la­tions. For all of the bil­lions siphoned from the bud­get for mil­i­tary spend­ing, our actions could have sent Afghanistan on the road to peace and devel­op­ment long ago – by invest­ing those same bil­lions into pro­grams for women and chil­dren, sus­tain­able employ­ment, farm­ing and infrastructure.
The 60-plus peo­ple killed by NATO are sur­vived by broth­ers, sis­ters, chil­dren, par­ents and com­mu­ni­ty mem­bers who are ripe for the Taliban's pick­ing. The sur­vivors suf­fer under a 71.9 per­cent illit­er­a­cy rate, extreme pover­ty and prac­ti­cal­ly no means of mass com­mu­ni­ca­tion. The Tal­iban knows this. They know exact­ly who wants ​"to do us harm" and why. Appar­ent­ly, and trag­i­cal­ly, Home­land Secu­ri­ty chief Janet Napoli­tano and coun­tert­er­ror­ism advis­er John Bren­nan – the very peo­ple who should be most pre­pared to answer this ques­tion – do not.
Who Are ​
'

They'?
By Imam Zaid Shakir
To a large extent, ​"they" are sim­ply a micro­cos­mic mir­ror image of the extrem­ist vio­lence per­pe­trat­ed by a hege­mon­ic state dom­i­nat­ed by elites that have reserved the right to use high-tech mil­i­tary machin­ery to sys­tem­at­i­cal­ly dec­i­mate coun­tries, rip apart their social fab­rics and direct­ly or indi­rect­ly kill hun­dreds of thou­sands of peo­ple, as has hap­pened in Iraq.
In that coun­try, ​"they" might be the rel­a­tive of some­one who died of typhoid or diar­rhea from drink­ing sewage-con­t­a­m­i­nat­ed water because ​"we" thought it a noble strat­a­gem of war to destroy that country's san­i­ta­tion sys­tem dur­ing the 1991 Desert Storm oper­a­tion. ​"They" might be some­one whose home was blown away dur­ing the ​"Shock and Awe" cam­paign that inau­gu­rat­ed the cur­rent war in March 2003. Maybe ​"they" know of Abeer Hamza al-Jan­abi, the 14-year-old Iraqi girl who was gang raped by a com­pa­ny of US Army sol­diers, who then mur­dered her and her entire fam­i­ly, includ­ing her 6‑year-old sis­ter, Hadeel, and burned their bod­ies to hide the evi­dence of their grue­some crime.
Per­haps ​"they" are from Afghanistan. Maybe the cal­lous­ness ​"they" dis­play toward life is a reflec­tion of the cal­lous­ness we dis­played when we built the ​"Jihad" move­ment to repel the Sovi­et invaders of that land dur­ing the 1980s, and after accom­plish­ing that mis­sion cal­lous­ly walked away, leav­ing the coun­try to endure almost a decade of mur­der­ous anar­chy that cul­mi­nat­ed in the rise of the Tal­iban and Osama bin Laden. Per­haps the alien­ation ​"they" dis­play is a pathet­ic par­o­dy of the Mujahideen ​"we" created.
Maybe ​"they" are rot­ting in a slum in Casablan­ca or Cairo, or fes­ter­ing in a class­room in Lagos or Lahore, and ​"they" have seen images from Iraq, or Afghanistan, or Gaza. When ​"their" anger is com­bined with the angst gen­er­at­ed by glob­al­ized eco­nom­ic forces ​"they" can­not under­stand, forces that have mar­gin­al­ized and in some cas­es ren­dered irrel­e­vant their lives and their reli­gion, the two sources of mean­ing in the world ​"they" thought ​"they" had inher­it­ed from ​"their" fore­fa­thers, ​"they" are easy prey to skilled recruiters who promise ​"them" both mean­ing in this world, and a free pass to Par­adise in the next by mind­less­ly strik­ing out at what ​"they" are led to believe is the source of ​"their" misery.
"They" prob­a­bly have nev­er stopped to reflect on how vio­lence is used by neo­fas­cist pun­dits and politi­cians to advance a cli­mate of fear and mis­un­der­stand­ing that makes it more like­ly that even ordi­nar­i­ly well-mean­ing Amer­i­cans will sup­port poli­cies that will lead to more bomb­ing, maim­ing and mur­der­ing of Mus­lims – and even­tu­al­ly oth­ers – all around the globe. For this small minor­i­ty, ​"their" obses­sion with Islam as a polit­i­cal ide­ol­o­gy prob­a­bly ren­ders ​"them" total­ly obliv­i­ous to the reli­gious mes­sage of Islam as a his­tor­i­cal world reli­gion that advances the sanc­ti­ty of life, espe­cial­ly the life of inno­cent, non­com­bat­ant peo­ples, the refine­ment of the spir­it and patient, dig­ni­fied, prin­ci­pled resis­tance when con­front­ed with the usurp­ing vagaries of ​"their" fel­low humans.
Revenge = Peace
David Potor­ti
Back in 2001, one of the first peo­ple who reached out to our new­ly form­ing 9⁄11 group, Sep­tem­ber 11th Fam­i­lies for Peace­ful Tomor­rows, was Yitzhak Franken­thal, an Ortho­dox Jew whose 19-year-old son, Arik, had been mur­dered by Hamas while serv­ing in the Israeli army in 1994. In response, Franken­thal had estab­lished The Par­ents Cir­cle-Fam­i­lies Forum, a group of Israeli and Pales­tin­ian par­ents who lost loved ones as a result of the con­flict and were call­ing for rec­on­cil­i­a­tion and an end to the cycle of violence.
Some months lat­er we met with Franken­thal to swap notes about our respec­tive orga­ni­za­tions. One of the stat­ed goals of our 9⁄11 fam­i­lies group was to ​"encour­age a mul­ti­lat­er­al, col­lab­o­ra­tive effort to bring those respon­si­ble for the Sep­tem­ber 11, 2001, attacks to jus­tice in accor­dance with the prin­ci­ples of inter­na­tion­al law." We believed that trans­par­ent pub­lic tri­als would val­i­date our sys­tem of laws that had been so bad­ly shak­en by the events of that day.
But Franken­thal zeroed in on the word ​"jus­tice." For some, he said, revenge was jus­tice. Ret­ri­bu­tion was jus­tice. Vio­lence was jus­tice. In fact, we already knew there were many out­side the Unit­ed States who viewed the 9⁄11 attacks as a kind of jus­tice for Amer­i­can for­eign pol­i­cy, for our arro­gance, our blind­ness to the pain and suf­fer­ing our actions have caused to inno­cent civil­ians – ​"col­lat­er­al dam­age" – around the world.
It is the pur­suit of jus­tice that dri­ves many of those who hate us. To those on the receiv­ing end of Amer­i­can poli­cies, what would jus­tice look like in response to Guan­tanamo, where men have been tor­tured, held with­out charge or tri­al, and now remain in a state of indef­i­nite deten­tion? What would jus­tice look like to the ever-grow­ing Amer­i­can mil­i­tary pres­ence and ever-increas­ing civil­ian deaths in Afghanistan? To the con­tin­u­ing occu­pa­tion of Iraq that has killed or made refugees of so many civil­ians? To esca­lat­ing drone strikes in Pak­istan that kill increas­ing num­bers of civilians?
We know what jus­tice looked like to Najibul­lah Zazi, who said he was moti­vat­ed to plot an attack on New York City sub­ways in response to civil­ian deaths in his home coun­try of Afghanistan. We know what jus­tice looked like to Fort Hood shoot­er Army Major Nidal Malik Hasan, who was moti­vat­ed by Amer­i­can actions in Iraq and Afghanistan. They, too, need to con­sid­er the mean­ing of justice.
And it's not only them.
When Oba­ma was elect­ed, many Amer­i­cans imag­ined that jus­tice would come in the form of a break from the poli­cies of the Bush admin­is­tra­tion, that Amer­i­ca would return to the rule of law and adhere to what Thomas Jef­fer­son described in the Dec­la­ra­tion of Inde­pen­dence as ​"a decent respect for the opin­ions of mankind." What Oba­ma has giv­en them is not only a con­tin­u­a­tion of Bush poli­cies, but their cod­i­fi­ca­tion into law. For those Amer­i­cans, what does jus­tice look like now?
As Franken­thal brave­ly said of the mur­der of his son, and as many of us who suf­fered loss­es on 9⁄11 believe, ​"My revenge is peace."
A Per­fect Storm
By Ralph Seliger
There is no sin­gle rea­son ​"why they want to do us harm," but a con­flu­ence of con­di­tions can be likened to a per­fect storm.
In 2002, the Unit­ed Nations Devel­op­ment Pro­gram released a report on socioe­co­nom­ic con­di­tions in the Arab world, com­piled by Arab experts under the direc­tion of an Egypt­ian sta­tis­ti­cian, which detailed a dis­mal pic­ture of eco­nom­ic stag­na­tion, illit­er­a­cy and pover­ty, as well as sci­en­tif­ic and tech­no­log­i­cal back­ward­ness. This sad real­i­ty had not changed when the same UN agency updat­ed its work in 2009. But pover­ty, social injus­tice and igno­rance only form a par­tial well­spring for the phe­nom­e­non of ter­ror­ist Jihadism.
Failed states and embat­tled Mus­lim coun­tries – like Soma­lia, Afghanistan, Iraq, Yemen and Pak­istan – pro­vide the phys­i­cal and polit­i­cal space for the Jiha­di move­ment to find shel­ter and grow. And the many exam­ples of Mus­lim major­i­ty coun­tries engulfed in con­flict pro­vide graph­ic imagery of vio­lent suf­fer­ing tele­vised and Web­cast across the globe. These ter­ri­ble events con­tribute to a coher­ent ide­o­log­i­cal nar­ra­tive of griev­ances against Mus­lims, both real and imag­ined, that serve to recruit sol­diers for the cause. (Iron­i­cal­ly, most of the worst instances of car­nage are pro­duced by the Jihadis them­selves attack­ing oth­er Muslims.)
And the leg­endary glo­ries of Arab rule – a vast empire under the Caliphs, more than a thou­sand years ago – pro­vide inspi­ra­tion for a polit­i­cal vision that is at once intox­i­cat­ing and imprac­ti­cal. The hoped for return to this his­toric mod­el of Islam­ic or Arab suprema­cy salves injuries felt keen­ly from more recent episodes of Euro­pean dom­i­na­tion, aggres­sive U.S. for­eign poli­cies and the mil­i­tary ascen­dan­cy of the State of Israel.
So long as a solu­tion for Pales­tin­ian state­less­ness remains elu­sive, this last mat­ter is a fes­ter­ing sore, but Pales­tin­ian suf­fer­ing was not a moti­va­tion for bin Laden to break with the Sau­di roy­al fam­i­ly and become an inter­na­tion­al out­law. This came with the Sau­di deci­sion to base U.S. and oth­er ​"infi­del" forces on its ter­ri­to­ry, the Mus­lim holy land, fol­low­ing Sad­dam Hussein's inva­sion and con­quest of Kuwait in 1990.
In addi­tion, there is sure­ly a psy­cho­log­i­cal com­po­nent to what draws some peo­ple to a dis­tort­ed reli­gious piety and/​or a search for mean­ing or adven­ture that set them on a mur­der­ous or oth­er­wise hate­ful course. We in the West can move more force­ful­ly to elim­i­nate the imme­di­ate con­crete basis for Jiha­di belief sys­tems. These should include a pref­er­ence for diplo­ma­cy, wher­ev­er pos­si­ble, over harsh rhetoric and mil­i­tary action, and a con­sis­tent and con­cert­ed effort to end the wars in Iraq and Afghanistan, as well as the Israeli-Arab con­flict. But the com­plex nature of these prob­lems, plus the fanat­i­cal, uncom­pro­mis­ing char­ac­ter of Jihadism, make almost any course of action exceed­ing­ly dif­fi­cult and uncer­tain in its outcome.