Why Eric Garner Couldn't Breathe
The chokehold is only half the story of homicidal violence.
Update: On Aug. 19, 2019, the NYPD announced it had fired Daniel Pantaleo​, the police offi­cer who put Eric Gar­ner in a chokehold.
Even when used alone, extended prone restraint—placing a suspect facedown, hogtied or with hands cuffed behind—has caused untold in-custody deaths by suffocation and is therefore prohibited by many police departments, including the NYPD.
When New York City police arrest­ed and sub­dued Eric Gar­ner, he fit a pro­file: an unco­op­er­a­tive black man com­mit­ting a pet­ty crime. But the pro­file that police should have rec­og­nized — and the one that Gar­ner fit per­fect­ly — was of some­one vul­ner­a­ble to a dan­ger­ous com­bi­na­tion of banned law enforce­ment prac­tices used rou­tine­ly across the coun­try with impuni­ty, and some­times fatal results.
Con­trary to con­ven­tion­al wis­dom, it was not the choke­hold alone that killed Gar­ner. And it was not sole­ly Offi­cer Daniel Pan­ta­leo who was respon­si­ble for the homi­cide of the unarmed 43-year-old African-Amer­i­can man arrest­ed for a ​"qual­i­ty-of-life" offense under ​"bro­ken win­dows polic­ing" that encour­ages arrest for even the most triv­ial crimes — in Garner's case, sell­ing ​"loosies," unpack­aged cig­a­rettes, on a Stat­en Island street.
The video of his death, which went viral and sparked protests, shows Pantaleo's arm tight­ened around Garner's neck. It also shows a clus­ter of offi­cers, includ­ing Pan­ta­leo, kneel­ing on Garner's back and press­ing his face, mouth and nose to the pave­ment as he lay face­down, hands cuffed behind him, plead­ing— at least 11 times — ​"I can't breathe."
The Office of the City Med­ical Exam­in­er ruled Garner's death a homi­cide, cit­ing both ​"com­pres­sion of neck (choke­hold) [and] com­pres­sion of chest and prone posi­tion­ing dur­ing phys­i­cal restraint by police."
First, about the choke­hold: Accord­ing to his lawyer, Pan­ta­leo told the offi­cial inquiry he ​"nev­er exert­ed any pres­sure on the windpipe."
His denial, even if true, is large­ly irrel­e­vant. There are two main types of choke­holds, and dur­ing a strug­gle, one may eas­i­ly slide into the oth­er. Pres­sure to the wind­pipe — an air choke — direct­ly cuts off the abil­i­ty to breathe and can kill quick­ly. Pres­sure to the veins and arter­ies of the neck — a blood or carotid choke — stops blood flow­ing to and from the brain and cuts off its oxygen.
Both holds can kill, and that is why, back in 1993, the NYPD banned them. Chief John F. Tim­o­ney, then com­man­der of the department's Office of Man­age­ment Analy­sis and Plan­ning, said: ​"Basi­cal­ly, stay the hell away from the neck. That's what [the pol­i­cy] says."
And then, Garner's sec­ond cause of death: posi­tion­al asphyx­ia caused by ​"com­pres­sion of chest and prone posi­tion­ing." Even when used alone, extend­ed prone restraint — plac­ing a sus­pect face­down, hogtied or with hands cuffed behind — has caused untold in-cus­tody deaths by suf­fo­ca­tion and is there­fore pro­hib­it­ed by many police depart­ments, includ­ing the NYPD. But when offi­cers also kneel or push on the restrained person's back or neck, as they did with Gar­ner, the dan­ger of posi­tion­al asphyx­ia esca­lates. And when the sus­pect has been pep­per sprayed, is intox­i­cat­ed or has med­ical con­di­tions such as Garner's — obe­si­ty, asth­ma and a weak heart — the dan­ger skyrockets.
Dr. Michael Baden, for­mer NYC chief med­ical exam­in­er and lat­er State Police chief foren­sic pathol­o­gist, who was hired by the Gar­ner fam­i­ly to review the autop­sy report, told the New York Times: ​"Obese peo­ple espe­cial­ly, lying face down, prone, are unable to breathe when enough pres­sure is put on their back. The pres­sure pre­vents the diaphragm from going up and down, and he can't inhale and exhale.''
The cell phone video shows that even after Pan­ta­leo released the choke­hold, and Gar­ner was cuffed, hun­dreds of pounds of cop flesh pushed down on him. His strug­gle against that weight was evi­dence not of vital­i­ty and aggres­sion, but rather of des­per­a­tion to change posi­tion so that he could breathe.
"The nat­ur­al reac­tion to oxy­gen defi­cien­cy occurs — the per­son strug­gles more vio­lent­ly," a 1995 Nation­al Law Enforce­ment Tech­nol­o­gy Cen­ter bul­letin warned. The strug­gle aggra­vates the asphyx­ia by increas­ing the heart rate and caus­ing car­bon diox­ide to build up in the lungs.
Ill-trained or angry police who dou­ble down on restraint when a hand­cuffed cap­tive thrash­es are clear­ly vio­lat­ing pro­ce­dure. ​"As soon as the sus­pect is hand­cuffed, get him off his stom­ach," the NYPD's Guide­lines to Pre­vent­ing Deaths in Cus­tody state. ​"Turn him on his side or place him in a seat­ed posi­tion. If he con­tin­ues to strug­gle, do not sit on his back."
The fact that Gar­ner had med­ical con­di­tions increas­ing his vul­ner­a­bil­i­ty to posi­tion­al asphyx­ia was not read­i­ly know­able. But that he was obese and strug­gling to breathe — even after the choke­hold that com­pro­mised him was released — was obvi­ous. That, once hand­cuffed and down, he was not imme­di­ate­ly turned over or allowed to sit up was both a vio­la­tion of long-stand­ing pol­i­cy and, ulti­mate­ly, homicidal.
And by fail­ing to act after Gar­ner became comatose, police fur­ther vio­lat­ed pol­i­cy — and pos­si­bly the law. The NYPD patrol guide warns that offi­cers are required to ​"inter­vene if the use of force against a sub­ject clear­ly becomes exces­sive. Fail­ure to do so may result in both crim­i­nal and civ­il liability."
The FBI issues sim­i­lar injunc­tions. To avoid in-cus­tody injury or death, offi­cers should ​"mon­i­tor sub­jects care­ful­ly for breath­ing difficulties/​loss of con­scious­ness. Be pre­pared to admin­is­ter CPR. Obtain med­ical assis­tance immediately."
"He didn't die because he stopped breath­ing on his own," said his sis­ter, Ell­isha Flagg. ​"He died because some­one took his breath away."
And the EMTs who arrived on the scene made no effort to give it back. Faced with the limp, uncon­scious man, they were bizarrely pas­sive, fail­ing to apply an oxy­gen mask, to ensure that Garner's air­way was clear or to assess his con­di­tion in any way beyond seek­ing a pulse.
Prone restraint and result­ing posi­tion­al asphyx­ia have been impli­cat­ed in numer­ous in-cus­tody deaths on the street and in pris­ons. And if police depart­ments are unmoved by com­pas­sion, they might con­sid­er lia­bil­i­ty. Even though offi­cers escape crim­i­nal charges, civ­il courts have levied mil­lions of dol­lars in settlements.
In 2013, Ethan Say­lor, who had Down syn­drome, refused to leave a Mary­land movie the­ater because he want­ed to see the film again. Three off-duty sheriff's deputies forcibly removed the 294-pound dis­abled man. ​"They placed him [face­down] on the ground," his moth­er Pat­ti tes­ti­fied before a Sen­ate com­mit­tee, ​"prone restraint, put hand­cuffs on, and my son died of asphyx­i­a­tion on that floor of that movie the­ater for that $10 movie ticket."
Police used prone restraint on: Jon­ny Gam­mage, a Pitts­burgh man, at a traf­fic stop; Charles Dixon, an Altoona, Penn­syl­va­nia man, after a dis­tur­bance at a birth­day par­ty; Oral Brown, who was found wan­der­ing dis­ori­ent­ed in Fort Laud­erdale, Flori­da after his car crashed; and Tan­isha Ander­son, whom Cleve­land police were tak­ing for a men­tal-health eval­u­a­tion after her par­ents report­ed she had dis­turbed the peace. All died from posi­tion­al asphyx­ia in what amounts to insti­tu­tion­al­ly pro­tect­ed homicide.
In 1999, Bri­an Drum­mond, who was unarmed and men­tal­ly ill, end­ed up inva per­ma­nent veg­e­ta­tive state after cops sub­dued him. ​"Although he had offered no resis­tance, Offi­cer Bri­an McEl­haney put his knees into Mr. Drummond's back and placed the weight of his body on him. [Offi­cer Christo­pher Ned] also put his knees and placed the weight of his body on him, except that he had one knee on Mr. Drummond's neck," the Drum­mond v. City of Ana­heim tri­al tran­script not­ed. Drum­mond ​"repeat­ed­ly told the offi­cers that he could not breathe and that they were chok­ing him." One eye­wit­ness tes­ti­fied, ​"The offi­cers were laugh­ing dur­ing the course of these events."
The 9th Cir­cuit Court con­clud­ed in 2003: ​"The com­pres­sion asphyx­ia that result­ed appears with unfor­tu­nate fre­quen­cy in the report­ed deci­sions of the fed­er­al courts, and pre­sum­ably occurs with even greater fre­quen­cy on the street."
More than a decade lat­er, it seems lit­tle has changed. Acts of com­mis­sion and omis­sion by each of the many police who par­tic­i­pat­ed in or wit­nessed Garner's arrest rep­re­sent not only indi­vid­ual cul­pa­bil­i­ty, but a sys­temic fail­ure of train­ing or compliance.
It was ​"all the police [on the scene], not just one police offi­cer, that would have caused the obstruc­tion to breath­ing," foren­sic expert Michael Baden told Fox News.
By blam­ing only the choke­hold, Pantaleo's fel­low offi­cers and much of the media threw one cop under a bus that car­ries a heavy car­go of igno­rance, aggres­sion, pro­fil­ing, and need­ed reform.
The NYPD offi­cers who petu­lant­ly turned their backs on the may­or and held work slow­downs added to the impres­sion that the force is out of con­trol, and left the pub­lic jus­ti­fi­ably wary of trust­ing police with their lives.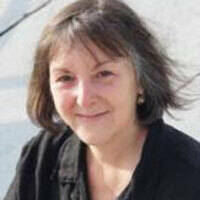 Ter­ry J. Allen
is a vet­er­an inves­tiga­tive reporter/​editor who has cov­ered local and inter­na­tion­al pol­i­tics and health and sci­ence issues. Her work has appeared in the
Guardian, Boston Globe, Times Argus, Harper's
, the Nation​.com, Salon​.com, and
New Sci­en­tist
. She has been an edi­tor at Amnesty Inter­na­tion­al,
In These Times
, and Cor​p​watch​.com. She is also a pho­tog­ra­ph­er. Her por­traits of peo­ple sit­ting in some of the
1900
cars lined up out­side a New­port, Vt., food drop can be seen on www​.flickr​.com/​p​h​o​t​o​s​/​t​e​r​r​y​a​l​l​e​n​/​a​lbums. Ter­ry can be con­tact­ed at tallen@​igc.​org or through www​.ter​ry​jallen​.com.