Why Gary Johnson Should Terrify the Democrats
The Libertarian's presidential candidacy poses a problem for Barack Obama.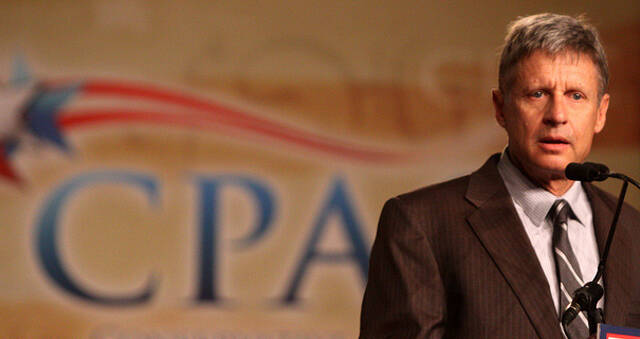 Do you val­ue the inde­pen­dent jour­nal­ism you find at In These Times? Please donate today to help us con­tin­ue pub­lish­ing arti­cles like this.
In a normal election cycle, the paradox that plagues every Libertarian candidate--too right-leaning for the left and too left-leaning for the right--would doom Johnson. But there's a wild card this year that could make things interesting: Americans Elect.
Gary John­son is, in some impor­tant ways, the can­di­date that the Left once hoped Barack Oba­ma would be. He vocal­ly oppos­es the death penal­ty, the use of tor­ture by the U.S. mil­i­tary, and the indef­i­nite deten­tion of peo­ple charged with a crime – even sus­pects charged with terrorism.
He's pro-choice. He calls for deep cuts in the defense bud­get and an imme­di­ate with­draw­al of U.S. troops from Afghanistan and from many of our mil­i­tary bases around the world. He unequiv­o­cal­ly sup­ports mar­riage rights for gays and believes that legal­iz­ing mar­i­jua­na – rather than build­ing a wall – is the key to solv­ing ille­gal immi­gra­tion. He also favors a two-year grace peri­od for immi­grants who are in the U.S. ille­gal­ly, so that they can obtain work visas and con­tin­ue liv­ing and work­ing here.
John­son is a for­mer two-term gov­er­nor of New Mex­i­co. He's also a Repub­li­can – or was, until recent­ly. He dropped out of the GOP pres­i­den­tial pri­maries in Decem­ber and is mount­ing a cam­paign to become the Lib­er­tar­i­an Party's can­di­date this fall. The nom­i­nat­ing con­ven­tion will be held in May.
What's strik­ing about John­son isn't just the fact that he's to the left of Oba­ma and most oth­er elect­ed Democ­rats on many issues. It's also his bold­ness in com­par­i­son with the Democ­rats' timid­i­ty. He's been a fierce crit­ic, for exam­ple, of the war­mon­ger­ing and civ­il-lib­er­ties abus­es by both major par­ties over the past decade. In Jan­u­ary, when he spoke the ACLU's Nation­al Staff Con­fer­ence, he called for repeal of the Patri­ot Act.
"Ten years ago," he said, ​"we learned that the fastest way to pass a bad law is to call it the ​'Patri­ot Act' and force Con­gress to vote on it in the imme­di­ate wake of a hor­ri­ble attack on the Unit­ed States. The irony is that there is real­ly very lit­tle about the Patri­ot Act that is patri­ot­ic. Instead, it has turned out to be yet anoth­er tool the gov­ern­ment is using to erode pri­va­cy, indi­vid­ual free­dom and the Con­sti­tu­tion itself."
Of course, most of Johnson's oth­er posi­tions on domes­tic pol­i­cy are out­ra­geous to pro­gres­sives. He wants an end to stim­u­lus spend­ing on ​"trans­porta­tion, ener­gy, hous­ing, and all oth­er spe­cial inter­ests." He's no friend of orga­nized labor (he sup­ports so-called ​"right to work" laws) and favors relax­ing child labor laws. He calls for abol­ish­ing the IRS, along with busi­ness tax­es. He believes that the Afford­able Care Act (i.e., ​"Oba­macare") should be repealed, and that the fed­er­al gov­ern­ment should play no role in pub­lic education.
In a nor­mal elec­tion cycle, the para­dox that plagues every Lib­er­tar­i­an can­di­date – too right-lean­ing for the left and too left-lean­ing for the right – would doom John­son to being just a foot­note. That's still the most like­ly the out­come of his pres­i­den­tial bid. But there is a wild card this year that could make things inter­est­ing: Amer­i­cans Elect.
Amer­i­cans Elect, which bills itself as the ​"first nation­al online pri­ma­ry," is a nom­i­nat­ing process, not a third par­ty. But it opens up the best pos­si­bil­i­ty of a seri­ous chal­lenge to the two major par­ties since Ross Perot's cam­paign two decades ago. This spring, the Inter­net-based orga­ni­za­tion will con­duct a series of votes to deter­mine its field of can­di­dates. In June, it will hold an online con­ven­tion, and the win­ner of that vote will become a can­di­date for the pres­i­den­cy. Amer­i­cans Elect believes that its nom­i­nee will appear on the bal­lot in every state.
(It's worth not­ing that Amer­i­cans Elect has been chal­lenged as a secre­tive astro­turf orga­ni­za­tion backed by bil­lion­aires with ​"some seri­ous hedge-fund mon­ey." Crit­ics are rais­ing ques­tions about that mon­ey, and the fact that the bipar­ti­san tick­et — con­tain­ing one per­son from the Demo­c­ra­t­ic and Repub­li­can par­ties, or a major-par­ty can­di­date and an inde­pen­dent — that will emerge from the online vot­ing process must be approved by a com­mit­tee appoint­ed by Amer­i­cans Elect's board members.)
Ron Paul is attract­ing the most sup­port among AE's ​"del­e­gates," and in the­o­ry the orga­ni­za­tion is per­fect­ly suit­ed to his cam­paign. But Paul has said that he won't run as an out­side chal­lenger if his bid for the Repub­li­can nom­i­na­tion fails. This is where things get interesting.
John­son is the log­i­cal inher­i­tor of the enthu­si­asm that Paul has gen­er­at­ed, and he has much less bag­gage than Paul. There are no racist newslet­ters in his past; his for­eign pol­i­cy is less rigid than Paul's but still solid­ly non­in­ter­ven­tion­ist; and he doesn't come across like a crank.
AE vot­ers have tak­en notice. John­son is among their top 10 choic­es so far, and he's one of only two or three plau­si­ble can­di­dates. The oth­ers are either already well known and engaged in major-par­ty cam­paigns (Mitt Rom­ney and Barack Oba­ma) or else have no inten­tion of run­ning for the pres­i­den­cy (Bernie Sanders and Al Franken).
So there might be a plau­si­ble route for John­son to make a seri­ous con­tri­bu­tion in this year's pres­i­den­tial elec­tion. Even with AE's back­ing, his odds of win­ning the gen­er­al elec­tion would be slim. A can­di­date with a plat­form that appeals to deeply held con­vic­tions on both the left and the right, though, could shape the debate and pos­si­bly affect the out­come of the election.
The con­ven­tion­al wis­dom is that a chal­lenge by a strong Lib­er­tar­i­an can­di­date would hurt the Repub­li­can more than the Demo­c­rat. But that seems unlike­ly. Democ­rats are usu­al­ly cri­tiqued from the right and pulled toward the cen­ter. The pres­sure com­ing from the GOP is always in the direc­tion of more defense spend­ing, a more hawk­ish for­eign pol­i­cy and few­er civ­il lib­er­ties. But what if Democ­rats are seri­ous­ly chal­lenged from the left on social and for­eign pol­i­cy – by a self-styled conservative?
The dan­ger for Democ­rats isn't that John­son will win a sig­nif­i­cant per­cent­age of the Left's vote. The dan­ger is that he'll peel away a siz­able share of the much-prized inde­pen­dent vot­ers, who tend to be fis­cal con­ser­v­a­tives and social lib­er­als, and who might feel, under­stand­ably, that Oba­ma hasn't played it straight with them. He backed away from his ear­ly-career sup­port for gay mar­riage rights, for exam­ple, and endorsed civ­il unions when he became pres­i­dent. His posi­tion is now report­ed to be ​"evolv­ing." Does any­one know where it has evolved to, or when he might come to a def­i­nite con­clu­sion? Or where he's at on immi­gra­tion reform? Or on the drug war?
There's no uncer­tain­ty about where Gary John­son stands on those issues. On every one of them, his posi­tion is both clear and deeply offen­sive to the GOP base, which is why he nev­er had a chance of win­ning the Party's nom­i­na­tion and has very lit­tle chance of win­ning the pres­i­den­cy. But it's exact­ly why he appeals to independents.
By hav­ing the courage of his con­vic­tions, John­son expos­es both the GOP's fraud­u­lence on civ­il lib­er­ties and the Democ­rats' per­pet­u­al timid­i­ty and hedg­ing. Iron­i­cal­ly, it's by being extreme – by reject­ing the pres­sures that keep seri­ous pres­i­den­tial con­tenders from say­ing any­thing too blunt or hon­est – that John­son can appeal to the center.
Uncom­fort­able truths are, after all, the last things we expect to hear from the man who wants to be our pres­i­dent. When it hap­pens, it's odd­ly inspir­ing. Democ­rats should be very worried.
This arti­cle was updat­ed on Feb­ru­ary 24 to detail Amer­i­cans Elect's fun­ders and nom­i­nat­ing process, and note Johnson's labor positions.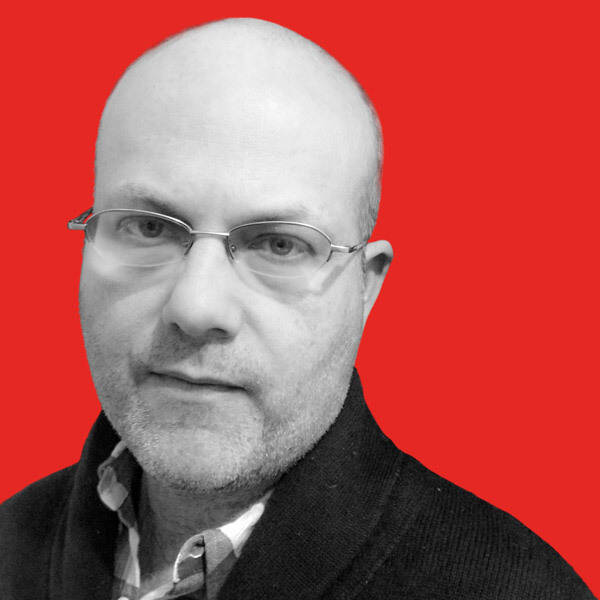 Theo Ander­son
is an In These Times con­tribut­ing writer. He has a Ph.D. in mod­ern U.S. his­to­ry from Yale and writes on the intel­lec­tu­al and reli­gious his­to­ry of con­ser­vatism and pro­gres­sivism in the Unit­ed States. Fol­low him on Twit­ter @Theoanderson
7
.