Why Not Cover Undocumented Migrants?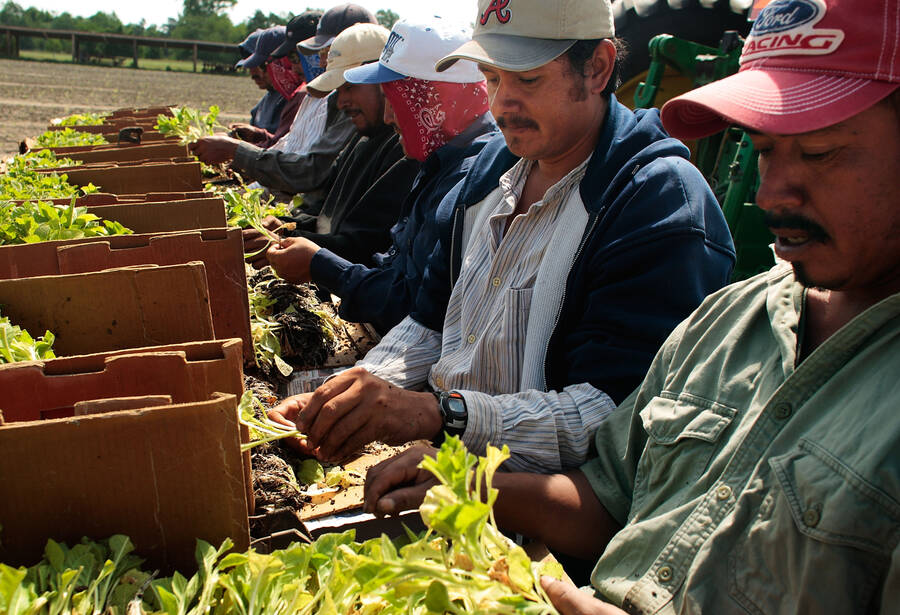 Last night, Pres­i­dent Oba­ma out­lined his vision for health­care reform before a spe­cial joint ses­sion of Con­gress. When the pres­i­dent debunked the myth that the new health insur­ance sys­tem would cov­er so-called ille­gal immi­grants, Rep. Joe Wil­son (R‑SC) screamed ​"You lie!"
The pres­i­dent was telling the truth, of course: undoc­u­ment­ed migrants are point­ed­ly exclud­ed. If we do get a pub­lic option, they won't be eligible.
But why?
The polit­i­cal cal­cu­lus is obvi­ous. Amer­i­cans are in an ugly mood and noth­ing riles up the big­ots like the prospect of sub­si­diz­ing ​"ille­gals." What they don't real­ize is that it would prob­a­bly cost more to exclude undoc­u­ment­ed migrants than to allow any­one to pay into the pub­lic option, regard­less of citizenship.
First off, ill­ness­es and acci­dents don't dis­crim­i­nate by sta­tus, and unpaid med­ical bills dri­ve up prices for everyone.
More impor­tant­ly, insur­ance is about spread­ing risk. All else being equal, the more pre­mi­um-pay­ing mem­bers an insur­ance plan has, the cheap­er it will be for everyone.
That's why Oba­ma is so insis­tent on an indi­vid­ual man­date, i.e., a law that would require every­one to car­ry insur­ance. Last night, the pres­i­dent accused young, healthy peo­ple with­out insur­ance of ​"gam­ing the system."
In effect, they are. They know that they're prob­a­bly not going to need much in the way of care, so their month­ly pre­mi­ums seem like throw­ing in mon­ey for noth­ing. So, they opt to wait until they're old­er when they expect to be at greater risk.
The thing is, you need a lot of those mon­ey-for-noth­ing pay­ers in order to off­set the sick peo­ple. If you only insure sick peo­ple, you're not real­ly spread­ing the risk. In the­o­ry, a man­date dri­ves down costs for every­one by forc­ing the good risks to pull their weight.
As a group, migrants tend to be young and healthy. Young healthy peo­ple are the A‑list glit­terati of the health insur­ance indus­try. Migrants are an espe­cial­ly desir­able demo­graph­ic because so many return home before they get to the inevitable ​"old and expen­sive" phase of life.
Aside from spread­ing risk, sheer size is a boon to a health insur­ance plan. The more peo­ple cov­ered, the big­ger the econ­o­my of scale when the plan nego­ti­ates with doc­tors, phar­ma­ceu­ti­cal com­pa­nies, and oth­er providers. Whether you're buy­ing toi­let paper or coro­nary bypass­es, you save when you buy in bulk.
A pub­lic option isn't char­i­ty. Last night, the pres­i­dent stressed that any pub­lic option would finance itself with mem­ber pre­mi­ums, just like a for-prof­it insur­ance plan. So migrants who paid their pre­mi­ums would be pulling their weight just like every­one else. Pri­vate insur­ers don't ask if you're a cit­i­zen before they sell you a pol­i­cy. Why should the gov­ern­ment care?
Soci­ety can sub­si­dize unin­sured migrants after the fact, or it can give them a chance to pay their own way and pos­si­bly reduce our own insur­ance costs in the process. Uni­ver­sal health­care is in everyone's best inter­est. There's no good eco­nom­ic rea­son to make eli­gi­bil­i­ty con­ti­gent upon immi­gra­tion status.
Lind­say Bey­er­stein
is an award-win­ning inves­tiga­tive jour­nal­ist and In These Times staff writer who writes the blog Duly Not­ed. Her sto­ries have appeared in Newsweek, Salon, Slate, The Nation, Ms. Mag­a­zine, and oth­er pub­li­ca­tions. Her pho­tographs have been pub­lished in the Wall Street Jour­nal and the New York Times' City Room. She also blogs at The Hill­man Blog (http://​www​.hill​man​foun​da​tion​.org/​h​i​l​l​m​a​nblog), a pub­li­ca­tion of the Sid­ney Hill­man Foun­da­tion, a non-prof­it that hon­ors jour­nal­ism in the pub­lic interest.