Why Women Hate Hillary
She reinforces the Genghis Khan principle of American politics that our leaders must be ruthless and macho
We sat around the dinner table, a group of 50-something progressive feminists, talking to a friend from England about presidential politics. We were all for Hillary, weren't we, he asked. Hillary? We hated Hillary. He was taken aback. Weren't we her base? Wasn't she one of us? Why did we hate Hillary?
Hillary wants to be more like a man in her demeanor and politics, leaving some basic tenets of feminism in the dust. She is like patriarchy in sheep's clothing.
Of course, a lot of people seem to hate Hillary. According to some polls, anywhere from 39 to 50 percent of respondents claim they'd vote against her no matter what; her ​"negatives" continue to be high. Many of these are Republicans and men. But many are not. According to a Harris poll in March, 52 percent of married women said they would not vote for her. Nearly half of adults say they dislike her personality and her politics. Unlike her husband, people seem to find her cold and don't see her connecting with everyday people, and this is especially true for married women. Ironically, it is Gen Xers, those between 31 and 42, who give her the most support.
So what gives? For people like my friends and me, her hawkish position on Iraq and her insistence that the U.S. maintain a military presence there even after the troops are withdrawn have been very disappointing. But it's more than any specific position. Women don't trust Hillary. They see her as an opportunist; many feel betrayed by her. Why?
Baby boomer women grew up with the Feminine Mystique and then came of age with the Women's Liberation Movement. As a result, millions of us have spent our lives crafting a compromise – or a fusion – between femininity on the one hand and feminism on the other. And for many of us feminism did not mean trying to be more like men. It meant challenging patriarchy: trying to bring equity to family life, humanizing the workplace, prioritizing women's issues in politics, and confronting the dangers of militarism and imperialism. And millions of us fought (and continue to fight) these battles wearing lipstick, skirts and a smile: the masquerade of femininity we are compelled to don.
Hillary, by contrast, seems to want to be more like a man in her demeanor and politics, makes few concessions to the social demands of femininity, and yet seems to be only a partial feminist. She seems above us, exempting herself from compromises women have to make every day, while, at the same time, leaving some of the basic tenets of feminism in the dust. We are sold out on both counts. In other words, she seems like patriarchy in sheep's clothing.
One of progressive feminism's biggest (and so far, failed) battles has been against the Genghis Khan principle of American politics: that our leaders must be ruthless, macho empire builders fully prepared to drop the big one if they have to and invade anytime, anywhere. When Geraldine Ferraro ran for vice president in 1984, the recurring question was whether she had the cojones to push the red button, as if that is the ultimate criterion for leading the country. And while American politics has, for years, been all about the necessity of displaying masculinity, Bush, Cheney and Rove succeeded in upping the ante after 9/11 so that the sight of John Kerry windsurfing meant he wasn't man enough to run the country. But now, with the massive failures of this callous macho posture everywhere – a disastrous war, a deeply endangered environment and more people than ever without health insurance – millions are desperate for a new vision and a new model of leadership.
All of this frames many women's reactions to Hillary. If she's a feminist, how could she continue to support this war for so long? If she's such a passionate advocate for children, women and families, how could she countenance the ongoing killing of innocent Iraqi families, and of American soldiers who are also someone's children? If it would be so revolutionary to have a female as president, why does she feel like the same old poll-driven opportunistic politician who seems to craft her positions accordingly?
Maybe women like me are being extra hard on Hillary because she's a woman. After all, baby boomer women couldn't be ​"as good" as men in school or the workplace; we had to be better, to prove that women deserved equal opportunities. And this is part of the problem too. We don't want the first female president to be Joe Lieberman in drag, pushing Bush-lite politics. We expect something better.
Clearly, Hillary and her advisors have calculated that for a woman to be elected in this country, she's got to come across as just as tough as the guys. And maybe they're right. But so far, Hillary is not getting men with this strategy, and women feel written off. After the dark ages of this pugnacious administration, many of us want to let the light in. We want a break with the past, optimism, and a recommitment to the government caring about and serving the needs of everyday people. We want what feminism began to fight for 40 years ago – humanizing deeply patriarchal institutions. And, ironically, we see candidates like John Edwards or Barack Obama – men – offering just that. If Hillary Clinton wants to be the first female president, then maybe, just maybe, she should actually run as a woman.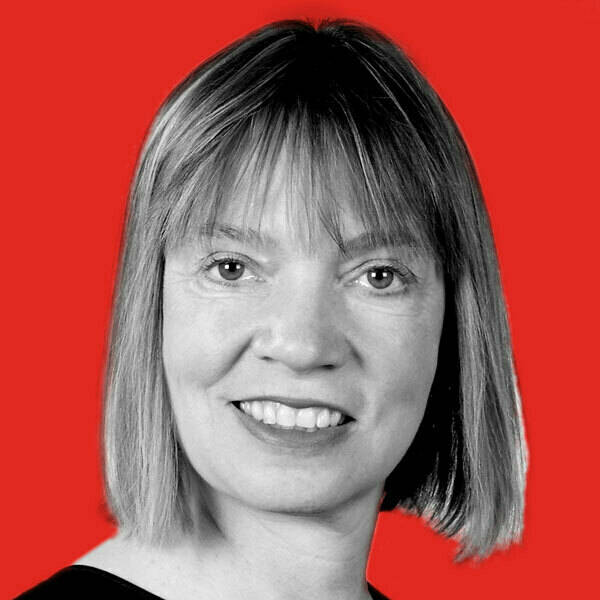 Susan J. Douglas is a professor of communications at the University of Michigan and a senior editor at In These Times. She is the author of In Our Prime: How Older Women Are Reinventing the Road Ahead.