Wisconsin Labor Delivers Solid Punch, But No Knockout to GOP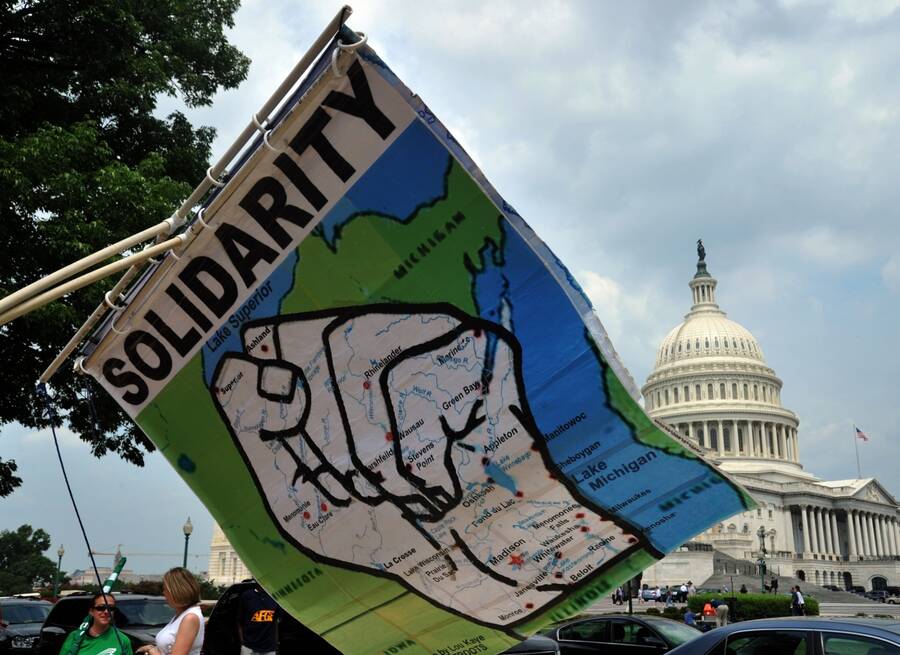 Until late in the evening on Tuesday, it appeared that a labor-driven electoral insurgency fueling six recall elections might capture the three seats needed to end Republican control of the Wisconsin State Senate.
Winning all three would have put the staunchly pro-labor Wisconsin Democratic senators in a position to block Gov. Scott Walker's efforts to repeal the 20th century and return the Badger State to near-total corporate domination.
Over 1,000 labor, progressive, and Democratic activists — most of them part of the We Are Wisconsin coalition — held their breath watching TV screens at a Hilton Hotel ballroom as the progressive State Rep. Sandy Pasch edged into the lead over State Sen. Alberta Darling.
Darling has been a key Walker ally who had led the fight for the anti-union bill, depriving public education of $800 million, and de-funding the health programs of Planned Parenthood, on whose board she had served for nine years. With Democrats Jennifer Shilling capturing a Senate seat near LaCrosse and Jessica King winning in the Fond du Lac area, a Pasch victory would complete the trifecta necessary for a Democratic takeover of the Senate.
But by about 11 p.m., Darling ultimately saw the $7.9 million in spending by corporate and right-wing backers pay off, as late-arriving returns from some of the district's most affluent precincts handed her a 54%-46% victory.
For mainstream pundits and even some pro-labor commentators, the failure to win the needed three seats marked a major setback for the union movement's efforts to strike back against Wisconsin Gov. Scott Walker's new law effectively stripping teachers and other public workers of their union representation.
"The revolution has not occurred," smirked UW-Milwaukee political science professor Mordecai Lee, who regularly serves up conventional — if not banal — wisdom in the state. ​"The proletariat did not take over the streets."
Even the labor writer Harold Meyerson viewed the results as a big hit to labor and progressives.
But the ​"labor lost big" story line — as a headline in the right-wing Washington Examiner put it — ignores several crucial dimensions of Tuesday's six recall elections. Among the most vital to fully understanding the outcome:
GOP edge down to 1: The Republican majority in the Senate has been trimmed to just one vote. Republican Senator Dale Schultz has already shown his independence from Walker on the collective bargaining bill, as the only Republican to vote against it. If Walker's popularity continues to sink, Schultz and other Republicans may become more and more reluctant to side with him.
Potential evidence for strong Walker recall effort: Nate Silver laid out a sensible standard for evaluating the election results yesterday on his 538​.com blog post published by the NY Times:
If you are going to read into the results, it is probably best to compare them to Mr. Walker's performance in 2010.

Mr. Walker carried the six districts on Tuesday's recall ballot by an average of 13 percentage points in 2010 — better than his statewide margin of 6 percentage points.
As Silver notes today, the Republican performance was lower in five of the six races Tuesday:
That would point toward a recall vote that would be too close to call: Republicans would have gotten 49.4 percent of the vote, and Democrats 50.6 percent, according to this method.
Walker's most recent numbers in a University of Wisconsin Survey Center's Badger Poll showed how unpopular his pro-corporate, anti-working class policies have been: 59% disapproved of his performance
Potency of labor's message about the middle class in Republican districts: Since the start of the struggle with Walker in February when he dropped what he privately called ​"the bomb" — his anti-public union bill — labor has stressed how the fate of the entire ​"middle class" is tied to the health of the labor movement.
As Mike Imbrugno, a University of Wisconsin cook, memorably put it, "[Walker's] basically trying to smash the last remaining organized upward pressure on wages and benefits in Wisconsin."
The six recall races highlighted the Republicans' distance from the realities of life for the shrinking and economically-stressed middle class, as evidenced by the candidates' support for corporate tax breaks, the $800 million cuts in public education, and support for fellow Wisconsin Republican Paul Ryan — the House Budget Committee chairman — and his plan to essentially downgrade Medicare into a voucher program. The identification of labor and the Democrats with ​"the middle class" was incessantly driven home to voters.
The resulting capture of two seats (and two relatively narrow defeats) must also be viewed in the context of these districts being configured to elect Republicans. Few of the districts had ever elected a Democrat in their histories.
Moreover, all of the districts elected Republican senators in 2008 despite the 14-point Obama landslide in Wisconsin. This suggests that the economic populism of the 2011 class of Wisconsin Democratic candidates can charge up voters even in the almost entirely white and generally rural or suburban districts which were involved Tuesday.
Creating a statewide progressive movement: Going back to the 1960's, progressive activism — among labor, people of color, women, etc. — in Wisconsin had largely been confined to Milwaukee, Madison, and sometimes industrial cities like Racine. But the six recall efforts involved some 12,000 activists, many of whom were residents of the more rural districts where the elctions took place.
As the effects of Walker's policies take hold — cuts in public education that mean thousands of layoffs, much larger class sizes, the loss of art, music, and other programs; reductions in health programs absolutely vital to the jobless, the disabled, and other marginalized people and less aid to local governments that translates into degraded services in everything from garbage pickup to law enforcement — they will open up vast potential for progressive action in every corner of the state.
People in small towns, rural and suburban areas are all likely to be much more receptive to programs to restore public services and the rights of public employees, with revitalized public services and institutions to be financed by higher taxes on corporations and the rich.
Democratic wing of the Business Climate Party: One important barrier to this kind of movement over the past 40 years has been Wisconsin Democrats' view of themselves as the junior wing of the Business Climate Party. A bi-partisan consensus has seen the enthronement of corporations as the central, overriding goal of state government. This has kept the notion of raising taxes on corporations and the rich utterly unacceptable in polite company. In fact, Wisconsin Democratic governors and legislators pioneered some of the largest and least productive (in terms of job creation) tax breaks.
But two factors are now eroding the notion that low corporate taxes benefit all Wisconsin citizens.
First, it has become increasingly evident that corporate tax breaks do not produce either jobs or a sense of loyalty to Wisconsin. With Milwaukee losing 80% of its manufacturing jobs since 1977 despite a wave of tax cuts that allow about 60% of corporations with $100 million or more in revenue to pay no corporate income taxes, no one can credibly argue that the policy of enthroning corporations has insured economic stability.
Second, Walker's budget priorities — slashing public education and other elements of the public commons while heaping new tax breaks on corporations — have clarified the choices for the public. Wisconsinites increasingly understand that public institutions are being dismantled to provide the funds for corporate giveaways.
Will Democrats make up with the suddenly nice Mr. Walker? But it still remains to be seen if Wisconsin Democratic legislators are on the same page as a growing number of ordinary Wisconsinites. With Scott Walker recently dropping his whip and suddenly donning a friendly, bi-partisan mask, some Democratic legislators have been all too credulous and eager in talking about working with Walker on creating jobs. Only a forceful and independent labor movement and its allies – like the We Are Wisconsin coalition – can remind these Democrats of Walker's long-term aims and job-creating alternatives to more corporate tax breaks.
Ultimately, Tuesday's results failed to deliver the really big, decisive punch to the Walker regime for which so many in labors had worked so hard. Across the state, the involvement of thousands of new activists created a vast corps of volunteers, and veteran observers feel that the We Are Wisconsin coalition very capably waged the six campaigns.
Darling campaign nearly invisible, but it won Particularly perplexing was the Darling-Pasch race.
Ultimately, Tuesday's results failed to deliver the really big, decisive punch to the Walker regime for which so many in labor had worked so hard. Across the state, the involvement of thousands of new activists has created a vast corps of volunteers, and veteran observers feel that the We Are Wisconsin coalition very capably waged the six campaigns.
Darling campaign nearly invisible, but it won The Sandy Pasch campaign was especially notable in the numbers and enthusiasm of the volunteers doing outreach to voters, while Sen. Darling had virtually no visible presence on the ground, said one long-time SEIU staffer.
But while Darling's campaign was largely invisible, it managed to find a way to mobilize a huge turnout of Republican voters. Darling was aided by huge expenditures by her corporate sponsors, but Pasch managed a strong presence in well-crafted TV ads.
"We need to figure out how they pulled it off," sighed the SEIU veteran.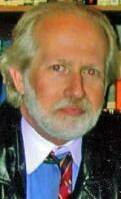 Roger Bybee

is a Milwaukee-based freelance writer and University of Illinois visiting professor in Labor Education.Roger's work has appeared in numerous national publications, including

Z

magazine,

Dollars

&

Sense, The Progressive, Progressive Populist, Huffington Post, The American Prospect, Yes!

and

Foreign Policy in Focus

.More of his work can be found at

zcom​mu​ni​ca​tions​.org/​z​s​p​a​c​e​/​r​o​g​e​r​d​bybee

.