Hairstylist: 'It's Like Being on a First Date All the Time'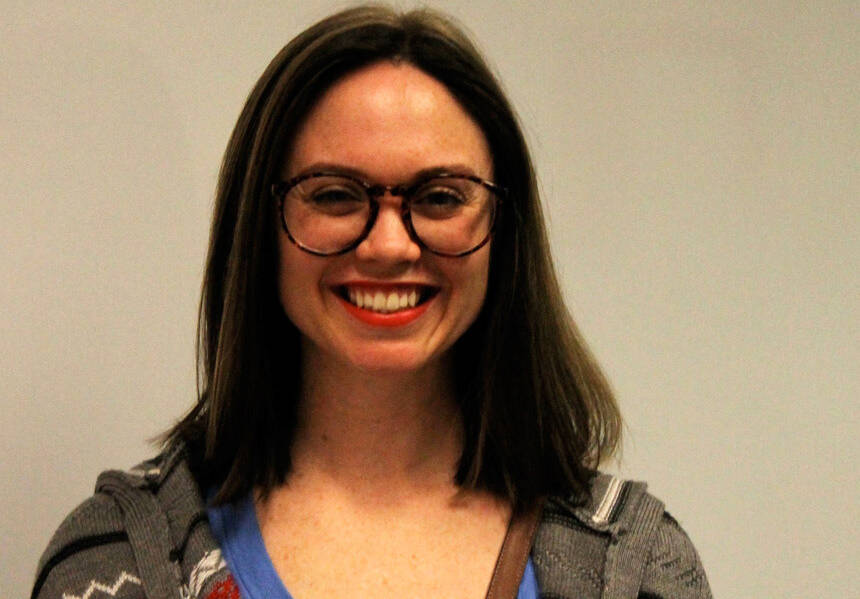 For three years in the ear­ly 1970s, jour­nal­ist Studs Terkel gath­ered sto­ries from a vari­ety of Amer­i­can work­ers. He then com­piled them into Work­ing, an oral-his­to­ry col­lec­tion that went on to become a clas­sic. Four decades after its pub­li­ca­tion, Work­ing is more rel­e­vant than ever. Terkel, who reg­u­lar­ly con­tributed to In These Times, once wrote, ​"I know the good fight — the fight for democ­ra­cy, for civ­il rights, for the rights of work­ers — has a future, for these val­ues will live on in the pages of In These Times." In hon­or of that sen­ti­ment and of Working's 40th anniver­sary, ITT writ­ers have invit­ed a broad range of Amer­i­can work­ers to describe what they do, in their own words. More ​"Work­ing at 40" sto­ries can be found here.
The hair­styl­ists Studs Terkel inter­viewed, a cou­ple named Edward and Hazel Zim­mer, charged $15 a cus­tomer at their sub­ur­ban salon out­side of a major city. They wor­ried that auto­mat­ed tech­nol­o­gy, such as at-home perms, would make it hard­er for salons to stay afloat. Today, how­ev­er, Lyn­nae Duley, who has been a hair­styl­ist for prac­ti­cal­ly her entire adult life, is able to do clients' hair for $85 a pop at the Antho­ny Cris­tiano salon in Chicago's Trump Tower.
How long have you been a hairstylist?
Thir­teen years. I'm 32 now, and I start­ed going to beau­ty school half-time dur­ing my senior year of high school in Mesa, Arizona.
I think I got real­ly lucky. Because the beau­ty school there was like a trade school for high school stu­dents — there were also schools for air con­di­tion­er repair­men and auto mechan­ics — it was free. I work in a lux­u­ry salon down­town, and most of the peo­ple that I work with have all gone to top beau­ty schools. They cost $30,000 a year, or some­thing like that.
How often do you work?
I'm work­ing 45 hours a week: nine hours a day from Tues­day through Sat­ur­day. I have the same sched­ule every week, but I don't think that's super typ­i­cal of hair­styl­ists. The salons I've worked in, which were more high-end, real­ly aren't as flex­i­ble about com­ing in late if you don't have clients in the morn­ing or leav­ing ear­ly if you don't have clients in the after­noon. I think most salons are a lit­tle less structured.
It's kind of a bum­mer when you're just sit­ting around doing noth­ing, but it's part of being avail­able, and it's nec­es­sary if you want to real­ly build a clien­tele. Appear­ance is huge for us. We have to know what's in style, and we have to know what's going to be in style.
A lot of our work is also depen­dent on our per­son­al­i­ty. I have to be able to talk eas­i­ly with peo­ple. It's like being on a first date all the time. Some­times I have to just grin and bear it with peo­ple who I don't like.
But it's social, which I real­ly like. I have a real­ly unique rela­tion­ship with my clients. I know if a client is going to ask his wife to mar­ry him. I'm usu­al­ly one of the only peo­ple he tells. I'll be the first one to know maybe if a woman tells me she's preg­nant or get­ting divorced or cheat­ing — things like that.
And I real­ly love what I do. I get to work with my hands. It's three-dimen­sion­al art­work. I don't take it home. It's done in an hour, each project.
Do you some­times become friends with your clients?
A lit­tle bit. There's some dab­bling of friend­ship out­side the salon, but not very close­ly. It can be weird when it has crossed over: I just got invit­ed to anoth­er client's wed­ding, and I get invit­ed to baby show­ers and birth­day par­ties all the time. I've been in a lot of people's lives for a long time. I have no idea how many wed­ding pic­tures I'm in.
Are the clients usu­al­ly respectful?
Yes, very much so. The clien­tele who come into this salon are real­ly good and decent peo­ple. I get asked a lot if I deal with crazy clients or if this mon­ey comes with high demands, high expec­ta­tions or high main­te­nance. I think I have a lot of clients who cer­tain­ly know what they want and are very spe­cif­ic. But it's real­ly not a prob­lem. It's some­thing that I have to be able to work with and I'm hap­py to.
How do you talk about your job with fam­i­ly and friends?
It depends on who it is. When I talk to my fam­i­ly about it, it will usu­al­ly turn into talk­ing about their own hair — like what's work­ing for them and what isn't. Then I ask them ques­tions about it.
I've always made it a per­son­al rule not to com­plain about my job, because I'm lucky to have it and I love it. It's a waste of time, any­way, to com­plain about some­thing like that. I almost think it's like an ener­gy thing: The atti­tude you put out comes back.
When I first start­ed doing hair, I would be almost obses­sive about it. I would have emo­tion­al reac­tions to people's hair. It was real­ly great or real­ly ter­ri­ble, and I'd think, ​"If only I could get my hands on that."
Now, when I see people's hair on the train or in pub­lic, I almost tend to observe it more than have a reac­tion to it, if that makes sense. I can cer­tain­ly see tech­ni­cal skill, whether it's involved or lack­ing. I can usu­al­ly find inspi­ra­tion in any­thing, even if it's a real­ly ter­ri­ble hairstyle.
A lot of hair appear­ance is attached to how a per­son cares for him- or her­self. When I was a kid, we always had nice hair. My mom was cut­ting our hair and her own hair because she couldn't afford it. But our hair was always clean and well-sstyled, and we had bows and braids. There's some pride in how you put your­self togeth­er, and I think maybe I learned that as a young age.
There's an ele­ment in how you want to present your­self to the world that's shown through hair. I think I can see that even in myself over the years — my per­son­al style has changed, and my hair is very reflec­tive of that. So I notice that and see it in oth­er people.
Matthew Blake
is a free­lance jour­nal­ist based in Chica­go. He has writ­ten for the
Chica­go Jour­nal, Wash­ing­ton Month­ly, Wash­ing­ton Inde­pen­dent
and
The Nation
, among oth­er publications.