Yes, Pensions Are Collapsing, And Progressives Can't Remain in Denial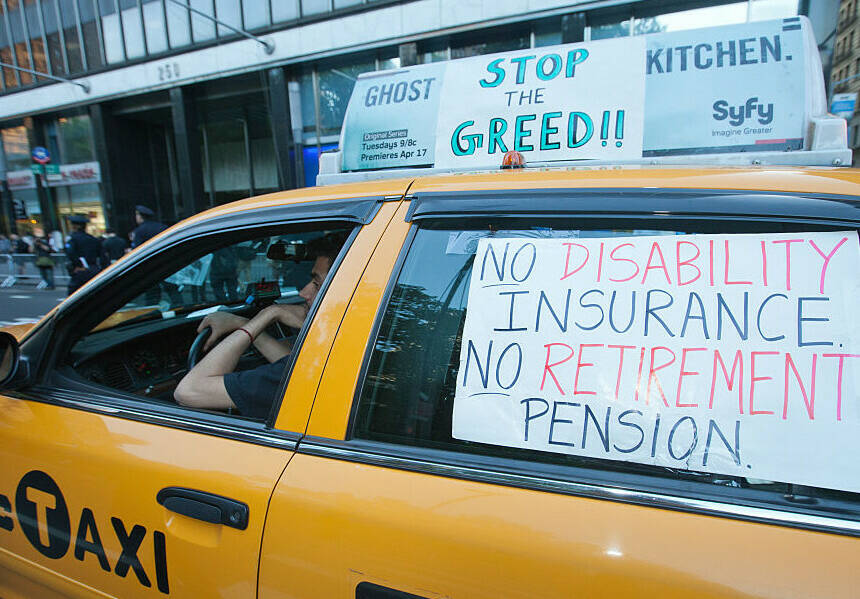 Max doesn't real­ly argue why it's rea­son­able to assume that pen­sion funds should return 7 – 8 per­cent a year over the long term. U.S. stocks have done that in the past, but there's absolute­ly no good rea­son to believe they will in the future. The Con­gres­sion­al Bud­get Office projects that U.S. GDP will grow an aver­age of 1.8 per­cent a year over the next decade, the result of 1.3 per­cent growth in pro­duc­tiv­i­ty and 0.5 per­cent growth in the labor force. Why should stocks should grow more than four times as fast as the econ­o­my? Were that to hap­pen, after-tax cor­po­rate prof­it would rise from just under 7 per­cent of GDP today to 12 per­cent in ten years and 20 per­cent in 20. We'd run out of mon­ey to pay wages, which already seems to be in short sup­ply. Or if that didn't hap­pen, stock val­u­a­tions would have to increase from very high by his­tor­i­cal stan­dards (where they are now) to astro­nom­i­cal (where they've nev­er been).
Maybe the CBO's pro­jec­tions are wrong. Maybe GDP will grow more like its 1970 – 2007 aver­age of 3.2 per­cent. You'd still have to explain why stocks should con­sis­tent­ly grow at a rate more than twice that of the over­all econ­o­my, and mere­ly defam­ing more con­ser­v­a­tive esti­mates as Uni­ver­si­ty of Chica­go-style free-mar­ket econonom­ics isn't an argument.
Recent his­to­ry offers no sup­port for the idea that mag­i­cal stock mar­ket prof­its — rather than actu­al con­tri­bu­tions — can save the pub­lic pen­sion sys­tem. Stock prices more than tripled between their low in March 2009 and the end of the third quar­ter of 2017, but accord­ing to Fed­er­al Reserve sta­tis­tics, this great bull mar­ket has done lit­tle to close the fund­ing shortfall.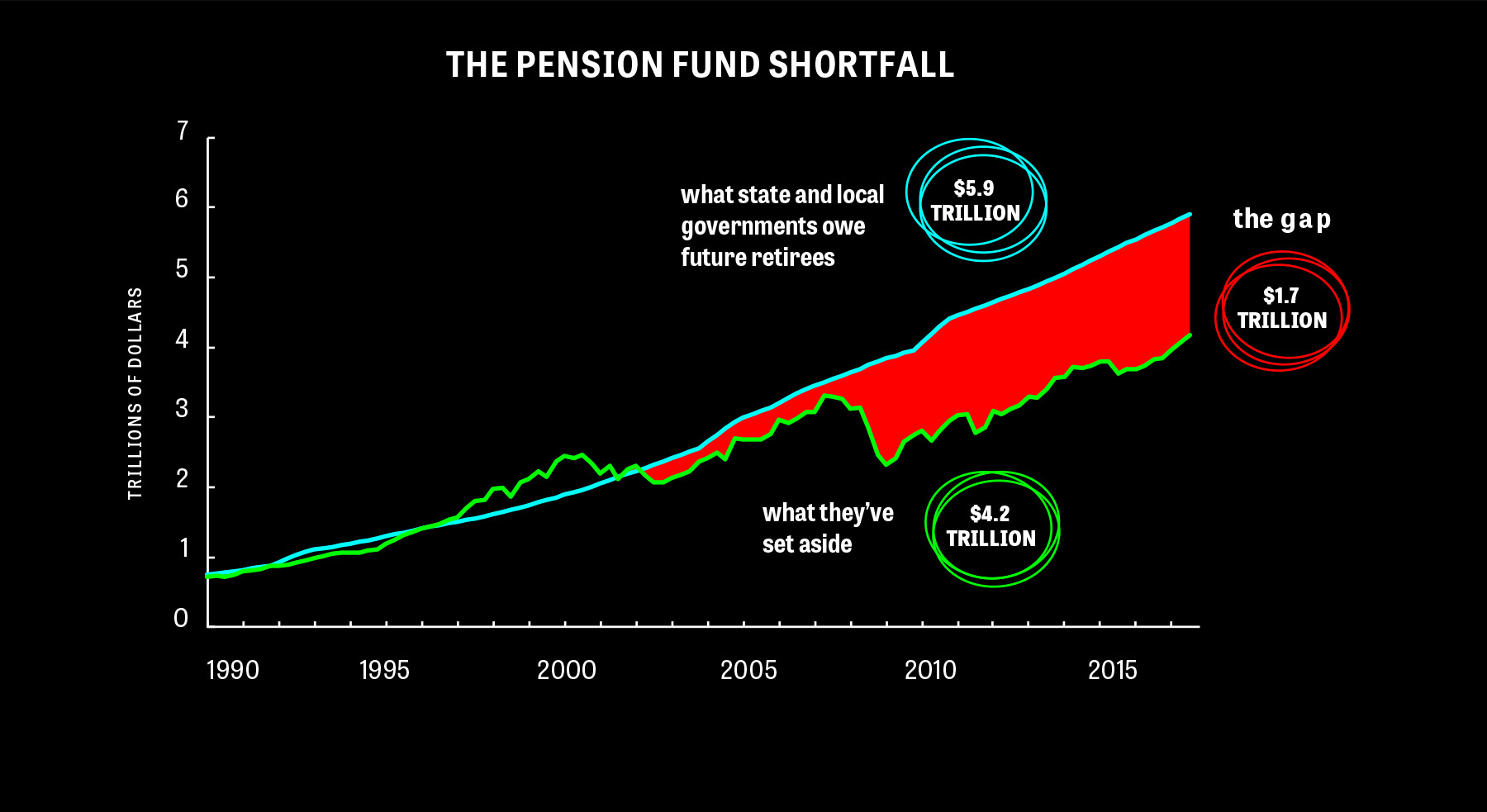 That's because instead of spon­sors con­tribut­ing to the funds, man­agers have been sell­ing assets since 2009: $291 bil­lion, accord­ing to the Fed stats.
Since stock prices are very unlike­ly to triple over the next decade — that would require con­sis­tent annu­al gains of almost 13 per­cent, near­ly twice the fan­ci­ful assump­tions that Max shares with com­pla­cent pen­sion man­agers — it's hard to see how that gap is going to close.
It's fun­ny Max should bring up the Gov­ern­ment Account­abil­i­ty Office (GAO). We looked at a cou­ple of recent GAO reports rel­e­vant to the top­ic and found more wor­ry than he recalls. One, from 2014, con­trasts assump­tions about the invest­ment returns of pri­vate pen­sion funds and pub­lic ones. Pri­vate funds, which are reg­u­lat­ed by the fed­er­al gov­ern­ment, are required to use the low bond rate; state and local gov­ern­ment funds are free to make fan­ci­ful assump­tions. GAO inter­viewed a num­ber of experts, some of whom were fine with high­er pro­ject­ed returns, but some of whom were wor­ried that assump­tions were ​"too opti­mistic." GAO itself finds the use of his­tor­i­cal returns sta­tis­ti­cal­ly prob­lem­at­ic; there's just not a long enough his­to­ry of long-term stock mar­ket per­for­mance to speak with math­e­mat­i­cal con­fi­dence. Nor are his­tor­i­cal returns eas­i­ly applic­a­ble to the mov­ing tar­get that is a pen­sion plan: mon­ey goes in and goes out at vary­ing rates, mak­ing actu­al per­for­mance a com­plete­ly dif­fer­ent ani­mal from a sta­ble stock-mar­ket index. Pen­sion plans in Britain, Cana­da, and the Nether­lands all use sig­nif­i­cant­ly low­er return assump­tions, the GAO found, and reg­u­la­tors require under­fund­ed plans to get into shape. No such over­sight exists in the U.S.
A 2012 GAO study of state pen­sion funds found increased under­fund­ing, with a grow­ing gap between assets and lia­bil­i­ties. Funds will be able to cov­er ben­e­fits for at least the next decade, but after that, they face ​"chal­lenges." And a 2017 report on the state of the country's retire­ment sys­tem found that ​"state and local gov­ern­ments may still need to take steps to man­age their pen­sion oblig­a­tions by reduc­ing ben­e­fits or increas­ing con­tri­bu­tions." So we wouldn't look to Max's for­mer employ­er for support.
Math aside, Max doesn't engage with any of our polit­i­cal points at all — noth­ing about how the stock mar­ket is a mech­a­nism for upward redis­tri­b­u­tion. One need look no fur­ther than the stock market's reac­tion to Trump's elec­tion. Skep­ti­cal of the errat­ic bil­lion­aire dur­ing the cam­paign, Wall Street came around when it came clear that he'd be deliv­er­ing some of their favorite things: a rich dereg­u­la­to­ry agen­da and tax cuts for cor­po­ra­tions and the wealthy. The mar­ket has tacked on 34 per­cent since his elec­tion (though the fat expan­sion of prof­its — up 75 per­cent after tax­es — dur­ing the Oba­ma years pro­vid­ed a nice foun­da­tion to build on). Wage growth and job qual­i­ty are dif­fer­ent stories.
Nor does he engage with the malign work of pri­vate equi­ty (PE), which is great­ly enabled by pub­lic employ­ee pen­sion funds. When you buy a reg­u­lar stock, you're almost always buy­ing it from some oth­er stock­hold­er; the com­pa­ny gets no mon­ey out of the pur­chase. When you invest in pri­vate equi­ty you're direct­ly pro­vid­ing mon­ey to the PE man­agers to do their down­siz­ing mischief.
And it's fun­ny he men­tioned Cana­da. We've been talk­ing with Kevin Sker­rett, a researcher with the Cana­di­an Union of Pub­lic Employ­ees who is the co-edi­tor of a book just out from Cor­nell Uni­ver­si­ty Press, The Con­tra­dic­tions of Pen­sion Fund Cap­i­tal­ism. He takes a line very sim­i­lar to ours: End pri­vate pen­sions and make them gen­er­ous and pub­lic. (In Britain, local gov­ern­ment work­ers get their pen­sions from a pub­lic, Social Secu­ri­ty-like sys­tem.) Things are even worse up north in some ways, Sker­rett says. Pen­sion funds have been push­ing for the pri­va­ti­za­tion of pub­lic ser­vices so they can invest in the fresh­ly cre­at­ed enti­ty. Recent­ly, a British child care chain owned by the Ontario Teach­ers' Pen­sion Plan's pri­vate equi­ty arm bought a small Cana­di­an child-care chain, prompt­ing fears of the big-box­i­fi­ca­tion of care.
Pen­sion funds are some­times called ​"work­ers' cap­i­tal," which is mis­lead­ing, since work­ers have no con­trol over how their funds are spent. The term is espe­cial­ly inac­cu­rate when the funds are used to pur­sue a direct­ly anti-work­er agenda.
Max's clos­ing lament that ​"anoth­er world is pos­si­ble, but it is not yet around the cor­ner" is what's real­ly what's doing the Right's work here. You don't get any­where in pol­i­tics by demand­ing less.