Young Democrats Are Furious Over the DCCC's Blacklist Punishing Insurgents
At a time of rising energy on the Democrats' left flank, the DCCC is giving a crash course in how to alienate young progressives.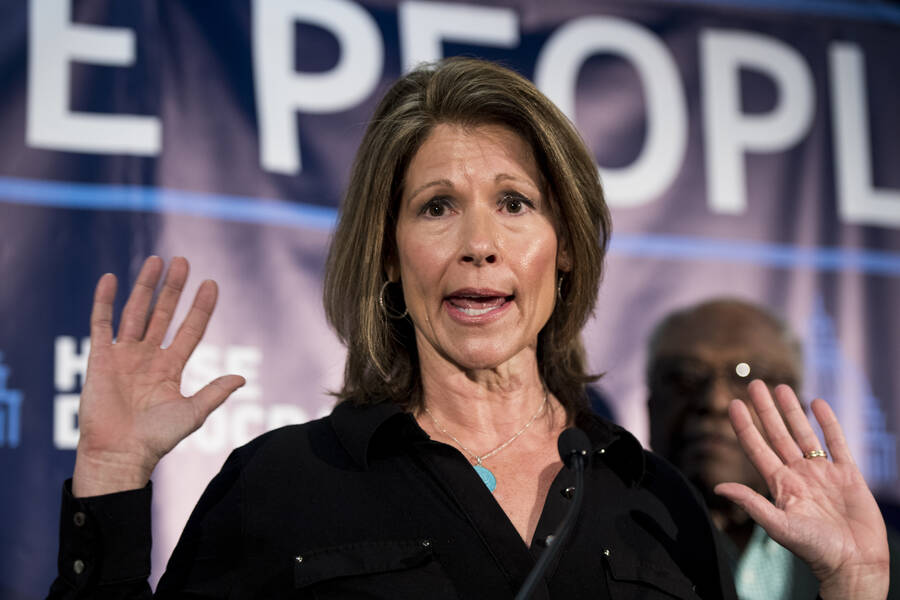 Update: On May 22, six days after this sto­ry was pub­lished, Rep. Cheri Bus­tos announced that she would can­cel her involve­ment in a fundrais­er planned for Dan Lipinski.
"We shouldn't be punishing people for bringing new ideas to the forefront," says Tim Ennis, communications director for College Democrats of Massachusetts.
NOR­MAL, ILL.— On May 5, new­ly elect­ed Demo­c­ra­t­ic Con­gres­sion­al Cam­paign Com­mit­tee (DCCC) chair Cheri Bus­tos faced a sur­pris­ing­ly chilly recep­tion at this year's Col­lege Democ­rats of Illi­nois Con­ven­tion, which is typ­i­cal­ly a chance for par­tic­i­pants to hone orga­niz­ing skills and hob­nob with elect­ed offi­cials. Bus­tos' appear­ance quick­ly turned into an interrogation.
The Col­lege Democ­rats ques­tioned her about the DCC­C's new pol­i­cy of refus­ing to hire con­sul­tants and ven­dors who work with any chal­lenger to a Demo­c­ra­t­ic incum­bent. The pol­i­cy is wide­ly per­ceived as a broad­side against the par­ty's insur­gent pro­gres­sive wing and its enthu­si­as­tic younger voters.
"How does the DCCC intend to win con­gres­sion­al seats while weak­en­ing youth sup­port?" Col­lege Demo­c­rat Vic­to­ria Koff­sky asked Bustos.
"Wow, um, I would not say we're weak­en­ing youth sup­port," Bus­tos replied, say­ing that the pol­i­cy exists to pro­tect cur­rent House mem­bers, who pay dues to the DCCC.
"We won on our mes­sage of health­care in 2018, and I'm won­der­ing why the DCCC is try­ing to pro­tect a can­di­date who isn't on board with that," asked Hadiya Afzal, ref­er­enc­ing incum­bent Daniel Lip­in­s­ki (D‑Ill.), a con­ser­v­a­tive Demo­c­rat who opposed the Afford­able Care Act and now faces a pri­ma­ry challenge.
While wav­ing away con­cerns about Lip­in­s­ki ("you could look at any mem­ber of our cau­cus and there would be some­thing that we don't all agree about"), Bus­tos empha­sized again and again that the DCCC's ​"first pri­or­i­ty" was to hang onto the ​"frag­ile major­i­ty" in the House that Democ­rats achieved in 2018. ​"We are an incum­bent-friend­ly orga­ni­za­tion," she stressed.
Bus­tos' expla­na­tions, how­ev­er, did not con­vince her critics.
"That's not an okay answer, espe­cial­ly when that's clear­ly not the case," says Koff­sky, 22, about Bus­tos' denial that the DCCC is weak­en­ing youth sup­port. Koff­sky is the vice pres­i­dent of the Col­lege Democ­rats of Amer­i­ca, the Demo­c­ra­t­ic Nation­al Committee's offi­cial youth out­reach body.
Afzal, 19, the cur­rent pres­i­dent of the Col­lege Democ­rats of Illi­nois, was even more blunt, call­ing Bus­tos' defense that the DCCC is incum­bent-friend­ly ​"kind of a garbage answer."
The DCCC black­list inspires par­tic­u­lar­ly strong emo­tions in Illi­nois for a rea­son. It's here that pro-choice chal­lenger Marie New­man has seen con­sul­tants, poll­sters, mail firms and a com­mu­ni­ca­tions group aban­don her bid to unseat Lip­in­s­ki, an eight-term Con­gress mem­ber who vocal­ly oppos­es abortion.
It's a sit­u­a­tion that threat­ens to become the norm for any insur­gent chal­lenger under the pol­i­cy, as wary ven­dors steer clear of chal­lengers' cam­paigns lest they lose out on the DCCC's busi­ness. ​"I interned at a small polit­i­cal con­sult­ing firm, and while they don't agree with the pol­i­cy, they have no choice but to go with it," says Koff­sky. ​"They need the income and to keep their employ­ees employed."
Lip­in­s­ki, who inher­it­ed the seat from his now-lob­by­ist father Bill Lip­in­s­ki, reg­u­lar­ly votes against the par­ty — almost twice as often as the aver­age Demo­c­rat. Lip­in­s­ki declined to endorse Pres­i­dent Oba­ma for re-elec­tion in 2012 and has received dis­mal scores from groups advo­cat­ing the rights of immi­grants and the LGBTQ com­mu­ni­ty, as well as issues such as pub­lic edu­ca­tion and the envi­ron­ment. This is all in a dis­trict on the edge of Chica­go that Bernie Sanders won by near­ly eight points in 2016, putting Lip­in­s­ki far to the right of his own district.
Out­rage among Col­lege Democ­rats about the black­list is not lim­it­ed to Illi­nois. On April 24, the Har­vard Col­lege Democ­rats announced that a coali­tion of 26 chap­ters of Col­lege Democ­rats, Young Democ­rats and oth­er Demo­c­ra­t­ic youth groups are call­ing for a boy­cott of dona­tions to the DCCC until the ​"regres­sive" black­list pol­i­cy is reversed. The boy­cott spans chap­ters from Mass­a­chu­setts to Michi­gan to Alaba­ma to Ari­zona. With­in three weeks, the coali­tion tripled in size to 74 mem­bers, accord­ing to Har­vard Col­lege Democ­rats Pres­i­dent Hank Sparks.
"The two lan­guages the DCCC speaks are mon­ey and media," says Sparks, 20. To that end, the coali­tion has not just shut off its dona­tions to the DCCC and encour­aged oth­ers to redi­rect their DCCC gifts direct­ly to can­di­dates, but embarked on a media cam­paign drum­ming up the kind of neg­a­tive press the DCCC — already fight­ing off a rep­u­ta­tion for hos­til­i­ty to pro­gres­sives — has been try­ing to shake.
Sparks says that, after inform­ing the Sanders-aligned group Our Rev­o­lu­tion of the boy­cott, the orga­ni­za­tion cit­ed the embar­go in an April 25 meet­ing about the black­list with Bus­tos in Chica­go, in which Our Rev­o­lu­tion pre­sent­ed Bus­tos with a let­ter crit­i­ciz­ing the black­list. The let­ter was signed by more than a dozen local Demo­c­ra­t­ic offi­cials and oth­er pro­gres­sive fig­ures, includ­ing Phil Hare, a for­mer Con­gress mem­ber who pre­vi­ous­ly rep­re­sent­ed Bus­tos' district.
"We laid out our posi­tion, and she laid out her posi­tion," says Clem Bal­anoff, chair of Our Rev­o­lu­tion Chica­go. ​"She said it wasn't a black­list, we believed that it was. And we agreed to anoth­er meeting."
That meet­ing was meant to take place in late May in Wash­ing­ton, D.C. Bal­anoff says that a lit­tle more than a week pri­or, a mem­ber of Bus­tos' staff informed him the meet­ing was off, owing to an Our Rev­o­lu­tion press release about the event that led to bad press for Bus­tos. Bal­anoff believes the com­plaint about press is a ​"red her­ring," and Our Rev­o­lu­tion and the Col­lege Democ­rats are now decid­ing on next steps.
The young Democ­rats rebelling against the DCC­C's pol­i­cy aren't rad­i­cals look­ing to take a sledge­ham­mer to the par­ty. Sparks began his involve­ment in the par­ty as a Fall Fel­low for Hillary Clin­ton's 2016 cam­paign, before phone-bank­ing and door-knock­ing for Democ­rats dur­ing the 2018 midterms. Koff­sky worked her way up the Col­lege Democ­rats hier­ar­chy before becom­ing vice pres­i­dent and con­sid­ers her­self a ​"life­long Democrat."
"I'm a Demo­c­rat because of Demo­c­ra­t­ic val­ues," she says. ​"There's no rea­son why Demo­c­ra­t­ic orga­niz­ing efforts should be going towards incum­bents like Dan Lip­in­s­ki that don't hold my values."
The young Democ­rats inter­viewed by In These Times want pri­maries to serve as a ​"con­test of ideas." They point to recent insur­gents, most com­mon­ly Rep. Ayan­na Press­ley (D‑Mass.) and Rep. Alexan­dria Oca­sio-Cortez (D‑N.Y.), as bear­ers of the kind of bold new ideas that will be squeezed out by this policy.
"If we sti­fle these pro­gres­sive, most­ly peo­ple of col­or, peo­ple who aren't estab­lish­ment, then we are not bring­ing these voic­es into the gen­er­al elec­tion, which real­ly hurts us," says Kyle Varel­lie, com­mu­ni­ca­tions direc­tor for the Rut­gers-Newark Col­lege Democ­rats, a boy­cott signatory.
"We should­n't be pun­ish­ing peo­ple for bring­ing new ideas to the fore­front," says Tim Ennis, com­mu­ni­ca­tions direc­tor for Col­lege Democ­rats of Mass­a­chu­setts and incom­ing pres­i­dent of UMass Amherst Col­lege Democ­rats, both sig­na­to­ries to the boycott.
These young par­ty activists view the DCCC black­list as a slap in the face, as it is they who do the unglam­orous but cru­cial drudgery that helps win elections.
"We are the back­bone of the Demo­c­ra­t­ic Par­ty when it comes to can­vass­ing hours and door-knock­ing," says Afzal, who in 2016 ran unsuc­cess­ful­ly for the DuPage Coun­ty Board in Illi­nois in 2016, and was endorsed by Hillary Clinton.
Afzal sees it as hyp­o­crit­i­cal for the par­ty to lean on young Democ­rats' elec­toral work but ignore their pol­i­cy pref­er­ences. And yet, she says, ​"They're always, ​'Woe is me, why don't we have more young peo­ple voting'."
"Dis­sent is patri­ot­ic," says Ennis. ​"As peo­ple on the ground, we think it's impor­tant for par­ty lead­ers to lis­ten to young peo­ple and val­ue our desires for a bet­ter par­ty that doesn't just inher­ent­ly and blind­ly pro­tect incumbency."
It remains to be seen whether this youth revolt will lead the DCCC to drop the con­tentious pol­i­cy. In Illi­nois, the black­list appears to have gal­va­nized pro­gres­sives: Endorse­ments and dona­tions have come pour­ing in for Marie New­man, includ­ing from Planned Par­ent­hood, MoveOn and EMILY's List — groups not always quick to buck the Demo­c­ra­t­ic estab­lish­ment. Despite the DCCC's best efforts, the pri­ma­ry in Illi­nois' 3rd dis­trict may end up being a con­test of ideas after all.
Bus­tos, for her part, recent­ly announced that she will be host­ing a fundrais­er for Lipinski.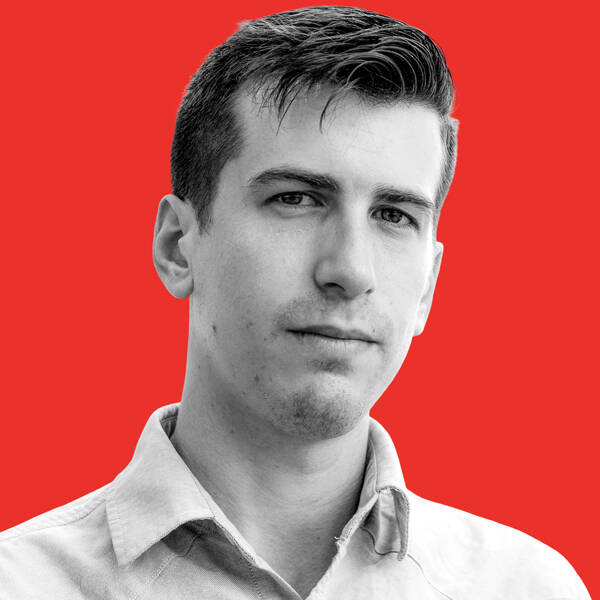 Branko Marcetic
is a staff writer at Jacobin mag­a­zine and a
2019
 – 
2020
Leonard C. Good­man Insti­tute for Inves­tiga­tive Report­ing fel­low. He is work­ing on a forth­com­ing book about Joe Biden.