3 Reasons to Vote for Hillary Clinton That Have Nothing To Do with Hillary Clinton
We can't ignore the ways that having a Democrat in the White House matters.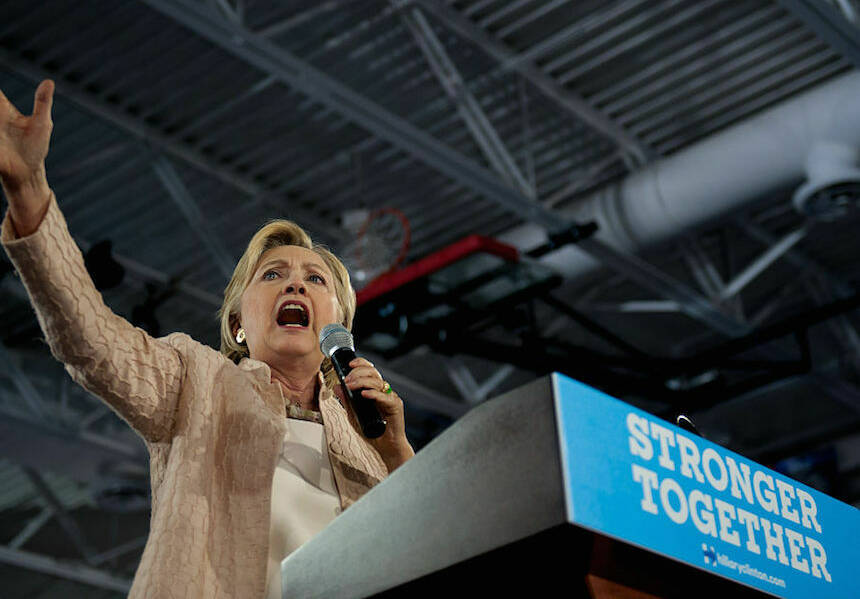 May I pile on the rea­sons why even the most bit­ter Sanders sup­port­er should vote for Clin­ton? For­get the Supreme Court — it's too obvi­ous. Here are three others:
Consider the irony of a protest vote for the Green Party—a party of the global Left, not a national one—when the future of the globe itself is what's at risk.
1.It's not about Clin­ton her­self. Your vote puts not just Clin­ton in pow­er but lit­er­al­ly thou­sands of appointees. It may be the deputy admin­is­tra­tor in an EPA region­al office, or the new direc­tor of the Con­sumer Finan­cial Pro­tec­tion Bureau, or the new pol­i­cy and strat­e­gy chief at U.S. Cit­i­zen and Immi­gra­tion Ser­vices — or a new mem­ber of the Nation­al Labor Rela­tions Board, or even chief num­ber crunch­er at the Cen­sus Bureau.
Many of Clinton's appointees — and her appointees' appointees — will be young and ide­al­is­tic. How do I know? In the time of Jim­my Carter, I used to be a low­ly ​"Sched­ule C" appointee, among the sev­er­al thou­sand below the lev­el of Cab­i­net or deputy sec­re­taries. I saw with my own eyes that my fel­low Sched­ule C's, even the high­er-ups who bossed me, were noth­ing but kids. As to the mon­ey I was mak­ing, it was OK but bare­ly com­pet­i­tive with what I was mak­ing at the Unit­ed Mine Work­ers defend­ing the rank and file.
And it hasn't changed much. I was just down at the U.S. Depart­ment of Labor, and there are staffers in their 30s, an old­er group than in the Carter days, but one that still seems young to me.
Demo­graph­i­cal­ly, because of age and will­ing­ness to for­go a pri­vate-sec­tor salary, it's like­ly that many of these appointees will be Bernie vot­ers. Over the next four years, these thou­sands of peo­ple will per­form a mil­lion lit­tle acts of mer­cy — for you, me, for all of us. As a lawyer who rep­re­sents the poor, the mid­dle class, the post-mid­dle class and maybe mem­bers of your fam­i­ly, I can swear under oath that many of these appointees will do, off-hand­ed­ly, the most saint­ly acts in the world. They will do things that trans­form so many indi­vid­ual lives, like an NLRB offi­cial who gets a 20-year-old black kid back into a Painters Union job. Appointees in the embassies and con­sulates can sneak in 10-year-olds from Hon­duras. By your vote — or deci­sion not to vote — you will decide the fates of all of those who could be saved by these lit­tle acts of mercy.
These mid-lev­el appointees — many of them, by the way, intox­i­cat­ed with the caus­es of the Left — will in turn bring in decent, pub­lic-spir­it­ed young Berniecrats to fill the low­er spots. Since I think of myself as an out­sider on the left,often been a shock to find that so many peo­ple inside a fed­er­al agency are to the left of me polit­i­cal­ly. And even when they aren't, they are way to my ​"left" in sim­ply extend­ing them­selves day to day to help oth­er peo­ple. It takes a vil­lage to run a fed­er­al gov­ern­ment, and under any Democ­rats, we get vil­lagers who case by case are going to show mer­cy. Wel­come the stranger. Feed the hun­gry. Are you real­ly so hard-heart­ed that you don't give a damn?
And while there's been enough bang­ing on about that one vacan­cy in the Supreme Court, think about the low­er courts, espe­cial­ly the tri­al courts. Think of the wage theft or Title VII cas­es that will be set­tled — and will keep, say, a preg­nant plain­tiff out of a home­less shel­ter. Here's just a pass­ing news item to tell you what these low­er courts do: The oth­er day, three fed­er­al appel­late judges on the U.S. Court of Appeals for the Fourth Cir­cuit struck down a North Car­oli­na vot­ing law that with ​"almost sur­gi­cal pre­ci­sion," to quote the opin­ion, was intend­ed to keep black Amer­i­cans from vot­ing. Who were the judges? Three appoint­ed by either Bill Clin­ton or Barack Oba­ma. If you don't stop restric­tive vot­ing laws, how is a Sanders move­ment ever going to come back? And that gets to my next point:
2. If Hillary is out, the Left is out. Not just through 2020, but in four, eight, 12, 16 years from now. Fight for $15 is over. The fight against wage theft is over. If she is out, there is no cen­ter-left to push.
Sure. You think after four years of Trump there will be anoth­er Bernie or Bernie-like move­ment. There won't. Even assum­ing Trump doesn't, in a Putin-like fit, can­cel the 2020 elec­tions, by then the coun­try, or what's left of it, will be beyond your reach. The oth­er side — the real Oth­er Side — has four years to lock down pol­i­cy with a lock that is big­ger than the one on Fort Knox: require­ments for bal­anced bud­gets, rules on redis­trict­ing, changes to the Vot­ing Rights Act, fed­er­al vot­er ID laws, and on and on.
The odd thing is, if you want the Left to come back, you have to put the cen­ter-left in pow­er. It sounds para­dox­i­cal, but it's true: Give peo­ple a lit­tle taste of equal­i­ty and they will want even more. The wom­en's move­ment, the civ­il rights move­ment, the huge egal­i­tar­i­an trans­for­ma­tions of the 1960s came about in large part because of the much more egal­i­tar­i­an and pros­per­ous coun­try cre­at­ed by the New Deal and yes, the Great Soci­ety itself.
Let any Repub­li­can get in and it will always go the oth­er way.
I know: I saw what hap­pened in 1968, when many on the Left sat it out and Nixon just squeaked past Hubert Humphrey. There was a lot of anger against the Democ­rats back then, too, over Viet­nam. At the time, that elec­tion — which would start us down the path to our present inequal­i­ty — seemed like such a lit­tle blip, and it seemed no harm to dump the Hump. And the Left had even bet­ter rea­son then. Viet­nam was awful, a far worse evil than any­thing Oba­ma or Clin­ton represent.
But in fact, despite his flaws, Humphrey would have been more like­ly than Nixon to get us out of it faster. And most of us knew it even then. But peo­ple were too mad! They said, ​"I'm mad and I'm not going to take it," and it did­n't mat­ter if Nixon got in.
Oh they all had good rea­son to think four years of Nixon would not mat­ter that much — sure­ly, with the coun­try being basi­cal­ly Demo­c­ra­t­ic, the Left, the real Left, would get back in pow­er. But it nev­er did. When the Democ­rats did get back in, eight years lat­er, it was a much more con­ser­v­a­tive ​"Third Way" par­ty —because thanks to Nixon, and then Ford, the whole debate had moved to the right.
Even so, at least in the Clin­ton and Oba­ma admin­is­tra­tions— though checked more or less com­plete­ly by both the fil­i­buster or out­right GOP con­trol of Con­gress — the coun­try did move fur­ther left. In 1992, the Democ­rats — and the Left — were sup­posed to be out of the White House for­ev­er. At the end of Clinton's eight-year pres­i­den­cy, most of the coun­try vot­ed with Gore or Nad­er. Pro­gres­sives had won the elec­torate, although they lost the election.
But for Bush's win, this coun­try would now be much fur­ther to the left. Yes, in 2008, Oba­ma got in, but it took eight years — real­ly lost years — just to make up for some of the dam­age of a finan­cial cri­sis and a stu­pid war brought on by the Repub­li­cans. Even so, par­a­lyzed by the damn fil­i­buster and a ger­ry­man­dered House, hav­ing Oba­ma in the White House did help incu­bate a bold­er left. By 2016, we had an out­right and unashamed social­ist move­ment. That new kind of new left would not have hap­pened had not the cen­ter-left been — well, not in full pow­er, but in a posi­tion to check more dam­age from the Right.
Fur­ther­more, there is a broad­er point: When the cen­ter-left real­ly is in pow­er, and I mean full pow­er, with true and not just nom­i­nal con­trol of Con­gress, it usu­al­ly is the hey­day of the par­ty's real left. Look at the two great peri­ods when the Democ­rats were in con­trol: 1935 – 37, and 1965 – 66. Social Secu­ri­ty, the Wag­n­er Act, in the first, and Medicare, the Vot­ing Rights Act, and the Immi­gra­tion and Nation­al­i­ty Act in the sec­ond, trans­formed this coun­try. FDR exas­per­at­ed the Left of his day, and even com­pared to Hillary Clin­ton, Lyn­don John­son was no pro­gres­sive. Yet the last­ing lega­cy of the real Left came in these two fleet­ing peri­ods when a large­ly cen­ter-left Demo­c­ra­t­ic par­ty had — for once — unchecked con­trol. Why give up any chance to have that hap­pen again? As it is, we're still liv­ing with the lega­cy of Nixon and our shrug­ging and let­ting him in the belief that we could always come back. In many ways, the Left in this coun­try nev­er real­ly came back. Nixon led to Ford who led to Carter who led to Rea­gan, and to the medieval-like inequal­i­ty in this coun­try today. And you — who have a real chance to push the coun­try to the left if we can keep the exec­u­tive branch in the hands of the cen­ter-left — will not come back either. The same log­ic of his­to­ry is going to apply to you. Not vot­ing for Clin­ton will just put real change in this coun­try even far­ther out of reach.
3. Consid­er the irony of a protest vote for the Green Par­ty — a par­ty of the glob­al Left, not a nation­al one—when the future of the globe itself is what's at risk. Should such a Green vote indi­rect­ly put the GOP in pow­er, it is the end of the Paris Accords on Glob­al Warm­ing. It's not just that the Unit­ed States would drop out — with the U.S. gone, oth­er coun­tries would, too. What would be the point of any oth­er coun­try com­ply­ing? This would be dev­as­tat­ing to the glob­al — not to men­tion the planet.
I love the Green Par­ty: If I were a Ger­man, I'd prob­a­bly be a Green. But in Ger­many, there is a sys­tem of pro­por­tion­al rep­re­sen­ta­tion — if Greens win, they make alliances with oth­er par­ties of the Left and cen­ter-left. Here it's dif­fer­ent. So can we stop think­ing about our own lit­tle U.S. Left, which does­n't count for every­thing in this great big world? The Greens in Europe — and Green-type move­ments all over the world, includ­ing poor­er coun­tries who are liable to be the hard­est hit — worked for those Accords. Don't you owe it to oth­er left groups, per­haps even fur­ther left than you, to keep those Accords in place?
But back to the U.S.: Remem­ber, it takes a vil­lage to staff a gov­ern­ment. Your own com­pa­tri­ots will be among those 6,000 vil­lagers. And the defeat of the cen­ter-left will imper­il your cause as well. Yes, I get the point: Not to vote for her is a mat­ter of con­science. But we may lose our way. And by clos­ing your eyes to the loss of a mil­lion lit­tle acts of mer­cy" are you not tak­ing a moral­ly dubi­ous means to an even more polit­i­cal­ly dubi­ous end?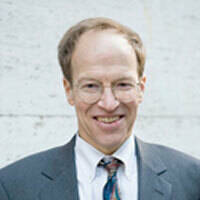 Thomas Geoghe­gan
is a Chica­go-based labor lawyer. He is the author of sev­er­al books, includ­ing
Which Side Are You On?
,
The Secret Lives of Cit­i­zens
,
The Law in Sham­bles
,
Only One Thing Can Save Us
, and
Were You Born on the Wrong Continent?