What We Can Learn: An Excerpt from Were You Born on the Wrong Continent?
How Europe builds better products for better lives.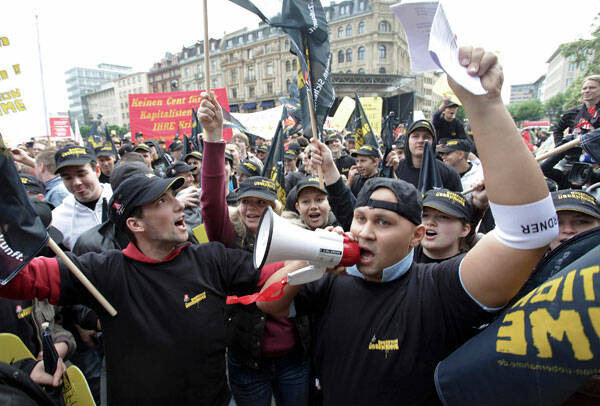 Amer­i­cans may believe the Unit­ed States is set up for the mid­dle class, and Europe is set up for the bour­geois. Or let's put it this way: Amer­i­ca is a great place to buy kit­ty lit­ter at Wal-Mart and rel­a­tive­ly cheap gas. But it is not designed for me, a pro­fes­sion­al with­out a lot of mon­ey. That's who Europe is for: peo­ple like me.
OK, as a union-side lawyer, Europe's real­ly set up for peo­ple like my clients, or those who used to be my clients before the unions in Amer­i­ca col­lapsed. Let's put my own self-inter­est aside: Where would my clients, who are not poor, who make $30,000 to $50,000 a year and yet keep com­ing up short, maybe by $100, $200 a month, real­ly be bet­ter off?
That's easy: Europe. I can answer that as their lawyer, the way a doc­tor could answer about their health. The bot­tom two-thirds of Amer­i­ca would be bet­ter off in Europe. I mean the peo­ple who have not had a raise (an hourly raise in real dol­lars) in maybe 40 years, and who do not even have a 401(k), noth­ing but Social Secu­ri­ty, and either have no health insur­ance or pay deductibles of $2,000 or more. Sure, they'd be bet­ter off in Europe. When unem­ployed, they'd cer­tain­ly be bet­ter off in Europe. Over there, even sin­gle men can get on wel­fare. And in much of Europe, con­trary to what we hear, unem­ploy­ment is much low­er than over here.
One of the ways Europe is set up for the bour­geois – includ­ing, per­haps, many read­ers of this mag­a­zine – is the very fact that it is also set up for peo­ple who make $50,000 or below. Since it's set up for these peo­ple too, the bour­geois – me, maybe you – get the polit­i­cal cov­er to have it set up for them. What the peo­ple-in-the-unions get, peo­ple-from-the-good-schools also get. (And indeed, in Europe peo­ple-in-the-unions are often peo­ple-from-the-good-schools.) They get the six weeks of vaca­tion each year and the pen­sion like a gold­en para­chute. And the high­er up we are in terms of income, the more valu­able these things are. In Amer­i­ca, they don't tell us: Social democ­ra­cy, or social­ism, or what­ev­er Europe has, pays off biggest for peo­ple in the upper mid­dle class, those just below the top.
Pub­lic and pri­vate wealth
Take Zurich and Chica­go. One looks good and the oth­er, bro­ken down. If Amer­i­ca has such a famous­ly high GDP per capi­ta and Chica­go is one of America's crown jew­els, maybe there is some­thing wrong with using GDP per capi­ta as an index of social well-being. It's not that the num­bers ​"lie" in any crude way, but past a cer­tain point, maybe these num­bers mis­lead us as to where we're bet­ter off. For to look at the num­bers, who would guess that Zurich looks glo­ri­ous­ly like Zurich all over, and that Chica­go looks glo­ri­ous in Lin­coln Park, dumpy west of Pulas­ki Avenue, and gulag-like by 26th and Cal­i­for­nia? But for­get the look of the place. It's also the way of life.
The num­bers say, on paper, I have a bet­ter way of life in Chica­go. But are these num­bers right? It may be that, past a cer­tain lev­el, an increase in GDP per capi­ta push­es my liv­ing stan­dard down. I don't mean this in a spir­i­tu­al sense – I mean it in a cold, neu­tral, out-of-pock­et sense. Exam­ple: If I make more by work­ing longer, I might sub­con­tract out more of my life and incur oth­er ​"costs," like los­ing a trip to Zurich, which may be of far more val­ue than the extra income. Or anoth­er exam­ple: If I get a raise, I might be worse off. I might widen the gap in income with oth­ers around me. Who cares? Well, by doing this, I might be spread­ing pover­ty, which, like every­thing, is rel­a­tive. I might make my pub­lic space more of a hell­hole than before.
Peo­ple at the lib­er­tar­i­an Cato Insti­tute love to scoff: ​"Oh, our poor in Amer­i­ca are so well off in GDP per capi­ta." Go ahead. Argue. I'll let you win. But I dare the Cato types, when the argu­ment is over, to go out­side and walk around some Chica­go neighborhoods.
In oth­er words, the fur­ther ahead we get, the more our stan­dard of liv­ing drops. Let's say, as a Euro­pean, I work 1,500 hours a year. Now, let's put me at 1,800 or even 2,300 hours, like many Amer­i­cans. While I've moved to high­er GDP per capi­ta, I don't have:
Six weeks off.
A per­fect cup of cof­fee to sip at some place oth­er than the office.
A city to inhale like a bank of violets.
In 2005, the real hourly wage for pro­duc­tion work­ers in Amer­i­ca was approx­i­mate­ly 8 per­cent low­er than it was in 1973, while our nation­al out­put (pro­duc­tiv­i­ty) per hour is 55 per­cent high­er. So it's dubi­ous whether most Amer­i­cans have gained even a pen­ny in pur­chas­ing pow­er since 1989. And even skewed by all this U.S‑type inequal­i­ty, we under­state what Euro­peans at the ​"mid­dling" lev­el are able to get for free, i.e., pub­licly pro­vid­ed goods like edu­ca­tion, health­care, cities like banks of vio­lets. Even apart from the grotesque U.S. social inequal­i­ty, the net pur­chas­ing pow­er dis­par­i­ty after we toss in the pub­lic goods is not so great.
Or maybe I mean this: Europe has a kind of invis­i­ble GDP, which we don't know how to count. The ambi­tious Euro­pean who might want to work 2,300 hours may be the luck­i­est to escape his or her fate under the U.S. mod­el. When that per­son has 700 more hours a year, to learn an extra lan­guage, to go to Sri Lan­ka, or just to read, it's that high achiev­er who may be best off under the Euro­pean model.
It's no acci­dent that the social democ­ra­cies – Swe­den, France and Ger­many, who kept on pay­ing high wages – now have more indus­try than the Unit­ed States or the UK. Dur­ing the ​'70s, ​'80s and ​'90s, the Anglo-Amer­i­cans, the neolib­er­als, The Econ­o­mist crowd, and the press gen­er­al­ly, would taunt the social democ­rats in Europe: ​"You'd bet­ter break the unions." That's the way to save your industry.
Indeed, that's what the Unit­ed States and the UK did: They smashed the unions, in the belief that they had to com­pete on cost. The result? They quick­ly end­ed up wreck­ing their indus­tri­al base. But Ger­many, Swe­den and France ignored the advice of the Anglo-Amer­i­cans, the Finan­cial Times elite, the bank­ing indus­try: Con­trary to what they were told to do, they did not wreck their unions.
And it was the high labor cost that pushed those coun­tries into mak­ing high­er ​"val­ue-added" things. Where is Ger­many com­pet­i­tive? It's in high-end, pre­ci­sion machin­ery, made by peo­ple with the high­est skills. It's in engi­neer­ing ser­vices. Peo­ple look at Ger­many and say, ​"What about the Ger­man unem­ploy­ment?" But no one in the Unit­ed States ever says, ​"What about the Ger­man labor shortages?"
Even in 2008, pre­cise­ly because of ​"glob­al­iza­tion," Ger­many had a seri­ous short­age of peo­ple able to fill high-skill, high-pay­ing jobs, espe­cial­ly engi­neers. In the Unit­ed States, engi­neers com­plain they can't find work; many of them just end up in sales. In the union-free, low­er-cost Unit­ed States, we don't cre­ate the kind of jobs engi­neers can do. Germany's prob­lem? It has too many such jobs. It's our whole glob­al­iza­tion the­sis turned upside down.
That leads to a seem­ing para­dox: High­er labor costs can make a coun­try more, not less, com­pet­i­tive. In many ways, the Unit­ed States and the UK got out of man­u­fac­tur­ing because their labor costs were too low. I have spent my life watch­ing plants close in Mil­wau­kee and Waukegan, where skilled labor was paid $26 an hour, only to reopen in Geor­gia and North Car­oli­na, where it was paid $8 an hour. While still fight­ing over sev­er­ance two years lat­er, we get the news: The com­pa­ny is bank­rupt. The prod­ucts it makes so cheap­ly are now crap.
It's no accident that the social democracies—Sweden, France and Germany, who kept on paying high wages—now have more industry than the United States or the UK.
The Ger­man model
In the Unit­ed States, our elite, scoff­ing, says that there is just not enough labor-mar­ket flex­i­bil­i­ty in a coun­try like Ger­many to allow it to adapt to glob­al­iza­tion as we do. But it's pre­cise­ly because of our flex­i­bil­i­ty that we can't com­pete. What the laws man­age to do in Ger­many is to keep peo­ple togeth­er and to hold onto their skills in groups. Co-deter­mi­na­tion and works coun­cils – in oth­er words, work­er con­trol – keep peo­ple in groups, rub­bing elbows with each oth­er, and all this rub­bing of elbows helps build up human capital.
Indeed, for some econ­o­mists this is now a fash­ion­able idea. Think of all the buzz about the ​"knowl­edge" econ­o­my, which, in the world of aca­d­e­m­ic econ­o­mists, is an inquiry into how knowl­edge dri­ves eco­nom­ic growth. David Warsh in his 2006 book, Knowl­edge and the Wealth of Nations, intro­duces us to econ­o­mists try­ing to untan­gle the con­nec­tions between the kind of knowl­edge that comes from groups and eco­nom­ic growth.
Ger­man work­er con­trol con­tributes to a group inter­ac­tion that over time not only builds up but also pro­tects a cer­tain amount of human cap­i­tal, espe­cial­ly in engi­neer­ing and qual­i­ty con­trol. This kind of knowl­edge is not just indi­vid­ual but group knowl­edge. It's the kind of group knowl­edge that our effi­cient, ​"flex­i­ble" labor mar­kets so read­i­ly break up and dis­perse. It's our flex­i­ble labor mar­kets that make it so hard for the Unit­ed States and the UK to com­pete. We spend vast­ly more on basic research than the Ger­mans do – U.S. com­pa­nies are unri­valed. We spend far more on high­er edu­ca­tion. But with our flex­i­ble labor mar­kets, we're unable to cap­i­tal­ize on this research and edu­ca­tion. Some­times we try the Japan­ese mod­el of work, but we nev­er try the Ger­man, because we don't want to cede any real con­trol to work­ers. Sup­pos­ed­ly it's a great mys­tery why Ger­mans keep invest­ing in man­u­fac­tur­ing and even pros­per­ing, despite the claims that the Ger­man edu­ca­tion sys­tem is bro­ken (OK, it needs help) and they aren't spend­ing enough on research (OK, they aren't). But they're doing some­thing right. What is dis­tinc­tive about Ger­many is the priv­i­leged posi­tion the work­er has with­in the firm.
And we must look to that priv­i­leged posi­tion of the work­er to explain how our own mid­dle-class way of life can sur­vive. Putting more mon­ey into edu­ca­tion is a waste of effort. Putting more mon­ey into basic research is a waste of effort. We already spend enough. In fact, we have every fac­tor of pro­duc­tion going for us: We have more land, more labor, more cap­i­tal and high­er lev­els of for­mal edu­ca­tion. But with our flex­i­ble labor mar­kets, we can­not devel­op the human cap­i­tal or knowl­edge need­ed to wean our­selves away from turn­ing out crap. In glob­al com­pe­ti­tion, the Unit­ed States has almost every com­par­a­tive advan­tage over Ger­many, but the one great com­par­a­tive advan­tage Ger­many still has over us is that it is a social democ­ra­cy. Yes, I admit Ger­many has its prob­lems. But we're los­ing our mid­dle class, and our prob­lems are even worse.
The real knowl­edge economy
The strangest thing I saw this year is a YouTube video, with a hip-hop sound­track, about a lot of Ger­man kids on strike. These were IG Met­all appren­tices, and they weren't like the kids in the cafés. (IG Met­all is the largest met­al work­ers' union in Ger­many.) Instead they wore black, gray and white car coats and were from obscure lit­tle Ger­man towns, but all of them were march­ing, at night, both boys and girls, strik­ing against the big glob­al com­pa­nies for not deliv­er­ing on jobs. At about the same time as the strike, IG Met­all held a rock con­cert with Bob Geld­of, which drew 50,000 peo­ple, most­ly kids. Here's a shock­ing thing to a U.S. labor lawyer like me: In 2008, youth mem­ber­ship in IG Met­all – kids under 27 who vol­un­tar­i­ly pay union dues – climbed yet again, this time by 6 per­cent. At last count, IG Met­all had more than 200,000 of these kids! As some­one who ran for Con­gress and found out why cam­paign staffs think it a waste of time to both­er with young peo­ple, I find that stun­ning. Even the Finan­cial Times, which always writes off labor, has had to admit that in Ger­many, unions are resurg­ing among kids who are high­ly skilled.
Why are kids in Ger­many pay­ing dues, voluntarily?
I think it's an Amer­i­can who can best explain why. It's not Marx but John Dewey whose pic­ture should be in the lob­by of the Willy Brandt Haus, the head­quar­ters of the Social Demo­c­ra­t­ic Par­ty. It's Dewey who believed that schools should not just teach prac­ti­cal skills but explain why kids have to be polit­i­cal, to be cit­i­zens and yes, to get into labor move­ments to pro­tect the skills they are acquir­ing. One can say that union mem­ber­ship is a ​"tra­di­tion" in cer­tain indus­tries. But that's just an opaque way of say­ing that the kids get politi­cized both at home and at school as they go through the Dual Track – Germany's spe­cial­ized, appren­tice­ship voca­tion­al schools.
The answer to the prob­lems of our coun­try is edu­ca­tion, but not the kind we're pur­su­ing, i.e., jam­ming more kids into col­lege or even teach­ing prac­ti­cal skills; instead, it's teach­ing them how, polit­i­cal­ly, to cut them­selves a bet­ter deal. As long as that's going on, it's impos­si­ble to write off the Euro­pean or, more specif­i­cal­ly, the Ger­man model.
Just as the answer to the prob­lems of democ­ra­cy is usu­al­ly more democ­ra­cy, so the answer to the prob­lems of a social democ­ra­cy is usu­al­ly more social democracy.
This essay was adapt­ed from Thomas Geoghegan's new book, Were You Born on the Wrong Con­ti­nent?: How the Euro­pean Mod­el Can Help You Get a Life (The New Press).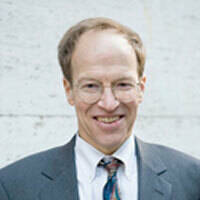 Thomas Geoghe­gan
is a Chica­go-based labor lawyer. He is the author of sev­er­al books, includ­ing
Which Side Are You On?
,
The Secret Lives of Cit­i­zens
,
The Law in Sham­bles
,
Only One Thing Can Save Us
, and
Were You Born on the Wrong Continent?