Tom Geoghegan: 4 Things We the People Can Do About Our Unjust Voting System and a President Trump
A case for a house divided.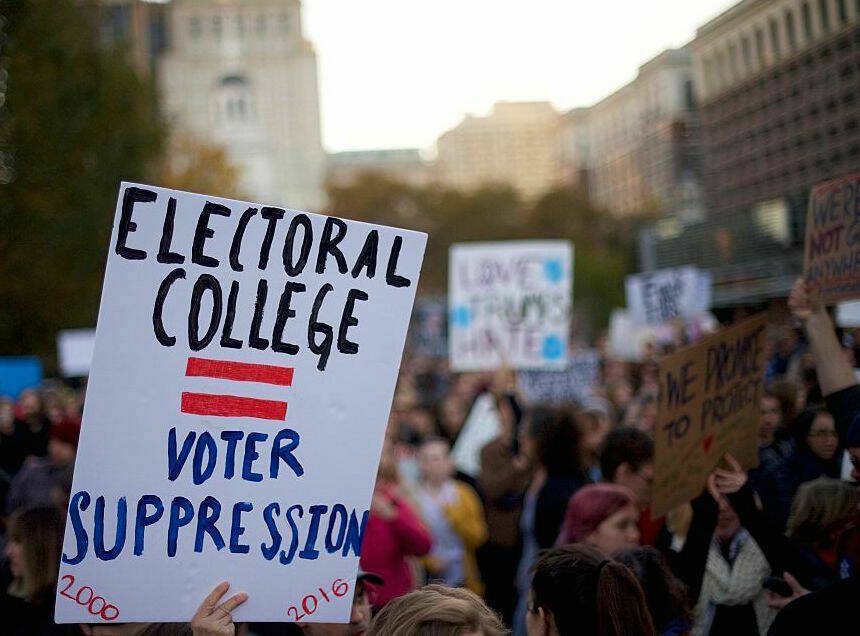 Through the rel­ic of the Elec­toral Col­lege, it is our shame to have elect­ed, once again, the run­ner-up as pres­i­dent of the Unit­ed States. By doing so, ​"We the Peo­ple" have dis­graced our­selves in front of the whole world. Con­sid­er all the forms of rig­ging in which the elec­torate is now entangled.
Compulsory voting is an existential threat to the Electoral College. It will become too difficult to install a future Bush, or a Trump, who loses not just by one or two million but by 10 or more million votes.
First, the elec­tion to the pres­i­den­cy is rigged. Hillary Clin­ton won the pop­u­lar vote by at least 2.6 mil­lion ballots.
Sec­ond, the U.S. Sen­ate is rigged — even worse than the Elec­toral Col­lege. Half a mil­lion or so peo­ple in Wyoming hav­ing the same rep­re­sen­ta­tion as near­ly 40 mil­lion peo­ple in Cal­i­for­nia. Throw in more tiny red states like North and South Dako­ta, and that alone explains why the Sen­ate is still con­trolled by the GOP.
Third, the House is rigged. Thanks to ger­ry­man­der­ing, the large­ly Repub­li­can state leg­is­la­tures decide who goes to Con­gress. ​"We the peo­ple" have lost our say.
Final­ly, appoint­ments to the Supreme Court are rigged. Since there are no term lim­its, we have had a right-of-cen­ter Court for almost 50 years. And that right-of-cen­ter Court has upheld vot­er ID laws and oth­er ways to sup­press the vote, which ben­e­fits Repub­li­cans, allow­ing the Court go on being right of cen­ter. Did I men­tion the 5‑to‑4 vote in Bush v. Gore? Bush repaid that favor by nam­ing two new jus­tices to keep the Court rigged, 5 to 4.
So what is to be done?
1

. Demo­c­ra­t­ic elec­tors: Engage in law­ful protest
The first thing — above all, and as futile as it may seem — is to do every­thing we can to dele­git­i­ma­tize the sys­tem. The Demo­c­ra­t­ic Par­ty, as a par­ty, has to com­mit to this project.
Let's start with the Elec­toral Col­lege. We should have a boy­cott. In the com­ing weeks, in the 20 states (plus D.C.) that Clin­ton won, the elec­tors should refuse to send in their bal­lots for a cer­e­mo­ni­al count­ing by the Sen­ate and the House. Fed­er­al law — I refer to 3 U.S.C. 1 et seq. — requires that on the sec­ond Wednes­day in Decem­ber, the elec­tors send in the bal­lots to be record­ed before a joint ses­sion of Con­gress. Elec­tors also send copies of their bal­lots to the sec­re­tary of state and fed­er­al judge in their home states (among oth­ers). If the elec­tors fails to send the bal­lots to Con­gress, the pres­i­dent of the Sen­ate and the speak­er of the House can direct that the bal­lots be for­ward­ed from the sets kept by the sec­re­tary of state or the fed­er­al judge. But this time, let the Clin­ton elec­tors noti­fy the Con­gress that they will not par­tic­i­pate in this sham. They will not send any bal­lots. Then let the House speak­er and the Sen­ate pres­i­dent send their emis­saries to the sec­re­tary of state or fed­er­al judge. When they receive and start count­ing them, as they must do, these bal­lots can be blanks.
The point is not to stop Trump from tak­ing office, but to protest it, which is dif­fer­ent from the appeal to Trump elec­tors to be ​"faith­less," that is, to change their votes from Trump to Clin­ton. As Abra­ham Lin­coln said of the Dred Scott case: The point is not to resist the lit­er­al result — to return Dred Scott back then or keep Trump out of office now — but to do all that we can to dis­cred­it a law that allows an uncon­scionable result.
And if states impose $1,000 statu­to­ry fines on the elec­tors for this expres­sive act, notwith­stand­ing the First Amend­ment, well, the law is the law: Send in the checks.
2

. Chal­lenge vot­er suppression
Sec­ond, at the same joint ses­sion, House and Sen­ate Democ­rats should object to the count­ing of votes from states that sought to sup­press the vote. Wis­con­sin, for exam­ple, has a vot­er ID law that serves no pur­pose except to hold down the pop­u­lar vote. Mem­bers should move to deny the count from Wis­con­sin, Ari­zona, and any oth­er pro-Trump state where the out­come was close and there was a vot­er ID law in place that, at least arguably, vio­lat­ed Sec­tion 2 of the Vot­ing Rights Act.
Even bet­ter, mem­bers should ​"lay on peti­tions," to use an archa­ic legal phrase, from peo­ple in these states to ver­i­fy that there was an effort that might have kept some from the polls. The intent is to ques­tion the integri­ty of the votes cast in the Elec­toral Col­lege, and the mod­el is the after­math of the 1876 elec­tion. The dis­pute over one elec­toral vote led to the Com­pro­mise of 1877, in which the Repub­li­can, Ruther­ford Hayes, got the White House, while Democ­rats, who sup­port­ed Samuel Tilden, got an end to Recon­struc­tion. How won­der­ful if Democ­rats let Trump take the White House in return for Mer­rick Gar­land get­ting on the Supreme Court. This is unlike­ly: It is the kind of hard­ball that the Left, unlike the Right and alt-Right, nev­er has the nerve to engage in. Still, the Democ­rats should use the joint ses­sion this Decem­ber to put these states on tri­al for sup­pres­sion of the vote.
3

. Make the gap too big to ignore
Third, Democ­rats must insti­tute com­pul­so­ry vot­ing in Cal­i­for­nia and New York, in par­tic­u­lar, and in as many of the oth­er 15 states that Clin­ton car­ried as pos­si­ble. Indeed, uni­ver­sal vot­ing — which states have the author­i­ty to require — is the only tool that Democ­rats have to dis­man­tle not just the Elec­toral Col­lege but the oth­er ways that the GOP is now able to rig the vote.
One big state — Cal­i­for­nia or New York — might be enough to set off a con­sti­tu­tion­al chain reac­tion. With com­pul­so­ry vot­ing in place in sev­er­al states in the next pres­i­den­tial elec­tion, it is very like­ly that the Democ­rats would pile up a pop­u­lar major­i­ty so immense that, under the weight of these new votes, the Elec­toral Col­lege, even as a half-cred­i­ble insti­tu­tion, would sim­ply collapse.
How big might the vari­a­tion be? Accord­ing to the lat­est fig­ures from the Cook Polit­i­cal Report, Clin­ton leads Trump in the pop­u­lar vote by a mar­gin of more than 2.6 mil­lion, or 2 per­cent of the nation­al vote. In Cal­i­for­nia, vot­ers pre­ferred Clin­ton by a whop­ping mar­gin of 30 per­cent. Let's assume that split remained the same but all eli­gi­ble vot­ers in Cal­i­for­nia cast bal­lots. That would adds anoth­er 3.2 mil­lion to her nation­al mar­gin over Trump, bring­ing it up to 5.8 mil­lion, or 4 per­cent of the pop­u­lar vote. Then con­duct the same cal­cu­la­tion with New York. Then add in New Jer­sey, Illi­nois, Col­orado and others.
Indeed, the low­er over­all turnout in this last elec­tion came in the Clin­ton states, where the out­come was assured. The focus on ​"bat­tle­ground" states has a ten­den­cy — among Democ­rats espe­cial­ly — to hold down the votes in the ​"safe" states, as the safe GOP states can com­pen­sate for low­er turnout among their vot­ers by scar­ing off the Democrats.
Why would this grow­ing dis­par­i­ty lead to an end to the Elec­toral Col­lege? It might not. But, to quote Lin­coln again, it would cre­ate a house divid­ed. With a right-of-cen­ter Supreme Court, the GOP will have license to go on scar­ing off minor­i­ty race and low-income vot­ers. The best way to fight this, since legal chal­lenges will be less effec­tive, is to do the oppo­site in Demo­c­ra­t­ic states: rather than shrink the elec­torate, mas­sive­ly expand it.
Instead of try­ing to bridge the divide in our coun­try, in oth­er words, the Democ­rats should now widen it. Rather than try­ing to over­come our dif­fer­ences, we should accen­tu­ate them. Lincoln's main point in the 1859 ​"house divid­ed" speech was that the house could not stay divid­ed. Only one ver­sion of Amer­i­ca would survive.
With com­pul­so­ry vot­ing, the Amer­i­can ​"house" would be even more divid­ed in the midterms, in which vot­er turnouts are now so low. In one half of the coun­try, 95 per­cent or more of the elec­torate would vote, and in the oth­er, the rate would con­tin­ue on at 37 per­cent, or even low­er. How long could the repub­lic sur­vive with such two dif­fer­ent systems?
Some claim that com­pul­so­ry vot­ing would vio­late the First Amend­ment. But if that is true, then it would be unlaw­ful to require jury duty. Yet we com­pel peo­ple serve on juries, and to ren­der life-and-death verdicts.
Who are the non-vot­ers? Over­whelm­ing­ly, they are young peo­ple, the poor and His­pan­ics. As the coun­try becomes younger and more diverse, the GOP has every incen­tive to hold down the vote, while the Democ­rats have every rea­son to expand it, and to back the GOP into a corner.
Com­pul­so­ry vot­ing in some states — but not in oth­ers — is an exis­ten­tial threat to the Elec­toral Col­lege. It will become too dif­fi­cult to install a future Bush, or a Trump, who los­es not just by one or two mil­lion but by 10 or more mil­lion votes.
4

. Cre­ate real major­i­ty rule — with a counter Constitution,
There is, final­ly, an even bold­er way to com­mit to a ​"house divid­ed." To accen­tu­ate the divide, all or some of the Demo­c­ra­t­ic states could enter an ​"inter­state com­pact," much as states now do for shar­ing of resources. This inter­state com­pact, though, would be a qua­si-con­sti­tu­tion — a mod­el for what the whole coun­try should have. The Clin­ton states should elect del­e­gates to do this com­pact-mak­ing. Aside from com­pul­so­ry vot­ing, here are just a few pos­si­ble claus­es that the states might agree to enforce against each other.
1. A ban on par­ti­san redis­trict­ing of U.S. House and state leg­is­la­ture positions.
2. A right to healthcare.
3. A com­mit­ment to car­ry out their share of what the U.S. com­mit­ted to in the Paris glob­al warm­ing accords.
4. A bill of rights for employ­ees, includ­ing a right not to be ter­mi­nat­ed except for just cause.
5. A for­mu­la for a just lev­el of fund­ing for pub­lic education.
6. A com­pre­hen­sive sys­tem of back­ground checks for gun purchases.
Since each of the above is an act that the state itself would be free to take, an inter­state com­pact would not infringe on fed­er­al sov­er­eign­ty —or require approval of Con­gress under Arti­cle I, sec­tion 10.
Let one part of Amer­i­ca, at least, be a city on a hill. It is time to press for a coun­try that oper­ates under two dif­fer­ent kinds of con­sti­tu­tions, and see which of them prevails.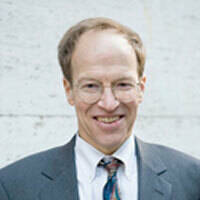 Thomas Geoghe­gan
is a Chica­go-based labor lawyer. He is the author of sev­er­al books, includ­ing
Which Side Are You On?
,
The Secret Lives of Cit­i­zens
,
The Law in Sham­bles
,
Only One Thing Can Save Us
, and
Were You Born on the Wrong Continent?