A Bathroom of One's Own
In a Kenyan slum, pocket privies offer women safety, autonomy and a way to make a living.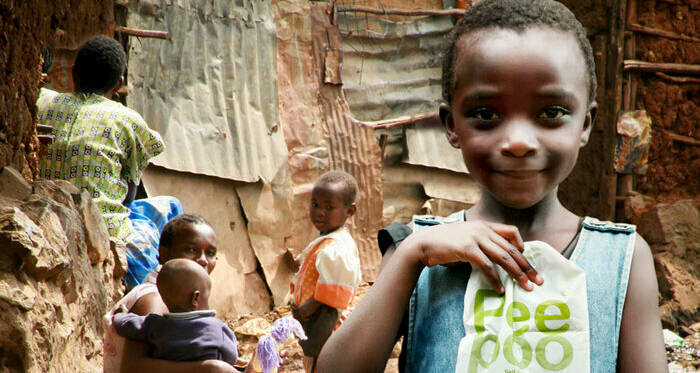 Our urge to put as much distance as possible between ourselves and the shit we generate appears built-in — and for good reason. The diseases excrement can spawn, once it reaches a water supply, have spent centuries wiping sizable chunks of us off the map. The stuff doesn't smell good, either. The flushing toilet allows those of us in the West the many-times-a-day satisfaction of sending whatever our bodies expel on a oneway trip to Oblivion-land.
'Many women don't eat or drink throughout the day so they can go out in the cover of darkness. This is a reality in many parts of the world.'
This is a happy arrangement, a stroke of forward-thinking genius. It occurs by introducing our waste — treated to varying degrees in various ways — into the planet's water supply through our sewage systems. On the surface, this may seem counterintuitive, the fact is … nevermind. Do not ask further questions. It makes zero ecological sense, and is a subject for another story.
But for the millions who live in the world's slums — informal, infrastructure-poor communities — an acceptable distance between the individual and her feces is a different ball game. Literally. For residents in settlements like Kibera, 3 miles from the center of Nairobi, achieving this separation requires squatting over a plastic shopping bag and a good throwing arm. Some Kibera landlords provide shared latrines for residents, but they are filthy and overfilled. The most popular alternative — but only during the day — is a precarious walk to the outskirts of town. Women must be careful when using either option. The unmonitored surroundings leave them vulnerable to assault.
Kibera dates back to 1904 and officially is home to 170,000, though some estimates put the population as high as 1 million. Health risks compound exponentially in such densely populated areas.
Enter Swedish architect Anders Wilhelmson. From 2000 to 2005, while teaching at Stockholm's Royal Institute of Art, he and his architecture graduate students traveled to slums in developing countries to study living conditions. On a trip to Mumbai, Wilhelmson was confronted by a particularly outspoken resident. He recalls her saying: ​"We don't need architecture, because we know how to build. Unsafe sanitation is the greatest threat we face." (The World Health Organization reports that 2.6 billion of the Earth's 7 billion people have no access to flush toilets.) Wilhelmson refers to this encounter as ​"a decisive moment" and in 2005 he took on that challenge.
Whatever the solution, it needed to be inexpensive and work in the absence of any existing infrastructure. The result is known as the Peepoo — a single use, biodegradable bag. Peepoos contain 6 grams of urea, an organic chemical that neutralizes pathogens and, depending on climate variables, converts excreta to a usable fertilizer in a matter of weeks.
In late 2006, Wilhelmson and his wife, Camilla Wirseen founded Peepoople AB. The Peepoo design was finalized in 2007, and in 2008 they began field-testing the Peepoos in Kibera. By 2009, positive feedback from the test market drew interest from investors. The company hired CEO Karin Ruiz, who had a background in international business development. Prior to joining Peepoople, Ruiz was an executive for the European healthcare provider Capio.
In 2008, Ruiz had heard Muhammad Yunus, the Bangladeshi micro-financing pioneer and Nobel Peace Prize winner, discuss his ideas about social-entrepreneurship and realized that it was possible to leverage the power of individual enterprise in the service of social good.
Micro-entrepreneurship is central to the Peepoople business model. Each salesperson is the owner of a Peepoo franchise. And because women are typically the primary caregivers in communities like Kibera, they are the sales force responsible for distributing the disposable toilets and educating the population about the importance of basic sanitation.
Peepoos are provided in what's called Peepoo Personal Packs, each of which contain 28 bags. Once trained, representatives are given a carton of 20 packs. The profits they receive from then on allow them to purchase more packs, continue selling and expand operations. To better build each market, sales reps provide support through meetings called Community Engagement Sessions. The sales reps are reponsible for arranging these gatherings and they get a small compensation depending on how many people participate. The meetings are a way to build their customer base, but also inform the community about how to protect against excreta-borne bacteria.
Educating sales representatives who, in turn, can teach their immediate social circle about the benefits of safe hygiene is a time-consuming and often delicate process. It requires paying careful attention to the existing social structure within the community.
​"For people in urban slums and extremely poor communities, it's not a matter of living — it's a matter of surviving. So it's a challenging environment to work in," says Ruiz. ​"We do it by engaging the community and gathering acceptance. Edlers are often the informal leaders of these communities and we need to get them on board before anything else. If you have their support, they will help in the work. Winning their confidence is not an easy thing to do, but it's where we have to start. Once we establish that contact, we can begin the recruitment and training process."
To find and train the right women for the job — individuals who possess the skills and entrepreneurial drive to successfully distribute the disposable toilets — Peepoople formed a selection committee in Kibera. The company initially included priests and elders on this committee to assure that the women would be internally supported in their efforts.
Anne Ndunga, a 31-year-old mother of four, works as a Peepoo saleswoman. ​"People want more all the time," she says. ​"I have customers who buy whole boxes of Peepoos. Sometimes people want it for free, but I tell them that if Peepoo is for free, I would have no job. One customer came to me to buy Peepoos. She was so happy that she had them the night before because she had diarrhea. To go out at night — you know, that is very dangerous for women to do."
Peepoos have also been given to schools, which serve as a hub to introduce safe sanitation practices to parents.
​"We're finding that the school attendants themselves are quite good salespeople," says Ruiz, ​"and many are selling their inventory on the weekends. It's critical to get people with the right mindset. And basic education is needed for the training program. Many Kenyans can read, write and count. That is not necessarily the case in other potential markets."
To date, Kibera is the only informal city where the Peepoo business-model has been fully implemented. Roughly 20,000 residents are regular users of the disposable toilets. A network of ​"drop points" has been established where people can take their used Peepoos and receive another small sum for the deposit. In an environment where any and every opportunity for income is seized, this financial incentive guarantees used Peepoos won't end up on the street. Recently, side businesses have sprung up in which residents go door to door collecting used Peepoos and take them to the nearest drop point, where they can redeem a bulk sum for their efforts. At the drop points, individual Peepoos are then placed into a larger bag to prevent leakage while the urea neutralizes the bacteria.
Figuring out how best to use the resulting fertilizer is being worked out. But direct application — where gardeners put the fertilizer on their existing plants — is already underway. According to Ruiz, a study has found that Peepoos increase the yield from both coffee trees and cornfields. The bags are also used to encourage reforestation, since trees planted with Peepoos demonstrate stronger growth when compared to those without. Still being developed is an initiative to explore the drying and mixing of used Peepoos with other organic materials to make compost that could be available on a commercial scale.
Implementing similar efforts in other slums in the developing world will take time. And while Peepoople's origins and mission are built around improving the quality of life for residents in informal cities, the company faces the same financial realities as any other business.
Supporting the social mission
​"The slums are our core and where we have our soul and our heart," says Ruiz, ​"but we need to create a revenue base out of other segments. We need to make sure the Peepoople AB, the umbrella under which our social mission operates, can sustain itself." Natural disasters and large-scale emergencies frequently compromise sanitation infrastructures. There is a market for Peepoos in crisis situations all over the world.
This business model relies on selling directly to NGOs and UN organizations that distribute the Peepoos as needed, with Peepoople providing basic training and implementation support. So far, Peepoople has distributed the product to NGO first responders following recent earthquakes, including in Pakistan, Haiti and New Zealand.
Wherever there are people without access to a water-based sewage system, there is a potential market for the Peepoo toilet. In places where water is only available seasonally, like parts of Australia, the Peepoos can be used in the dry season.
For many, slums like Kibera are easy to ignore. Torrents of ​"civilized" distractions leave little time to consider ourselves as an interconnected species. Billions of people have no access to basic necessities. Peepoos may not be the ideal answer to the lack of public sanitation, but until a more comprehensive solution presents itself, the disposable toilets offer both a safer and a more environmentally sustainable way to go to the bathroom.
​"Most people don't even think about what it's like not to have a toilet," says Ruiz. ​"In many of the places where we're working, men can go out in the bushes to defecate whenever they need to. But women and girls, as soon as they reach a certain age, cannot do this.
​"It wasn't until I started working with Peepoople that I started reflecting on why, for example, when I was in the countryside in India did I never see women relieving themselves on the side of the road? Why was it only men? And it's because many women actually don't eat or drink throughout the whole day so they can go out in the cover of darkness. They adjust their whole lifestyle so they can go out at night, and they still face the threat of being raped or harassed.
​"This is a reality in many parts of the world. Imagine having to adjust your whole life around where and when you do what we all must."